In Harm's Way
East German Latter-day Saints in World War II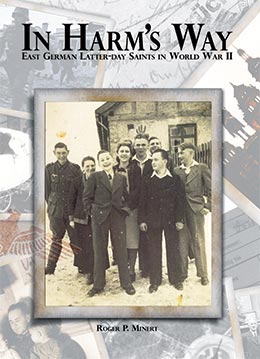 About the Book
Winner of the Geraldine McBride Woodward Award for Best Publication in International Mormon History (Mormon History Association). Today we are mostly unfamiliar with the conditions the German Saints faced during World War II. They did not have ready access to the many conveniences American Saints took for granted—including their local Church leaders, clean places to meet, cars, and temples. In fact, German Saints could only experience the temple by crossing the Atlantic Ocean and most of the North American continent. Germany was one of the war fronts where homes were destroyed and friends and families were killed. Unlike American soldiers returning to their homes, nearly half of the German Saints had no home to which to return.
In Harm's Way contains compelling accounts of thousands of members of the Church in East Germany who found themselves in a precarious situation during World War II. They were compelled to live under the tyranny of Nazi Germany and participate in offensive and defensive military actions. The story of how they lived and died under those conditions has never before been told. This volume brings together the accounts of hundreds of Church members who survived the war—preserved in hundreds of personal interviews, journals, letters, and photographs. Their stories of joy and suffering are presented in this book against the background of the rise and collapse of the Third Reich. Readers will be amazed at the faith and dedication demonstrated by these Saints, young and old, military and civilian.
A photo of a soldier with a swastika on his uniform evokes strong emotions. Reading this book opens our eyes to the possibility that the soldier may be caught in the turmoil of a political landscape, between duty to God and loyalty to country. Perhaps he is a priest in the Aaronic Priesthood or a branch president, a father of six or a former missionary.
ISBN 978-0-8425-2746-0
Published in 2009