Rostock Branch, Rostock District
Roger P. Minert, In Harm's Way: East German Latter-day Saints in World War II (Provo, UT: Religious Studies Center, Brigham Young University, 2009), 372-5.
The port city of Rostock is situated near the mouth of the Warnow River, just five miles south of the Baltic Sea. The Lower Warnow River links Rostock to the town of Warnemünde on the coast. Just prior to World War II, Rostock had about 75,000 inhabitants and was home to a small LDS branch of sixty-eight members.
| | |
| --- | --- |
| Rostock Branch[1] | 1939 |
| Elders | 4 |
| Priests | 2 |
| Teachers | 2 |
| Deacons | 3 |
| Other Adult Males | 10 |
| Adult Females | 44 |
| Male Children | 1 |
| Female Children | 2 |
| TOTAL | 68 |
At the end of 1938, the branch was holding meetings in rented rooms at August Brackmann Strasse 23 on the second floor. From available mission records, it appears that the meetings continued there through much of the war but there were significant interruptions. For example, Hans-Jurgen Schlüter later recalled attending meetings in the home of the Stöckigt family in the last months of the war.[2]
A detailed history of the Rostock Branch has survived and provides insight into the lives of the Latter-day Saints living there during the years 1939–1945.[3] The following entries are representative of activities and events in the branch:
June 5, 1939: Branch President [Walter] Ruthenberg was activated by the Wehrmacht for special training.

September 3, 1939: Our meeting rooms were occupied as public air raid shelters.

October 30, 1939: District President Walter Czerny visited us.

January 14, 1940: Brother Rudolf A. Noss [of Rostock] was called to be the district president.

March 17, 1940: Our meeting rooms were made available to us again.

May 22, 1940: We acquired a new pump organ.

September 15, 1940: Relief Society meets from 9:30 to 10:15 and sacrament meeting from 10:15 to 11:00. Rudolf A. Noss was released as district president.

November 10, 1940: Relief Society begins at 3 p.m. and sacrament meeting follows directly.

March 23, 1941: The work of the Relief Society has been suspended temporarily by District President Arno Dzierzon.

April 13, 1941: Beginning today, sacrament meeting will be held bi-weekly.

May 15, 1941: Brother Gustav A. Ebert of Neubrandenburg, Dümperstrasse 12, is called to be the president of the Rostock District.

May 17, 1941: Sister Elisabeth Keil died and was taken to Plauen/Voigtland [Saxony] for burial.

May 25, 1941: Beginning today, Sunday School will begin at 10 a.m. and sacrament meeting at 3 p.m.

July 6, 1941: Beginning today, sacrament meeting will begin at 5 p.m.

August 17, 1941: Ten people attended Sunday School today. Only the branch leaders attended sacrament meeting.

November 2, 1941: Brother [Richard] Ranglack, counselor to the mission leader, visited us today. Brother Walter Ruthenberg was released as branch president due to his call to the army. Brother Richard Stöckigt is called as the temporary branch president.

January 18, 1942: The Relief Society begins holding meetings again today; the time will be 4–5 p.m.

15 February 1942: It was announced in sacrament meeting that the Rostock District has been annexed to the Stettin District.

February 22, 1942: In order to help District President [Erich] Berndt of Stettin, Brother [Bruno] Rohloff of Neubrandenburg has been assigned as a traveling elder to visit our branch.

March 15, 1942: Mission Leader H.[erbert] Klopfer visited us. Beginning today, sacrament meeting will begin at 3 p.m. and will be followed by Relief Society.

March 29, 1942: Brother Paul Langheinrich, [second] counselor to the mission leader, visited us.

May 3, 1942: Our meeting rooms were confiscated to be made available to people who have been bombed out or burned out of their homes.

June 30, 1942: Our meeting rooms were restored to us again.

October 25, 1942: Brother Joseph Kaiser, a deacon from the Schneidemühl Branch, visited us. He is in the army.

March 2, 1944: Brother Albert Zajek died in Fingerao (N.A.).[4]
District conferences were a favorite experience of Latter-day Saints in Germany during the war and most were held on a regular basis through 1944. Rostock Branch members attended district conferences in Neubrandenburg (May 1940), Demmin (October 1940 and September 1941), at home (March 1941), and in Stettin (September 1942).
It is clear from the history that a branch as small as Rostock appreciated visits from members of other branches. The names of many visiting members—not just district and mission leaders—appear throughout the pages dated 1939–1943.
After losing and regaining their meetings rooms several times, the Saints of the Rostock Branch lost the rooms at August Brackmann Strasse 23 for good on April 21, 1943, when Allied bombers reduced the building to rubble.[5] The final entry of the Rostock Branch history is dated March 2, 19 44. The author of this fine record in not identified.
Bodo Ruthenberg (born 1939) recalled that his father, Walter Ruthenberg, was a saddler in the army. He was determined not to have to shoot at the enemy. After serving in France, he was transferred to Norway. He learned to ski there and became very fond of that country.[6]
Bodo's mother, Erika Ruthenberg, had three little children to worry about when the bombs began to fall on Rostock. In April 1945, the area around her home at Kossfelderstrasse 6 was attacked by the Royal Air Force. According to Bodo's recollections:
My mother tried to take furniture out of the apartment. She left some downstairs because she wanted to get more, but when she came back, everything had been taken by other people. We all just got out of the apartment and the basement when the house collapsed behind us—still burning. My mother carried me out holding me in her arms. We lost everything we had.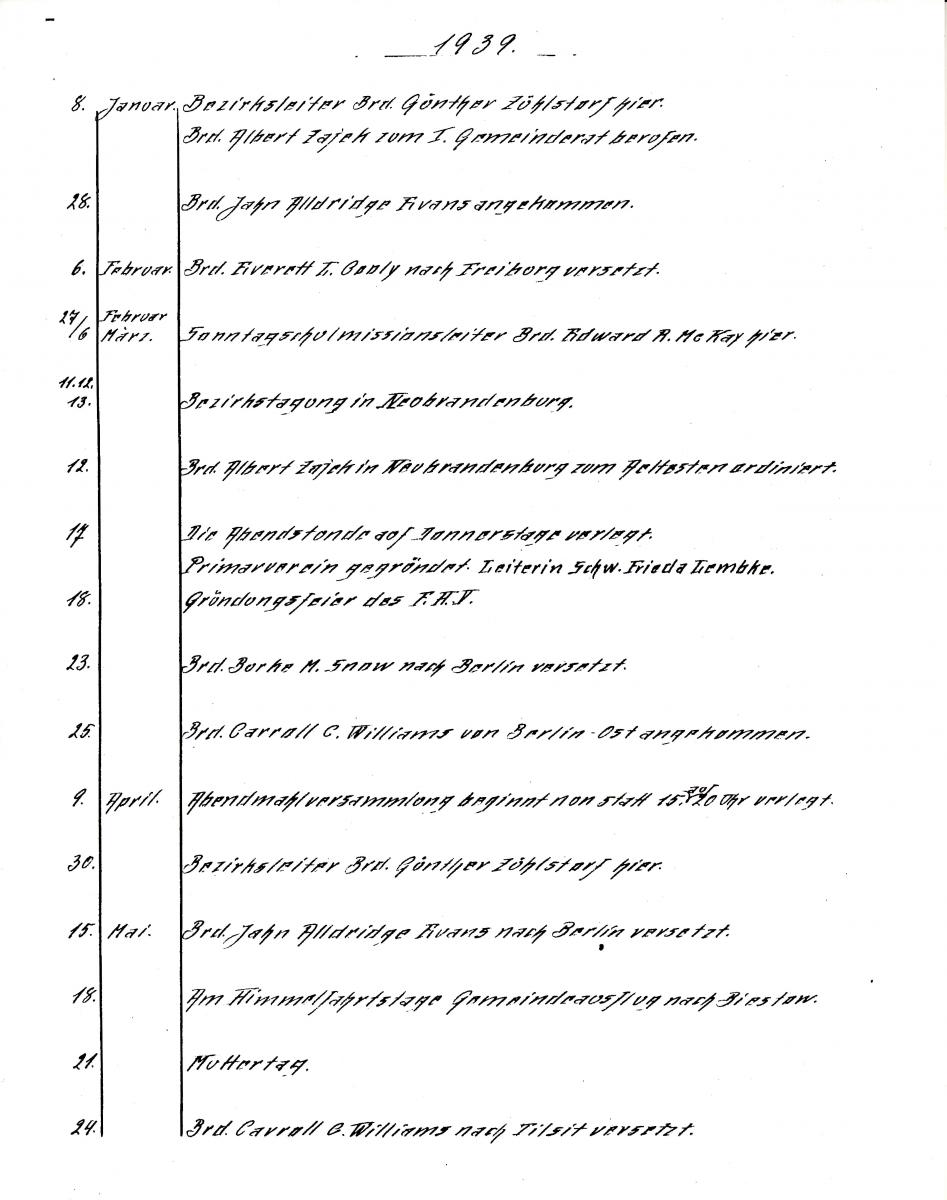 A page from the detailed history of the Rostock Branch (B. Ruthenberg)
Erika Ruthenberg took her children and left Rostock, hoping to escape the immediate dangers of war. In the recollection of her son, Bodo, she was fairly successful in finding better living conditions:
Later, we were evacuated to Steinhagen near Rostock in the countryside. It was a very refreshing experience. We lived in an empty farm house because the owner had fled. It was very idyllic, and we forgot that there was a war going on—no sounds of planes or bombs. But then the Russians came and jumped over the fence and broke it. I, as a little boy, went to them and told them that [their behavior] was absolutely not acceptable and that I didn't like what they just did.
Bodo's scolding of the enemy soldiers did not make him unpopular. They took him for rides in their vehicles, gave him some small food items, and in general treated him very kindly.
Walter Ruthenberg was captured toward the end of the war but was fortunate to be released in 1946. When he returned to Rostock, he found a new apartment for his family on Margarithenstrasse. According to Bodo, "We lived [there] many years . . . the bathroom was in the basement and only the third floor of the building was warmer." Nevertheless, the family was together again and in good health.
In Memoriam
The following members of the Rostock Branch did not survive World War II:
Clara Anna Wilhelmine Boeck b. Rostock, Mecklenburg-Schwerin 18 Oct 1893; dau. of Emma Boeck; bp. 15 Aug 1925; conf. 16 Aug 1925; m. 22 Dec 1922, Willi Fritz Karl Heinrich Hermann Moll; d. of effects of incarceration Neubrandenburg Prison 25 Apr 1946 (CHL, LR 7647 21, no. 57; IGI)
Anna Dorathea Sophia Boek b. Rostock; Mecklenburg-Schwerin 12 Apr 1875; dau. of Wilhelm Boek and Marie Meyer; bp. 24 Apr 1926; conf. 24 Apr 1926; m. 11 Oct 1931, Wilhelm Brandt; d. 4 Dec 1941 (CHL, LR 7647 21, no. 50; IGI)
Anna Elisabeth Feustel b. Ostritz, Bautzen, Sachsen 5 May 1892; dau. of Heinrich Wilhelm Feustel and Ida Conradi; bp. 8 May 1926; conf. 8 May 1926; m. Triebes, Reuss j.L. 8 Jul 1911, Max Friedrich Hugo Keil; 1 child; d. cancer, Rostock, Mecklenburg 17 May 1941 (Geschichte der Gemeinde Rostock; FHL Microfilm 271377, 1935 Census; CHL, LR 7647 21, no. 88; IGI; AF)
Hildegard Magdalene Johanna Guethner b. Rostock, Mecklenburg-Schwerin 23 Aug 1884; dau. of Hermann Guethner and Ida Friebe or Triepe; bp. 23 Aug 1923; conf. 23 Aug 1923; m. 16 May 1908, Robert Sievert; d. heart attack 17 May 1944 (CHL, LR 7647 21, no. 24)
Herta Ida Just b. Schneidemühl, Posen, Preussen 13 Jul 1922; dau. of Heinrich Christoph Just and Bertha Freek; bp. 13 Jul 1936; conf. 13 Jul 1936; d. heart ailment 18 Aug 1944 (CHL, LR 7647 21, no. 147)
Ferdinand Friedrich Max Louis Lembke b. Gross-Klein, Warnemünde, Mecklenburg-Schwerin 6 Aug 1886; son of Carl Christian Friedrich Lembke and Elise Sophie Johanna Friederike Randow; bp. 11 Jul 1919; conf. 11 Jul 1919; ord. deacon 7 Oct 1919; ord. teacher 16 Sep 1920; ord. priest 16 May 1921; ord. elder 25 Jul 1926; m. 14 Jul 1913, Frieda F. E. Kreuzmann; d. illness 28 May 1944 (CHL, LR 7647 21, no. 5; IGI)
Frieda Rudolphine Sophie Pagel b. Malchow, Mecklenburg-Schwerin 17 Feb 1898; dau. of Ludwig Pagel and Caroline Priegnitz; bp. 23 Apr 1920; conf. 23 Apr 1920; missing (CHL, LR 7647 21, no. 58)
Hans Otto Hubert Eugen Sauer b. Chemnitz, Chemnitz, Sachsen 23 Mar 1913; son of Hubert Robert Gustav Sauer and Margarete Wilhelmine Marie Bornhagen; bp. 16 Jul 1921; conf. 16 Jul 1921; m.; engineer; k. in battle, Italy, 2 Sep 1943; bur. Futa-Pass, Italy (CHL, LR 7647 21, no. 93; www.volksbund.de; IGI)
Albert Otto Anton Zajek b. London, London, England 13 May 1911 or 1913; son of Otto Zajek and Anna Maria Johanna Ziems; bp. 17 May 1931; conf. 17 May 1931; ord. deacon 13 Oct 1932; ord. teacher 14 Aug 1933; ord. priest 19 Apr 1936; ord. elder 12 Apr 1939; m. Rostock, Mecklenburg, Preussen 12 Jun 1936, Amalie Margarate Sophie Petersen; d. asthma, 2 Mar 1944 (CHL, LR 7647 21, no. 71; IGI)
Notes
[1] Presiding Bishopric, "Financial, Statistical, and Historical Reports of Wards, Stakes, and Missions, 1884–1955," CR 4 12, 257.
[2] Hans-Jürgen Schlüter, and Ursula Höhle Schlüter, "The Way Things Were," in Behind the Iron Curtain: Recollections of Latter-day Saints in East Germany, ed. Garold N. Davis and Norma S. Davis (Provo, UT: Brigham Young University Press, 2000), 247.
[3] The Church of Jesus Christ of Latter-day Saints, Geschichte der Gemeinde Rostock, 1893–1944 (Rostock, Germany: The Church of Jesus Christ of Latter-day Saints); trans. the author.
[4] The meaning of (N.A.) is unclear but is apparently a reference to a province or a country.
[5] Geschichte der Gemeinde Rostock, April 21, 1943.
[6] Bodo Ruthenberg, interview by the author in German, Rostock, Germany, June 10, 2007; summarized in English by Judith Sartowski.