Barth-Stralsund Branch, Rostock District
Roger P. Minert, In Harm's Way: East German Latter-day Saints in World War II (Provo, UT: Religious Studies Center, Brigham Young University, 2009), 356-8.
Located not far from the Baltic Sea in the province of Pomerania, Barth was a town of about ten thousand inhabitants in 1939. Of those, only thirty-eight were Latter-day Saints at the onset of World War II. As part of the Rostock District, the members in Barth rode the train west twenty-five miles (forty minutes) to attend district conferences in Rostock. The closest branch was in Demmin, thirty-five miles to the south-southeast.
In September 1938, the members of the Barth Branch met in rented rooms at Baustrasse 36 on the main floor. The same rooms were used for the next few years.
Before the war, the branch was home to two American missionaries, but the city government was not enthusiastic about their presence. The mission history includes the following statement in November 1938: "Elders Burke M. Snow and Everett L. Cooley were not allowed to register with the police, either in Barth or Stralsund. Therefore, they were transferred to Rostock, where the permission still was pending at this time."[2] The practice of having all residents register with city hall allowed the city to deny a person the privilege of living there.
| | |
| --- | --- |
| Barth Branch[1] | 1939 |
| Elders | 1 |
| Priests | 1 |
| Teachers | 1 |
| Deacons | 3 |
| Other Adult Males | 6 |
| Adult Females | 19 |
| Male Children | 5 |
| Female Children | 2 |
| Total | 38 |
Konrad Friedrich Langer was the president of the Barth Branch from 1933 to 1941. After he was killed in the Soviet Union that year, he was replaced by Günther Zühlsdorf, who served simultaneously as the president of the Rostock District and the president of the Barth Branch. The branch likely relied heavily on priesthood visitors from other branches or on the district leaders for important functions and events in the Church.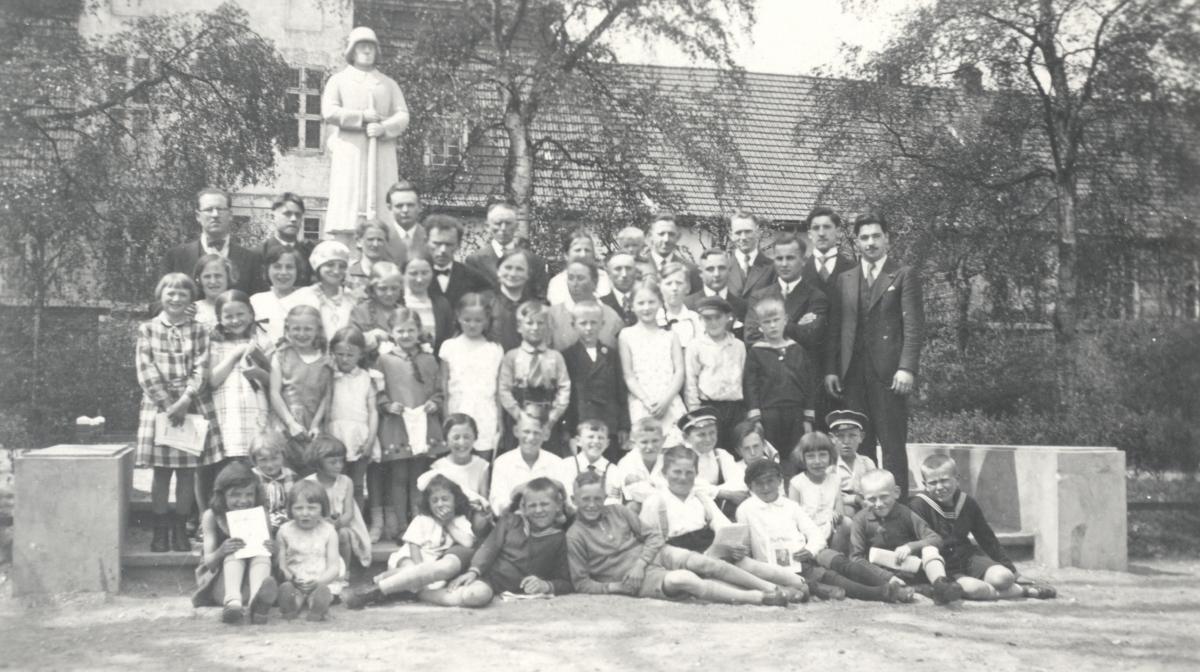 The Barth Branch in the 1930s at perhaps the height of its prosperity (F. Harris)
Brother Langer's son, Karl Werner, later wrote, "Unfortunately, we four children did not enjoy a long and happy family time with our parents because Father was taken from us in 1941 and Mother in 1946. . . . Mine was certainly no easy childhood . . . , but through the faith of my parents I had a basis for recognizing the truth of the gospel."[3]
The branch in Straslund to the east was struggling in those years. The mission history indicates the following in an entry dated March 31, 1939: "A family of five members moved away from Stralsund, Rostock District. Consequently the small branch was closed, and the remaining few members attended meetings in the Barth Branch henceforth." It is not known which members came to Barth from Stralsund or how often they made the trip.
During the war, members of the Barth Branch occasionally visited the Rostock Branch. The Rostock Branch history mentions the surnames Zühlsdorf, Neumann, and Ihns as onetime or occasional visitors from 1939 to 1942. The Zühlsdorf family moved from Barth to Rostock in January 1942.[4] The loss of an active family was unfortunate for such a small branch.
Nothing is known of the fate of the Barth and Stralsund Latter-day Saints. Because the war ended the week the Soviet forces entered those cities, it is probable that the members of the branch remained in their homes.
In Memoriam
The following members of the Barth Branch did not survive World War II:
Anna Rosa Minna Bandelow b. Anklam/Pomm. 2 May 1864; dau. of Wilhelm Bandelow and Marie Beusel [?]; bp. 11 Aug 1934; conf. 11 Aug 1934; d. 4 Aug 1940 (CHL LR 537 21, no. 78; NG-IGI, AF, PRF)
Konrad Friedrich Heinrich Langer b. Lüdershapen, Stralsund, Pommern, Preussen 7 Mar 1908; son of August Langer and Johanna Henriette Wilhelmine Ehlert; bp. 5 May 1929; conf. 5 May 1929; ord. deacon 16 Nov 1930; ord. teacher 29 May 1932; ord. priest 3 Dec 1933; ord. elder 12 Mar 1939; m. Barth, Pommern, Preussen 15 Apr 1933, Martha Frieda Else Ihns; 4 children; soldier; k. in battle Petersburg, Luga, USSR 9 or 19 Aug 1941 (FHL Microfilm 271383, 1935 Census; CHL LR 537 21, no. 7 and 57; IGI)
Fritz Gustav Theodor Matthies b. Ramitz, Rügen, Pommern 31 Dec 1875; son of Fritz Matthies and Friederike Pahl; bp. 8 Oct 1933; conf. 8 Oct 1933; m. 22 Jul 1923, Marta Zillmann; d. asthma 13 Dec 1942 (CHL LR 537 21, no. 69)
Hertha Martha Thesenvitz b. Stralsund, Pommern 20 Dec 1918; dau. of Paul Wichmann and Hertha Thesenvitz; bp. 11 Jul 1933; conf. 11 Jul 1933; m.—Wunna; d. tuberculosis 5 Sep 1939 (CHL LR 537 21, no. 28; NG-IGI, AF, PRF)
Anna Marie Johanna Ziems b. Barth, Franzburg, Pommern, Preussen 1 Nov 1871; dau. of Johann Heinrich August Ziems and Johanna Karoline Wilhelmina Freese; bp. 5 May 1929; conf. 5 May 1929; m. 9 Jul 1909, Otto Zajek; m. Friedrich Carl Linck; 2 children; d. lung ailment 23 Nov 1941 (CHL LR 537 21, no. 20 and 65; IGI)
Notes
[1] Presiding Bishopric, "Financial, Statistical, and Historical Reports of Wards, Stakes, and Missions, 1884–1955," CR 4 12, 257.
[2] East German Mission Quarterly Reports, 1938, no. 48, East German Mission History.
[3] Karl Werner Langer, "Ostdeutsche Mission" (unpublished history), 96; private collection.
[4] The Church of Jesus Christ of Latter-day Saints, Geschichte der Gemeinde Rostock, 1893–1944 (Rostock, Germany: The Church of Jesus Christ of Latter-day Saints), January 26, 1942; trans. the author.