Pioneer Women of Arizona
Second Edition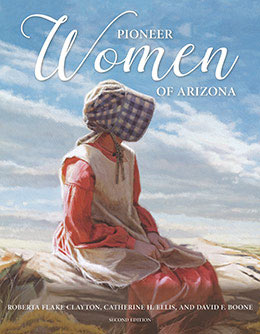 This book has not been released for online reading.
Published in 2017
ISBN 978-1-9443-9409-7
Book $49.99
Ebook $14.99
About the Book
Walk alongside the Mormon girls, young women, mothers, and grandmothers who traveled to Arizona by covered wagons and by train. This book is filled with numerous stories of remarkable women who traversed the harsh terrain, drove teams, and cared for their husbands and children while their men trailed the cattle, and were vital in settling the Arizona Strip and along the Little Colorado, San Pedro, Gila, and Salt Rivers. With references to recent publications, footnotes to explain long-forgotten phrases and events, and over three hundred photographs, this second edition will not only keep these stories alive for descendants and general readers but also provide a wealth of information for specialists in women's studies, Arizona history, Mormon history, and Western Americana.
Watch the book trailer here: