B
Roberta Flake Clayton, Jessie Ballard Smith, Fred Shill Biggs with George and Wright Shill, and Hyrum Hendrickson, "B," in Pioneer Women of Arizona, ed. Roberta Flake Clayton, Catherine H. Ellis, and David F. Boone (Religious Studies Center, Brigham Young University; Salt Lake City: Deseret Book, 2017), 43-96.
Margaret Henrietta Camp Brantley Baird
Roberta Flake Clayton
Maiden Name: Margaret Henrietta Camp
Birth: November 8, 1848; Nodaway Creek, Andrew Co., Missouri
Parents: Williams Washington Camp and Diannah Greer
Marriage 1: Thomas Burgess Brantley; July 18, 1866
Children: Thomas Richard (1867)
Marriage 2: Richard Alexander Baird; October 3, 1870
Children: James Alexander (1871), Samuel Williams (1873), Margaret May (1875), Joseph Francis (1876), Louis Graham (1878), Laura Gertrude (1880), Diannah Blanche (1882)[1]
Death: January 9, 1941; Snowflake, Navajo Co., Arizona
Burial: Snowflake, Navajo Co., Arizona
In all the world, it would be hard to find such a wonderful person, or one who has done, and is still doing, so much for humanity. Truly she lives "in the house by the side of the road," and that house is in every sense a home and is a haven to storm tossed souls, who know that day and night SHE will be there to bid them welcome, and by her very example of cheerfulness help them to adjust themselves to circumstances and try to emulate her example of bravery.[2]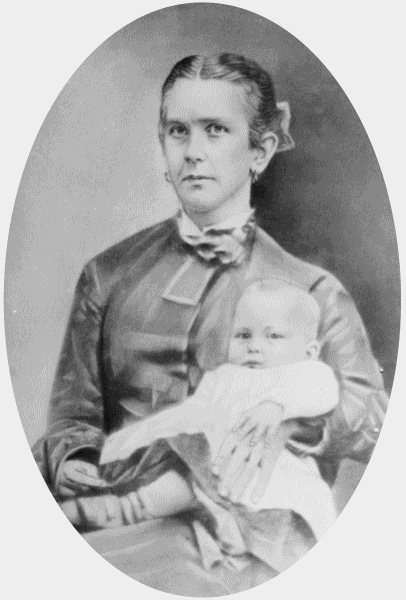 Margaret Henrietta Camp Brantley Baird with unidentified child, probably son Thomas. Photo courtesy of International Society Daughters of Utah Pioneers.
Margaret Baird was born on the Nodaway River, in the state of Missouri, where her family was camped en route from their Southern home to unite with the Mormon emigrants on their way to Utah. She arrived on the night of November 8, 1848, the fifteenth child in the family. It was a cold, inclement night, and for a while it was feared that neither mother nor babe would live.
From a long line of Southern aristocracy came the gentle mother of this family, who owned her own plantation and the slaves necessary to care for it, given to her as a dowry by her father at the time of her marriage. She was a devout Baptist and her husband, Williams Camp, a Campbellite minister, but when they were visited by two Mormon missionaries, Mr. Camp joined The Church of Jesus Christ and at once began making preparations to join the Saints in Illinois. Although his wife, Diannah Greer Camp, had not joined this church, her love for her husband caused her to leave her beautiful home and go with him.
The Camp family decided to remain in Missouri the remainder of the winter before continuing their westward journey. This was a swampy location, and toward spring the mosquitos were terrible. From the bites of these pests, little Margaret was afflicted with a running sore on her right leg that ate out the large leader above the knee and made her a cripple for life, necessitating always a crutch and cane to enable her to walk. Possibly because of her affliction, she never grew very large physically, but what she lacked in stature was more than made up to her in grit, and her mental qualifications were above normal.
After the family reached Salt Lake, Mr. Camp decided to take his wife and two youngest children back to their homeland to try to sell their plantation and possessions.[3] Of course the trip was made by team, as that was the only mode of travel. When they reached there they found it very difficult to sell anything, but finally Mr. Camp traded part of their property for merchandise, and teams. It took twelve wagons to convey the things to Utah. One of the most prized possessions was a beautiful piano, so large that it took one wagon to haul it. This wagon was the second in the train, and the team was driven by their most trustworthy "[mixed-race] girl. Mrs. Camp's conveyance, a magnificent carriage with glass doors, led the procession of teams, following her husband who went ahead on his fine saddle horse, to find the best route and test the streams to see if they were safe. The other teams were driven by servants of the family, with the exception of those that were brought by three families to whom Mr. Camp furnished transportation in exchange for their services.
When Salt Lake was reached Mr. Camp established the second mercantile establishment there. In 1850 he returned again to the South and traded their remaining property for more goods. Here they remained for two years before returning to the West. Little Margaret made all of these overland trips, so she was a traveler at a very early age. On this trip the wagon train was attacked by Indians, but Mr. Camp satisfied them by giving them a beef and they were not further molested.
Because Margaret was not as strong and robust as were the other children of the family, her education was looked after possibly more than theirs; at any rate, she studied under that dean of all teachers, Dr. Karl G. Maeser.[4] She tells of one time in the spelling class: She was at the head when somehow she slipped and fell causing a disturbance. Dr. Maeser sent her to the foot of the class. After just four words were given out she was at the head of the class again. "There now," she said triumphantly, but perhaps with a little too much emphasis. Anyway she was promptly sent to the foot again. Again she soon regained her place, but this time she said nothing. But it did not keep her from "thinking a whole lot," she said. Because she could not walk to school, she was carried by her brother Dick, and when the snow was on the ground, she was taken on a sled.
Knowing that she was not old enough to be baptized, her father tried to put her off about it. She begged for baptism. She said she would never be able to walk unless she was. They finally broke the ice and baptized her, and her faith made her whole because she could walk for the first time in her life.[5]
When she was a small child, she showed an aptitude for music and so a teacher was employed and she was given lessons. When she was fourteen years of age, a very fine French instructor came to Salt Lake City, and she studied with him. She gave her first music lessons when she was fifteen years old and kept it up for more than fifty years.
Before she was seventeen, she was married to her first real lover, Thomas Brantley. He, too, was a Southerner, a Virginian by birth, and their happiness knew no bounds. But it was too precious to last, for he sickened and died suddenly, just a year and twenty-one days after the wedding, leaving his little wife and a six-week-old son, Thomas Junior, to mourn his loss.[6] Bravely she carried on for four years, when she married again, this time to Richard A. Baird.[7] By this man she had seven children, four boys and three girls. She continued giving music lessons and carrying more than her portion of responsibility.
For years, her husband was a night policeman in Salt Lake City and then decided to move to Sacramento, California, where work was more plentiful. He was a mason by trade. The damp climate here was very hard on her [Margaret's] health, so he moved to St. Louis, Missouri, where he could continue with his contracting and building.
While in St. Louis their seventh child was born, and here also their little boy, Louis Graham Baird, born in Sacramento, died on August 30, 1879. Neighbors had found out that the Bairds were "Mormons" and the prejudice was so strong against her people that no assistance was offered, and the poor mother had to prepare the body and the husband had to obtain the casket. Because of the unfriendliness of the people, a metal casket was procured, in which the baby was placed and hermetically sealed, and they kept the little body in the house for the remaining two years they stayed in St. Louis. At the end of that time they moved to Salina, Kansas, where a brother-in-law lived. Here the people were much kinder, and so here the baby was finally buried. The keeping of her child's body was a great trial to her, and she says she so often dreamed of it that it was a constant sorrow.[8]
The two men worked together for more than a year in the contracting business. One night, Mr. Baird was awakened from his sleep by the growling of a dog. He got up to see what was the matter, when the dog sprang at his throat. He succeeded in knocking it off; this was repeated, and the third time the dog fastened its teeth in his shoulder and neck. This resulted in his death nine weeks later [probably due to rabies], on April 20, 1882, after the most excruciating suffering. He was a Mason, in good standing, and his Lodge looked after his widow and paid the funeral expenses.
Just ten days after her husband died, a baby girl was born to her. As soon as the baby was old enough and Margaret was able to endure the trip, the Masons chartered an emigrant car to take her household belongings and hired a nurse to accompany her and her family to Utah. Never has Margaret ceased to express her gratitude for this help in the greatest trial of her life.[9]
Margaret was too independent to remain long with her people, and so decided to go to northern Arizona where she had a sister, Catherine Ellen Camp Greer, who thought Margaret might be able to support herself and family out here by giving music lessons.[10] Therefore, she bought two yoke of big oxen and five milk cows and started for her new home, bringing all of her possessions except the treasured piano. This was left with her brother for a year, then shipped around by San Francisco thence to Holbrook, Arizona, on the train.
She left, with two other families, for a four-month trip which ended in the Little Colorado River section at the Greer Ranch, the home of her sister Ellen. This was in the month of November, 1882. She remained with her sister that winter, teaching the daughters of the family and the neighboring children. In the spring she moved into the home of her nephew, Nat Greer. She stayed here two years. While here the greatest sorrow of her life came to her. Her eldest son, Thomas Brantley, her strength and her support, was killed by a desperado [on November 20, 1883], and his lifeless body shipped home to her, from Bluewater, New Mexico, where he was working. This was almost more than she could stand. For months she seemed stunned but at last came to the realization that she must look after her remaining six children, the eldest of which was only thirteen.
In the fall she would move to St. Johns to put her children in school. The schools were better there, and there was greater opportunity to teach music.
Each summer was spent on the ranch where she and the children milked cows loaned to them by the cattlemen, who also bought cheese and butter that she made. The cowboys gave her their discarded clothing which she made over to fit her children. They made it a point to stop at her home, where they were always welcome. She never charged them for their meals or bed, but often she would find some money under their plates after they left, and whenever they killed a beef near her they always saw that she got a generous piece.
One of Margaret's most thrilling experiences on the ranch was when the boys caught a new cow. She proved to be a terrible fighter. She bellowed and fought when they tried to rope her. Finally they caught her and tied her to the snubbing post in the center of the corral, thensnap went the rope, and the boys sought protection on the other side of the fence. Their mother deliberately made her way into the corral; the cow sniffed and came at her. She broke her cane over the cow's head and stopped her, and she proved to be the best milk cow they had that summer.
Having been a sufferer all of her life, Margaret had great sympathy for those in distress and would endure any hardship herself to relieve others. Here is an example of her courage: A neighbor woman was about to be confined. She lived a mile and a half away, across the Little Colorado River, which at that particular time was not little as the melting snows had made a raging torrent of it, covering also the flat with its muddy waters. Margaret had her horse saddled and started on her mission of mercy, with her own baby, as there was no one on the ranch to leave the little one with. In some places the horse had to swim, but nothing daunted, the fearless rider reached the sickbed in time to save both the mother and babe.
There were no free schools when the Baird children went to school, and it cost her at the rate of $12.00 per month for their education.
After eight years of the most grueling struggle for sustenance, thru which she was not known to show the spirit of complaint of cowardice in any way, she received a legacy of $3000 from her mother's estate. From this she bought her a farm and orchard in Concho, Arizona, and put the remainder in the Co-op Store, living from the dividend of this money, the proceeds of her farm and her music pupils.[11]
Hers was the first adobe house in Concho.[12] Her boys made the adobes. She and the two little girls hauled them from the adobe yard to the house. The children would carry them to her and she would place them in the wagon, then pile them where they were needed. She hauled every foot of lumber from the mill seventy-five miles away, thru the Apache Indian Reservation. Her helper was a boy of thirteen, and one of the little girls usually accompanied them.
On one trip the Indians were praying for rain. As is their custom they had set the timber on fire, believing that when the Great Spirit saw the smoke, He would send rain. Margaret and her children made the trip to the mill, got the lumber, and started home. When about twenty miles from the mill, they came to where a big tree had burned, causing it to fall directly across the road. It was on a rocky hillside and there was no way around it. In her cheerful way, she told the boy to stake the horses, and they would have supper. After supper she and the children unloaded the wagon, got it over the log and then by the light of the burning timber reloaded the lumber. It took into the early hours of morning to complete their task. Then they lay down to rest and sleep if they could. In the morning they had breakfast, and then came the difficulty of trying to bind the load. They tried to devise a plan to tighten up the chain to hold the load in place. The binding pole was placed under the chain, but all three were not heavy enough to pull the pole down to tighten it up, so they found a large malapai rock.[13] Little by little they got it up on the load, then they pushed it onto the binding pole and slid it toward the end, and the mother and little girl both got on with the rock, the pole came down and the load was bound, and they continued on their way.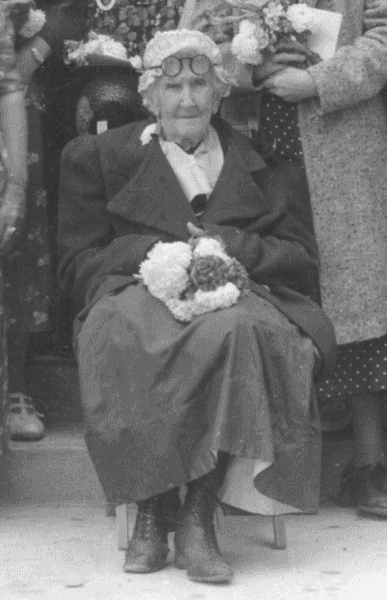 Margaret Henrietta Camp Brantley Baird shortly before her death. Photo courtesy of the Albert J. Levine Collection, Stinson Museum, Snowflake.
When about ten miles from their home, they met eight Indians all decked out in war paint. How frightened all three were. The Indians rode up to the wagon. Margaret could talk some Piute; this she tried on them. They forgot to be fierce, perhaps, when they saw the helplessness of this little crippled woman; anyway, they laughed at her attempt at conversation. She gave them some cookies from her "grub box" and they rode away. She motioned them that they were on the wrong road, and they went away laughing at her and swinging their arms. As soon as they were gone she said to the boy, "Now put on the whip and let's get out of here as soon as we can." Now was a chance to test the genuineness of their work as they went lickety-split down the mountain and the load did not loosen at all.
She always raised good gardens, crawling along on her hands and knees to weed it. On her farm she raised alfalfa, fruit, corn, and cane which was made into molasses, which she would take to the mountain country to trade for potatoes and articles of clothing.
In Concho, a very helpful spirit was felt; the women would go from house to house to spend the day and help each other with their sewing. At times they would have as many as six sewing machines going at once, while some of the ladies would cut out, baste, or finish off. Margaret was always the central figure on these occasions, as on the all-day workings during the fruit season. They would go from place to place, peeling, pickling, preserving, and drying. The children were called into service also and several hundred pounds of fruit would be taken care of a day. Margaret was considered the fastest peeler; that and her good nature and funny stories always won a welcome for her.
Because of the scarcity of pure drinking water, many cases of typhoid fever developed in the community. She was always ready to render assistance, and she never lost a case she was nursing.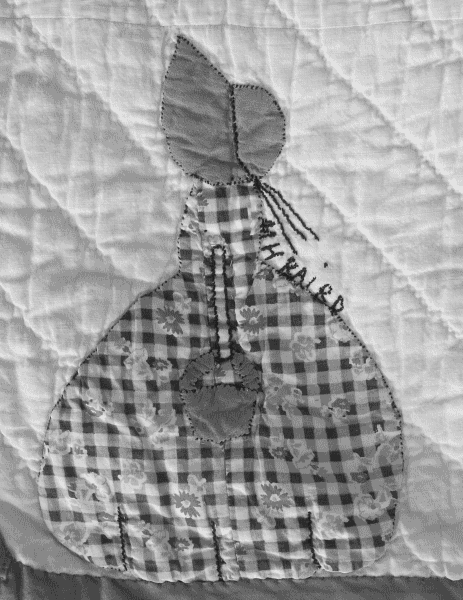 Margaret Baird's doll for the Moneta Fillerup quilt (left) and the doll her granddaughter Eloise Flake created; David H. Ellis, photographer. Photo courtesy of the Ellis Collection.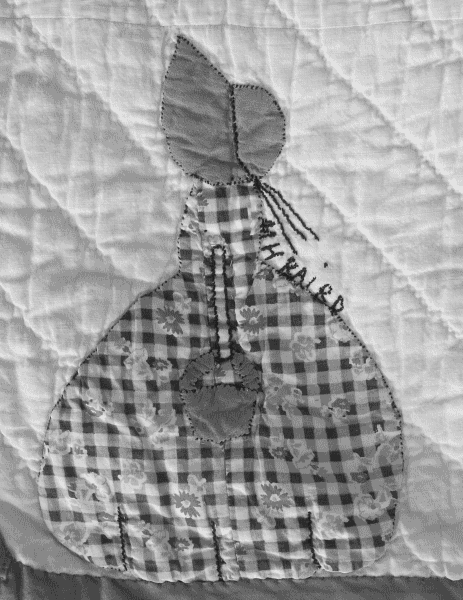 Whenever a boy wanted to go to school and had no money to pay board, he knew he could find a place at her home, as she was a firm advocate of education and saw that all of her own children passed the eighth grade and sent them thru high school, and the ones to college who cared to go. Her home was always open to boys and girls, whose joys and disappointments she seemed to understand.
For over thirty-five years she has lived in Snowflake, Arizona, where she also taught music, and some of the finest pianists in both Apache and Navajo Counties owe their success to the early training she gave them. Grandma Baird, as she is now lovingly called by young and old alike, is beloved by all who know her. Possessed with all of her faculties, and added to that a cheerful disposition, and an optimism that is infectious, she truly "Lives in a house by the side of the road, and is a friend to man."
Grandma Baird died January 9, 1941 in Snowflake, Arizona.
Ellis and Boone:
Margaret Baird was a beloved widow in Snowflake. The way she coped with her disabilities is illustrated in this account of a pioneer celebration held in Snowflake on July 24, 1895:
After dinner all joined in games and contests for two or more hours. A little cripple lady, who never weighed a hundred pounds in her life, took first place standing on her head. She would wind those long skirts around her legs just above her shoe tops, then close her legs jackknife fashion. In this way her skirts were held firmly in place. She would now put her hands out and in a second's time her head was down between them and there she was upside down in mid air. She could stay thus longer than any other contestant. She also out did them all in climbing the walnut tree. After tying her skirts firmly with a heavy cord above her shoe tops, she would grasp the lower limb, draw herself up and catch a higher limb. Continuing in this way she was soon to the top of the tree, never using her legs or feet in doing so. There she sat among the top branches. After resting she lowered herself in the same fashion. She was voted the honor of being the real sport of the day.[14]
Nearly forty years later, sometime between May 1932 and November 1934, seventy-two women in Snowflake worked on a friendship quilt for Moneta Fillerup, who had been recently released as Relief Society president. These women ranged in age from twenty to eighty-four. Each of the nine-inch squares had an appliquéd doll that was a cross between a Sunbonnet Sue and a Colonial Lady. The names on the quilt were usually made to look like an extension of the ribbon from the bonnet. Each woman expressed her creativity in the flowers, basket, or purse the doll was carrying and/or the ribbon name. Margaret Baird was the oldest woman to make a square. Her doll is one of only two that is reversed; the other one was made by her granddaughter Eloise Flake, making it likely that the two women worked on their squares together.[15]
Julia Johnson Smith Ballard
Jessie Ballard Smith[16]
Maiden Name: Julia Johnson Smith
Birth: October 20, 1875; Parowan, Iron Co., Utah
Parents: Jesse Nathaniel Smith[17] and Janet Mauretta Johnson[18]
Marriage: Charles Harvey Ballard;[19] November 2, 1892
Children: Jessie (1893), Annie (1896), Harvey (1897), Harold Smith (1900), Charlotte (c. 1902), Mauretta (1904), John H. (c. 1907), stillborn son (1911), Benjamin J. (1914), Frances (1916), Luella (1918), Phyllis (1921)[20]
Death: April 27, 1956; Snowflake, Navajo Co., Arizona
Burial: Snowflake, Navajo Co., Arizona
It was in Parowan, Utah, October 20, 1875 that a tiny baby girl came to bless the home of Jesse N. Smith and his wife Janet Mauretta Johnson, and they named her Julia. She was number seventeen in the large family of Jesse N. Smith and the fifth daughter of his wife Janet.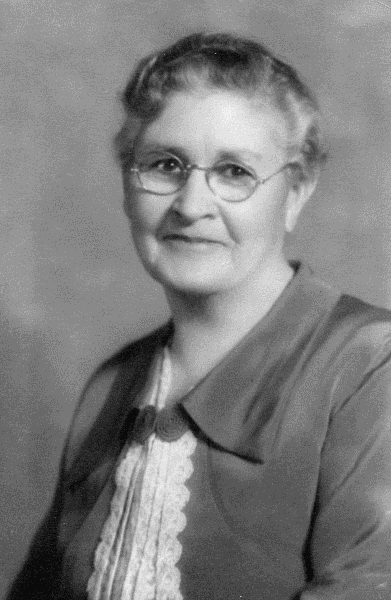 Julia Smith Ballard. Photo courtesy of Marta Moore.
Julia was three years old when her father was called to help settle Snowflake, Arizona, and to preside over the Eastern Arizona Stake of Zion.[21] The little company composed of Jesse N. Smith, his wife Janet, her five small children and several other families left Parowan December 3, 1878.
It was not easy for Janet to leave her home and start out in the dead of winter with five little girls suffering from whooping cough, but she did not complain. It took a homemaker with a courageous heart to make a wagon box into a home during six weeks of weary travel through inclement winter weather.
This little company, consisting of eleven wagons and thirty-two people, arrived in Snowflake January 16, 1879, and were welcomed by Brothers John Hunt and William J. Flake. Little Julia was a four-year-old Arizona pioneer, but she well remembered the first night spent in the town that was to be her home the rest of her life. The Smith family was invited to stay at the home of Bishop John Hunt and his wife Lois, and Julia's mother gave her little girls a good bath, the first they had had since leaving Parowan.
Snowflake at this time consisted of about eight small log cabins with dirt roofs besides the Stinson house. The Smith family lived in their wagon box and a tent until their two-room log house was finished. It was the first house in Apache County to have a shingled roof.
Late in the fall of 1879, after the crop was harvested, Julia's father returned to Utah to finish his term in the Utah Legislature. His wife, Janet, and her family remained in Snowflake. In the spring of 1880, he returned to Snowflake bringing the rest of his family to settle there. Julia was so happy to see her brothers and her sisters again; they were never considered half brothers and sisters in the Smith family. Aunt Emmie's and Aunt Augusta's families lived in wagon boxes and in tents until their houses were finished, but they ate at Julia's mother's table.[22]
In Julia's words, this little experience taught her a lesson she learned early in life:
Sunday was always a big day in our lives. It was really a special occasion when there was no work to do and we could put on our best dresses and go to Sunday School. I will never forget the lesson that I learned one Sunday morning. Priscilla, Edie and I had hurriedly changed our dresses and rushed off to Sunday School, failing to hang up the dresses we had taken off. Lucy was just leaving for Sunday School when our mother discovered the dresses on the floor and sent her in haste to tell us to come home immediately. Three little girls were very upset and frightened. Something terrible must have happened to be called home from Sunday School; perhaps our mother had had another heart spell. We ran home as fast as we could go. Mother calmly greeted us at the door, told us to hang up our clothes, then sent us back to Sunday School. We never again went to Sunday School or anywhere else without first hanging up the clothes we had taken off.
Julia grew up in a thrifty pioneer home where there was very little leisure time. In spite of this fact, she enjoyed a very happy childhood. Mother was good at reminiscing and could keep one spellbound for hours telling of the games they used to play, such as run-sheep-run, steal sticks, hide and seek, blind man's buff, hop scotch, and old nicklebones [knucklebones?], etc.; also of joy rides on hay racks, of husking bees, and candy pulls. May Day and Fourth of July festivities were of great importance.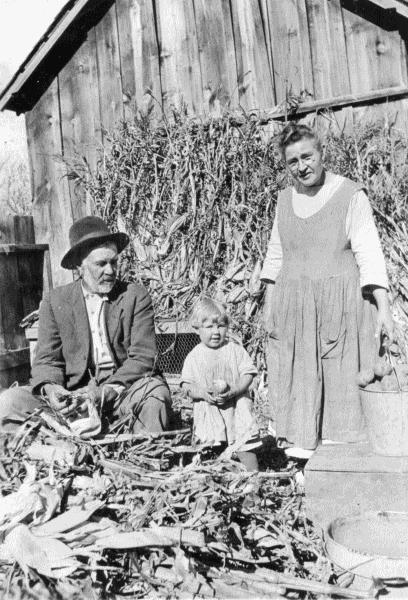 Julia Smith Ballard, with husband, Charles, and youngest daughter, Phyllis, shucking and shelling corn. Photo courtesy of Ida Webb Collection, Taylor Museum.
At a very early age Julia learned to do all the domestic tasks around the house, including sewing, knitting, weaving, and braiding straw. She loved to slip across the street and watch Grandma Larson at her loom, helping her to wind her shuttles and other simple tasks.[23] The knowledge she gained from Grandma Larson about weaving proved very beneficial in later life when she had to furnish her own home with carpets and rugs. Grandma Johnson taught her to knit.[24] When she was eight years old, she felt highly complimented one day when Aunt Emmie came to their home with some white yarn and requested Julia to knit a pair of garters for her. Grandma Janet made straw hats for both men and women. Julia helped her mother with the trade by braiding straw in several different patterns. By the time she was fourteen years old she was making all of her own clothes and helping with the family sewing. Before Leah was born, Grandma turned over the sewing to Julia, and she made all of Leah's baby clothes.
An important occasion was required during the summer of 1892 to bring both Joseph F. Smith and George Q. Cannon, First and Second Counselors to President Wilford Woodruff, all the way from Salt Lake City to Arizona by team and wagon.[25] So much time was necessary to make the trip, due to the mode of transportation, that the Church Authorities called a district conference to include the four Arizona stakes—Maricopa, St. Joseph, St. Johns, and Snowflake. Since this conference was to be held in July, Pinetop was selected as a suitable gathering place. This conference was to serve a dual purpose. Aside from the visiting Church Authorities' instructions and the general spiritual uplift expected, there was the added attraction of a few days camping among the pines. The latter had a special appeal to those coming from the Gila and Salt River Valleys. Wagon wheels turned over and over on the hot dusty stretches of Arizona roads as the caravans from four stakes wended their way to the White Mountains to attend the Pinetop Conference. The mode of transportation was no indication that the folks, both young and old, did not enjoy themselves.
A large lumber pavilion was built at Pinetop for this occasion. This served as a meeting place for the two days of conference on Saturday and Sunday, and for the celebration of the 4th of July on Monday. Each stake had its respective camp located around the pavilion according to its location in the state.
The quadrille was the popular dance of the day. The round dance had been discouraged by Church leaders but at the Pinetop conference 4th of July celebration several round dances were permitted because of the many requests from the young people. This was the first time the young people from the Snowflake Stake had been permitted to round dance with Church sanction.
Julia Smith attended the Pinetop Conference with her intended husband, Charles Harvey Ballard, who was full of fun and never happier than when he could play a prank on someone. It was rumored that they were to be married soon; consequently, they were subjected to a lot of teasing and fun from the young people.
Julia was very fond of pine gum. The morning they were to start home, she left camp with several others in search of a little more pine gum. As it took the men folks quite a while to tend their teams, pack their wagons, and get ready to leave, she felt that there was plenty of time to go a little farther from camp where she could select some choice pieces of gum. The farther she went the better the gum seemed to be. She became so engrossed she failed to notice that her companions had left one by one. She heard shouting, and, thinking they were perhaps getting ready to leave, started running, as she thought, towards camp. Presently she could hear wagons moving and she ran faster and faster, but no camp was in sight. When she became exhausted from running, she became frightened and began to realize that she must be lost. Although she was panic stricken, she had presence of mind enough to stop running and to try to get her bearings. She could no longer hear shouting or the moving of wagons. As she stood there scanning the country side, she saw in the distance what she thought to be a moving wagon, so she started running in that direction; if it were a wagon there surely must be a road which would help her to find her way. When she found the road, another wagon came along which directed her to camp. Although many busy years passed since that day, Julia never forgot the terrible feeling of being lost in the forest.
Julia's first schoolteachers were Della Fish Smith and Annie Hunt Kartchner.[26] Edward M. Webb and Levi M. Savage were her instructors in the Academy.[27] She attended school until she was married and several months after. She often mentioned the yearning she felt to continue school and her mother saying to her, "You have now started in the greatest school of all, the great school of experience." In this school she was a very apt pupil. Julia was married to Charles H. Ballard November 2, 1892, in the St. George Temple. The journey by team and wagon took two weeks both ways. As traveling companions, they enjoyed the company of Julia's brother, John Walter Smith, and Lois Bushman, who were married the same day.[28] Although young in years [just seventeen years old], she brought skill and love for womanly tasks to her husband's household. She cared for his five motherless children, the youngest being four years old. She was the mother of twelve children of her own, ten of whom reached maturity.
Six years after her marriage, with three children of her own added to the family, her husband was called on a mission to West Virginia. Although a small child, I can well remember how hard Mother worked to support the family while Father was away. Besides making all of the clothing except the shoes we wore, she sewed for other people, sitting up late at night and sewing by the light of a kerosene lamp. As pay for her work she received molasses, dried fruit, squash, and other vegetables.
In addition to her busy home life, she was always active in Church work, starting out as a Relief Society teacher soon after she was married. She served twenty consecutive years in the Primary, first as ward president and then as stake president. During her service in the Primary, new babies were added to the family about every two years, but few meetings were missed on that account. Not long after being released from the Primary, she was called to the responsible position of ward Relief Society president, serving in this capacity for ten years.
Her husband passed away December 17, 1923, leaving her with four small children to support and a son in the mission field. In spite of the dark days ahead, she continued on as Relief Society president for eight years after the death of her husband.
The fall after his death, calamity struck again. The family barn, containing forty tons of hay and the year's crop of beans, squash, and vegetables, was destroyed by fire. The granary, only a short distance from the barn, contained the wheat crop and was miraculously saved although the whole side was ablaze. The only available water was a bucket brigade. Kind neighbors came to her assistance and helped to build a new barn.
As a young girl before her marriage, Julia began to help with sewing for the dead. This she continued to do throughout her busy lifetime, making the majority of the temple and burial clothes for Snowflake and many of the surrounding towns as well.[29] No matter how pressing her own work, it was never so important that it could not be set aside while she sewed for the dead, many times working far into the night when a hurried burial was necessary, never receiving any remuneration for her service. At one time one of her young daughters had been promised a new dress for a special occasion. She rushed home from school full of anticipation only to find her mother sewing on burial clothes. Her disappointment was so great she burst into tears and said, "I wish folks would quit dying so us kids could have something to wear."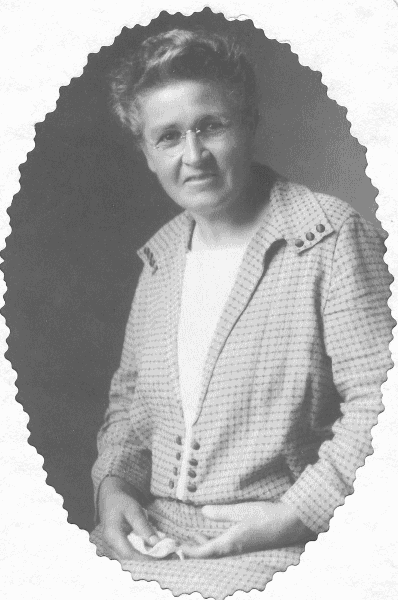 Julia Smith Ballard. Photo courtesy of Joyce Webb Brimhall.
A few years before her death one of her granddaughters asked her if she had ever kept track of the number of people for whom she had made burial clothes. Her life had been far too busy to make a note of this service, but now that she had more leisure the idea intrigued her. In her little notebook she began to jot down the names of those she could recall sewing for. That list grew into the hundreds, and no doubt there were many that she could not recall.
Her fingers were never idle. Even in her later years, whenever she sat down she either had her knitting or a temple apron to work on. She was ever mindful of the unfortunate, always ready to share whatever she had with them.
Julia passed away April 27, 1956, in Snowflake, Arizona. The eighty-one years of her life had been filled with service to others.
Ellis and Boone:
Julia Smith Ballard's service in making burial clothing for people in Snowflake is legendary. Upon her death, her daughter Luella Ballard Webb assumed this same role for many in the community. But burial clothing was not the only service Julia Ballard provided, as noted in this story:
While Julia S. Ballard was serving as President of the Snowflake Ward Relief Society, the custom of "Sunday Eggs" was started. The Relief Society sisters donated the eggs that their hens laid on Sunday to the Relief Society for the purpose of getting a fund to erect a new building for the sisters. Her children have covered the town over many times taking their 10 lb. buckets every Monday and going from house to house to gather the eggs. These eggs were sold (many at no more than 10¢ a dozen) and the money was literally socked away by secretary Minnie Kartchner. There were many varied and interesting experiences with these "Sunday Eggs." There was one good sister in town whose hens never did lay eggs on Sunday while others' hens always seemed to lay several more that day than any other in the week. One day one of [Julia's] daughters was on her way home with a full pail of eggs, when a big dog came running out of a yard she was passing and jumped on her, frightening her terribly as well as breaking all her eggs. When the first Chapel was built (the Chapel that was destroyed by fire) a fund of $3000 was put into that building by the Relief Society, the major portion of this money came from the Sunday Eggs.[30] Can you imagine how many eggs must have been gathered to accumulate this amount?[31]
Sarah Roundy Berry
Author Unknown
Maiden Name: Sarah Roundy
Birth: September 17, 1861; Centerville, Davis Co., Utah
Parents: Lorenzo Wesley Roundy and Priscilla Parish
Marriage: James Thomas Berry; October 8, 1880
Children: Herbert Alonzo (1884), Effie (1886), Zella (1888), Elmer Leroy (1891), Etta (1894), Oron Waldo (1896), Euphemia "Famie" (1898), Roundy (1903)
Death: September 21, 1941;[32] Holbrook, Navajo Co., Arizona
Burial: St. Johns, Apache Co., Arizona
Sarah Roundy was born September 17, 1861, in Centerville, Utah. She was the second daughter of Lorenzo Wesley Roundy and Priscilla Parish Roundy.[33] As a young girl, her health was very delicate and many times she fainted away. Before her marriage her mother took her to the St. George Temple to have her endowments and receive a special blessing for her health. She gradually got better and was destined to withstand many hardships during the pioneer life that was to follow.
At the age of fifteen, her father was drowned in the Colorado River while on an exploration trip in behalf of the Church.[34] This made it necessary for Sarah and her elder sister, Fannie Jane, to work some in the fields, and to do the chores as there were five younger children to care for. Her mother wove cloth for themselves and others. In the early days they knit all their stockings and knitted for others and did everything they could to help the family to get along.
Lorenzo Wesley Roundy and his good wife Priscilla had been called by Church authorities to settle Centerville, Utah, where Sarah was born and from there to settle Kanarra, Iron County, Utah, where Lorenzo was called to be a bishop of the ward, which position he held for many years.[35] Many Church authorities, relatives, and friends stopped at the home of Bishop Roundy.
James Thomas Berry was born in Spanish Fork, Utah, March 22, 1861. The Berry family was also called by Church authorities to settle Long Valley and later Kanarra, Iron County, Utah. It was at Kanarra that Sarah met James Thomas Berry. They grew up together and were baptized the same day by the same man. Tom Berry fell madly in love with the attractive daughter of Lorenzo Roundy. They were married in the St. George Temple October 8, 1880.
One year after their marriage her parents were called by President John Taylor to settle St. Johns, Arizona.[36] At this time five of the Berry families, consisting of
three brothers and two sisters and their families, made the trip to Arizona.[37] A few years later two more sisters followed to help settle the country.[38]
This Berry family drove down from Long Valley three hundred head of Durham cattle and two hundred head of horses. The parents of this large family were John Williams Berry and Jane Elizabeth Thomas Berry. John Williams Berry and a younger son, Albert Berry, helped cross these cattle over the Colorado River and then returned to their home in Kanarra, Utah.
While Sarah's husband was busy helping to drive the cattle and horses, Sarah Berry drove two span of horses pulling two wagons on the entire trip. At times it was a frightening experience that became a nightmare as they drove down "Lee's Backbone" into the Colorado.[39] The steep, winding road had been hacked out of the rock and was scarcely wide enough for one wagon. One of the rear wagons tipped over on a curve. Some of the men righted the wagon and, with a lump in her throat, she [Sarah] set the brakes and drove on. It was a long, tiresome trip for her. She even cut her long, thick, beautiful hair short because she did not have time to take care of it; she had a switch made out of the hair.
After three months, the Berrys turned their weary livestock loose at Concho Springs and arrived in St. Johns about the middle of January 1882. They removed the covered wagon boxes from the running gears and placed them in a circle on the ground. They served as bedrooms, and the center place was made as comfortable as possible to cook and wash and do everything there was to do. A tarp was stretched overhead for protection from the storms and sun.
Each of the families took out for themselves and eventually had homes of their own to live in. Sarah raised six children to maturity: Herbert, Zella, Elmer, Etta, Oron and Euphemia. Effie, the oldest daughter, and Roundy, the youngest son, died young. Etta was born in a house built just across the street from Bill Berry's fine brick house. Sarah's sisters-in-law also lived nearby, so the cousins had a lot of fun together.
Sarah was a beautiful seamstress and taught her girls to sew neatly. She loved beautiful handiwork, and her children's clothes were adorned with it. When the children were small she knit all the stockings for the family. Like all pioneer mothers, she did her own canning of vegetables and fruit, canning and curing of meat, and made her own soap. She never owned a washing machine until her children were married.
Sarah was president of the Relief Society around the early nineteen hundreds. The Relief Society always worked hard to have a nice place in which to meet. They worked hard having bazaars to help sustain the organization and keep up the building they then owned. It was a big job to be president in those days. They made the burial clothes for all who died in the community, both young and old. They selected the best sewers in the ward and purchased material by the yard, always selecting beautiful laces and trimmings for women's and girls' dresses; the shoes also were made by the Relief Society. They were very particular about everything being neat as could be. After the Salado dam broke in 1905, it took all the dams below it, including the Woodruff dam.[40] The people there were in more difficult circumstances than in St. Johns, so the St. Johns Ward Relief Society donated $125 for their relief while Sarah was Relief Society President.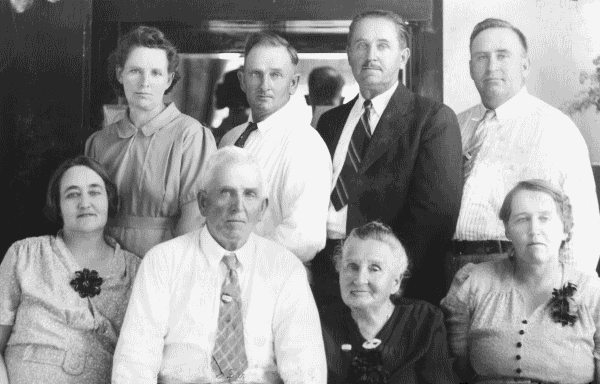 The family of Thomas and Sarah Roundy Berry: front row (left to right): Zella, J. Thomas, Sarah, Etta Berry Heap; back row (left to right): Euphamia Berry McCray, Elmer, Herbert, Oron. Photo courtesy of St. Johns Family History Library.
It was through her influence that the family held a Family Hour by lamplight each morning, where she read from the scriptures and they sang a song and had prayer before breakfast while the whole wheat cereal was cooking on the wood stove. Sarah was most faithful in attending to all of her church duties. She never missed a Sunday School unless there was sickness in the family. Through all the years of hardships, she was known for her stalwart character, her patience, kindness, and love for her family and her fellowmen. She was devoted to her church and served it well.
As she became older, her health became better, until at the age of fifty-eight she broke her hip. Since the same leg had been broken once before, it became shorter than the other leg, making a cripple of her the rest of her life. She didn't walk for almost a year after this happened, but she never complained.
Sarah and John Thomas Berry spent seven winters doing work in the Arizona Temple. They hired someone to do the research for names. In all, they did over a thousand names each. They also cared for their daughter Zella, who was a partial invalid. They were very happy in their temple work and labored among the most faithful people God has on earth, temple workers.
They went back to St. Johns a little earlier that spring to get out of the heat of the valley. Just a short while after going home Sarah had a stroke from which she never recovered. Her speech was paralyzed. She lived three months this way, and passed away September 19, 1941, just two days after her eightieth birthday. She was buried in St. Johns, Arizona, in the West Side Cemetery, among the people she loved so well.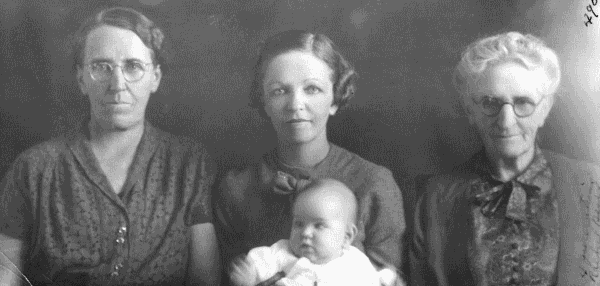 Rachel Berry (right), with daughter Lavenia Elizabeth Berry Peterson (1880-1963), granddaughter Lamore Peterson Kennedy (1909-2006), and great-granddaughter Ann Kennedy; Margaret J. Owerson, photographer. Photo courtesy of St. Johns Family History Library.
At her funeral, Patriarch David William Rencher, who was a neighbor for years, was a speaker, and he said: "Sister Berry was one of the most Christlike spirits it has been my privilege to know."[41] What a compliment by a man of sterling quality!
Ellis and Boone:
The two Berry women (Rachel married to Bill and Sarah married to Thomas) were both important to the settlement of St. Johns. After the two brothers brought their cattle to Apache County, "Uncle Bill Berry became a most successful man of the range, owning both sheep and cattle."[42] He was the first Mormon sheriff in Arizona. His wife, Rachel, became Arizona's first woman legislator, serving from 1915 to 1917. She had worked for women's suffrage as the Arizona Constitution was being written in 1910, but the cause went down to defeat. After February 1912, when Arizona became a state, these same women worked to bring the issue to a vote via an initiative. They were successful, and in 1914 Rachel was elected to the Arizona House of Representatives. She served one term, working in particular for the welfare of women and children.[43] She was the first woman to serve in the Arizona legislature and is the only LDS woman in the Arizona Women's Hall of Fame today.
After arriving in Arizona, Tom Berry "turned to farming," wrote LeRoy and Mabel Wilhelm, "and found it rather difficult to thus make a living for his large family."[44] However, he was remembered as kind, honest, and faithful in church attendance. Likewise, his wife, Sarah, known familiarly as Sady, was described as humble, gentle, and a devoted wife and church worker. While they were serving in the Arizona Temple, their oldest son, Herbert, was in Snowflake serving as a home missionary with Martin D. Bushman, Virgil Flake, Jesse Decker, Eugene Flake, and Ammon Morris.[45]
Ella Deseret Shill Biggs
As told to Fred Shill Biggs and written by George and Wright Shill[46]
Maiden Name: Ella Deseret Shill
Birth: November 16, 1869; Croydon, Morgan Co., Utah
Parents: Charles Golding Shill and Harriet Stronach Paynter[47]
Marriage: Thomas Piercy Biggs; January 19, 1888
Children: Thomas Charles (1888), Jonathan George (1890), Wilford (1892), Frank Piercy (1894), Henry (1897), Fred Shill (1898), Ellis Darrell (1902)
Death: October 10, 1927; Lehi, Maricopa Co., Arizona
Burial: Mesa, Maricopa Co., Arizona
Ella Shill Biggs was born November 16, 1869, at Croydon, Morgan County, Utah. She is the first child and only daughter of Charles and Harriet Shill.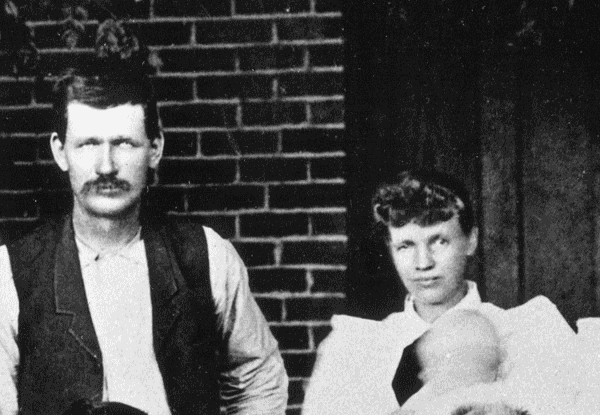 Ella Deseret Shill and Thomas Piercy Biggs with baby Henry, 1897. Photo courtesy of Christine Schweikart.
Ella grew to young girlhood at Croydon helping her mother tend five younger brothers and assisting her mother in every way possible. Her mother had several severe sick spells.
Early in November of 1880, after her mother had recovered from a long case of typhoid fever, the Shills loaded all their earthly belongings on the train and headed for Arizona. The trip was long and hard. There were few free moments for Ella, as there was an eight-month-old baby to tend and assist with meals for the family. After several days and many changes of cars they arrived in the town of Maricopa, a terminal point for Tempe and the rapidly growing Salt River Valley.[48]
While in Maricopa, they met a young freighter from the Lehi community by the name of Thomas Piercy Biggs. They made arrangements with him to haul the family and their belongings to Lehi. This was an exciting journey for the young boys riding atop the freight wagon.
When arriving in Lehi, the Shills settled on the land where the Otto S. Shill family is now located on North Mesa Drive. A vineyard and fruit trees were planted. Then Father Shill got a job as foreman on the George Crismon Ranch. The ranch is now known as the Sachs Ranch, located about midway between Lehi and Tempe on Alma School Road. Mr. Crismon came to the valley to raise pigs and make bacon and ham for the valley and the soldiers at Fort McDowell. The Shills lived on this ranch for two or three years.
Schooling for Ella was very meager. She reached the fifth grade when she was forced to quit school to help care for the family. As a young lady she moved to Pinal, Arizona, to work for Ben and Rebecca Blackburn.[49] She worked for them as long as the Silver King mine was in operation.
After moving back to Lehi she fell in love and married Thomas P. Biggs in the Logan Temple in 1888. To this marriage seven sons were born, two of them dying in infancy.
In April of 1902 a great sorrow came to this young family when death took the husband and father. It was a hard struggle for this young mother, as her youngest son was born late in June of 1902. Hard work and bad luck was no deterrent to her. Many times there was hardly enough food in the home for her family, but through her knowledge of the weeds that grew along the ditches and fence rows, she gathered greens for this family.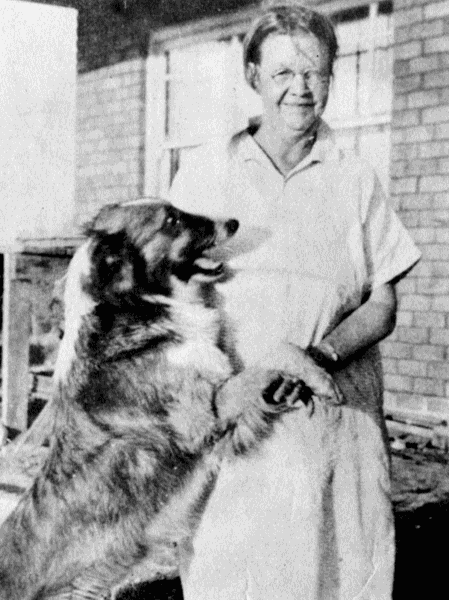 Ella Deseret Shill Biggs. Photo courtesy of Christine Schweikart.
Ella had a growing testimony of the gospel—even in her darkest hour she never doubted or complained. She instilled this testimony and the love of the gospel in her sons and to always respect those in authority. Two of her sons, though hard times were pressing, filled honorable missions.
Ella was a faithful worker in the Sunday School and the MIA. For several years she was the president of the YWMIA. She also acted as secretary of the Relief Society under three or four presidents.
Among other activities she carried on was keeping the Lehi store, [working as] postmistress of the Lehi Post Office, and sewing for the Indians, for whom she had a great love. Also, if there was any sick in the community, Sister Biggs was the first one called.
After living a very full life she passed away in her home October 10, 1927, leaving a large and respected posterity.[50]
Ellis and Boone:
It is well known that Ella's brothers, Milo and Frank, along with Frank Biggs and Lawrence Ellsworth went prospecting, although they did not find the gold they sought.[51] Many of the Mormon men in southern Arizona worked for the mines, usually hauling ore, sometimes hauling produce, and occasionally in the mine itself. Less well known are the women that worked at the mines.[52]
In 1875, four local farmers located an ore body on the Stoneman Grade between Florence and Globe, near Picket Post Butte. They filed notice and called this the Silver King Mine. For the first shipment, they carefully packed poor grade ore and discarded the good. They lost $12,000 and could not sell their site to pay a small debt. Two years later, some real miners from Nevada noticed the rich ore in the dump and contracted to split the profits. This shipment netted a profit of $50,000. Immediately, the Silver King Mine became an important source of silver from Arizona, and within nine years it had produced more than $6,000,000.[53]
At this same time, the town of Pinal, also called Picket Post or Pinal City, was established to support the hundreds of prospectors and miners who flocked to the area hoping to become rich. Stamp mills were erected and ores were smelted. All these men needed board and room. Ella's cousins, Ben and Rebecca Blackburn, probably ran a boarding house with Ella helping to provide the meals. As with most mining operations, this was a boom-and-bust location; the Silver King Mine had closed by 1888, and the town soon vanished. This area today is the site of the Boyce Thompson Arboretum.[54]
Frieda Zeigler Bourn
Roberta Flake Clayton, FWP Interview
Maiden Name: Frieda Zeigler
Birth: April 10, 1862; Markgrolningen, Stuttgart, Germany
Parents: John Siezel (Ziglear) and Friericka R. Kaufman
Marriage: James W. Bourn; c. 1885 (div?)
Children: Ralph E. (1886)
Death: October 31, 1946; Phoenix, Maricopa Co., Arizona
Burial: Greenwood Crematory, Phoenix, Maricopa Co., Arizona
Some people spend so much of their lives trying to find their niche that there was no time left for accomplishment, but not so with Frieda Ziegler Bourn, whose first thought is of service to others.
In the year 1881 after a slow, tortuous trip of several weeks, because of delays owing to floods and lack of transportation facilities, Mrs. Bourn came to Denver from New York. Nothing ever escaped her notice and her inquiring mind went back to the cause of floods and their control instead of complaining at conditions as most of her fellow travelers were. Her interest in flood control led to their prevention through reforestation. Because of her work along these lines and her efforts to have forestry taught in the schools of the state, she became acquainted with and a good friend of Gifford Pinchot, appointed by President "Teddy" Roosevelt to look after lands under public domain.[55]
Fitted by nature as a teacher and being able to speak three foreign languages (German, French, and Swedish) her services were much sought after in settlement work. She was instrumental in organizing and conducting free kindergartens in localities where the people were too poor to afford to pay. Her knowledge of German helped her to assist many German Jews in Denver to adjust themselves to new surroundings and to each other.
Mrs. Bourn's husband was an invalid for many years before his death, which placed upon her the necessity of providing for herself and her one child, Ralph, made permanently deaf by a severe illness.[56]
They acquired a ranch in Colorado and went into the cattle business.[57] Mrs. Bourn had to drive several miles to the post office in the winter time through banks of snow. Then, she saw again the necessity for planting trees when she would pass half a dozen, or more, carcasses of cattle which had died through lack of shelter and protection that trees might have offered.
During a trip to Washington en route to Philadelphia to put her son in school there, she appeared before the committee on Land Affairs to obtain title to her land, and while there was instrumental in helping to pass laws beneficial to the stockmen of Colorado.
Her interest and intelligent research in forestry, soil erosion and conservation, and the articles written by her, brought much favorable comment and may we say in a way, was responsible for these subjects being taught in the schools in Colorado. In some of the states, it resulted in large, burned-out areas being replanted with seed imported into this country from Europe, principally the Norway pine.[58]
Through her indefatigable efforts along all these and many other lines, Mrs. Bourn's health failed, and she sought the salubrious climate of Arizona, where she found not only health but a vast field of pioneering along the lines in which she had been so successful in her former home.[59]
Having an "underprivileged" child of her own, and knowing the handicap placed upon those unfortunates, Mrs. Bourn immediately set about finding a remedy, and her home in Gilbert was turned into a training school for this group.
Soon she outgrew the small town of Gilbert. She taught in a vocational school held in the basement of the Monroe School in Phoenix. Not only did she teach sewing, cooking, care of children, and health subjects to the hundreds of women and girls who came to her school, but she interspersed citizenship and kindred subjects to the men who gathered in at the noon hour and after school closed at night. She taught them how to sign checks, conduct their business, to speak and write English, and show loyalty to their adopted country.
Instead of a nine till four o'clock school, hers extended to nine at night. She was never too tired to give ear to their troubles and unlike many who merely "sympathize," Mrs. Bourn went to work doing something about it, and she had enough influence among those who had the power to establish centers where her work could be carried on. For years at a time, she has kept one or more afflicted children in her home.
Though advancing years have whitened her hair and left their imprint on her face, her soul is enriched by her experiences, and her desire and determination to carry on for the alleviation of suffering and to find place for the misfits of society is uppermost in her mind.
She had a small acreage near one of the rural schools where she hopes, in some way, to have cottages where these unfortunates can be scientifically fed and trained to fill their places in the world's activities, instead of the insane asylums, delinquent homes, and jails as they do now.
Her efforts are untiring to interest the legislature in setting aside an appropriation for this purpose, and she says, with a twinkle in her kindly blue eyes, "If they will, I'll never ask for a pension."
For the good of all, may her hopes be realized and thus will honor and joy come to Arizona's foremost vocational teacher and pioneer along these lines.
Frieda Bourn died October 31, 1946. She was eighty-four years old.
Ellis and Boone:
Some of Frieda Bourn's moves can be traced in the U.S. census records, but not all. In 1900, Frieda was living with her husband, James W. Bourn, and son, Ralph, age thirteen, in Delta County, Colorado.[60] James W. Bourn was born January 30, 1852, in Missouri, and their son, Ralph, was born July 31, 1886, in Colorado Springs, Colorado.
By 1910, Frieda had left her husband and was living with a friend in Denver.[61] She was one of the women who came to Arizona as a health seeker. As Frances E. Quebbeman wrote, "The population of Arizona more than doubled in the decade of the 1880s and a considerable portion of this increase could be ascribed to the vigorous advertising of the territory as a health resort."[62] The dry air of Arizona was considered desirable for kidney disease, rheumatism, and most importantly, tuberculosis, which was epidemic throughout the United States. After the turn of the century, pneumonia became the leading cause of death for lung disease rather than tuberculosis, and post-pneumonia patients also came to recuperate, a process that often lasted years.
Eventually, all three members of the Bourn family relocated to Arizona. By 1930, Frieda was living at Osborn, and her son, Ralph, with a wife and three children, was living in Creighton. Both are towns in Maricopa County. Then by 1940, James W. Bourn, age eighty-eight, was also living in Phoenix. All three were living in separate households.[63] It should be noted that Frieda's son, Ralph, was deaf, and although there may have been other disabilities that are not reported in the census records, today this would not be a reason for placing a person in an "insane asylum, delinquent home, or jail" as implied in Frieda's work to train the disabled.
Margaret Ellen Cheney Brewer
Hyrum Hendrickson[64]
Maiden Name: Margaret Ellen Cheney
Birth: October 28, 1876; Fairview, Sanpete Co., Utah
Parents: Elam Cheney and Harriet Edgehill
Marriage: Joseph Lewis Brewer; October 16, 1892
Children: Wilford Woodruff (1895), Violet (1909)
Death: September 22, 1968; Mesa, Maricopa Co., Arizona
Burial: Show Low, Navajo Co., Arizona
Everyone loves a happy personality. Take equal parts of cheerfulness, thoughtfulness, order, and tact, and season well with contentment and self-forgetfulness. Then mix thoroughly all these ingredients with the milk of human kindness, and add enough common sense to hold all together, and serve on crisp leaves of sense of humor. This recipe for happiness has been tested the world over and has never been found wanting. Anyone fortunate enough to share a few minutes with Mrs. Margaret Brewer comes away convinced that here is a person that cooks daily from the recipe for happiness.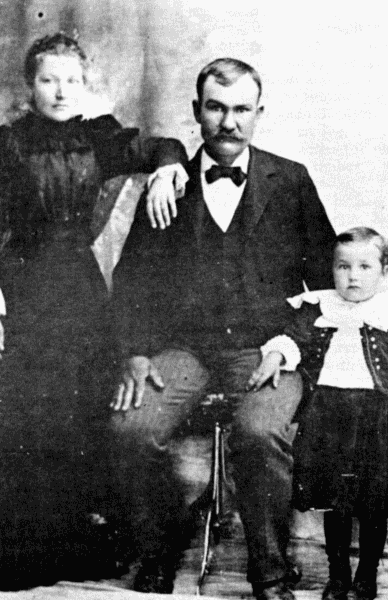 Margaret Cheney Brew with husband Joseph Lewis Brewer and son Wilford, c. 1896. Descendants of Lewis Brewer, 35.
She has a vivid memory of an incident that occurred seventy-seven years ago, in the community of Fairview, Utah. Though only four years old, she and her cousin were asked to sing a duet at a church conference. As they stood on a table where they could be seen, they harmonized very well. After the performance, little Miss Margaret remembers Eliza R. Snow, noted LDS Church worker, standing up and talking to the people assembled.[65] She was telling the congregation about Joseph Smith, organizer of The Church of Jesus Christ of Latter-day Saints. She held up a watch and chain and said, "This is the watch and chain worn by the prophet." The words and scene made an impression on young Margaret Cheney, that has lasted on down through the years.
Our personality's grandfather was Aaron Cheney, who was born in New York. Her father was Elam Cheney, born May 16, 1825, at Freedom, New York. The Cheney family was moving to Kirtland, Ohio, [when] sickness interfered with their trip, and they stopped at a place called Decatur, Ohio, to recuperate. While they were convalescing there, a young man named Joseph Smith stopped in their community on his way to Washington, to seek an audience with officials. The young man spoke of his religious convictions, and young Elam Cheney was so impressed that he later affiliated with the LDS Church. Mr. Cheney later followed the migrations of the Church from Kirtland, Ohio, to Missouri, then to Nauvoo. Prior to leaving Nauvoo, he married his first wife, Hannah Kempton, in the temple there. When the Saints were driven west from Illinois, he traveled with the company that arrived in the great Salt Lake Valley, October 5, 1847.
The same day he arrived in the barren valley of Utah, his wife to be, namely, Harriet Edgehill, was born in England. Little did the twenty-two-year-old Elam Cheney realize that sixteen years later, he would marry this young girl from England. Because of bitter persecution, the Edgehill family was baptized at night. The missionary performing the ordinance had to cut a hole in the ice. They left England in 1863 and, with team and wagon, crossed the Great Plains into Utah. Mr. Edgehill was a mason, and moved with his family to Nephi where he could work at his trade. It was here that Harriet Edgehill and Elam Cheney met and were married. Fifteen children blessed this marriage; however, the grim reaper took a heavy toll, and only six of the fifteen grew to maturity.
The fifth child was Margaret Ellen Cheney, our personality. She was born in Fairview, Sanpete County, Utah, October 28, 1876. Her father was a polygamist. Margaret's mother was the fifth wife of Elam Cheney. Mr. Cheney operated a grist mill at Fairview. He had three homes in this community, for three of his wives, another home in Springville for another wife, and a fifth residence in Idaho, for the fifth wife. Mr. Cheney carved his mill stones out of native granite rock for his gristmill. When federal authorities began taking polygamists in to stand trial, many of the men went into hiding. Elam Cheney sent his wife, Harriet, and his first wife to Payson, Utah, to live. Miss Margaret was only five at the time. The family stayed in Payson for two years when a decision was made for Elam Cheney and the two wives at Payson to leave for Old Mexico to avoid persecution. They traveled by rail to Yuma, Arizona. Mr. Cheney was in poor health and decided to interrupt his move to Mexico and visit his two daughters living in the Tonto Basin.[66] While visiting with his relations his health began to improve rapidly, and he decided to remain in Arizona. The family settled in Pinedale in 1884. They purchased a three-room log house where the Elijah Thomas brick house now stands.
As a young girl, Margaret was told so many hair-raising stories about the dangerous Indians that, when friends told her a red sunset meant the Indians were coming to massacre them, she readily believed them. Her school days were all spent in Pinedale. Joseph W. Smith was her first teacher, then Willard Mortensen, Della Fish Smith, Homer Bushman, and William Reed.[67] The favorite game played was baseball, and Miss Margaret held her own with boys or girls, playing first base.
Three Brewer brothers had settled in Pinedale: Jacob, Charles, and Joseph. Jacob had a son, Joseph Lewis Brewer, who cast a romantic eye at Margaret Cheney. After a courtship of approximately two years, they were married in Pinedale by Bishop Peterson, and early next morning, this couple, in company with Adam Brewer and Jesse Kay and Jesse Kay's wife, left by team and wagon for the St. George Temple.[68] It took three weeks to make the trip because the Jesse Kay team kept wandering back toward home each night they camped out.[69]
When Joseph Brewer and his wife, Margaret, returned to Pinedale, they began farming and sawmilling. March 11, 1895, their first child, Wilford Woodruff Brewer, was born. A cataract began developing in Mr. Brewer's eyes that impaired his vision. By 1899 he had completely lost his sight.[70] The wonderful person Margaret is was demonstrated at this time. She had the eyes, and her husband had the strength. They began hauling freight from Holbrook to Fort Apache. She would lead her husband about, telling and showing him what had to be moved and loaded, then the two of them with their four-year-old son would make the long trip by wagon from Holbrook to Whiteriver with Mrs. Brewer driving.[71] On one occasion when they had camped for the night, their young son, Wilford, led his father out where the horses were grazing, and Mr. Brewer hobbled the front feet of the first horse. The boy's attention was distracted, and he didn't notice that his father by mistake put another hobble on the hind legs of a young fractious horse. Mrs. Brewer has always felt that an over-ruling providence protected her husband from a serious injury or possible death. Another time, they camped between Indian Pine and Whiteriver for the night. During the night, a band of drunk Indians stopped nearby, and a big pow wow was held. The Brewers worried all night, fearing they would be discovered, but the night passed peacefully.[72] As soon as they accumulated enough money to send Joseph Brewer to the hospital, Margaret put him on the train at Holbrook and he traveled to Denver where he had an eye operation. It was two months before he could return home and a year before his sight returned. This was a very difficult time for the family, and they were taxed to the limit to keep going, but they never asked for any outside help.
Their second child, Violet Brewer, was born October 13, 1909. The family moved to Show Low in 1913 where they lived since. When World War I involved the United States, Wilford Woodruff Brewer, their only son, was drafted in, and by June of 1918 was fighting in the front trenches in the Argonne Forest. Just a few days before the November 11th armistice, the shrapnel from an explosion shattered his knees and the mustard gas burned his lungs and feet. His company lost him, and in January 1919 sent a cablegram to the family, that their son was lost in action. In the meantime, someone had picked him up and taken him to a hospital. As soon as he was able, he wrote his parents about his condition and where he was. It was several months before he was able to return to the states. He was never able to work much, and on January 12, 1921, he passed away from damaging effects of his war injury. Three years later tragedy struck again, leaving them with no children. Their daughter, Violet, was attending the Snowflake Academy when she contracted typhoid fever, and after a five-month illness, passed away, February 20, 1924.
When Mr. and Mrs. Brewer moved to Show Low, they were awarded a contract to haul the mail from Show Low to Standard and Clay Springs. Viola Hunt Whipple recalls what a cheerful and welcome sight it was to see Joseph and Margaret Brewer coming with the mail, riding on their small wagon. Said Mrs. Whipple, "They always enjoyed one another, and had such a keen sense of humor." They were always able to entertain themselves. Following the mail contract, Mr. Brewer made shingles by hand. He had a one-hand knife for cutting the shingle and another knife about fourteen inches long to shave one end of the shingle. He was an expert with the knife. The old Ellsworth home in Show Low was originally covered with Mr. Brewer's shingles, and several of the old homes in Snowflake and Taylor were roofed over with his handmade bunches of shingles. Along with his shingle making, he also farmed forty acres south of Show Low and irrigated a small plot of ground across the creek.
Mrs. Brewer has lived on the same acre of land since moving to Show Low in 1913. They built a lovely home on the corner, and the maintenance and beautification of this home and the grounds surrounding it has been the pride and joy of Mrs. Brewer. The shade trees in her yard are majestic in arrangement and structure. Her smooth green lawn is the pride of the community of Show Low. The flowers and shrubs are so arranged to add a feeling of peace and harmony as you enter through her front gate. Her home both inside and out is painted with blending colors that please the eye. An Army inspector with his white gloves would have a hard time finding a speck of dust in her comfortable home: cheery rugs on shiny floors, sturdy and comfortable chairs and sofa, pictures of loved ones on the piano, beautifully designed coverings on tables and chair arms, a variety of potted plants at the south window, the pleasant aroma of homemade chili sauce, and the appetizing odor of freshly picked apples from her own orchard. Truly it is "Home, Sweet Sweet Home."[73]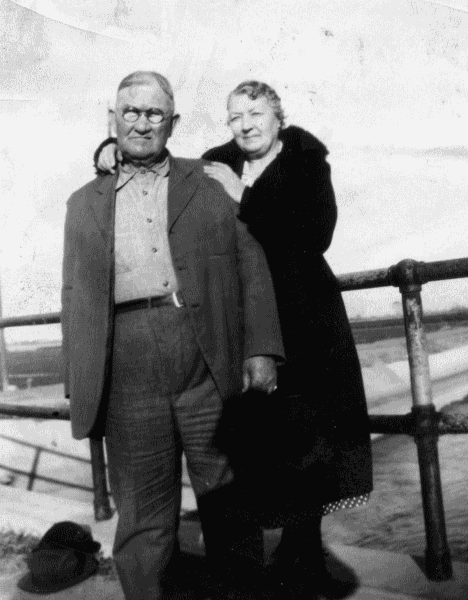 Joseph and Margaret Cheney Brewer on a bridge crossing a Mesa canal. Photo courtesy of Lucille Brewer Kempton.
During 1938, Mr. Brewer's health began to fail: first rheumatism, then arthritis. By 1941, he was confined to a wheelchair. Though he was a large man, his wife took good care of him, helping to move him around and in and out of the wheelchair. She showered on him all the love and affection and care a devoted wife could give. He passed away January 12, 1942.
Many people enjoy the blessing of a numerous posterity to help share their sorrows. Margaret has not been as fortunate. Today her brother, Hyrum, living in Florida, is the only member of her own family left. A granddaughter, by her son's marriage, a short time before he died, represents the family posterity.[74] Yet, she has never felt to complain or seek sympathy from anyone. Through the years, she has been a faithful church worker. She served as a Primary president in Show Low for thirteen years and has been a teacher in one or more of the Sunday School, MIA, and Relief Society organizations continuously for over six decades. Since moving to Show Low in 1913, she has bound almost every quilt the Relief Society has made. A few years back, the Relief Society organization made ninety-six quilts in one summer session. Margaret bound most of them. She has quietly gone about doing good for so many neighbors and friends. Idleness has no place in her life. If she listens to the radio, she keeps her hands busy with the crochet hook or embroider needle. Her great desire is to be able to keep up her home and her beautiful yard. Said Mrs. Brewer, "I hope I will never have to be waited on—but can keep going to the end."
She has found time to travel extensively. When she takes a trip down to Florida to see her brother, Hyrum, she makes a circuit of many states while traveling. In fact she has been in every state in the Union. Her love for children is unexcelled. She loves to teach them and enjoys having them come to visit with her. Never a person to pray in public to be heard of men, rather she has chosen to do her charities and kindnesses in secret, and the Lord has blessed her with a recipe for happiness that modern psychologists could do well to follow. Said one of her neighbors, "She is growing old so graciously." What a nice compliment!
Today, as you approach your eighty-first birthday, we join in wishing you a most pleasant anniversary. We hope you have the kind of day that really is a happy one, in every single way. In the year ahead may you continue to partake of the recipe for happiness. It is a real pleasure to feature you as our personality of the week.
Ellis and Boone: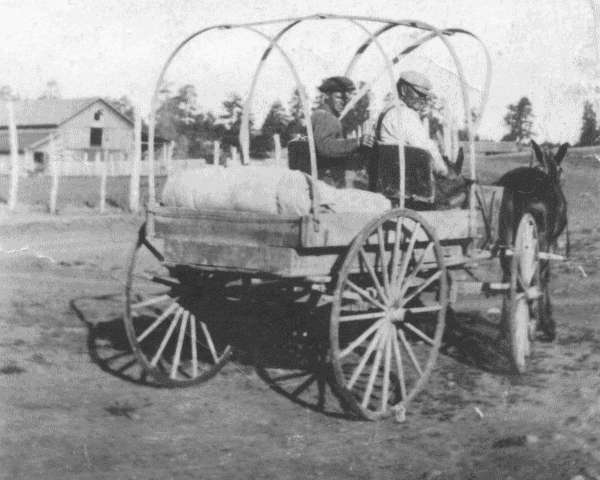 Although Margaret Brewer usually accompanied her husband as he traveled with the mail, here William Henry Lewis (left) is catching a ride with Joseph Brewer as he takes the mail from Show Low to Pinedale. Photo courtesy of Sheila McCleve Stewart.
In 1936, RFC was submitting field reports (i.e., rough drafts) to the FWP for towns in Navajo County. E. J. Webster was then given the assignment to rewrite many of these. They wrote that Pinedale received its name from the location, "a small dale or valley among the pines," although the name had earlier been Mortensen (after the original settlers) and Percheron for the fine horses raised there. Pinedale was twenty miles southwest of Snowflake. They included the following history, which helps understand Joseph and Margaret Brewer's early married life farming and sawmilling in this area:
Neils Mortensen, his sons James and Willard, and son-in-law Neils Peterson, Mrs. Sop[h]ia Johnson and sons Louis an[d] Ant[h]on were the first settlers arriving in Jan. 1879.[75] Their farms were a little to the east of the present location. In 1880 a small saw mill was built at what is now the Pinedale Ranger Station, by Tom Willis, Tom Jessup and Simon Murphy. In 1882 William J. Flake brought in the large saw mill that he had purchased from the Mormon Church and [was] known as the original Mt. Trumbull mill. This location was called Snowflake Camp. For several years this mill was in operation, furnishing employment for the men and lumber and shingles for their houses. Portions of this old mill serve as a landmark to Pinedale and are much prized by them as such.
In 1882 the townsite was roughly surveyed by James Huff and Jacob and Charles Brewer. The first school was taught during the winter of 1883–84 with John Wilson as teacher. His salary was paid in produce. The following summer a schoolhouse was built in time for school that fall. All of the settlers had come from Utah and had brought with them cattle, horses or sheep. Because of its mountainous location in the tall timbers[,] it furnished an ideal rendezvous for desperados [and] horse and cattle thieves, and the settlers suffered much loss and humiliation at the hands of some of these outlaws.[76]
RFC and Webster described Pinedale as a small town supported by the industries of stock-raising, dry-farming, and lumbering. Then in 1922, another sawmill was built two miles south of Pinedale; it was owned by the Standard or Cady Lumber Company, and by 1936 James McNary had purchased it.[77] But before the town of Standard was established, Joseph and Margaret Brewer had moved to Show Low. There they continued to find support from the forest industries with Joseph Brewer making and selling wood shingles.
Margaret Brewer lived another eleven years after Hendrickson wrote this sketch. She died September 22, 1968, in Mesa but was buried in Show Low.
Sabra Ann Follett Brewer
Roberta Flake Clayton
Maiden Name: Sabra Ann Follett
Birth: September 15, 1847; Painted Post, Steuben Co., New York
Parents: Joseph Follett and Cynthia Stiles
Marriage: Jacob Brewer; May 24, 1864
Children: Jacob Albert (1865), Joseph Lewis (1867), Charles Frederick (1869), Harriett Louisa (1872), Adam Rufus (1874), George Franklin (1876), John Hyrum (1878), Emma Ann (1880), William Henry (1882), Cynthia Jane (1883), Alice May (1886)
Death: September 18, 1908; Safford, Graham Co., Arizona
Burial: Safford, Graham Co., Arizona
"But Ann is too young," answered her mother to the young couple. "She is only sixteen and not of an age to know her own mind."—Sad words to the ears of Jacob Brewer and his young sweetheart, Sabra Ann Follett.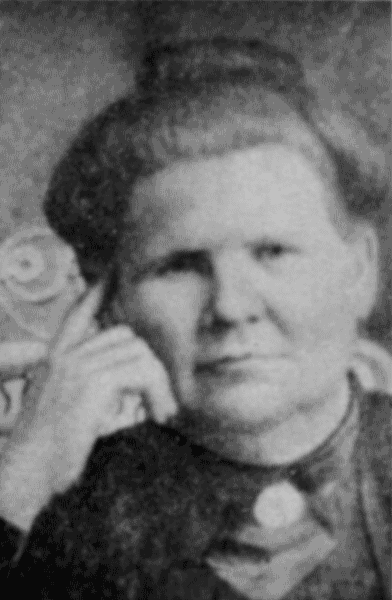 Sabra Ann Follett Brewer. Photo courtesy of Flora Clark.
Since their introduction by her cousin, Adam Campbell, their shy friendship had grown into a warm love for each other.[78] They had found that their lives held a great deal in common. Both had been born in New York State (Jacob in Sullivan County on June 21, 1833, and Sabra Ann in Steuben County on September 15, 1847). Both came from families who had been converted to The Church of Jesus Christ of Latter-day Saints by early missionaries. Both families had joined the Saints in crossing the plains to Utah.[79] Both young people loved the Lord and his restored gospel.
Their young dreams were not to be easily thwarted, however. If they could not win Ann's mother's approval now, perhaps they could better win it as man and wife. So they planned for a secret marriage and eloped on May 24, 1864.
This was the beginning of a long and very happy life together. Although they were called upon to bear many sorrows and trials to test their great love, they met life triumphantly. Through the years Jacob and Ann were not to be blessed with many of the material things, but they were ever blessed with rich spiritual blessings. They rejoiced in the great blessing of parenthood and took great joy and satisfaction in the knowledge that all of the members of their family were cooperative, clean, and virtuous. Because they loved the Lord, they were willing to make the many sacrifices necessary to serve Him.
Their family home was first established in North Ogden, but when the call came from Brigham Young for the Saints to settle Utah's Dixie, the Brewer family responded. Jacob and Ann, his parents, Lewis and Bethenia Wheaton Brewer, and four of Jacob's brothers and sisters with their families established homes on the Virgin River in Southern Utah. Here they found an abundance of good timber in the nearby mountains. There was also a ready market for the products which they made—barrels, buckets, tubs, churns, butter molds, paddles, etc. It was said that the Brewers could make anything out of wood from a wagon to a wedding ring. They spent the summer months in Kolob, in the tops of the mountains, selecting and cutting the timber. By oxen, the timber was then transported to the valley to their shop where it was worked up into the various articles during the winter. Here in Virgin they built adjoining houses, planted orchards and built their large workshop.
Jacob and Ann now had two little sons, and life was happy here, but there was still the unfulfilled desire of their hearts which they were very anxious to fulfill. It was worth the long trip back to Salt Lake City, and in September 1868, they went to the Salt Lake City Endowment House, where their marriage was sealed for time and eternity.[80]
Again in 1871 came the call to lay aside worldly things and to help serve the Lord. How Ann's heart must have quickened when she heard the request by the authorities to either pay with means or furnish teams for the journey of other Saints to come to Utah. Yes, of course, they would help out. So the young parents took their three sons and others of the Brewer family to Big Cottonwood. There Ann and the children stayed with her people while Jacob went back to Council Bluffs to help.[81]
Rather than go back to Virgin after Jacob's return, the families spent the winter in an old fort near Big Cottonwood while the men took the hazardous job of bringing logs down the frozen mountain slopes. The women found the living quarters to be very crowded—to each family was allotted only one room—but the families were congenial and they shared each other's things. The springtime brought a special joy to Ann as her first daughter was born in March. Then with the summer—back to Virgin again.
The Brewers at one time gave all their property into the United Order while it was practiced in response to the request of the officials of the Church.[82]
Virgin produced a great amount of grapes as well as other good foods for its people. However, as time passed, the people used the grapes for the making of wine. Ann and her husband now had six growing sons and decided that they must leave this place. They decided to join the migration movement to the land southward. The journey was begun in the fall of 1878. In Glendale, Utah, they built small log cabins to spend the winter. This being an extremely cold and severe winter, many of the people suffered for the lack of food and had to rely on the store of food they had on hand.
The story is told that a neighboring family of the Brewers had killed a hog and hung part of the meat on the north side of the house to freeze. During the night someone had stolen the meat. Since the Brewers were newcomers, the suspicion was thrown upon them. One dear neighbor lady wished to settle the question, so she visited them at breakfast time and found them with nothing to eat but corn bread and bran coffee. This settled the question in her mind.
Following the death of Father Lewis Brewer in July, Jacob and Charles with their families took leave of their brother Joseph and family, their homes and friends, and began the trip to Arizona.[83] It is hard to imagine the hardships endured on this journey by the mothers as they tried to protect their young children from the bitter cold and other dangers. Ann's youngest child at this time was just seven months old. They started in November 1880, traveling by covered wagon and cooking their food over a smoky fire. The first night out, four inches of snow fell. They spent Christmas day in the Moencopi Wash, about fifteen miles from where Cameron, Arizona, now stands, reaching Holbrook the first day of January [1881]. There was not a single house up, since the railroad had not yet reached there.[84]
Seeing an excellent opportunity to make shingles for this new establishment, they headed for the mountains south of Holbrook. The last of February, they reached their destination, camping in wagon boxes and tents while three feet of snow fell. There they established Flake's Camp where they built a shingle mill and manufactured shingles by the thousands for delivery to Holbrook.[85] They laid out a townsite and built homes for their families near each other, where they plowed and planted land and made themselves quite comfortable. Almost as soon as Flake's Camp was settled, the Church authorities from Snowflake organized a branch of the Church there. They named their little branch Pinedale. Pinedale, the beautiful—the pleasant home of the Brewers, where they had many joys and sorrows and hardships. Aunt Ann became the doctor and nurse of the town. At any time, day or night, she was called to help out in sickness. Uncle Jake was also in demand because of his great faith in administering to the ill.[86]
Life was happy here in their peaceful mountain valley, but Ann's sorrows were not yet over. In the winter of 1887 her nineteen-year-old son Fred and her two little girls, Emma Ann and Cynthia Jane, contracted diphtheria.[87] All three children died and were buried within a week. And with other children in the family taking the dreaded disease too—surely more than a mother should be called upon to bear. But this blessed woman went about the work of helping friends and neighbors to bear their trials, finding comfort through service to others. Of her eleven children, only six grew to maturity.
The years passed. Her husband's health began to fail. He was advised by his doctor to go to a lower climate.[88] They left Pinedale for the Gila Valley, where his health seemed to improve. Ann raised a few chickens and planted a garden. They lived very comfortably and modestly until another great calamity came to them. Hyrum and his family brought to them the dreaded disease of typhoid fever.[89] While nursing them Ann contracted the disease and soon died, passing away in the same manner in which she had lived her life, taking care of others.
After Ann's death, September 18, 1908, her husband became indifferent toward life, for he was left without his beloved companion. One night soon after her death he dreamed that he saw her on the opposite side of a large stream of water. She beckoned to him to join her. This gave him an assurance that he was needed on the other side with her. Thus his patriarchal blessing was fulfilled which had promised that he should remain in this life until he was completely satisfied. He died the following May.
Sabra Ann Follett Brewer was a true picture of the Arizona pioneer woman. Always willing to leave the comforts of an established home when the call came, she pioneered the wild unbroken country of southern Utah and northern Arizona, helping to make a garden spot of each dwelling place. Her posterity now honor and bless her for her humble courageous spirit, her loving sacrifices for others.
Ellis and Boone:
Two statements in this sketch for Sabra Ann Follett Brewer prompt further discussion. First, although she gave birth to eleven children, only six lived to maturity, and second, she had three children which died from diphtheria within one week in 1887. Although smallpox was a dreaded and certainly more "loathsome" disease, diphtheria exacted a high toll among children throughout the entire state of Arizona. Quebbeman wrote, "One of the most severe epidemics of diphtheria during these years occurred in St. Johns when over forty children fell victim to the dreaded scourge in December of 1888, a death rate that was unprecedented considering the population of the town."[90] Olena Kemp's two children were some of the victims during this epidemic, 356, and Quebbeman noted that doctors seemed to be powerless in stopping diphtheria as it ran its course through whole families.
Early doctors prescribed a variety of medicines for diphtheria, although doctors were sometimes a rarity in Navajo and Apache Counties. They prescribed inhalation of sulphur, tar, and turpentine fumes; boric acid; chloride of potash; and rubbing the neck with camphor oil and then wrapping with flannel. More often, folk medicine and faith in God were the only options. Eventually, epidemics such as diphtheria were stopped by an understanding of the germ theory of disease, better sanitation, the discovery of effective medicines, and a public health department for the state.
Sarah Rosina Pomeroy Brewer
Author Unknown
Maiden Name: Sarah Rosina "Ina" Pomeroy
Birth: March 21, 1873; Paris, Bear Lake Co., Idaho
Parents: Francis Martin Pomeroy and Sarah Matilda Colborn[91]
Marriage: Adam Rufus Brewer;[92] April 20, 1903
Children: Ina Adele (1904), Leslie Odell (1907), Sabra Lucile (1911), Waldo Lyle (1913)
Death: November 22, 1965; Tucson, Pima Co., Arizona
Burial: Mesa, Maricopa Co., Arizona
Many towns in Idaho have beautiful settings, but one of the prettiest in the 1870s was a little town in the southeast corner of the state, called Paris.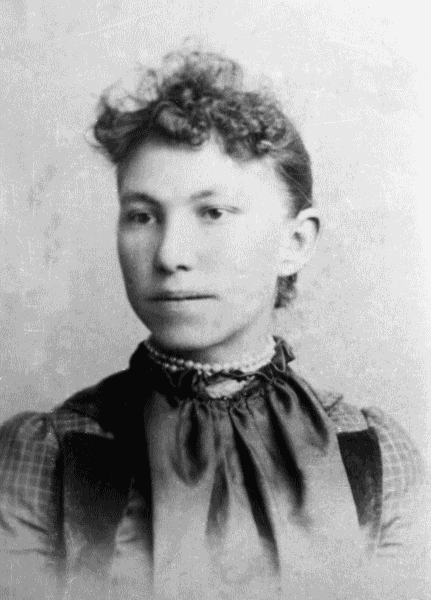 Rosina Pomeroy when attending school in Utah about age fifteen, c. 1888. Photo courtesy of Lucille Brewer Kempton.
Mormon pioneers had settled in Paris in the middle 1860s, and pioneer Francis Martin Pomeroy had helped to set up a saw mill, a shingle mill and a lath machine. On March 21, 1873, he and his wife, Sarah Matilda Colborn Pomeroy, were blessed with a baby girl, whom they named Sarah Rosina. She was their fifth child. (Three years later the birth of Edward would complete this branch of Francis Martin Pomeroy's family: Ursula, Talma, William, Frank, Rosina, and Edward.)
Little Ina was not to know for long the cool, green country side of her birthplace. On September 14, 1877, her parents answered the call of President Brigham Young to move southward to Arizona. It was quite a company that Francis Pomeroy was able to gather together for the trip. He took two wives and sixteen children. His first wife, Irene Haskell Pomeroy, had died a few years earlier in Utah, but a number of her children traveled to Arizona. Eighty-three people in all made the trip, and fifty-six of these were children. The journey, which took almost four months, was filled with excitement for all the travelers, but especially for the children.
The crossing of the Colorado River at Lee's Ferry, and the dangerous Lee's Backbone on the other side was completed without accident or loss. Christmas Eve found the pioneers at Pine Springs, near Mormon Lake. A heavy snowstorm threatened to snow them in for the winter, but they set out again through the snow and reached the sunshine of the Salt River Valley on January 8, 1878.
Upon their arrival, the first decision which had to be made was whether to join the settlers who were already living in the Lehi valley or to begin a separate settlement. The mesa land to the south seemed more promising to the Idaho pioneers, so the men of the group set about to repair the ancient canal system for their water. This meant that they must live in tents until the less important business of house building could be attended to.
Ina's father had the honor of building the first structure in the townsite. It was a large shed, walled in on three sides, which served as church house, community center, and Pomeroy home until larger buildings could be erected.
Her father later built an adobe house on the northwest corner of Center Street and First Avenue of the town which was now called Mesa. Since lumber was scarce most of the early homes lacked wooden floors. The women and girls sewed gunny sacks together and spread them over the packed earth. It is said that Ina's mother was determined not to have dirt floors, so she brought floor coverings with her from Idaho.
Community life was a happy one in Mesa. A large number of children grew up together and enjoyed all the fun and frolics of a happy contented community. Horseback riding and hayrack rides filled many joyful hours. The main organized activities were church activities and LDS mission projects. Three of Ina's four brothers filled church missions.
As Ina grew up she attended the schools of Mesa, taught by home people who had met the requirements of the school board of Phoenix. In place of high school, she attended the Salt Lake Academy in Utah which was headed by Dr. James E. Talmage.[93] Then she returned to Tempe where she attended the Arizona Territorial Normal School. The Old Main Building at Tempe was begun in 1894, the year when her class of fourteen graduated. Hers was the fourth graduating class for the Tempe school.
Upon graduation Ina began teaching school, a profession which she followed for many of her coming years. She taught in the Arizona communities of Taylor, St. David, and Lebanon (near Safford) before her marriage.
While teaching in Lebanon, she lived with Joseph Brewer and his wife, having become acquainted with his mother a few years before. At the time, she was serving as YLMIA president.[94] A most interesting young man then entered the picture—Joseph's younger brother Adam. He had known Ina's brother, Ed Pomeroy, in the mission field. They soon found that they had much in common, including their religious beliefs and their aims in life. Ina and Adam became engaged and were married on April 20, 1903. The marriage took place in Safford, Arizona, and was performed by a traveling Apostle of the Church, with the understanding that it would be done again when they could go to one of the LDS temples.
Their first child, Ina Adele, was born in 1904. Then Adam secured work at Jacobson's sawmill in the Graham Mountains. Adele died from the high altitude and was buried in Safford.
Ina went back to teaching and taught in the Layton School District there for the next two years. Their first son, Leslie Odell, was born in 1907.
Through the coming years, Ina taught in various Arizona towns including Carr Canyon in the Huachuca Mountains, Blue Point, Littlefield, and Horse Mesa. Music was an important part of their lives, as Adam loved to sing in quartets and choirs. He also played the bass horn. Ina taught many children to play the piano, giving lessons almost everywhere she went.
Whenever her school-teaching schedule permitted, Ina served in various church positions, including Relief Society secretary and organist for different organizations.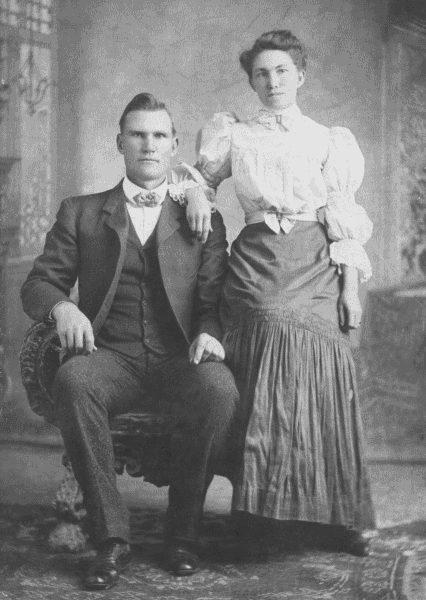 Sarah Rosina Pomeroy and Adam Rufus Brewer, 1903. Photo courtesy of Lucille Brewer Kempton.
The Brewers moved to Mesa in 1910, where Adam worked on several farms, principally as foreman for the Chandler Improvement Company. Sabra Lucille was born in 1911. When she was two years old her daddy contracted smallpox while attending a picture show in Phoenix. The family were quarantined and vaccinated. Just after the quarantine, Lucille was taken with the "summer complaint" [which] started from eating frozen oranges bought from a peddler. The doctor encouraged her parents to feel that she was not very seriously ill, but an exchange of medicines—a mistake made by a drug clerk—caused a relapse and she did not have strength to rally. She died on May 4, 1913.
Their second son, Waldo Lyle, was born in September of 1913. Then three years later Adam was thrown from a cart and his knee was crushed. He took a position at the Division Gates on the canal bank in Mesa, a job he could handle at first on his crutches. He held this position for twenty-seven years. During the times when many parents had difficulty in taking care of their families, the Brewers had an income which was steady and sufficient so that their two boys continued through high school at Mesa, college at Arizona State in Tempe, and college at the University of Arizona in Tucson. Leslie filled a mission for the Church and Lyle continued his studies at Columbia University in New York, where he received his doctor's degree, majoring in physics. He assisted in the atomic bomb project in Oak Ridge, Tennessee, and has since held leading positions, such as director of scientific management for Eastman Kodak in Rochester, New York. Leslie has taught music in the Tucson Public Schools for many years, and has served the Church as Tucson Stake president and as president of the Central American Mission.[95]
Ina and her husband had one desire of their hearts which was yet to be fulfilled—the sealing of their marriage for time and eternity in the temple of the Lord. This was completed in 1927 in the newly dedicated Arizona Temple in Mesa.
Adam's retirement in 1943 gave Ina and Adam a chance to return to the pine forests which they loved so well. They bought small houses in Pinedale, Adam's old home town, and in Clay Springs. There they spent every summer, leaving Mesa whenever the days got warm and returning when winter was near. Adam passed away in Mesa February 9, 1957. Numbered among their descendants at present are nine grandchildren and fourteen great-grandchildren.
Although ninety-two years old, and unable to continue in the fancy hand work, the piano playing, and the poetry reading, which were so much a part of her earlier life, "Aunt Ina Brewer still loves the Gospel and enjoys music." She treasures the visits of her friends and relatives, and urges, "Be sure to bring the children when you come."
This pioneer Arizonan has truly been an instrument in the building and uplifting of many lives wherever she has lived. She died November 22, 1965.
Ellis and Boone:
As an educator, Rosina Brewer influenced countless children in many parts of the state of Arizona. She also kept "a small brown notebook," where she wrote things about her life. These notes show the importance of education in her life and later in the lives of her two sons. She wrote, "I graduated from the Normal School [at Tempe] June 14, 1894. . . . Except the winter 1897−1898 I taught every year until I was married . . . in 1903. I taught in five counties of Arizona: Maricopa, Cochise, Navajo, Graham, and Coconino—in all twenty-two and one half years."[96] Adam Brewer also kept a journal during his mission to the Southern states; he served in Georgia and Florida from 1899−1901. After his death, Rosina completed his journal by writing about their marriage and children.[97] Their son Leslie Brewer continued this tradition by teaching music in the public schools of Tucson, giving private music lessons, selling life insurance—and serving in many responsible Church positions.
Ella Emily Burk Merrill Brown
Roberta Flake Clayton, FWP Interview
Maiden Name: Ella Emily Burk
Birth: August 9, 1855; Farmington, Davis Co., Utah
Parents: Allen Burk and Emily Jane Smith
Marriage 1: Thomas Merrill; October 14, 1872
Children: Thomas Allen (1875), Hubert John (1877), Claud Spencer (1879), Grace Ella (1882), Sarah Adalade (1884), Jennie Emily (1886), Fredrick Dee (1890)
Marriage 2: Benjamin Brown; October 27, 1910
Death: April 6, 1945; Phoenix, Maricopa Co., Arizona
Burial: Eagar, Apache Co., Arizona
One experiences varied emotions in the collection of incidents in the lives of pioneer women, but to interview the subject of this sketch brings real joy, for though she has had real sorrow and suffering and has drunk from the dregs of poverty, as she looks back over the eighty-three years of life her eyes twinkle and she smiles over the sad days and laughs at the lean ones.
Ella Burk was born in the little town of Farmington, Davis County, Utah, on August 9, 1855, just seven years after her pioneer parents reached there. She was the sixth in a family of ten children.
Her father was Allen Burk and her mother, Emily Jane Smith, was a sister of Lot Smith, a man noted in early Utah and Arizona history as being afraid of neither man nor the devil and who finally, while protecting his property, met his death at the hands of a Navajo Indian.[98]
Ella's home was eighteen miles from Salt Lake City and she frequently went there with her parents. When only two years old, she went with them to the historic Pioneer Celebration on July 24, just ten years after the landing of the first pioneers in the Salt Lake Valley. Her father received an invitation from Brigham Young that still remains a prized possession of the family.[99]
Because of its location near headquarters, Farmington had exceptionally good schools, and to these Ella and other family members attended. How these early day school children looked forward to Friday afternoons when they would have a chance to display their ability in elocution, singing, and spelling bees. Ella used to glory in the latter events and took great satisfaction in spelling down her opponents, sometimes twice as old and large as she.
The Burk family management devolved almost entirely on the mother, who partook of some of her noted brother Lot's executive ability. Allen Burk was never bothered, never in a hurry, and took things as they came without complaint. They were moderately comfortable for those early days until one year of sickness. The serious illness of the hard-working mother, and the death of a sister, reduced them to near want.
They had a few sheep and cattle at this time. Wool was sheared from the sheep, sent to the town carding machine, made into rolls, then taken home, spun into thread, then made into cloth for clothes for the family. These were made up by the mother, the older girls soon taking a hand. Yellow dye was obtained from goldenrod blossoms, blue from indigo, black from logwood, and brown from wild walnut hulls. How proud were these pioneer children of their homemade clothes and how careful to keep them looking their best.
Ella's girlhood was not particularly eventful. She played the simple games of childhood when there was time from the home tasks. Marbles, ball, ring around the rosy, and drop the handkerchief satisfied for a while, but as she grew older there were post offices, where you paid the postage with kisses; heavy hangs over your poor head, with its attendant forfeits; and another favorite one where the group joined hands and sang, while IT remained in the center.
King William was King James' son
And thus the Royal race is run.
Upon his breast he wore a star
Pointing to the Governor's door.
Go choose your east, go choose your west
Go choose the one that you love best.
If she's not here to take her part
Go choose another with all your heart.
Down on this carpet you must kneel
As sure as the grass grows in the field.
Salute your bride with kisses sweet
And then you may rise upon your feet.
Now you're married you must be good
Make your husband chop the wood.
Chop it fine and carry it in
Then she'll let you kiss her again.[100]
"Guess there weren't any such things as germs in those days," said Grandma Ella. "If there had been I probably wouldn't have lived to be eighty-three years old."
Full of fun and loving a good time, she had her share of beaus. One night she went to a dance with one young man, and because she let young Tom Merrill, a boy from Salt Lake City, teach her to waltz and show her too much attention, her date went home without her—that was Tom's chance and it suited her all right, but her mother was so horrified to think her daughter was such a flirt as to go to a dance with one young man and home with another that Miss Ella had to stay home for quite a while.
The old adage "absence makes the heart grow fonder" was true in this case, and though carefree, irresponsible Tom Merrill was not exactly the parent's choice, it was decidedly Ella's, who loved to hear him sing or play the guitar or mandolin and watch him step dance which he could do better than anyone in those parts.[101] He was the life of every party, so they were married when she was seventeen.
Tom was a good worker. He could build a house from foundation to roof, move his family in, along would come someone, buy it from him, then he would take his wife and babies, go on a trip till the money was about gone, settle down, build again and repeat the process until they had more homes than Ella can remember.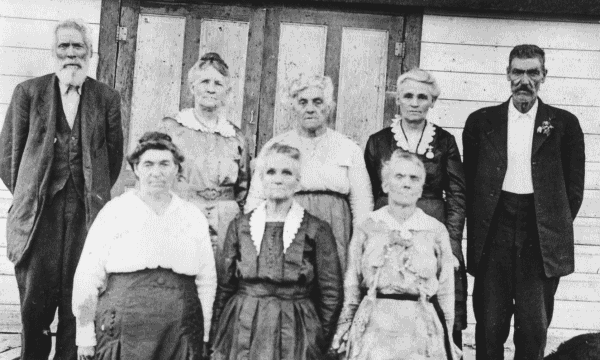 Ella Burk Merrill Brown with her siblings: front row, left to right, Martha Hamblin, Eva Jensen, Alcesta "Cettie" Hall; back row, left to right, Hubert Burk, Ella Brown, Celia Hamblin, Ada Earl, Ed Burk. Photo courtesy of St. Johns Family History Library.
Tom and Ella came to Arizona in 1880 with her parents' company. She drove a team all the way while Tom drove a three-span team hauling the provisions of the company. He was the only one who could manage a team of that size. Besides, the other men were needed to drive the loose cattle and horses.
They visited a while at Sunset with the mother's brother, Lot. They stayed a while in Snowflake, left their outfit there, and all went to Round Valley to visit a brother and sister who had come previously, intending to go on later to Mexico, but when they got up to Round Valley, they concluded to settle there.
Another of Tom's accomplishments was his expert skating. He could cut his name on the ice with his skates.
Ella was the mother of ten children, four of whom died in infancy. She raised three girls and three boys to maturity.[102]
Because they had moved around so much, they were in very straitened circumstances when she became a widow. Her youngest was a baby boy about two years old, and she would have to leave him and the other children to the care of her eldest daughter, then thirteen years of age, while she walked a mile away where she would work as hard as she could all day at housework, then home at night to help do the big washing on a washboard, iron, make their clothes and prepare food for the next day. For this work she received $1.00 per day. One day's wages would be spent for food for the seven of them, and the next for a chair, other furniture, or clothing for the family.
Her first washer was a hand-powered one that she paid for by doing the owners' washing, but no one with the latest improved electric was prouder than she. A bedstead was earned by cleaning house, and thus her home was furnished.
Though she had been the owner of many homes, she now had none except a rented one. One time that Ella recalls was when the rent was due but she hadn't a dust of flour in the house. She asked the landlord if he would wait a few days for $3.00 of the rent so she could buy some flour. He told her he had to have it all right then. She paid him and then went to each of the three stores of the town to try to get a sack of flour but no one would give her credit. What could she do? The children were hungry and she had no bread and no way of getting any. Then Ella had a chance to prove that a friend in need is a friend indeed, for a neighbor sent over for her to come over and get a sack of flour and work for the pay.
For sixteen years Ella struggled against poverty. Her children grew up and married and made homes of their own, all but her youngest son. She had chances to marry again but did not on account of the children; but after all were married but the baby, she accepted the hand of a neighbor, Benjamin Brown, whose wife had died and left only one unmarried daughter. She was away to Salt Lake City when her father and Ella were married. When she later came home, she and Ella's son followed the example of their parents and married each other.[103]
Mr. Brown had a good home and was a well-to-do cattleman, and for the thirteen remaining years of his life he tried to make up to his wife all the good things fate had deprived her of, and they were very happy. Their children were all pleased with the union, and it was a satisfactory arrangement.
Since the death of Mr. Brown in 1922, Grandma Ella spends her summers in her mountain home and the winters with her daughter in Phoenix. She still leads a happy, useful life, and loves to read, visit, sew, and knit. She enters into the events of the day with as much enthusiasm as a person half her age, enjoys all that life brings to her, and makes everyone happy who are favored to come within her gracious presence.
Ella Emily Burk Merrill Brown passed away in Phoenix, Arizona, April 6, 1945.[104] Her story was told to Roberta Flake Clayton in an interview about September 6, 1938.
Ellis and Boone:
During the 1930s, Ella Brown's sister, Ada Arvilla Burk Earl, also contributed her personal history to the Federal Writers Project. She was living in Ogden, Utah, and was interviewed by Elvera Manful. A few of her comments about living in Farmington, Utah, and about the trip to Arizona are useful additions to the story of Ella Emily Burk Merrill Brown.
First, Earl not only told about learning to spin yarn from wool, but she also remembered Utah's brief silk industry. She wrote:
In those early days President Brigham Young . . . advised the people that if they wanted silk for their better dresses they should import silk worms and manufacture their own material. They then planted mulberry trees in Grovers Grove so as to have the leaves for the worms to eat. The pioneers then gathered oak brush and [set it] up in rows and the worms would spin their cocoons on the branches of the brush. That is as pretty a sight as one could ever want to see is the oak brush covered with the yellow cocoons. Brother Hadfield and his wife wove the silk. My mother had one of the first silk dresses there in Farmington. She made it herself and she also made large silk handkerchiefs and neckties for the men. One Christmas she gave each one of her daughters and daughters-in-law a silk scarf. It was the style then to wear a silk scarf around your neck and tied in a bow in front. Mine was embroidered on one end.[105]
In 1876, Ada Burk married John H. Earl. They lived in Farmington for two and a half years and then moved to Fielding, Utah. She wrote:
A short time after we moved to Fielding, my father was called to go to Springerville, Arizona, by President John Taylor of the Latter-day Saints Church to colonize and also to start the United Order there. He was to take all of his children with him, including those married and their families. So we fixed up our affairs and left Utah in June 1880. There were nine wagons and one covered buggy in our company along with about 110 head of cattle and 35 or 40 head of horses. To allow the cattle to pick up [gain strength or put on flesh] during the hot weather we camped on As[h] Creek on the Sevier River for about two months. We were about six months on the road, as we had also stopped for a while at Brigham City on the Little Colorado River. We arrived in Round Valley or Springerville in December 1880. We bought a lot and built a log cabin and lived there until July 1885.[106]
Then Allen Burk moved his family to Mexico. Earl said, "It was in July 1885 when the authorities were enforcing the Edmund's Tucker Law, that many of the Mormons went to Old Mexico and we were among them. There were three wagons in our company and the Jacob Hamblin family was in one of them."[107] They traveled through Williams' Valley, New Mexico, and lived at Colonia Díaz until 1902 when they moved back to Utah, first living at Fielding and later in Ogden. Tom and Ella Burk Merrill did not accompany her family to Mexico and instead made Arizona their permanent home.
Mary Ann Park Bryce
Author Unknown
Maiden Name: Mary Ann Park
Birth: January 24, 1837; Warwick, Kent, Ontario, Canada
Parents: David Park and Ann Brooks
Marriage: Ebenezer Bryce; April 16, 1854
Children: Ebenezer Park (1855), Ann Jeanette Park (1857), David Andrew (1858), William Henry (1860), Alma Nephi (1861), twins George Alvin and Barbara Ellen (1863), Jane Louisa (1867), Mary Isabelle (1870), Joseph Walter (1872), Heber Brooks (1878), Reuben Adam (1880)
Death: April 10, 1897; Bryce, Graham Co., Arizona
Burial: Bryce, Graham Co., Arizona
While working on the farm of George A. and Bathsheba Smith, Mary Ann met her future husband, Ebenezer Bryce, who had started working for the Smith's upon his arrival in Salt Lake City.[108] Ebenezer's powers with a hammer and saw were responsible for the family's many moves during their married life. He was constantly being called by the Church to build sawmills. Some of these were to Mill Creek, then to Cottonwood in the Salt Lake Valley. The couple was also sent to help in the construction of the St. George Temple.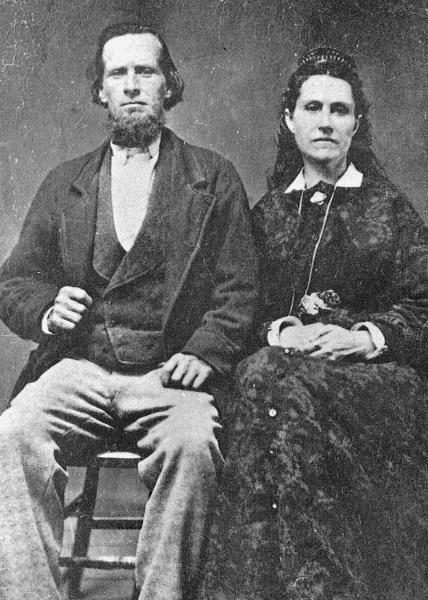 Ebenezer and Mary Ann Park Bryce, c. 1870, Utah. Photo courtesy of Graham County Historical Society.
Because of Mary Ann's failing health, the couple moved to Porreah [Paria] Creek, Utah, to farm and raise sheep and cattle. It was during this time that Ebenezer Bryce came upon Bryce Canyon in Southern Utah, which now bears his name. Again because of Mary Ann's failing health the family decided to move to the warmer Arizona climate. They came down in three horse-drawn wagons, [and] crossed the Colorado River at Lee's Ferry.
Snowflake was the first Arizona home of the Bryce family. They spent the winter there. Early in the spring of 1881, they went to Bush Valley, now Alpine, then moved to Nutrioso. In August 1882 Ebenezer moved his family to Williams Valley on the Frisco [San Francisco] River in New Mexico. Soon he sold his sheep in Silver City, and the Bryce family started for the Gila Valley by way of Mule Creek and Ash Peak. They arrived in Smithville, now Pima, on November 17, 1882.
In Pima the family lived in a tent until a more permanent home could be constructed. Ebenezer was again called by Church authorities to help construct a sawmill on the Graham Mountains. His heart really belonged to the land, and he started clearing land across the river from Pima for his farm and ranch. Here he built a brick home for his family and their wandering days were finally over. Here in Bryce [Arizona] their roots were firmly established. In their home on March 15, 1890, the Bryce Ward of the Church was organized.[109] Both Mary Ann and her husband are buried in the Bryce Cemetery.
Ellis and Boone:
Graham County newspaperman Ryder Ridgway recorded that George A. Smith performed the marriage ceremony of Mary Ann Park and Ebenezer Bryce in the Smith home and that the bride "looked beautiful in the dress on which she had labored so lovingly. It was made of white crossbar and featured a tight-fitting bodice and full skirt. A wedding gift of two silver spoons from the Smiths was not lightly regarded by Ebenezer and his bride, for they were a rarity and not on the market in Utah at that time."[110] Ridgway devoted two of his columns to the life of Ebenezer Bryce, detailing the moves throughout Utah and Arizona; the columns were about Ebenezer, however, and did not contain additional information about Mary Ann.
The Bryce family is best remembered for the area in Utah that they homesteaded in 1874. With its unique red, orange, and white geological formations known as hoodoos, it eventually became Bryce Canyon National Park.[111] Park literature reports that Ebenezer Bryce called it a "hellava place to lose a cow," but one descendant wrote, "Those who knew him well said that he never would have used the word 'hell.'"[112] Because he was ordained patriarch before the end of this life, one would assume the descendant was correct.
Sarah Catherine Carter Bryce
Author Unknown
Maiden Name: Sarah Catherine Carter
Birth: January 11, 1871; Santaquin, Utah Co., Utah
Parents: William Aaron Carter and Miriah Louisa Boyce
Marriage: George Alvin Bryce; January 1, 1886
Children: Sarah Jane (1887), Mary Ann (1889), George Alvin (1892), Jennie Mae (1893), William Ebenezer (1896), Alma John (1898), David Andrew (1901), Lola Uzella (1902), Bertha (c. 1906),[113] Jessie (1909)
Death: April 17, 1959; El Paso, El Paso Co., Texas
Burial: Bryce, Graham Co., Arizona
Sarah Catherine Carter Bryce was born January 11, 1871, in Santaquin, Utah. She was the daughter of Louisa M. Boyce and William A. Carter. She was the eldest of four girls and three boys.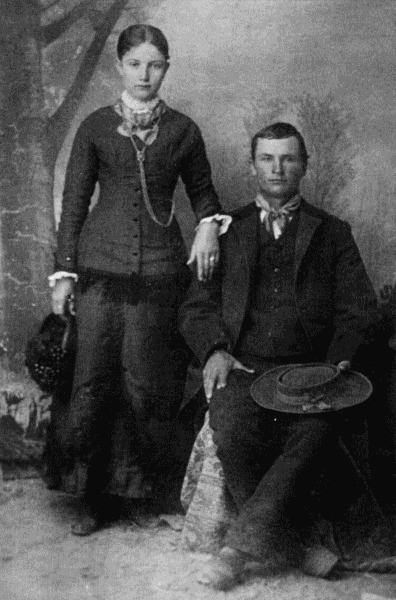 Sarah Catherine Carter and George Alvin Bryce. Photo courtesy of eastern Arizona Museum and Historical Society, Pima.
Sarah Catherine was twelve years of age when she and her parents and family left Utah for Arizona. They joined a wagon train of Mormon pioneers who were coming to Arizona to cultivate land and make a home. This wagon train traveled for three months before arriving in Arizona. They traveled only a few miles a day because roads had to be made along the way. They had only a compass to guide them.[114] Many hardships were encountered because of the mountainous and rough terrain. Occasionally, they were frightened by Indians.
When they arrived in Arizona, they settled in Glenbar. There were only a few stockade houses at this time. There were no doctors and only one place to get drinking water; the water had to be hauled through mesquites and thickets. There were no irrigation ditches or dams. The men dug stumps, cleared out brush, and made irrigation ditches. Horses and oxen were used to till the soil.
Nearby were Fort Geronimo, Fort Grant, Fort Thomas, and Fort Bowie.[115] One of the post riders would notify the people in the vicinity when the Indians were on the warpath. The women and children would all gather together in a little log schoolhouse nearby in Pima, Arizona. They would take bedding and food and would stay there many nights at a time. The men took turns standing guard. At various times some of her friends and neighbors were killed by the Indians.[116]
As for clothing, Sarah Catherine, her mother, and [her] sisters had to weave their own material. They had a spinning wheel and spun their own yarn. She and her mother knit many pairs of stockings and socks. There were no lights to light their homes and so she helped pour the tallow and held the wicks to make the candles, and these were used for lighting their homes. As a young girl and the oldest child of a large family, she had to work very hard to help support the family.
She became acquainted with George Alvin ["Dick"] Bryce soon after coming to Arizona, and they were married at her father's home on January 1, 1886, in Glenbar, Arizona. (George Alvin was the son of Ebenezer Bryce for whom Bryce Canyon National Park was named.) They built a home at Bryce, Arizona, a place which at that time was only a thicket of mesquites. They were successful in clearing a large amount of land for farming [and] also obtained a large cattle ranch in the nearby mountains.
To them was born a large family consisting of six girls and four boys.
Sarah Catherine was a faithful member of The Church of Jesus Christ of Latter-day Saints and served in many capacities. She had a beautiful philosophy of life, always patient, kind, honest, gentle, and thoughtful of everyone. These characteristics were practiced throughout her life, setting an example for her children. She was known as "Aunt Sarah" to everyone. She was very meticulous in her person, in her home, and in everything she did.
In earlier days, she was called both night and day to go into almost all homes in the neighborhood to help doctor the sick, and this she did willingly. Since she did a lot of this work, she had quite a thorough knowledge of medicine and was often asked what to do for different kinds of illnesses. She and her husband were always generous, helping and contributing much to the poor and needy.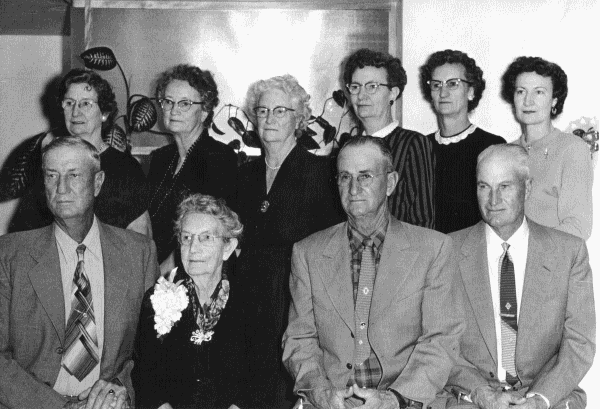 The family of George Alvin 'Dick" and Sarah Catherine Carter Bryce. Front row, left to right: William Ebenezer, Sarah Catherine (mother), David Andrew, Alma John; back row, left to right: Sarah Jane Talley, Mary Ann Peterson, Jennie Mae Pollock, Lola Uzella Hubbard, Bertha Pearl Welker, and Jessie Copple. Photo courtesy of Eastern Arizona Museum and Historical Society, Pima.
She and her good husband and family lived happily in the town of Bryce, Arizona. Friends enjoyed visiting and staying at this home and did so often. Much of their hired help down thru the years have looked upon her as the best friend and mother they ever had.
Even though she was eighty-eight years of age [when interviewed?], she had a very keen and alert mind. She leaves a long line of posterity. She passed away on April 17, 1959.
Ellis and Boone:
In this sketch, vegetation along the Gila River is described as "thickets of mesquites," which may mean mesquite bosques (Spanish for "forests"), as still found along some Arizona rivers. But the many types of vegetation along the river also make the description of "mesquites and thickets" appropriate. Edwin Corle, in describing the Gila River in this area, wrote, "Between the town of Duncan at 3,700 feet and the village of Geronimo at 2,700 feet the river flows through a rich valley that was settled by Mormon pioneers in 1879. They were not the first settlers . . . but it was the Mormons who developed the agricultural possibilities, in the face of great hardships, and made the fertile loam of the Gila bottom lands produce oats, barley, corn, and wheat. . . . From here to its mouth the Gila supports the flora and fauna most popularly associated with its reputation; willow, ocotillo, palo verde, mesquite, greasewood, ironwood, cottonwood, sagebrush, and cactus."[117]
Many pioneer women, including Sarah Bryce, contributed significantly to ranching operations in the West. This paragraph, written by her daughter Bertha Welker, illustrates Sarah's contribution:
As a young girl, Sarah, being the eldest child of a large family, had to work to help support them and she worked hard all her life. George Alvin accumulated a large amount of land and had many cattle, [and] therefore had to have several hired men. Sarah Catherine cooked for them, getting up at three and four in the morning to get their breakfast so the men folks could get at their work in the fields and on the range. She did the washing on the washboard and ironing with the SAD iron heated on top of a wood stove.[118] She was an officer in the Ward Relief Society and attended regularly all organizations. She was a beautiful seamstress and an excellent cook.[119]
Miriam Greenhaw Bugbee
Roberta Flake Clayton, FWP Interview
Maiden Name: Miriam Greenhaw
Birth: December 2, 1881; Maricopa Co., Arizona
Parents: Hosea George Greenhaw and Elizabeth Amy Barton[120]
Marriage: Clinton H. Bugbee; 1903
Children: none known
Death: December 6, 1961; Phoenix, Maricopa Co., Arizona
Burial: Greenwood Memorial Park, Phoenix, Maricopa Co., Arizona
Eldest daughter of one of the five original white families to establish permanent residence in the Salt River Valley, Miriam Greenhaw Bugbee holds a position that is unique among Arizona pioneer women.
Her father, Hosea G. Greenhaw, was born in the state of Arkansas in 1848, on a large plantation belonging to his father. Although too young to take up arms in the Civil War, he nevertheless had some unusual experiences. One was when the northern troops took possession of the plantation, and finding young Hosea an excellent violinist, they made him "fiddle" for them all night. Whether or not the "music" had charms to soothe their savage breasts, still the telling of it to his children long years after was more pleasant than the actual performance to that little southern lad.
Hosea Greenhaw came to Arizona in 1868 with a covered wagon train and here he remained. Miriam's mother, Elizabeth Amy Barton, had come to California with her parents when she was but a small child from Texas. They came by boat to the Isthmus of Panama, crossed the Isthmus on mules, then by boat to California. Elizabeth attended the best schools in the state and as a college graduate expected to spend a few years at least as a school ma'am. She had only taught one year and had signed up for another when her father, John Barton, decided to bring his family to Arizona.
The trip was a long tedious one, but Elizabeth felt repaid for all the hardships when upon arriving she met and fell in love with Mr. Hosea Greenhaw. As she had promised to teach school in California, she and her sister returned there. The young lover felt that he could not be separated from his sweetheart so he followed her thinking possibly he might be able to obtain work. After they reached California, they decided to marry and she gave up her idolized school teaching, and they were married and returned to Arizona. This was in the year 1877.
By this time the trains were running as far as Yuma, so they brought their household belongings and came that far on the train and the rest of the way in a covered wagon. Here on December 2, 1881, on what is known as the Greenhaw Addition, little Miriam was born.
Ever the pioneer, Mr. Greenhaw moved out about thirteen miles west on the desert and took up a ranch. He had a section and a half of land and specialized in raising fine horses. Miriam was only five years old at that time, but on this ranch her childhood and early girlhood was spent. Here she attended her first school, held in a one room frame house with Miss Ida McEwen (afterwards Mrs. Ida E. Tompkins) as the teacher.[121]
Miriam was possibly the youngest pupil, and she remembers how she learned her A-B-Cs at her teacher's knee. The books used in the Arizona schools at that time were the little old blue back speller, that not only taught spelling, syllabication of words, and pronunciation, but some of the famous old fables as well. Then there was always the Friday afternoons. These were looked forward to eagerly by all the children. It was an opportunity to cultivate their talents and display their ability at speaking pieces, singing songs, or dramatizing interesting events. Appleton's readers were the textbooks in the schools of the territory. The school district that was attended by the Greenhaws was known as the West End; now it is the Pendergast.
After graduating from the little country school, Miriam came into Phoenix and attended the Lamson School.[122] As there were very inadequate facilities for higher education in Arizona at that time and as the mother knew the value of education, the Greenhaws allowed their eldest son and daughter to go to Pasadena, California, where they graduated from the Throop Polytechnic College.[123]
The home of the Greenhaws was a large comfortable adobe one. The lumber was freighted in. Miriam remembered distinctly when her father took her and the rest of the family into Phoenix to see the first train come in. That was a gala day for all the pioneers when that little engine came puffing along with its string of cars. Now things they needed, which before had to be brought from Los Angeles by team, could be brought by train.
If not the very first, then the second piano brought into the country was a big beautiful toned Brymar belonging to the Greenhaws. It had been shipped from New York to San Francisco by way of Cape Horn. The piano remained in possession of the family.
Mr. Greenhaw was a gifted pianist and violinist. Miriam says as a child she was usually lulled to sleep by her father's marvelous singing or the tones of his violin. Her mother was well educated, refined, and made a gracious hostess. There were eight children, five of whom grew to maturity. The Greenhaw ranch was often called an oasis in the desert for those who were hungering for the beautiful things in life. There were plenty of those early pioneers in that class. Those who had left a home of ease and comfort in the more settled parts of the nation.
Aside from these home entertainments in which the children of the family took their part, Paul playing the violin by his father's accompaniment, while the others gave readings and told stories, there were occasional dances and always horseback riding and the proverbial horse and buggy.
There was little sickness and few accidents—only one among this family, when a horse fell with one of the boys, breaking his arm. "There were no doctors," laughingly adds Mrs. Bugbee, "so we couldn't afford to get sick or take any chances."
When Miriam graduated from college, she expected to become a teacher, and it was no little disappointment to her mother that she met and married Clinton H. Bugbee. Then [her mother] remembered how history was repeating itself so became reconciled.
It was in Washington that Miriam met her future husband. Her father had taken his family there thinking possibly they might like it better, but after seven months they went to San Diego where their summers were spent, but he still kept his ranch in Salt River Valley, and the winters were spent here.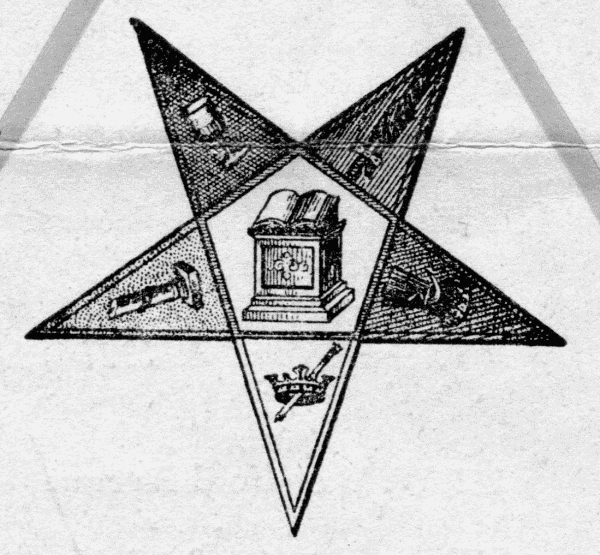 In Greenwood Memorial Park, Miriam Bugbee's tombstone inscription includes this Order of the Eastern Star symbol with the letters OES between the points, left, top, and right. Photo courtesy of the Ellis Collection.
After her marriage, which occurred in Oakland, California, in 1903, her husband who was in the employ of the government was transferred to Pocatello, Idaho, where they spent fourteen months, and then to Kansas City, Missouri, where they lived for the next eighteen years of their married life.[124]
Miriam's father passed away in Phoenix in 1911 and her mother in San Diego in 1926. Returning to Phoenix in 1918, Miriam and her husband shared in the boom cotton days and also in the losses which followed.[125] Her father had divided his estate among his children; Miriam had 80 acres.
Finally in 1925, they bought themselves a beautiful home almost within a stone's throw of the Capitol. One needed but to enter its hospitable doors to feel that it was a home of refinement. It contained many volumes of rare books and valuable pieces of furniture.
Mr. Bugbee did extensive research work. He wrote some magazine and newspaper articles, particularly along the lines of the Baha'i [B'nai B'rith] religion of which both he and his wife are ardent adherents. The word Baha'i means "Followers of Light," and its teachings seemed to satisfy them as nothing else did.
Many positions in various clubs and societies of which she was a member occupied Mrs. Bugbee's time. From 1931 to 1933 she was president of the Phoenix Woman's Club, was a member of The First Families of Arizona[126] and the Eastern Star, was past president of the Robert E. Lee chapter of the United Daughters of the Confederacy and also past state president of that organization, and was a member of the Pioneer District Woman's Club.
Both she and her husband were great readers. They had a select circle of friends whom they enjoyed entertaining in their home. Occasionally Mr. and Mrs. Bugbee take their vacations out of the state, but like the true pioneer which she was, she often said, "Arizona is where I was born, where I have spent the best part of my life, and where I am content to remain."
She died December 6, 1961, in Phoenix, in the beautiful home in which they entertained so often and so lavishly.
Ellis and Boone:
Clinton Bugbee was a veterinarian and meat inspector and died on November 11, 1961, just six weeks before his wife. Both are buried in the Greenwood Cemetery, which was originally established for Masonic burials. The influence of Freemasonry, including the women's auxiliary Eastern Star, in early Arizona history was extensive. There were lodges in cities of any size (e.g., Safford, Holbrook, Globe, Prescott, and more than one in the larger towns of Tucson and Phoenix). Although the emphasis was on taking care of their own members, Freemasons were an important part of the social safety net before the Great Depression.[127]
The Bugbees were also part of B'nai B'rith. This organization began in 1843 in New York City as a Jewish service organization. Its name is usually translated as "Children (or Sons) of the Covenant." Its function in the late nineteenth and early twentieth centuries was to provide aid to its members (e.g., insurance policies providing for widows and orphans). In 1920, they began to participate in raising money for a synagogue in Phoenix; Temple Beth Israel opened in the fall of 1922.[128] Historian Bradford Luckingham wrote, "Unlike Jews in many older American cities, in Phoenix they lived in residences located throughout the community, and overt discrimination against them because of their religion was rare."[129]
The list of organizations to which Miriam Bugbee belonged is long but not out of the ordinary for early Phoenicians. Luckingham said that Michael Kotlanger called Phoenix, in the early twentieth century, "a city of joiners." Then Luckinham wrote, "Not only did Phoenicians belong to fraternal lodges such as the Masons, the Odd Fellows, the Elks, and the Knights of Columbus, and civic organizations such as the Rotary, the Kiwanis, the Lions, and the Optimists, but they joined all sorts of cultural and social clubs."[130] Miriam Greenhaw Bugbee's activities fit into Luckingham's description of early Phoenicians.[131]
Catherine Barlow Burton
Roberta Flake Clayton, FWP
Maiden Name: Catherine "Kate" Barlow
Birth: May 9, 1861; Salt Lake City, Salt Lake Co., Utah
Parents: James Madison Barlow and Electa Mott
Marriage: William Austin Burton;[132] October 27, 1881
Children: William Austin (1882), Vera Pulchura (1884), Gertrude Barlow (1887), Vivian Shipley (1889), Charles Elliott (1891), Rheata Melissa (1893), Hattie Minor (1895), Theresa Hill (1897), Robert Taylor (1899), Mina Cannon (1902), Florence (1904), Joseph (1907)
Death: June 14, 1949; Mesa, Maricopa Co., Arizona
Burial: Mesa, Maricopa Co., Arizona
Catherine, or Kate, as she was always called, was the daughter of James Madison and Electa de la Motte Barlow. Her parents came west from Kentucky, walking across the plains from the Missouri River to the Great Salt Lake as did thousands of emigrant members of The Church of Jesus Christ of Latter-day Saints. When their shoes wore out these faithful pioneers wrapped their wounded bleeding feet in "gunny sacks."
Kate was born May 9, 1861, in her father's big home near the famous Beehive House, in Salt Lake City, Utah. Kate says the house had to be large, because, instead of Father Barlow marrying his family off, he married them on, and they all lived under one roof unless they were otherwise provided for.
James M. Barlow was one of the first jewelers in Salt Lake City, and his work was of the highest order. He made the most intricate designs in long earrings (so popular in those days), bracelets, rings, brooches, etc. Many expensive and much prized heirlooms in Utah's First Families are his handiwork.
Many of the Saints who had come to Utah had been wealthy. Traveling as they did by ox teams or handcarts, they could not bring much of their earthly possessions. Material things such as fine linens, china, books, and furniture had to be left behind. Their jewels they could carry along and they did. A call was made by the leaders of the Church for all the silver ornaments any one would like to give. In the days when Moses was busy on Mount Sinai, a call went forth for all the jewels both silver and gold. With that was made an idol of a calf to be worshipped. These jewels were put to a more acceptable use. They were made by James M. Barlow into a sacrament service to be used in the Tabernacle. These consisted of shallow baskets for the bread and cups for the water. These cups were about six inches high and had handles on opposite sides to facilitate the passing from one person to the next. These were used for many years, until a more sanitary method was discovered and each participant had an individual cup.[133]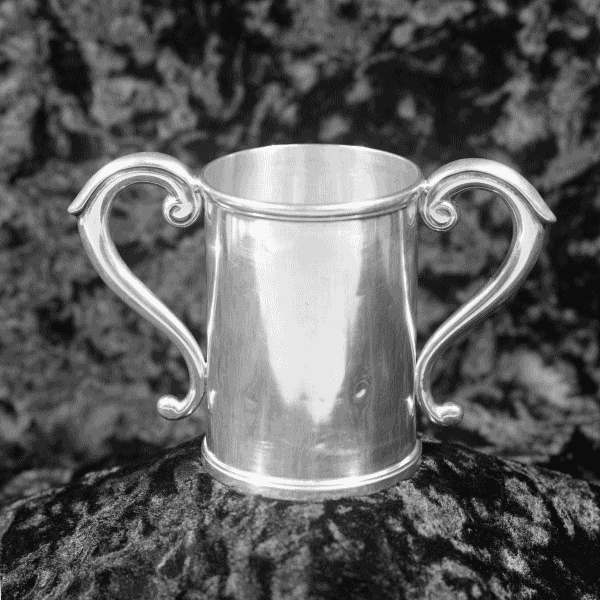 Sacrament cup made by silversmith James M. Barlow. Photo courtesy of Church History Library.
After the large silver cups were discarded, they were distributed among the Barlow children. Kate had one which she proudly displays as the workmanship of her father. He had his office and shop in the home, and she used to like to slip in and watch him at work with the bright shining gold and silver and the precious stones he used in making up his expensive jewelry. He was one of the most successful dentists in Salt Lake City.
Kate was the fourth child in her mother's family of six children. Her schooling did not begin until she was seven years old as she had to go more than a mile to school. Although her father was a very busy man he took time to guide his children into paths they were to follow—those of truth, honor, virtue, honesty and dependability.
Kate was very quick and agile in her school days. The children used to play "Crack the whip" and, though she was often the "popper," they could not pop her off. She could out jump and run faster than any of the girls and many of the boys. "No one ever caught me," she declared in telling the story of her life. "I did. I caught you," put in her husband, William Austin Burton, who was an interested listener and who supplied details which she might have overlooked. From their early childhood they have lived side by side, living on the same block in Salt Lake City when they were children.
Together they took part in the opera Pinafore, in Macbeth, and several minor parts in the plays in the Old Salt Lake Theater.[134] Kate's father was a noted actor in those early days. His knowledge of the habits, customs and dialect of the Kentucky Negro made him invaluable in minstrel shows and other darkie interpretations.
Kate's brother Joe was a player on the famous Red Stocking baseball team of which Heber J. Grant, the President of the Church, was general manager.[135] These two boys were very good friends and made many trips and won many victories together.[136] Because of his membership in the league, Kate and her sisters always had passes to all the games.
For many years, both before and after her marriage, Kate sang in the church choir. She was blessed with a very sweet soprano voice and sang for many years after she came to Mesa.
Gifts are fairly well distributed among the human race. One of the most useful bestowed upon Kate was that of designing and dressmaking. She took a course in drafting and cutting patterns. She could reproduce any style she saw pictured or on display, as well as making her own original designs. She is neatness personified. No one could make her wedding dress to suit her. Someone has said, "If you want anything done well, do it yourself." That has always been her motto, so she made her own trousseau. Twenty-two yards of silk were required for the dress. It was green and gold changeable taffeta and was trimmed in engraved gold buttons. These the family still has, also a piece of the silk. The dress had been gone a long time. It was beautiful with its pleats, puffs, and tucks, and fitted her perfectly.
The marriage ceremony was performed by Joseph F. Smith, afterward President of the LDS Church.[137] The date was October 26, 1882. A reception to which only the immediate families were invited was held in the evening at the bride's home. A long table loaded down with good things to eat was there for the guests. The wedding presents were many and very expensive, as both families were well to do.
The first year of their married life was spent in the home of William's parents (Charles Edward and Hattie Minor Burton).
In 1884 William decided to move to Arizona, so on September 15 of that year, they started. By now trains were running as far as Maricopa Station, and they came that way. They had friends living here who had written them of the opportunities in building and contracting here. These friends met them at the station and brought them to Tempe where they remained for the first five months, moving from there to Mesa.
Kate spent some time living on a ranch. She was very timid and especially of Indians. She kept an eye out for them all the time. One day, however, when only she and her baby were on the ranch alone, she looked around the corner of the house and there were two Indians with their long black hair hanging around their shoulders and attired only in gee-strings. She knew they were Apaches. What should she do? The nearest neighbor was half a mile away. She had some grapes out drying. She gave the intruders some and told them to take as many as they wanted, but they only ate a few and went away.
Another time when she was on the ranch alone, a young fellow came to the house, began making himself at home, and ordered her to fix him something to eat. She resented that but went about as slowly as possible expecting her husband home at suppertime. When he came he told Kate that the newcomer was a hand he had hired to work on the ranch. Kate had had enough of his impudence and told William that if that smart aleck stayed she would leave. It was the boy who went.
This kind of life was new and unusual to Kate, and she did not like it. Her husband was away so much during the days, working at his building trade, that she decided to go to her home in Salt Lake City and never come back. She did not for eighteen months, and then only after William and his parents went and begged her to return.
Kate and her friend Emma Daley Ellsworth, had the first ice cream parlor in Mesa.[138] That was about 1887. It was located in the Sam Cowan Building. The ice had to be shipped from Phoenix.[139] W. B. Lount was the first dealer there. They had their own cows and had plenty of milk and cream. They baked their own cakes and gave a generous helping of cake and a big dish of ice cream for a quarter. They did very well and had lots of fun doing it, but competition came in and spoiled their business.
William Austin and Catherine Barlow Burton. Photo courtesy of Mesa Natural History Museum.
William established the first undertaking business in Mesa. She was a great help to him. Sometimes when he had to go out of town for a corpse, Kate would go with him. One night he was called to the Mental Hospital. She decided to go along. He put the long basket in the hearse and they started out. The night was a dark one. As they rode along she heard voices from the rear. She grabbed her husband and screamed with fright. It proved to be a couple of messengers riding along on their bikes holding on to the back of the hearse. When they heard the blood curdling yell, it was hard to tell who was the most frightened.
William had the reputation of being without fear, and he could not [understand] that others are not as brave. Once when he and Kate were out in their car among the hills, they saw three Mexicans a short distance away. As they came nearer he recognized the middle one as a criminal who had broken jail, while William was a peace officer. Without a minute's hesitation, William stopped the car, told Kate to get in the back seat, and ordered the Mexican into the seat beside him. Neither the Mexican nor his companions made any resistance. Perhaps they knew too well the Marshal's reputation. After the prisoner was in the car William handed his pistol back to Kate and told her not to be afraid to use it if the prisoner made a crooked move. There is no telling what she would have done, at least she says she doesn't know, but it worked and they delivered their prisoner again to Phoenix. Kate had many anxious moments while Bill was sheriff, because there were many reckless and desperate characters that came to Mesa in those days.
There were happy times too. Kate is an excellent dancer and claims the honor of teaching her husband how to dance, at least she was always ready to go with him. Many otherwise "wall flowers" owe her a debt of gratitude for being so generous with him.
Kate is the mother of twelve children. Only once has death come to her immediate family and that was when a doctor administered the wrong medicine to her baby and killed him. She has never gotten over that. The others are all grown and married, the youngest one is past thirty-three years of age.
Kate has had several homes in Arizona, but whether it was an adobe ranch house or the beautiful one she lives in now, it has been immaculately neat and clean. She detests disorder in any form, and has taught this virtue to her children along with many others.
Ever since her arrival in Mesa, Kate has been identified with the Church organizations and also those of a social nature, and is an active member of an old timers' club. She still likes to dance and enjoys the society of her friends.
She passed away June 14, 1949, after sixty-seven years of married life. The parting was not for long as her husband joined her thirteen days later. They were buried side by side in the Mesa cemetery.
Ellis and Boone:
William and Kate Burton served the Mesa community all of their adult lives. However, the interesting part of this sketch that needs some additional explanation involves Kate's father, James Madison Barlow. In 1850, Barlow left his native Kentucky "with the lure of new opportunities," meaning the California gold fields. This decision was partly because of his skill as a gold and silversmith and partly with "a growing disaffection with [separation from] his wife, cousin Betsey Barlow." He was part of a company which was decimated by cholera and so was still weak when he arrived in Salt Lake City. As fate would have it, he met Brigham Young and the two became friends. Young persuaded Barlow to remain in Utah to pursue his craft of silversmithing. Barlow was baptized into the LDS Church on August 25, 1850, and remained a devout Mormon the remainder of his life. He became the husband to three wives and married Electa Mott, a domestic in President Young's household, in 1856.[140]
Donald L. Enders thought that the "most memorable" of Barlow's silver objects was the set of twelve sacramental, or communion, cups. Barlow made them by melting down silver coin, tableware, and jewelry and letting it cool as a sheet. This sheet was rolled to the desired thickness, cut into the correct shape, and placed around a clay circular mold. Then the seams were welded and a bottom and handles were added. This set of cups was used for twenty-five years in the Tabernacle on Temple Square. When the Tabernacle was no longer used for sacrament meetings, the cups were given to a local congregation, which used them until 1918. At least part of the set was eventually given to the LDS Church History Museum.[141]
This sacrament cup set is typical of the Mormon pioneer spirit: simple in design but crafted to please the eye. Enders wrote, "Created from precious metals of the earth and fashioned into usable and graceful objects, as the arid and challenging landscape of Utah was subdued, tamed and cultivated by the Mormon pioneers, the silver communion service symbolized the Mormon philosophy that the treasures of the earth are meant to glorify God and raise men to a higher spiritual level."[142] As noted in this sketch, these cups were also a source of pride for family members, even ones living in Arizona.
Lois Angeline Smith Bushman
Author Unknown
Maiden Name: Lois Angeline Smith
Birth: January 25, 1844; near Little Rock, Pulustki Co., Arkansas
Parents: John Mitchell Smith and Maria Amanda Foscue
Marriage: John Bushman;[143] February 11, 1865
Children: John Albert (1866), Homer Frederick (1868), Maria Elizabeth (1869), Martin Lester (1871), Lois Evelyn (1872), Wickliff Benjamin (1874), Preston Ammon (1875), June Augusta (1879), Jesse Smith (1881), Florence Cordelia (1884), Alonzo Ewing (1885), Jacob Virgil (1889)
Death: September 19, 1921; Lehi, Utah Co., Utah
Burial: Joseph City, Navajo Co., Arizona
Lois was the daughter of Dr. John Smith and Maria Foscue. She was born near Little Rock, Arkansas, on January 25, 1844.
The parents of Lois were people of considerable means and intellectual attainments and were devoutly religious. They had moved from Alabama to Texas in 1844 where they were living when they became affiliated with The Church of Jesus Christ of Latter-day Saints and at once began making preparations to join the Saints in their exodus west. Accordingly in 1850, in company with Lorenzo Van Cleve, the husband of a sister of Mr. Smith, and their five children; John Percival Lee and wife, Eliza, sister of Mrs. Smith, and their small family, they started for Winter Quarters [present day Omaha, Nebraska], stopping at St. Louis, Missouri to complete their equipment for the westward journey to establish a home.[144]
Upon arrival at Winter Quarters, Dr. Smith was appointed captain of a company of pioneers. While encamped at the Platte River, cholera broke out and fifty-three persons died the first day. Dr. Smith contracted the dreaded disease and died the next day, June 16, 1850, at Florence, Nebraska.
Dr. Smith's dying request of his wife was that she continue on with the company. Their little family now consisted of four children, the eldest aged ten and the youngest only four. Lois was six at this time. The mother was in a delicate condition, and it required no little degree of faith and courage, to say nothing of business ability, for unlike many of the pioneers, this family was going to the West completely equipped to make a home.[145] They had an unusually large outfit of sheep, cattle, and teams and wagons with their drivers.
The first evening after Dr. Smith died, the head teamster became offended because Mrs. Smith indignantly refused his offer of marriage, so helping himself to the best horse and outfit, he left that night for parts unknown. This necessitated hiring a new man and adjusting affairs, but Mrs. Smith was equal to the task. The company arrived in Salt Lake City September 1850, and this family located at the nearby town of Tooele.
After almost two years of widowhood, Lois's mother married again, this time to Preston Thomas, and with him moved to Cedar Fort, thence to Lehi, Utah County, in 1858.
The opportunities for education were very limited in these early days, but the Smith family had brought many choice books with them, consisting of histories, biographies, and scriptural, scientific, and classical works. At an early age, Lois exhibited marked intellectual tastes. Her thirst for knowledge grew with the years. She was very fond of poetry and had a remarkable memory.
Lois was a member of the first Sunday School and Relief Society organized in Lehi and at the age of eighteen was chosen to lead the young ladies of the town in their celebrations. She loved to sing and dance and was very popular with young and old. In those days some of the requisites in every girl's education were: to keep a home immaculately clean and sweet, to cook, knit, darn, sew and patch, spin, weave, embroider, and make lace, either knitted or crocheted or both. In these she excelled.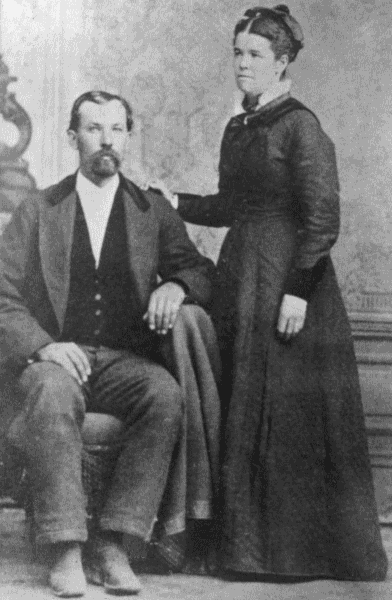 John and Lois Angeline Smith Bushman. Photo courtesy of DUP album, Snowflake-Taylor Family History Center.
Whatever the task, Lois approached it with cheerfulness. As she spun, she sang to the accompaniment of the hum of the wheel, tripping back and forth in rhythmic dance. She declared that not only did it make the work lighter and the thread smoother, but the number of ten-knot skeins per day was more by one than was spun by the girls who signed [sighed?] or visited as they spun. This was demonstrated by the spinning "bees" of that day.
As early as 1862, the opportunities for recreational and social development along aesthetic lines were encouraged and provided. The balls were carefully planned and supervised, and dancing masters were employed. Amateur theatricals, concerts, home socials, and parties in abundance were conducted.
The courtship of John Bushman and Lois Smith began on May Day of the leap year 1864. The young ladies were required to invite their partners for the ball, and Lois selected John Bushman. John had long admired her for her maidenly reserve and her many charms, and when he found himself lucky escort, well he made the most of his chance and became "her steady beau." He often recalled for his children the pleasures of those days, when in the summer time they took long walks together, and then of the sleigh rides in the winter when they would go to neighboring towns to dances and his spirited horse would try to pass all others on the road. The wedding took place on February 11, 1865, and the honeymoon lasted as long as they lived.
The newly married couple lived in the home of his parents for the first ten months. Lois won the love and confidence of the family, and there was perfect harmony and good will in the home. Besides helping with the cooking and housework, she carded, spun, and wove enough jeans for a suit of clothes for her husband, and tailored them herself. She also wove linsey and made a dress for herself this first year. In December, they moved into their own newly completed adobe house. They had but little furniture. At first the meals were cooked over the fireplace, but in a few weeks a cook stove was obtained.
The only thing to mar their happiness during the first year or two of their married life was the frequent raids of the Indians, and John would be called out to help guard the settlements. On June 12, Black Hawk was creating much trouble and the men were constantly on guard.[146]
May 28, 1866, their first child was born. He was a very delicate child and the latter part of July became very ill. John was away on guard duty much of the time and the whole of the care of the sick depended on Lois. Two of the townsmen were brought home dead from Indian bullets. The anxiety she felt for her husband and child was so great that her health was impaired. After the baby's death on December 3, 1866, she was in very poor health for a long time.
Finally a treaty of peace was entered into between Black Hawk and President Brigham Young, and the men were permitted to return home. John began to acquire more land and was getting quite comfortably fixed.
On January 23, 1876, John Bushman, with two hundred other men, were called by Brigham Young to settle on the Little Colorado River, in the northeastern part of Arizona, on an arid waste of shifting sands. This was a mission to establish permanent settlement in this section of the country. All of the men were expected to pool their property, with the object of having all things in common, of working together in a United Order.
Because of the poor health of Lois, it was considered best that she remain in Lehi, Utah, while her husband, who had married a beautiful girl, Mary Ann Petersen, brought her with him to make a home.[147] He frequently visited his family, and at the end of two years and a half, final preparations were made for the remainder of the family to go to Arizona. The covered wagon beds extended at the rear of one of the wagons. It contained shelves of food supplies and dishes, pots, and pans. The door, when let down, served as a table. The extension on the wagon box was used to carry barrels of water over the desert for both men and animals. On Tuesday, October 22, 1878, the trip began. The equipment consisted of three wagons well-packed and drawn by five span of horses, a small herd of cows, and a riding pony for the eldest son to use in driving the cattle (rather young was this cowboy, only ten years old).
There were six other families, thirteen wagons in the train. The caravan moved smoothly along until it reached Salina Creek. Here the light wagon Lois was driving, and in which her aged mother and the younger children were riding, tipped over, bruising the grandmother and breaking the arm of little four-year-old Wickliff. This was near the town of Salina. Fortunately a doctor was summoned and attended the injured. Mrs. Bushman's mother did not accompany them farther on the journey, going to her sister in Beaver, Utah. This was a sad parting indeed for Lois, but her faith and love for her husband sustained her.
The trip was a wonderful one, in spite of hardships. Every day revealed new surroundings with beautiful and sometimes strange scenery. At camping time, fires were made and the evening meal prepared. When all was arranged for the night the camp would be called together around one campfire, prayer would be offered, then the evening spent in singing familiar hymns and songs, and the voices of John and Lois rang out in sweet harmony. Thus the time passed, hardships came and were bravely met, and on December 1, 1878, the little town of St. Joseph was reached. Here was the home John took his family to, a sort of apartment house, known as the Fort. The newcomers were heartily welcomed, especially by Mary who had been anxiously awaiting them and little Lois who had come with the father and Mary on the first trip, and it was not long until they had entered into the life and become a part of this big family, with common interest, that of redeeming this desert into a place where the necessities of life could be obtained, with a little beauty and comfort mixed in. When the work of the day was completed, the bugler called all together as on the road. With prayer, song and friendly greeting, each family then went to its abode, there to rest until a new day with its duties should call them.[148]
Of a cheery, genial temperament, and an understanding disposition, Lois fitted well into this community life. Indeed, her past training especially prepared her for these new conditions. She had been schooled in patience, born of love and perfect faith and trust in the Giver of all blessings. Because of her extensive reading and her gift of song and storytelling, her part of the fort was the gathering place of the children. Bible stories were exhausted and historical ones began. Then the neighboring mothers requested to join the group. The interest grew and the circle enlarged. Her oral narrative of history became as interesting as fiction. The story lost none of its fine shading, and dates became significant. Her pauses with her knitting added impressiveness. She was truly an artist at entertaining and quick to discover the talents of others. Soon theatricals, concerts, and other cultural forms of amusement were undertaken, and all responded with the ingenuity that was needed to plan the costumes and scenery.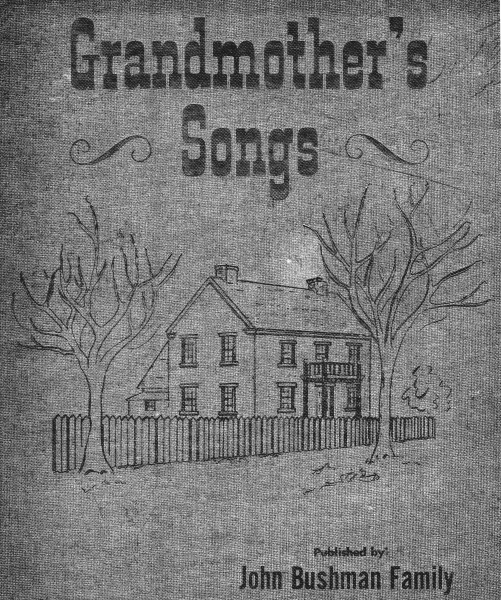 This book is a tribute to the Bushman family's two grandmothers, Lois and Mary. It includes a love poem written by Lois to her husband, John, and five songs used by missionaries to Native Americans. Photo courtesy of Karen Bushman.
The northern part of the territory of Arizona was noted for its winds and sandstorms in the springtime. It seemed that the wind blew most of the time. But when these periodical storms came they lasted for three days. During this time, no [none but essential] work would be done outside. Doors were shut and windows closed, and when it was over, the sand drifts had to be shoveled away. John was not idle during these days, but employed his time making brooms for the family and neighbors. These winds were especially trying on the eyes. There were many on the banks of the sandy bed of the Little Colorado whose eyes were injured permanently. Lois' eyes were seriously affected, and she was never able to read again. This was her greatest trial for a while, but always there was someone who delighted in reading for her, because of the rich background she possessed, and the graciousness she showed to all who were so kind to her. Uncomplainingly, she passed through the trying experiences of pioneer life, making the best of everything as it came, and encouraging others to do the same. Although she almost completely lost her sight, her voice still retained its sweetness, and ten days before she passed away she sang in public.
Lois was the mother of eleven children, and then raised three others whose mother had died.[149] Always, her home was the gathering place for young and old. The friends of her children were always welcome.
In 1884, the United Order was discontinued and people began building individual homes. The beautiful red brick one of the Bushmans was dedicated on the happy couple's silver wedding anniversary. Friends from far and near came in to help celebrate the festive occasion.
After the children were grown and married, John and Lois traveled quite extensively, going to the World's Fair in St. Louis and to a fair in Seattle. Their Golden Wedding Anniversary, February 11, 1915, was an elaborate affair and was celebrated by their numerous descendants and a host of friends.
Shortly after this they decided to return to their old home in Lehi, Utah. They were now together constantly. How gracefully and perfectly they had advanced together. How smoothly and gently their barque glided on the calm unruffled stream. They were living over the first happy years of their married life—plus the luxuries and comforts their thrift and industry had secured for them. They mutually enjoyed the hours of reading, writing, and the serenity and peace that follow a well-ordered life.
Here on September 19, 1921, ended the beautiful earth life of this wonderful pioneer, Lois Angeline Smith Bushman, beloved by all who knew her.
Ellis and Boone:
John Bushman and his two wives came to Arizona determined to make this town on the Little Colorado River successful, and John Bushman's journals have been immensely useful in understanding these settlements. In particular, Tanner and Richards used these journals to paint "a brilliant picture of the early history of Joseph City."[150] Family members have also compiled a more inclusive book about Lois's life with a title that reflects her great love of music: I Will Sing: The Life Story of Lois Angeline Smith Bushman.[151]
The citizens of Joseph City have celebrated Founder's Day on March 24 for many years. For the twentieth anniversary in 1896, Lois Bushman, Emma Hansen, and Maria R. Smith sang in a trio. But everyone participated. The celebration began with dinner served at 5:00 p.m. and then a program with Joseph C. Hansen acting as master of ceremonies. There were twenty-six different numbers on the program: eleven songs (either by the entire group or special numbers), thirteen talks or recitations, and, of course, two prayers. John Bushman, in his journal, wrote that the program was long—and "they did not get through until midnight."[152]
Mary Ann Petersen Bushman
Author Unknown
Maiden Name: Mary Ann (Ane Marie) Petersen
Birth: May 24, 1857; Vinstrup, Randers, Denmark
Parents: Jens Pedersen and Maren Sorensen Frost
Marriage: John Bushman;[153] March 2, 1877
Children: Elsie May (1878), Lillian Ann (1879), Maren Adele (1881), John Lehi (1883)
Death: July 2, 1885; St. Joseph, Navajo Co., Arizona
Burial: Joseph City, Navajo Co., Arizona
Mary Ann Petersen, daughter of Jens Pedersen, called Petersen in America, and Maren Sorensen Frost, was born May 24, 1857, at Vinstrup, Randers, Denmark. She is the second child in a family of ten children. Her parents were converted to The Church of Jesus Christ of Latter-day Saints. Desirous of joining the main body of the Church, her parents, a sister Mettie Marie, and two brothers, with her Frost grandparents, sailed for America. There was much privation on the ship Franklin, on which they sailed from Åalborg, Denmark, with the Scandinavian Immigration Mission in the spring of 1862.[154] They were short of water, and one brother died and was buried at sea.[155]
Mary Ann, known as Ane Marie Pedersen when registered on the ship's list, was not only a pioneer to America but traveled by wagon across the continent, with much suffering and privation, to join the Saints in Utah. Her other brother died while crossing the plains.[156]
The family made their new home in Lehi, Utah, where Mary lived until her marriage. She attended school for a limited time, learning to read and write, but because of their circumstances, it was necessary for her to work out to help with living costs. Thru her mother's teachings and working in other homes, she learned well the art of homemaking and grew to be a very capable woman. Her experiences prepared her well for the further pioneering she was asked to do.
Mary Ann had many friends among the young people, but her mother was very careful as to who her companions were. The Bushman and Petersen families were acquainted with each other while they both lived in Lehi.
John Bushman accepted the call from the Church authorities to colonize Arizona territory, and he was advised to take another wife to assist him in this calling, because his first wife, Lois Angeline, was not well.[157] He chose Mary Ann Petersen to be that young wife.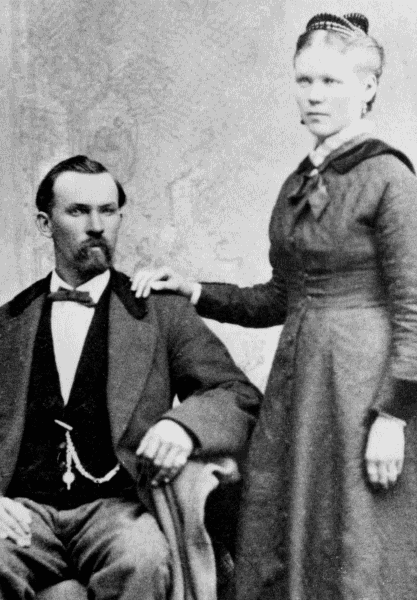 John and Mary Ann Petersen Bushman. Photo courtesy of DUP album, Snowflake-Taylor Family History Center.
It was February 27, 1877, when they arrived in St. George from Lehi. They visited several acquaintances the next few days. On March 2, 1877, when she was almost twenty years of age, she married John Bushman in the St. George Temple. The ceremony was performed by Erastus Snow.[158] On March 6 they continued on their way to Arizona and caught up with John Hunt, Henry M. Tanner, Manassah Blackburn, Isador Wilson, and the Westover families.[159] The road was very bad, dugways for miles, very hilly, and water was scarce.[160] They arrived at President Lot Smith's Camp Sunday, April 29, at 10:00 a.m., took dinner at the United Order long table, and in the evening all attended meeting where nearly all spoke.
On April 30 John Bushman and L[ycurgus] Westover went to Allen's Camp and were welcomed home by all those who arrived earlier, John Bushman having visited Arizona the year before in preparation for this move. It was here in Allen's Camp, later called St. Joseph and now Joseph City, that he and Mary were to do their life's work and raise an honorable family.
On June 7, 1877, Mary prepared a nice supper and asked their friends in to celebrate her husband's thirty-fourth birthday. It was July 1, 1877, that Lorenzo Hill Hatch, Patriarch at Obed, Arizona, gave Mary Ann a patriarchal blessing.
She took an active part in community affairs as well as Church callings, sharing the duties of the wives of the colonists during the time of the United Order.[161] Her name is signed Mary A. Bushman, along with her husband's to the "Articles of Association of the Allen's Branch of the United Order, Allen's Camp," dated April 15, 1877.
She served as treasurer of the Relief Society at St. Joseph from September 7, 1877, to July 5, 1885. She also served as counselor in the MIA for two years, and also counselor in the first Young Ladies Mutual Improvement organization at Lehi, Utah.
Mary became the mother of three daughters and one son. The eldest girl, Elsie May, died at the age of two years.
About 1883 she developed a tumor under her arm which caused her much discomfort and great pain. In the spring of 1885, it became so bad that her husband took her to Salt Lake City for medical treatment, but the doctors could not give her hope of cure, so she returned to St. Joseph where she suffered much. On Sunday, July 4, 1885, John took Mary and Lois and the children for a little ride. Mary was very feeble and restless, and at 4:30 a.m. Monday, July 5, she breathed her last. She had her reason to the last hour and seemed prepared to make the change but expressed some anxiety about her three children, who were all too young to mourn their mother's death.
Brother John McLaws made a nice coffin from the native pine, and the funeral services were held at 6 p.m. of the same day, with all the village present. All spoke of her exemplary life and as a Saint, wife and mother, and said she was better prepared to go than any of them. She was buried at sundown in the St. Joseph cemetery, now Joseph City, Arizona, July 5, 1885.
Her husband had witnessed the death of his father, mother, and three of his children, but this was by far the saddest. Nevertheless, he felt to acknowledge the hand of the Lord in all things and thanked him for the knowledge of the glorious gospel and the principle of plural and celestial marriage. He wrote to her relatives in Utah.
Lillian Ann Bushman Palmer writes of her mother: "I was only five when my mother died. I can remember very little. When she was sick I remember her lying in bed, and when she died I remember them covering her over with a sheet. Sister Eliza Tanner was one of mother's best friends, and I've heard her say mother could sew rags faster than any of them, and she and mother cooked for the men when they were putting in the dams."
Son, John Lehi Bushman, does not remember his mother, but others have told him the following: "Sister Tanner told me that Mother could take the rough boards in her floors and scrub them until they were white, and that Mother and she did the cooking for the men at the dam, and Mary Bushman always did more than her part.
"Sister Mary Richards said that mother was one of the grandest women she ever met and said that [my] daughters, Maud and Blonda, look like their grandmother. Alva Porter said she was a beautiful young woman and always busy, a fine cook and dressmaker. That mother would be up with me most of the night because I was a puny little fellow but next morning her work had to go on just the same."
Lois Bushman Smith writes:
I sometimes flatter myself that I am the authority in our family on Aunt Mary, for as a little girl I went with Father and Aunt Mary to Arizona. I remember so distinctly their showing me the twelve big oxen at the temple. These childhood memories have remained with me very vividly. The first Christmas I spent away from my mother was so filled with thrills and pleasures by my second mother I doubt whether I missed my mother, brothers, and sisters in Lehi as much as a little girl a long ways away should do. When I awoke that morning, there on a chair beside my bed was a beautiful rag doll Aunt Mary had made with her own hands. The doll had beautiful black hair, with black thread outlining the features, and just lovely clothes. The sweets consisted of a dish of raisins. She guarded my health as zealously as my own mother would have done and I always had a pretty clean apron on. Her prowess as a housekeeper and cook have become a family tradition. Her cooking was always done in an orderly manner and the results were tasty and enjoyable it seemed to me no matter how rough or meager the food.
I remember a habit that would do credit to any young lady of today. No one ever saw her hair disorderly or in a disheveled manner. The secret of her neatness was that first thing every morning she performed her toilet and her hair then stayed combed for the rest of the day and no one ever saw it otherwise. As befitting the wife of an early Arizona Pioneer, Aunt Mary seemed to love work, was economical and never complained of hard work or hard times. In the fort, the sisters helped each other by having sewing bees and so forth, no one could accomplish more than Aunt Mary at these bees.
Lois and Mary were exceptionally good friends and real pals, as letters written to each other have shown. Some musings of Mary herself and one of her letters to Lois follows:
I have been thinking today about how wonderful it was that Lois, my husband's first wife, was willing to let her husband share his love with another woman and how she trusted us to bring her five year old daughter, Lois, with us out to this barren country, that was just being pioneered and so far away from her mother. I must write Lois now and tell her how we all are, and what we are doing.
Allen's Camp
Aug. 31, 1877
Dear Sister Lois:
With pleasure I seat myself to write you a few lines to let you know how we are getting along, as John is not here to write. He has been in the harvest fields all this week and will not be back until tomorrow night, and I thought you would be anxious to hear from us. We are all well, and I hope these lines find you enjoying the same blessings. I have been helping Sister [Mary Willie] Richards sew today. She is going to Dixie on a visit. She is a nice woman, and I think everything of her.
Well, I hardly know what to write as there is so little news here to write about. The men are very busy harvesting. All the wheat is ripe and only ten men to work, and it keeps them pretty busy. They have 85 acres of wheat to cut, all getting ripe at once. The crops all look splendid. I wish I had one of your apples, it would be quite a treat. Lois often says she wishes she was back home where all the good apples are, and she wants to know if you will save some for her till she comes. She is eating bread and milk for her supper, she is well and hearty, and she grows prettier every day. She says Ana must kiss those sweet baby boys for her and then they must kiss you.
Well, dear Lois I hope you will write soon for I cannot live if you do not write. We have received one letter from you this week. I looked for one today but did not get one. I am so glad you write so often, it is such a comfort to get a letter from you for they are always so good and interesting. I hope we can always feel as we do now. If we can it will be a blessing to us all, and I think we can if we will call upon the Lord in secret and with a humble heart he will hear us and help us to do what is required of us. I hope you will pray for me, for I am young and foolish and fear myself very much, but I hope by the help of God, I will be able to do what is right. Lola (Lois) has written a letter to Maria and wants her to write back. We write two letters nearly every week to you, but I do not think you get them all. John sends his kindest love to you and the children. He has not forgotten you, for when he speaks to me he calls me Lois more than Mary. Give my love to my folks and all my friends and accept a sack full for yourself and babies. Remember me to your cousin Ellen. Have you gotten any money yet? I remain your loving friend.
Mary Bushman
Nettie Hunt Rencher writes of Mary Ann P. Bushman: "First I remember what a pretty woman she was, with blue eyes and light hair that she combed and braided every morning before we left camp. It seems like every time I looked at her she was smiling. I have thought it so sweet of the first wife to let her child, Lois, go with Mary, the second wife, to be a comfort for her on the way after they arrived in this lonely land. But one morning a look of terror was in her eyes and later thankful tears. Little girls wore pretty long dresses then, and Lois turned around with her back to the fire, her dress fell right on the hot coals and in a moment her dress was blazing. She ran screaming. Her father and mine were near. They ran after her as she dodged between the wagons. My father had on one of his buckskin gloves which he always wore when he drove, and he was just ready to leave camp, so it was only a few moments until he had the blaze put out with his gloved hand. Since, I have known what thoughts were going through Mary's mind, of how terrible she would have felt if anything really bad had happened to Lois, when she was in a way entrusted to her care. I have often thought it was so sad that she must die so young and so far from her own dear ones."
Ellis and Boone:
Mary Ann Bushman came to Joseph City very early in its settlement and is frequently mentioned in the early records. For example, John Bushman wrote about building the fifth dam in his diary: "On January 12, 1881, all the brethren gathered at the Dam Site and dedicated it to the Lord, and the materials that were to be used in the structure of the dam. They commenced work immediately with all the men that could be spared. Sister [Maria Sophia] Neilson and Mary Bushman cooked for the men. The weather was cold and very windy. Part of the men went home every saturday and returned monday mornings."[162] It would be interesting to know if Mary Ann Bushman kept her fifteen-month-old daughter Lillian at the dam site. One possibility would be that Mary volunteered to be the cook, planning to leave Lillian with John's first wife, Lois. Mary was just beginning a new pregnancy and would likely have weaned Lillian about this time.
Mary Ann Peterson Bushman died at Joseph City when she was only twenty-eight years old. She had given birth to four children. Her oldest daughter, Elsie, died when two years old, and the three other children (Lillian, Adele, and John) survived their mother. The book Unflinching Courage, a history of Joseph City and its people, was compiled mostly by Mary Ann's daughter, Adele Bushman Westover.[163] With information here from both Lillian and John, it seems likely that this sketch was written by Adele.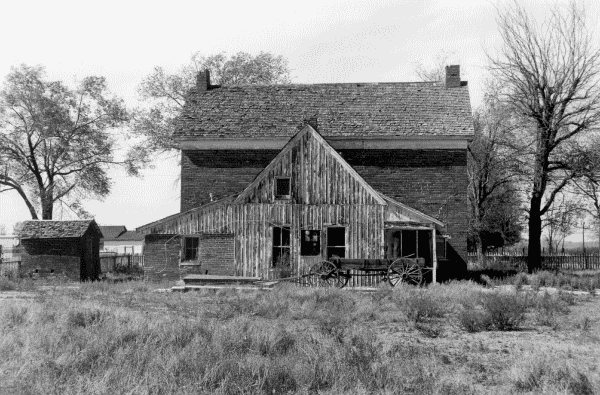 John Bushman built this frame house in Joseph City for his families and then later added the two-story brick home which is attached (see p. 91 for front of brick house). He fired his own bricks and made his own nails. Parked by the house is the ubiquitous covered wagon (sans cover); William E. Ferguson, photographer about 2000. Photo courtesy of William and Betty Ferguson.
The funeral of Mary Ann Petersen Bushman in 1885, "with all the village present," could have happened in many different towns, but it became a Joseph City custom. Forty years later this same scene was repeated with the death of Mary Hansen Larson (raised by Emma Swenson Hansen, 245). Mary's husband, Hugh, had taken her to Gallup, New Mexico, for medical treatment where she died. Her mother-in-law, May Hunt Larson (394) wrote that Mary "suffered no pain whatever but gradually sank away. He asked her once if she knew him and she answered, 'Certainly Hugh, I know you.' He stood it as long as he could and walked out and the nurse beckoned him a few minutes later, by then she was past knowing him. He had a very sad, lonely time as the undertaker would not take his word or note. He had to wire to John Miller at Holbrook for money before he could move her. The whole town of Joe City met him at the depot and they said it was a very touching sight to see him with only her coat and hat while neighbors carried her body."[164]
Notes
[1] Margaret M. Wilhelm, Joseph Francis Baird, AzDC.
[2] Sam Walters Foss, "The House by the Side of the Road," in Cook, One Hundred and One Famous Poems, 9.
[3] MPOT only lists one crossing of the Camp family—an 1850 trek with the Shadrach Roundy Company. Their daughter, Emma Eliza Camp, died the second day of the trip, June 28, 1850. It is presumed that this was their initial trip because the whole family is listed, however, it may actually be the second trip detailed here. The Camp family is listed as living in Davis Co., Utah, in the 1850 census (which was actually taken April−May 1851). The Camps' oldest son, James Greer Camp (age 19), participated with the Mormon Battalion and was part of a sick detachment that wintered in Pueblo, Colorado; he arrived in the Salt Lake Valley on July 29, 1847.
[4] Karl Gottfried Maeser (1828–1901) was a German convert who came to Utah in 1860. Brigham Young called him to organize an academy at Provo, which eventually became Brigham Young University. Maeser is credited with being the "spiritual architect" of BYU. David P. Gardner, "Education," in Ludlow, Encyclopedia of Mormonism, 2:443–44; Butterworth, 1,000 Views of 100 Years, 14–17; "Karl G. Maeser," in Jenson, Latter-day Saint Biographical Encyclopedia, 1:707–9; Wilkinson and Skousen, Brigham Young University, 50–124.
[5] As noted here, this was a baptism for health and not an ordinance for salvation and remission of sins. Although this practice was somewhat common in early Church history, Carl Hawkins noted that the "practice of rebaptism to manifest repentance and recommitment, or for a restoration of health in time of sickness, is no longer practiced in the Church." Carl S. Hawkins, "Baptism," in Ludlow, Encyclopedia of Mormonism, 2:94.
[6] Thomas B. Brantley died July 20, 1867, in Salt Lake City.
[7] Richard Alexander Baird (1833–82) traveled to Utah sometime before 1863 (unknown company), married Emma Linda Hiskey on March 21, 1863, and immediately left for Winter Quarters, Nebraska, where he helped his widowed mother and two younger siblings come to Utah with the Alvus H. Patterson Company of 1863. He had two children by Hiskey, and they either separated or divorced about the time he married Margaret Camp. Some of Baird's siblings lived in Utah, but some did not. MPOT.
[8] The brother-in-law was Andrew Jackson Baird (1844–1923). Margaret's baby Louis, husband Richard, and his brother and sister-in-law are all buried in the same lot at Gypsum Hill Cemetery in Salina, Kansas. 1880 census, A. J. Baird, Greeley, Saline Co., Kansas; 1900 census, Andrew J. Baird, Salina Ward 4, Saline Co., Kansas; findagrave.com, #107558803, 107558873, 55615332, and 107558725.
[9] Because there was no social safety net in the nineteenth century, different organizations provided help to the widows and orphans of their members, including the Freemasons. At the first annual meeting of the Arizona Grand Lodge of Freemasons in November of 1882, Morris Goldwater proposed setting up a fund to provide for widows and orphans, and the fund grew steadily over time. Harry Arizona Drachman, "Freemasonry in Arizona," in Gould, Gould's History of Freemasonry throughout the World, 5:17−28.
[10] See Catherine Ellen Camp Greer, 223.
[11] The Arizona Cooperative Mercantile Institution, called the ACMI or Co-op Store, was a string of stores in Navajo and Apache Counties with the parent store in Holbrook. Although the stores were not Church-owned, a committee of bishops and the stake president made up the board of directors. Wilhelm and Wilhelm, History of the St. Johns Arizona Stake, 44–45.
[12] Presumably this means Erastus, which was later called Concho, not the original Concho which was settled earlier by Hispanics.
[13] Generally spelled "malapi," this word refers to a type of black volcanic vesicular basalt found in Apache County. The Springerville volcanic field contains over 400 volcanoes within a fifty-mile radius, making it the third largest volcanic field in the continental United States. The ancient Pueblo just north of Springerville is now an archaeological site named Casa Malpais. See Ellis and Turner, White Mountains of Apache County, 16.
[14] Laura H. Saline, "Grandmother's Faith," in Tenney, Taylor's Centennial Stories, 129–30.
[15] This quilt has been donated for display at the Freeman House in Snowflake along with research about the women who made the quilt. See Ellis, Snowflake, 67.
[16] RFC wrote a FWP sketch for Julia Ballard in the 1930s, but that sketch was not used for PWA, although many of the stories are the same.
[17] George H. Crosby Jr., "As My Memory Recalls: Jesse N. Smith," in Clayton, PMA, 447−48; "Jesse Nathaniel Smith," ibid., 449−50.
[18] Janet Mauretta Johnson Smith, 676.
[19] Jessie Ballard Smith, "Life Sketch of Charles Harvey Ballard," Clayton, PMA, 25−30.
[20] 1920 census, Charles H. Ballard, Snowflake, Navajo Co., Arizona; AzBCs for Benjamin, Frances, Luella, and Phyllis Ballard.
[21] In the LDS Church, a ward is similar to a parish, and a stake is similar to a diocese. The first stake organized in northeastern Arizona was the Little Colorado River Stake, with Lot Smith as president. In 1878, it was divided, and all land east of Silver Creek became the Eastern Arizona Stake. In 1887, both stakes were dissolved and two new stakes were created: the Snowflake Stake with Jesse N. Smith as president and the St. Johns Stake with David K. Udall as president. Peterson, Take Up Your Mission, 243; Stan L. Albrecht, "Stake," in Ludlow, Encyclopedia of Mormonism, 4:1411–14.
[22] See Emma Seraphine West Smith, 673; Augusta Outzen Smith, 657.
[23] Ellen Malmstrom Larson, 384.
[24] Metta Sophia Hansen Johnson, 316.
[25] Wilford Woodruff (1807–98), born in Connecticut, was baptized by Latter-day Saint missionaries at the end of 1833. He participated in Zion's Camp and was made an Apostle in 1839. He served as President of the Church from 1889 to 1898; George Q. Cannon (1827–1901) was First Counselor and Joseph F. Smith (1838–1918) was Second Counselor. Before 1890, Woodruff came to Arizona to avoid federal arrest for polygamy. He is best known for issuing the 1890 Manifesto, which officially ended polygamy. West, Profiles of the Presidents, 130–45; Dean C. Jessee, "Wilford Woodruff," in Ludlow, Encyclopedia of Mormonism, 4:1580–84.
[26] Catherine Delphina Fish Smith, 660, and Annella Hunt Kartchner, 339.
[27] Edward Milo Webb Jr. (1847–1921) was born in Missouri, crossed the plains when five years old, and came to Arizona in 1886 because of pressures against polygamy in Utah. He was the first teacher of the Snowflake Stake Academy. Levi Mathers Savage (1851–1935) first came to Arizona in 1875, living at Sunset. He later lived in Mexico and finally settled in Woodruff, where he was bishop for twenty-seven years. He was the second principal and teacher of Snowflake's academy. Flake, Academy in the Wilderness, 29–40.
[28] Lois Bushman was a daughter of Lois Angeline Smith Bushman, 88.
[29] When attending a temple, Latter-day Saints dress in white and then, with the priesthood ordinances, put on an undergarment and priestly robes. For burial, the deceased are dressed in these same articles of clothing. Evelyn T. Marshall, "Garments," in Ludlow, Encyclopedia of Mormonism, 1:534–35.
[30] Plans for this building began in 1935, although actual construction did not start until 1938. Built of yellow sandstone quarried north of Snowflake, it was dedicated July 2, 1939, and was used for only two years. It caught fire on November 23, 1941, and, the next day, only the stone walls were left standing. Rebuilding started almost immediately; some of the charred walls were reinforced, but others had to be replaced. World War II delayed construction, but the townspeople persevered and the church was rededicated on August 29, 1943.
[31] "Julia Ballard and her Sunday Eggs," in Levine, Life and Times of Snowflake, 5.
[32] Although Ancestral File lists this date as September 19, 1941, the AzDC gives the death date as September 21, with burial in St. Johns on September 22.
[33] For another daughter, see Fannie Jane Roundy Willis, 798.
[34] During a May 28, 1876, crossing at Lee's Ferry, the ferryboat was swamped and Lorenzo Roundy was drowned; his body was never recovered. McClintock, Mormon Settlement in Arizona, 86−87.
[35] In southern Iron County, this is known as Kanarraville today.
[36] John Taylor (1808–1887), editor and publisher, was born in England but converted to the Church in Upper Canada. He was wounded when the Prophet Joseph was killed at Carthage Jail. Taylor became President of the Church after the death of Brigham Young and served from 1877 to 1887. Paul Thomas Smith, "John Taylor," in Ludlow, Encyclopedia of Mormonism, 4:1438–41.
[37] John Berry, William Wiley Berry, and James Thomas Berry came to St. Johns in 1882. Their sisters, married to Joseph Hales and George Ingram, also came but did not remain long. Wilhelm and Wilhelm, History of the St. Johns Arizona Stake, 271; Crosby, As My Memory Recalls, 6.
[38] The two other Berry sisters were Cynthia and Thursa, both married to John W. Brown, a teacher at the St. Johns Stake Academy. Ibid.
[39] This sentence cannot easily be fixed. Traveling south into Arizona, the Berry family would have crossed the Colorado River at Lee's Ferry, then traveled up Lee's Backbone (also called the Lee Hill), and down the escarpment to the trail, which then more or less followed the base of the Echo Cliffs. Between Echo Cliffs and the Colorado River are deeply cut drainages which the pioneers avoided, and periodic springs provided water now that the Colorado River was deep within Marble Canyon. Peterson, Take Up Your Mission, 75–80.
[40] Crops in Apache County were dependent upon water from the Little Colorado River, provided initially by diversion ditches and later reservoirs. The dams, however, were always in danger of washing out. When the Salado Dam failed in 1905, it also took out the Zion Dam twenty miles downstream and the Woodruff Dam in Navajo County. The Wilhelms wrote, "With the breaking of the three biggest dams, Bluewater, Ramah (for the second time), and the Salado, it was such a devastating blow to the area that the church authorities decided that the faithful people of the St. Johns Stake had suffered enough. Apostle Francis M. Lyman was sent to release all the people of the St. Johns Stake from their call as colonizers. . . . Some of the people accepted the release and left. For many, however, they had adopted this as their home and their roots were too deep." Wilhelm and Wilhelm, History of the St. Johns Arizona Stake, 63–65. For an account of the next dam, the Lyman Dam which still exists today, see the comments from Ellis and Boone for Sarah Wilmirth Greer DeWitt, 149.
[41] William David Rencher (1863–1958) was patriarch for the St. Johns Stake. A stake patriarch gives blessings to members of his stake, declaring their dominant lineage back to Abraham, and then gives "admonitions, promises, and assurances." Ariel S. Ballif, "Stake Patriarch," in Ludlow, Encyclopedia of Mormonism, 3:1064–65; "William David Rencher," in Jenson, Latter-day Saint Biographical Encyclopedia, 4:597.
[42] Wilhelm and Wilhelm, History of the St. Johns Arizona Stake, 63–65.
[43] Stan Brown, "Rachel E. Berry, Arizona's first female legislator: Part 1," http://www.sharlot.org/library-archives/days-past/rachel-e-berry-arizonas-first-female-legislator-part-i.
[44] Wilhelm and Wilhelm, History of the St. Johns Arizona Stake, 271.
[45] Ellis, Snowflake, 24.
[46] Shill Family Sketches, MS 14580, CHL.
[47] See Harriet Stronach Paynter Shill, 635.
[48] The Southern Pacific Railroad tracks reached Maricopa (in Pinal County) on April 29, 1879, and then continued on toward Casa Grande and Tucson, thus bypassing the Salt River Valley. Freight teams were required for the rest of the trip to Mesa. Myrick, Railroads of Arizona, 1:40.
[49] Benjamin Lewis Blackburn (1863–1924) and Louisa Rebecca Richins (1864–1888); Rebecca's mother was Louisa Shill Richins, a sister to Charles Golding Shill. See comments by Ellis and Boone.
[50] PWA lists this date as October 8, 1927, but the AzDC lists her death date as October 10, 1927, with burial on October 13.
[51] Turner and Ellis, Latter-day Saints in Mesa, 40.
[52] Avis Laverne Leavitt Rogers, 585.
[53] Faulk, Arizona, 144–45; Granger, Arizona Place Names, 306.
[54] Granger, Arizona Place Names, 303.
[55] Gifford Pinchot (1865–1946) was an American forester and politician. He served as head of the newly created U.S. Forest Service from 1905–10 and became known as the "father of conservation." His ideas of limited grazing instead of completely excluding cattle and sheep on Forest Service lands was a particularly important concept in Arizona. Sheridan, Arizona, 260.
[56] Here Clayton (or Bourn) uses the euphemism of "death" for divorce or separation; both Bourn and her husband list themselves as "widowed" in census records from 1910 to 1940.
[57] In the 1900 census, Bourn lists himself as a farmer.
[58] This practice of bringing in non-native species is today regarded as damaging to the ecosystem and has largely been discontinued.
[59] Bourn was living in Arizona by 1930. 1930 census, Frieda C. Bourn, Osborn, Maricopa Co., Arizona.
[60] 1900 census, James E. Bourn, Surface Creek, Delta Co., Colorado.
[61] James continued to live in Delta County until about 1935. 1910 census, Frederica E. Bourn, Denver, Denver Co., Colorado; 1910 census, James Bourn, Eckert, Delta Co., Colorado; 1920 census, James Bourn, Orchard, Delta Co., Colorado.
[62] Quebbeman, Medicine in Territorial Arizona, 175, 276–77.
[63] 1940 census, James W. Bourn, Phoenix; Frieda Z. Bourn, Maricopa Co.; and Ralph Bourn, Maricopa Co., Arizona. James Bourn died March 3, 1944, in Phoenix, and Ralph Bourn died September 11, 1962, also in Phoenix, although he had lived for a time in California. AzDCs: Freda Z. Bourn, James W. Bourn, and Ralph E. Bourn Sr.
[64] Hendrickson was superintendent of Snowflake Union High School when he wrote this sketch.
[65] Eliza R. Snow (1804–87) was "Zion's poetess" and first president of the Relief Society (1866–87) when it was reorganized in Utah. She was married to both Joseph Smith and Brigham Young; she retained her maiden name, but on her tombstone in the Brigham Young Cemetery she is listed as Eliza R. Snow Smith. Maureen Ursenbach Beecher, "The Eliza Enigma: The Life and Legend of Eliza R. Snow," 29–42; Burgess-Olsen, Sister Saints, 3Beecher, "Eliza R. Snow," in Ludlow, Encyclopedia of Mormonism, 3:1364–67.
[66] With rail service complete to Yuma in September 1877, Maricopa in April 1879, and El Paso, Texas, in May 1881, Cheney could have traveled by rail most of the way to the Mexico colonies in 1883. In addition, he could have traveled through Colorado and New Mexico, completely bypassing Arizona. Myrick, Railroads of Arizona, 1:26–27, 40, 61; Myrick, New Mexico's Railroads, 239–40.
[67] Joseph West Smith (1859–1944) was the son of Jesse N. Smith and the husband of Catherine Delphina Fish Smith, 660. Erastus Willard Mortensen (1859–1918) eventually moved with his family to Mesa. Homer Frederick Bushman (1868–1936) was the son of Lois Smith Bushman, 88. William Reed is unidentified. "Homer Frederick Bushman," in Jenson, Latter-day Saint Biographical Encyclopedia, 2:601.
[68] Adam Rufus Brewer (1874–1957) was the son of Sabra Ann Follett Brewer, 66, and husband of Sarah Rosina Pomeroy Brewer, 69. Jesse Albert Kay (1872–1918) was married to Rebecca Finch Standifird (1873–1956).
[69] The time for travel between Little Colorado River settlements and St. George was extremely variable (see n. 4, Introduction to the Sketches, 30) depending upon mode of travel and whether cattle and horses were being trailed. RFC also noted that young men taking a bride to the temple competed for the fastest time (see Ellis and Boone comments for Sarah Catherine Hancock Perkins, 528). Finally, only a few accounts give the start and end dates for a trip; the sketch for Christabell Hunt Flake (187) states that they left on her birthday (August 27) and they were married September 16, which is exactly three weeks; the sketch for Julia Smith Ballard, 49, states that only two weeks were required each way.
[70] On Sunday, December 3, 1899, Lucy White Flake wrote in her journal: "we had a plesant time and all went to night meeting[.] they called for a donation for Joseph Bruer who is blind[.] fifty too dollars and seventy five cents was donated[.]" Flake and Boone, Diary of Lucy Hannah White Flake, 389.
[71] The town of Whiteriver, in southern Navajo County on the north fork of the White River, is the headquarters for the Fort Apache Indian Reservation. Today the name is generally spelled as one word.
[72] Freighting in northeastern Arizona is best described by James R. Jennings, although he does not mention Mr. and Mrs. Brewer. Jennings, Freight Rolled.
[73] Howard Payne, "Mid Pleasures and Palaces," Hymns (1948), no. 185.
[74] Wilford Woodruff Brewer and Rowena Ellsworth had two daughters: Beulah, born on April 16, 1918, and died the same day at Show Low, and Dorma, born August 27, 1920, at Cooley (McNary).
[75] Metta Sophia Hansen Johnson, 316.
[76] Roberta Clayton, "Navajo County Guide, Pinedale," FWP sketches, ASLAPR.; Granger, Arizona Place Names, 250–51.
[77] Clayton, "Navajo County, Arizona: Standard," FWP sketch, ASLAPR.
[78] Adam Rightenback Campbell (1838–1921) married Jacob Brewer's sister, Bethenia Emma Brewer on December 30, 1861.
[79] The Joseph and Cynthia Follett family crossed the plains with the William H. Dame Company in 1862. There is no record for Jacob Brewer's crossing. MPOT.
[80] An Endowment House is a building or place where sacred temple ordinances are performed. This specific Endowment House was a two-story building on the northwest corner of Temple Square, used from 1855 to 1889 when the Salt Lake Temple was nearing completion. Lamar C. Berrett, "Endowment Houses," in Ludlow, Encyclopedia of Mormonism, 1:456.
[81] See Hartley, "Brigham Young's Overland Trails Revolution, 1−30.
[82] United Orders (also called United Order of Enoch or Order of Enoch) were communities designed to include "relative income equality, group self-sufficiency, and the elimination of poverty." They were organized in Utah, Arizona, Mexico, and Canada during the nineteenth century, but most had been dissolved by the time of the death of Brigham Young in 1877. The four original settlements on the Little Colorado River practiced this system for a short time. L. Dwight Israelsen, "United Orders," in Ludlow, Encyclopedia of Mormonism, 4:1493–95.
[83] FamilySearch.org lists the death date of Lewis Brewer as June 24, 1879, in Kane County, Utah.
[84] It is probably true that there was not a single house at Horsehead Crossing, later Holbrook, in January 1881. Berado Frayre had operated a store there since about 1876, and Henry Scorse was operating a saloon (out of a tent), but the railroad did not reach Holbrook until approximately September 24, 1881. None of the references Wayte uses make Holbrook appear to be more than one or two adobe trading posts. Wayte, "History of Holbrook," 78–88, 92, 96.
[85] In 1882, William J. Flake brought the Mt. Trumbull sawmill from Utah and set it up here. This area may not have been known as Flake's Camp or Snowflake Camp until the mill arrived. Roberta Clayton, "Pinedale, Navajo County," FWP, ASLAPR.
[86] In this paragraph, RFC uses the familiar Aunt Ann and Uncle Jake when referring to Sabra Ann and Jacob Brewer.
[87] Cynthia Jane died October 23, Charles Frederick died October 26, and Emma Ann died October 27, 1887.
[88] This sketch does not indicate when Jacob and Ann moved to Safford. They were still living in Pinedale in 1900 but were living in Safford in 1908 at the time of Ann's death.
[89] This is son John Hyrum Brewer; none of his family died from typhoid at this time.
[90] Apache Review, November 14, 1888, cited in Quebbeman, Medicine in Territorial Arizona, 166. However, it seems likely that forty children contracted the disease rather than forty children died from the disease.
[91] "Francis Martin Pomeroy," in Jenson, Latter-day Saint Biographical Encyclopedia, 3:488–90; Sarah Matilda Colborn Pomeroy, 550.
[92] Adam Rufus Brewer was the son of Sabra Ann Follett Brewer, 66.
[93] James E. Talmage (1862–1933) was an early educator in Utah. He was president of the University of Utah from 1894 to 1897 and was ordained an Apostle in 1911. His writings include the books Jesus, the Christ and Articles of Faith, which are still used today. Ludlow, Encyclopedia of Mormonism, 2:690; "James Edward Talmage," in Jenson, Latter-day Saint Biographical Encyclopedia, 3:787–89.
[94] YLMIA is an abbreviation for Young Ladies Mutual Improvement Association, a Latter-day Saint auxiliary organization for young women. In 1869, Brigham Young became concerned about the moral, cultural, and social development of his daughters and formed the Cooperative Retrenchment Association. This organization has used several different names and today is called Young Women. Carol Cornwall Madsen, "Retrenchment Association," in Ludlow, Encyclopedia of Mormonism, 3:1223–25; Elaine Anderson Cannon, "Young Women," in Ludlow, Encyclopedia of Mormonism, 4:1616–19.
[95] See Ellis, Latter-day Saints in Tucson, 61, 73, 76, 111.
[96] "Sarah Rosina Pomeroy Brewer, Brief Autobiography," edited by Lucille Kempton, copy in possession of Ellis. Kempton wrote, "This little bit of history is handwritten in a small brown notebook. I have done some re-arranging of paragraphs as she wrote at random as the memories came."
[97] This is the end of volume 2. Adam R. Brewer Journals, MS 11971, CHL.
[98] Lot Smith (1830–1892) was a member of the Mormon Battalion and thirty years later a controversial leader in the early Little Colorado River settlements. He was killed in a quarrel with the Navajos. Ten years after his death, Smith's remains were taken to Utah. Bishop David Brinkerhoff carried the remains from Tuba City to Flagstaff, and then Jesse N. Smith accompanied them to Farmington, Davis County, for reburial. Coconino Sun, March 29, 1902; Jenson, Latter-day Saint Biographical Encyclopedia, 1:806; Tanner and Richards, Colonization on the Little Colorado, 160. See also Colonization on the Little Colorado, 131−32, for information about the removal of all Mormons from Tuba City at this time.
[99] This Pioneer Day commemoration was held in Big Cottonwood Canyon, and it was during the celebration that Brigham Young received word of the advancing army sent by President Buchanan under the command of Albert Sidney Johnston. Allen and Leonard, Story of the Latter-day Saints, 300–303, 306–310.
[100] This is an English kiss-in-the-ring children's game several centuries old, possibly dating from James I, whose son was Prince Henry. Different versions have different names in the first line, reflecting its oral transmission.
[101] For a description of step dancing, see n. 2 in Medora White Call, 97.
[102] Entries in Ancestral File only give the seven children listed at the beginning of the sketch, and in 1900, Ella stated that she was the mother of seven children, six of whom were still living. This may mean that she had three children that died at birth and were not named, but it could also mean that Clayton wrote down the wrong numbers during the interview. 1900 census, Ella E. Merrill, Eagar, Apache Co., Arizona.
[103] Frederick Dee Merrill (1890–1930) married Cordelia Brown (1886–1973) in 1914.
[104] See also Apache County Historical Society [Newsletter] 1 (1977), 25−28.
[105] Ada Arvilla Burk Earl Autobiography (Federal Writers Project, Pioneer Personal History, UTAH HRS 314), MSS SC 2642, Special Collections, Brigham Young University, 2.
[106] Ibid., 4–5.
[107] Ibid., 5.
[108] George A. Smith (1817–75) was First Counselor to Brigham Young from 1868–75. He practiced plural marriage, was a farmer, legislator, and Church historian, and was ordained an Apostle in 1839. His wife, Bathsheba Bigler (1822–1910), was a leader of LDS women in Utah, serving as the fourth general Relief Society president from 1901 to 1910. Harriet Horne Arrington, "Bathsheba Bigler Smith," in Ludlow, Encyclopedia of Mormonism, 3:1320–21, 4:1646.
[109] Although the Bryce Ward was organized in 1890, the ward and school used the same building for many years. In 1926 a new school was built, and the old building was remodeled to be used as a church. It was dedicated on March 26, 1929. The original cemetery was a short distance northeast of the Bryce home. With intermittent flooding by the Peck Wash, this cemetery was relocated about 1918 to a small canyon a half-mile northwest of its original site. Bertha Welker, "History of the Bryce Ward 1890–1954," in Taylor, 25th Stake of Zion, 168–70; Burgess, Mt. Graham Profiles, 2:71–72.
[110] Burgess, Mt. Graham Profiles 2:69−70.
[111] Woodbury, "A History of Southern Utah and its National Parks," 182.
[112] Ben Bryce, "The Connection between Bryce, Arizona, and Bryce Canyon, Utah," Marden E. Alder Papers, MS 20984, CHL. Ryder Ridgway also used the more toned-down quote in an article for the Graham County Courier in 1976: "And just what did Ebenezer have to say about the magnificent national monument which honors his name? Simply this: 'It was a heck of a place to chase a cow in.'" Graham County Courier, January 21, 1976; "Ebenezer Bryce," in Burgess, Mt. Graham Profiles, 1:52−53, 2:71−72; another version is found in Dodge and Dodge, "Our Family Book," 505, 601.
[113] 1910 census, George A. Bryce, Township 6, Graham Co., Arizona.
[114] According to this sketch, the Carter family came to Arizona in 1883. Generally, a slow trip meant that loose cattle and horses were being brought with the wagons. The entire route from central Utah to Glenbar was well established by 1883, as was noted for the Smithson family's trip: "On the first day of February 1881, the Smithson family started out alone, Arizona bound, to find a new home. By this time a fairly good wagon road had been made by the hundreds of emigrants who had gone on before." Sarah Ann Salina Smithson Turley, 732; see also Ellis, "'Arizona Has Been Good to Me,'" 1−32.
[115] Fort Thomas is west of Thatcher on the Gila River, and Fort Grant is southwest, on the west side of the Pinaleno Mountains (Mt. Graham) near Bonita. Fort Bowie is in Cochise County, east of Willcox. It is unclear what was meant by Fort Geronimo. This may be the old railroad town of Geronimo which was close to the ruins of the original Camp Thomas (also called Camp Apache). Granger, Arizona Place Names, 123, 126, 132–33; Walker and Bufkin, Historical Atlas of Arizona, 36–37.
[116] McClintock noted that "few were the Mormons who have met untimely death by violence in the Southwest," however, the people of the Gila Valley suffered much more from Apache raids than any other Latter-day Saint group. McClintock, Mormon Settlement in Arizona, 253–54, 290–91.
[117] Corle, Gila, 346.
[118] Generally spelled as one word, a sadiron is a heavy flatiron, pointed at both ends, with a removable handle.
[119] Bertha Welker, "George Alvin Bryce," in Burgess, Mt. Graham Profiles, 1:54.
[120] Elizabeth Amy Barton Greenhaw, 220.
[121] Ida Elizabeth McEwen Tompkins, 719.
[122] In 1889, Col. Edwin M. Lamson of the Arizona Guard began the Lamson Business College with twelve students. Today it is the oldest private college in Arizona, although the name has been changed to Lamson College.
[123] Caltech was originally established in 1891 as Throop University (pronounced troop, which is why it was spelled as Troop in PWA). The name was changed to Throop Polytechnic Institute in 1893, then Throop College of Technology in 1913, and finally California Institute of Technology in 1920.
[124] Clinton and Miriam were not located in the 1910 census, but they were living in Tolleson by 1920. 1920 census, Clinton H. Bugbee, Tolleson, Maricopa, Arizona; 1930 and 1940 censuses, Clinton H. Bugbee, Phoenix, Maricopa, Arizona.
[125] Jared Smith wrote, "The late 1910s witnessed the Cotton Boom in the Salt River Valley. In 1920 alone, over 180,000 acres of land in the great expanse of the Valley was planted in varieties of cotton whose origins lay in both Egypt and the Gila River Valley to the south. That same season, the Cotton Crash decimated the local economy so badly that some residents would later say that it had been worse than the Great Depression." Smith, Making Water Flow Uphill, 13.
[126] The First Families of Arizona was established in 1932 to preserve the heritage of "Arizona's founding families." Membership requires an ancestor who established residence in Arizona prior to statehood, February 14, 1912.
[127] For information about Masons involved in serving tuberculosis patients and families, see Gilbert and Ellis, "'What Will You Do to Save a Consumptive Brother?'" 213–44.
[128] Luckingham, Phoenix, 89.
[129] Ibid., 33.
[130] Ibid., 89–90.
[131] A few snapshots of Miriam Bugbee can be found at azarchivesonline.org, Greenhaw Collection, NAU PH 98.68.
[132] "William Austin Burton," in Clayton, PMA, 52−57.
[133] For information about the move toward a more sanitary method of distributing the sacramental water, see Bray, "The Lord's Supper During the Progressive Era," 88−104.
[134] This word was spelled "Mc. Beth" in the FWP sketch and "No Beth" in PWA.
[135] Heber J. Grant (1856–1945) was only nine days old when his father died and so grew up in poverty. He then became a successful businessman and was ordained an Apostle at age 25. As a youth, he was teased about his lack of athletic prowess, and so he practiced baseball until he was on the championship team. He became the seventh President of the Church in 1918 and dedicated the Arizona Temple in 1927. Dennis A. Wright, "Heber J. Grant," in Ludlow, Encyclopedia of Mormonism, 2:564–69.
[136] There is some question about Grant being the general manager of the Red Stocking baseball team. In 2014, the Salt Lake Tribune published a photo of this team with all members identified. There are only nine men in the photo. Joe Barlow is listed as catcher and Heber J. Grant as second baseman. The Tribune dates this photo as 1878, but it usually is labeled as August 1877. Grant was twenty-one or twenty-two when he was on this team; they played games in Utah, California, Colorado, and Wyoming to win the championship. "A Look Back: Baseball in Utah around 1900," Salt Lake Tribune, March 21, 2014; www.sltrib.com/csp/mediapool/sites/sltrib/Pages/gallery.csp?cid=1377210&pid=1648670.
[137] Joseph F. Smith (1838–1918) was born during the tumultuous Missouri period of Church history. His father was Hyrum Smith and his mother was Mary Fielding. He became the sixth President of the Church in 1901. In 1913, President Smith and Presiding Bishop Charles W. Nibley traveled to Arizona using a private railcar for sleeping accommodations. They dedicated a high school in Snowflake and two chapels in Mesa and held conferences in Mesa and Thatcher. In Tucson, he addressed the plight of Mormon refugees from Mexico; they were told to settle wherever they thought best and then, after the revolutionary violence was over, they could return to Mexico if they chose. "Warm Welcome is Extended to Mormon Chief," Arizona Daily Star, December 11, 1913; Ellis, Latter-day Saints in Tucson, 38; Bruce A. Van Orden, "Joseph F. Smith," in Ludlow, Encyclopedia of Mormonism, 3:1349–52.
[138] Emma Daley Ellsworth (1873−1942), daughter of Adeline Grover Daley, 129. Another claim for the first ice cream parlor in Mesa is Harriet Cornelia Clawson Lamb, 377.
[139] In more northern climes, ice was often cut from lakes during the winter, packed in sawdust, and shipped to cities during the summer months. In Phoenix, ice had to be manufactured; an ice plant was first built in Phoenix in 1879. Ice was mainly used to pack truck garden products for shipment by rail to the East Coast. Merrill, One Hundred Steps Down Mesa's Past, 175; Smith, Making Water Flow Uphill, 111, 279–80.
[140] Enders, "James Madison Barlow, Patriarch of Utah Silversmiths," 27.
[141] Ibid., 28.
[142] Ibid., 29.
[143] Lenore B. Carpenter, "John Bushman," in Clayton, PMA, 63−70; "John Bushman," in Jenson, Latter-day Saint Biographical Encyclopedia, 4:553.
[144] The identity of Lorenzo Van Cleve and wife are unknown at this writing. John Percival Lee, wife Eliza Ann Foscue Lee, and three children traveled to Utah with the Benjamin Hawkins Company of 1850. John Mitchell Smith, wife Maria Amanda Foscue Smith, and four children traveled with the James Pace Company of 1850. The James Pace Company left Nebraska on June 11 and arrived in the Salt Lake Valley September 20–23. MPOT.
[145] Maria Foscue Smith's child, John Freeman Smith, was born January 1, 1851, four months after arriving in Utah.
[146] Black Hawk was a Ute subchief born at Spring Lake (near Payson and at the south end of Utah Lake), roughly between 1824 and 1830. Although not the first Ute chief to protest Mormon settlement, he led the fight over a three-year period from 1865 to 1868. He died September 26, 1870, and was buried at Spring Lake. Peterson, Utah's Black Hawk War, 42–48, 77–79.
[147] Mary Ann Petersen Bushman, 92.
[148] Lois Bushman was one of the women Phillips quoted when discussing the United Order at Joseph City. Phillips, "'As Sisters in Zion,'" 155−72.
[149] These three children are the surviving children of John's second wife, Mary Ann Petersen Bushman, who died July 5, 1885. See comments by Ellis and Boone in Mary Ann Petersen Bushman, 95.
[150] Tanner and Richards, Colonization on the Little Colorado, 164; Westover and Richards, Unflinching Courage, 103−6; John Bushman papers, MSS 1520, HBLL, BYU.
[151] Pearson, I Will Sing.
[152] Tanner and Richards, Colonization on the Little Colorado, 117–18.
[153] Lenore B. Carpenter, "John Bushman," in Clayton, PMA, 63−70; "John Bushman," in Jenson, Latter-day Saint Biographical Encyclopedia, 1:553.
[154] PWA had Alborg [sic] listed as in Germany, not Denmark. The explanation may come from Conway B. Sonne: "On 15 April 1862 the full-rigged Franklin—one of four German flag square-riggers to carry an emigrant company to America—sailed from Hamburg with 413 Mormons from Denmark." Many of the Scandinavian Saints used a combination of land and water travel to reach a larger port (often Liverpool, but this case Hamburg) before crossing the Atlantic Ocean. A manifest for the Franklin was not found online. Sonne, Saints on the Seas, 152; Sonne, Ships, Saints, and Mariners, 78.
[155] Jens Anton Petersen died May 16, 1862. Measles broke out on the Franklin and forty-eight people died; by the time the emigrants reached Utah, fully fifteen percent of their company had died. For a compelling and detailed description of this voyage, see Sonne, Ships, Saints, and Mariners, 78−79.
[156] This is probably her older sister, Mette Marie Petersen who died August 31, 1862. Jens and Maren Peterson, with three children, traveled to Utah in the Ansil P. Harmon Company of 1862, departing August 1 and arriving October 5. MPOT.
[157] Lois Angeline Smith Bushman, 88.
[158] Erastus Snow (1818–1888), born in Vermont, was made an Apostle in 1849 and was called on a mission to Scandinavia that fall. Nearly thirty years later he was called to supervise the Latter-day Saint settlements in Arizona. This role is memorialized with the "Pioneer Monument" on Main Street in Snowflake. Erected in 2000, the free-standing figures include Lucy Flake (holding baby Roberta), Snow, and William J. Flake, with Jesse N. Smith, John Nuttall, and Ira Hinckley in the frieze. Ellis, Snowflake, 121; Ludow, Encyclopedia of Mormonism, 4:1647; "Erastus Snow," in Jenson, Latter-day Saint Biographical Encyclopedia, 1:103–15.
[159] Probably this means the two Westover wagons, one driven by Lycurgus and Johanna Westover and the other by Johanna's father, Swen Erickson.
[160] Even though "dugways" often refers to Lee's Backbone, the route of this party was through Pierce's Ferry. See Ellis, "'Arizona Has Been Good to Me,'" 1−32.
[161] See Phillips, "'As Sisters in Zion,'" 155−72.
[162] Tanner and Richards, Colonization on the Little Colorado, 43, 167.
[163] Westover and Richards, Unflinching Courage, 103−6.
[164] April 17, 1925, Journal of May Louise Hunt Larson, 333. For the funeral on April 20, Larson wrote, "The casket was carried from the home to the church building by Hugh's three brothers and Mary's three. Pratt, Wallace, Evan [Larson] on one side, Jim, Delbert and Harvey [Hansen] on the other."