In Their Footsteps
Mormon Pioneers of Faith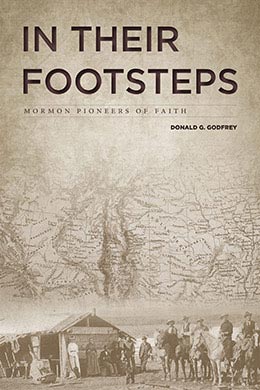 This book has not been released for online reading.
Published in 2018
ISBN 978-1-9443-9425-7
Book $29.99
Ebook $14.99
About the Book
This volume chronicles a group of influential Mormon pioneers and their families who left a mark on their communities, church, and family history. It tells a story of the men and women of the Joseph Godfrey and Charles Ora Card families as they traveled from Liverpool, England; through the eastern U.S. states; Nauvoo, Illinois; and Utah before they are scattered north into Canada. Joseph was a runaway boy who became a mariner, sailing the oceans until he was robbed, losing his life's belongings at sea. Charles became the founder of Cardston, Alberta, the first Mormon settlement in Canada. These pioneers crossed the Atlantic, rode wagons, and walked barefoot across the plains to Zion. They suffered the temper of angry mobs. They knew the prophets and contemporary apostles. They grew and flourished in the regions of Salt Lake, Weber, Cache Valley; Star Valley, Wyoming; and the prairies of Alberta, Canada. They were simply faithful Latter-day Saints contributing to their communities and their church. Be inspired as you walk in the footsteps of founders of the Mountain West.