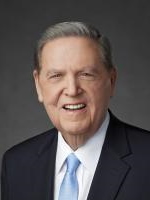 Jeffery R. Holland was born in St. George, Utah. He graduated from Dixie High School. He began his college education at Dixie College before his mission to England. After returning from England, he transferred to Brigham Young University where he graduated with a BA in English. He received an MA in Religious Education from BYU, while also teaching religion classes part-time. After earning his master's degree, Elder Holland became an Institute of Religion teacher in Hayward, California. He next served as an institute director in Seattle Washington. Elder Holland attended Yale University and earned a second master's degree, this time in American Studies, and later a PhD in the same subject.
Elder Holland was appointed dean of Religious Instruction on January 11, 1974. As dean, he established BYU's Religious Studies Center and became its first director in 1975. In 1980, Elder Holland was appointed as president of BYU. A significant achievement during his presidency was the founding of the BYU Jerusalem Center. Elder Holland was called as a general authority and member of the First Quorum of the Seventy on April 1, 1989, bringing an end to his term as president of BYU. As a member of the Seventy, he was a counselor in the general presidency of the church's Young Men organization from 1989 to 1990. Elder Holland was ordained an apostle of the LDS Church on June 23, 1994 by Howard W. Hunter, and was sustained a member of the Quorum of the Twelve Apostles on October 1, 1994. In 2000 Holland became the chair of the Missionary Curriculum Task Force which worked to develop Preach My Gospel.
Elder Holland and his wife, Patricia, were married on June 7, 1963 in the St. George Temple. They are the parents of three children.