Inspiring Service
Interfaith Remarks with Elder Jeffrey R. Holland at Oxford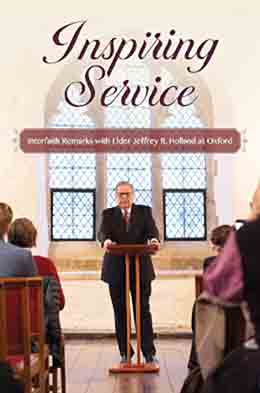 This book has not been released for online reading.
Published in 2019
ISBN 978-1-9443-9489-9
Book $17.99
Ebook $9.99
About the Book
In Oxford, Britain's most ancient seat of learning, a series of events commemorated the visit of Elder Jeffrey R. Holland of the Quorum of the Twelve Apostles just before Christmas. Elder Holland spoke at the university and in Pembroke Chapel at a "Nine Lessons and Carols" celebration. Eminent speakers from the Catholic, Anglican, and nonconformist traditions joined him to commit enthusiastically to common service and exploration, and an agenda has been set for further dialogue, action, and deeper friendships. Featured speakers in this volume include the Reverend Dr. Andrew Teal, Lord David Alton, Elder Jeffrey R. Holland, former Archbishop Rowan Williams, and the Reverend Professor Frances Young. At the conclusion of his visit, Elder Holland delivered a moving address titled "Christ­mas Comfort." This book celebrates the marvelous start of deeper commitment, dialogue, and friendship.