Canadian Mormons
History of the Church of Jesus Christ of Latter-day Saints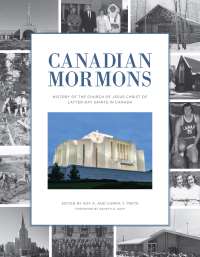 This book has not been released for online reading.
Published in 2017
ISBN 978-1-9443-9423-3
Book $39.99
Ebook $14.99
About the Book
This book won the Smith-Pettit Best Book Award from the John Whitmer Historical Association.
This book gives a panoramic view of the rise and progress of the Church in Canada. It has all the elements of a great saga, including that of early faithful missionaries preaching in eastern Canada without "purse or scrip" in the 1830s and 1840s, and the exodus of early Canadian converts who joined with the main body of the Church in Ohio, Missouri, and Illinois, and then trekked across the Great Plains to Utah in the Rocky Mountains. It tells of Mormon pioneers from Utah arriving in southern Alberta after 1887, having made a second grand trek to escape their persecutors, this time north rather than west, and details the settlement of Mormons in Alberta. It is the story of an ongoing missionary effort from late nineteenth century, throughout the twentieth, and into the twenty-first with a vast number of missionaries and the sustained effort of thousands of lay leaders and members laboring relentlessly to build up a Church that now consists of nearly 200,000 members.
Watch the book trailer here: