Roy A. Prete, "Acknowledgements," in Canadian Mormons: History of the Church of Jesus Christ of Latter-Day Saints in Canada, ed. Roy A. and Carma T. Prete (Provo, UT: Religious Studies Center; Salt Lake City: Deseret Book, 2017), xvii-xx
Written to coincide with the sesquicentennial of Confederation in 2017, this volume is the culmination of a major project, which has required the concerted effort of a team of more than forty people, almost all of whom were unpaid volunteers. Its creation is a story of faith in keeping with the many faith stories contained within the book.
The project began in August 2013, when my wife, Carma, and I, long-term residents of Kingston, Ontario, began service as full-time missionaries in the Family and Church History Headquarters Mission in Salt Lake City, Utah - a mission that eventually stretched to thirty months - to work on a comprehensive new history of The Church of Jesus Christ of Latter-day Saints in Canada. I became the general editor, assembled the team of contributors, and managed the project to write the history. Carma conducted intensive research in the "Country Profiles" project at the Church History Library on seven and a half Canadian provinces and the northern territories, assisted with editing, and wrote three chapters! After the completion of our mission, we later returned to Salt Lake City in March 2016 for a further stint of five and a half months as Church service missionaries, during which we finished editing the several chapters in the book. We extend our deep gratitude to the Church History Library and staff in making the resources of this state-of-the-art facility freely available to us for a period of nearly three years. Likewise, Rachel Killebrew at the Community of Christ Library and Archives in Independence, Missouri, was unfailingly helpful in making records available for research.
The skills and talents of many people were required in researching, writing, and providing the visual material needed for this illustrated history of the Latter-day Saints in Canada. The twenty-one authors who have contributed to this collaborative work have included local historians - some trained in history, some with other areas of expertise - plus scholars drawn from several other disciplines. They are to be commended for their dedicated service, which made this book possible.
Those chapters covering the development of the Church in each of the provinces or regions across the country were written by local specialists, who drew extensively on documents available locally and information gleaned from a large number of oral histories. In addition to their own research, chapter authors have drawn on the Canadian "Country Profiles," research reports for each of the provinces, compiled in 2013-16 by Carma Prete and six additional missionary researchers, from archival records at the Church History Library. These compilations have provided a province-by-province documentation of major events and developments, plus biographies of major participants, significant stories of faith, and a selection of photographs.
Chapter authors have also drawn on oral history interviews conducted by a team of interviewers who were trained in oral history. Born and raised in Canada, Terry and Arnon Livingstone, now residents of Glendale, Arizona, spearheaded this endeavour. Serving as Church service missionaries, they toured the three Canadian Maritime Provinces and travelled to Ontario, Alberta, and Saskatchewan, travelling approximately thirty-two thousand kilometres to conduct oral history interviews, take photographs, and identify relevant documents, as well as to train several others in conducting oral history interviews.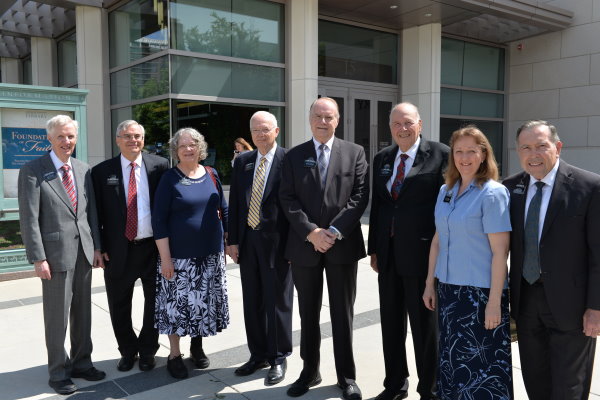 These missionaries, standing in front of the Church History Library in Salt Lake City, Utah, made major contributions to the current volume. Left to right: O. William (Bill) Asplund, Roy and Carma Prete, Stephen C. Carter, Donald D. Schneider, Richard B. Vance, and Serenity and Thomas Roulstone. The couples were full-time missionaries in the Family and Church History Headquarters Mission; others in the photograph were local part-time Church service missionaries serving int he same mission. Together they conducted more than four years of archival research at the Church History Library in support of the project.
Altogether a team of sixteen (of whom six were chapter authors) were directly trained either by the Livingstones or by the Church History Library - either in person, or at a distance, with the use of modern communication technology. We express our gratitude to the several dozen long-term Church members located in various regions of Canada who were thus able to share their local knowledge and experiences through oral history interviews, which have served to complement Church archival records. As a result, the primary records have been enriched by the voices of many men and women, whose experiences have augmented the social history of their times.
Included in the book are six interpretive chapters, which develop themes unique to the Canadian Latter-day Saint heritage. These chapters have been written by scholars with academic training in history, sociology, geography, cartography, and other disciplines. Their professional expertise has enhanced the treatment by developing nationwide themes and placing the Canadian experience in a world perspective. Chapter authors, moreover, have assembled the bulk of the photographs - more than five hundred altogether. The editors express their deep appreciation to all those listed in the photo credits who have thus contributed to the project and to institutions who generously shared their resources, most notably Intellectual Reserve, Inc., the intellectual property division of The Church of Jesus Christ of Latter-day Saints. Award-winning cartographic editor Brandon S. Plewe has created numerous maps, illustrations, timelines, graphs, and charts to enhance the presentation.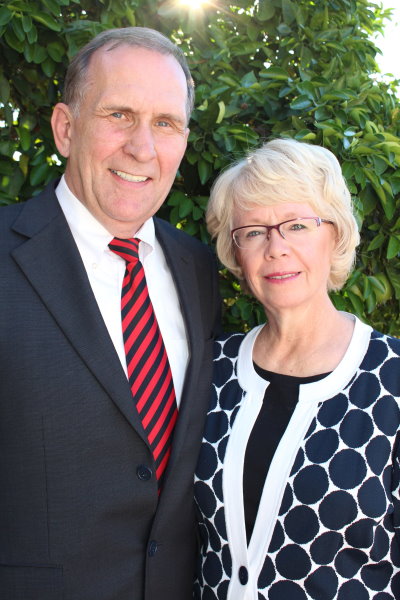 In support of the Canadian Church-history project, Terry and Arnon Livingstone toured Atlantic Canada and travelled to Alberta and Saskatchewan, conducting more than fifty oral history interviews and training others how to do such interviews. (Arnon Livingstone)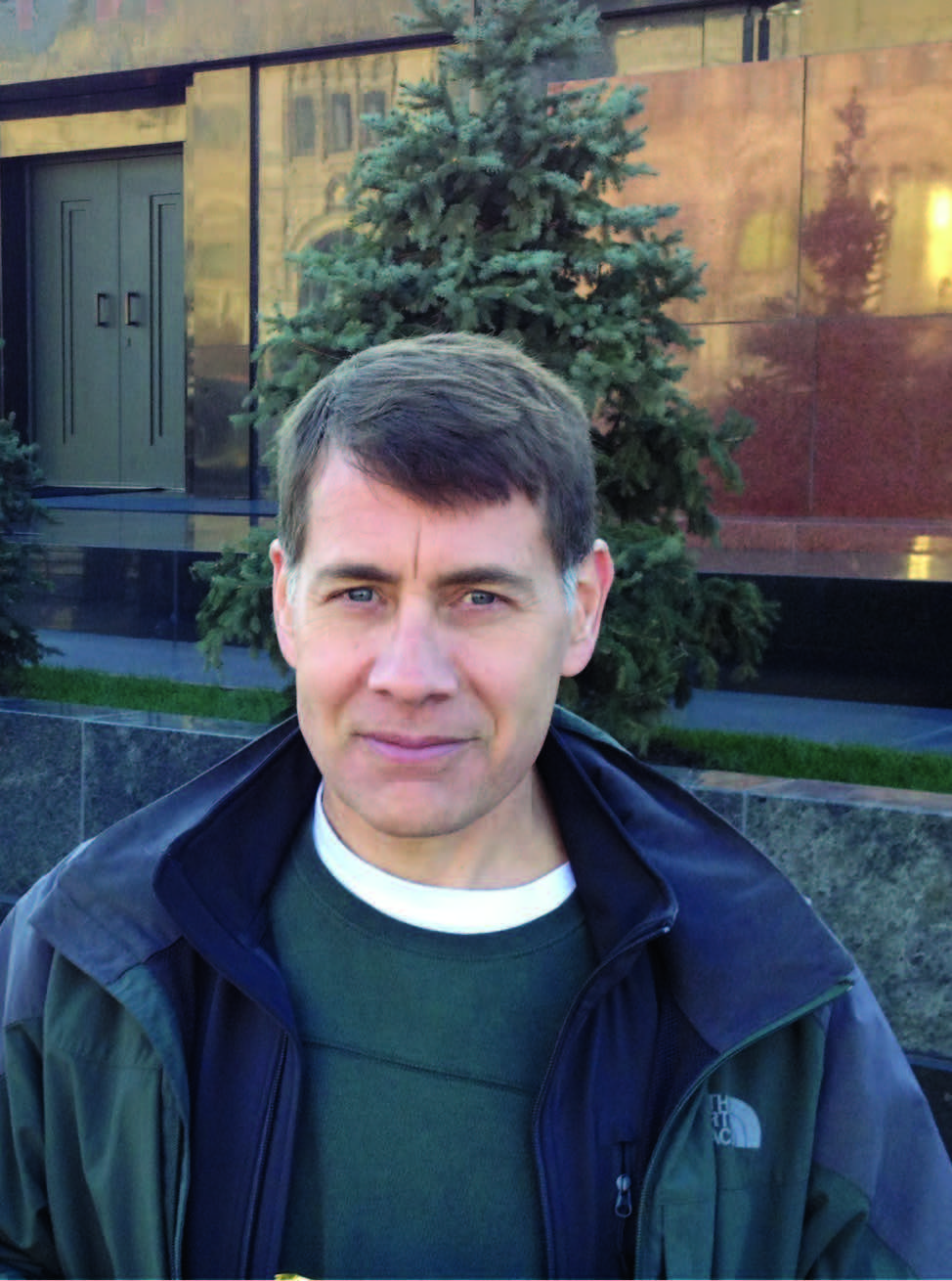 Matthew K. Heiss, area manager of Global Support and Acquiditions at the Church History Library, provided much counsel, encouragement, and significant ongoing support to the "Canada project." (Matthew Heiss)
Others deserve special recognition. Ardeth G. Kapp has graciously favoured us with a guest foreword. The associate editors, cited on the title page, in addition to their role as editors, have helped guide the process and have provided invaluable counsel and advice. Rebecca J. Doig, our "Alberta editor," helped conceptualize the project, spearheaded two chapters as coauthor, and mentored one other. Helena and Malcolm Warner have provided contacts, encouragement, and helpful advice on a number of issues; Helen has written one chapter and Malcolm, in addition to reviewing chapters, has provided a technical review of maps, charts, and graphs. Drawing on his professional background and personal experience as a long-term Church leader, Lynn Rosenvall has helped us appreciate the impact of the Canadian-American border and broadened our perspective on the cultural adaptation of the Church in Canada. LeRoy Whitehead reviewed chapters and gave advice.
Matthew K. Heiss, our immediate supervisor at the Church History Library, is to be commended for having mentored the project throughout. Sandra Pallin, Canadian Church public affairs director, furnished invaluable support at the outset; several authors have come from the public affairs network. Amanda Lewis and Camber Agrelius assisted with preliminary editing, O. William Asplund prepared the bibliography, and Patricia whitehead provided photographs. In reviewing the chapters, Jessie L. Embry has given us the benefit of her expertise as a foremost social historian of Mormonism.
As editors, our debt of gratitude is to all those who have made this project possible. The vast number of people who have generously laboured to produce this volume, whether visible or quietly working in the background, through their efforts, have reaffirmed their appreciation of the rich and varied faith heritage of the Canadian saints. This bountiful heritage will be a strength to current and succeeding generations, as members reflect on their distinctive pioneer heritage and the faith, sacrifice, and dedication of those who went before.
We would also like to acknowledge specific individuals at Brigham Young University's Religious Studies Center (RSC) who have made important contributions. Thomas A. Wayment, publications director, provided counsel and encouragement regarding the project. Devan Jensen, executive editor, answered questions regarding style and form and anaged the entire editorial process. Brent Nordgren, production supervisor, directed the design and provided technical assistance and photo editing. Editing interns Tyler Balli, Mandi Diaz, Kimball Gardner, Allyson Jones, Emily Strong, and Shannon Taylor made a significant contribution. Erin Gazdik served as marketing specialist, and Rachel Lyon prepared the index. The book's design, Madison Swapp, created a beautiful illustrated book that will appear to a broad audience.