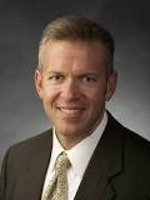 Eric Dennis Huntsman was a religion professor at Brigham Young University (BYU) when this was written.
Brother Huntsman was born in Albuquerque, New Mexico and raised in New York, Pennsylvania and Tennessee. He served a mission for the LDS Church in Thailand. He graduated from BYU with a BA Classical Greek and Latin in 1990. He then earned an MA and a Ph.D. from the University of Pennsylvania. In 1993 he married N. Elaine Scott. They are the parents of two children.
Brother Huntsman joined the BYU faculty in 1994 as an instructor in classics. In 1997, after completing his PhD, he became an assistant professor in Ancient History and Classics. In 2003 Brother Huntsman transferred departments to be a member of the Department of Ancient Scripture in BYU's College of Religious Education. In 2008 Brother Huntsman moved up to the rank of associate professor.