"Behold the Lamb of God"
An Easter Celebration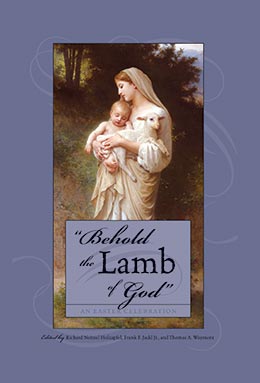 About the Book
The 2007 BYU Easter Conference
Followers of Jesus Christ since the beginning have referred to their Savior as the Lamb of God. While down by the River Jordan, John the Baptist was baptizing those who desired to follow the Savior. When the Savior approached the Baptist, John declared, "Behold the Lamb of God, which taketh away the sin of the world" (John 1:29). After John baptized Jesus, he bore record "that he had baptized the Lamb of God" (1 Nephi 10:10). The next day, when John and two of his disciples saw Jesus, the Baptist again proclaimed, "Behold the Lamb of God!" (John 1:36).
Three years later the Savior brought his Twelve Apostles to Jerusalem to celebrate the Passover. As Jews from all over the Roman Empire made pilgrimage to Herod's Temple, firstborn male lambs without blemish were offered up as sacrifice, commemorating that God had physically delivered his people from their bondage to Pharaoh. During that same Passover, Jesus, the firstborn spirit son of God and the only mortal to live a perfect life, prepared himself to be offered up as a sacrifice in order to spiritually deliver God's children from their bondage to Satan. This volume celebrates the life and sacrifice of the Lamb of God.
ISBN 978-0-8425-2693-7
Published in 2008