How the New Testament Came to Be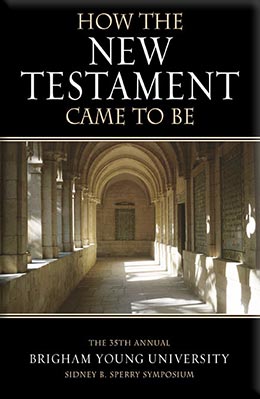 About the Book
The 35th Annual Brigham Young University Sidney B. Sperry Symposium
This newest addition to the Sperry Symposium series celebrates the writing of the New Testament and the faithful service of those who brought that book of sacred scripture into existence. The chapters of this volume, presented on the Brigham Young University campus on October 27–28, 2006, explore the New Testament's origin and examine ancient scriptural evidence on a variety of topics, ranging from the earliest ancient manuscripts to the contributions of Joseph Smith to our understanding of the New Testament.
A great deal of interest has been generated lately in the origin, early history, and reliability of the documents that make up the New Testament. Books and motion pictures have exposed us to many new ideas relating to New Testament studies. This volume, although not responding directly to any of those works, puts into print the research of faithful Latter-day Saint scholars who have explored the earliest evidence for the New Testament and have asked hard questions concerning it.
Indeed, the New Testament presents us with many questions. We do not know, for example, when and under what circumstances many of the documents were written. We do know that "plain and precious things" were removed from the scriptural text (1 Nephi 13:28), but because the original manuscripts do not exist, how can we find out what those things were and when they were lost? What can we say about the traditional attributions of the Gospels to Matthew, Mark, Luke, and John? What can we say about how those and other books were collected to form the New Testament? Do the ancient manuscripts provide answers? What does modern revelation teach us?
How the New Testament Came to Be deals with these and other questions as it explores the writing and compilation of the New Testament. The authors, though they may not always interpret the evidence in the same way, have in common a strong commitment to the centrality of the sacred mission of Jesus Christ and a belief that modern revelation is an indispensable guide for reading and understanding the New Testament.
ISBN 9-7815-9038-6279
Published in 2006