A Beacon on a Hill
The Los Angeles Temple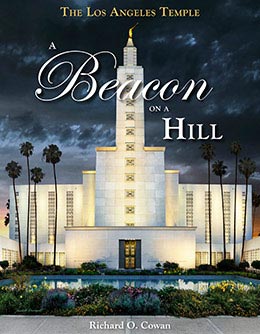 This book has not been released for online reading.
Published in 2018
ISBN 978-1-9443-9435-6
Book $31.99
Ebook $14.99
About the Book
President David O. McKay was intimately involved with the planning and construction of this largest temple that the Church had ever built. Its operation reflects some of the challenges the Church faced in the changing cultural climate of Southern California. This volume is a comprehensive history of the Los Angeles Temple. The text is illustrated with more than a hundred photographs of the construction, groundbreaking, installation of the angel Moroni, and cornerstone ceremony—many of which have not been previously published. This book is also enhanced with beautiful illustrations using modern artwork and photographs. Among the more notable artwork is the exquisite cover painting of the Los Angeles Temple by Kendall Davenport titled "A More Excellent Hope" (see more of Kendall's artwork online at www.kendalldavenport.com ).
Watch the book trailer here: