Saints at War
The Gulf War, Afghanistan, and Iraq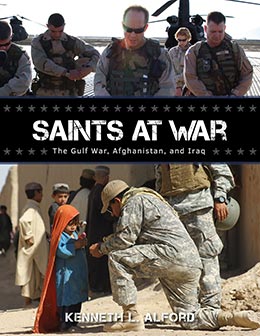 This book has not been released for online reading.
Published in 2020
ISBN 978-1-9443-9487-5
Book $29.99
About the Book
This volume is a compilation of inspirational stories shared by Latter-day Saints who served on the front lines in several recent military conflicts. These stories detail their trials, challenges, setbacks, faith, courage, and numerous victories in overcoming extraordinary circumstances. This book is filled with remarkable first-person accounts from Latter-day Saint soldiers, sailors, Marines, airmen, and civilians who served in the Gulf War, the War in Afghanistan, and the Iraq War. Their amazing stories—published together for the first time—chronicle the sacrifice, dedication, and humor of day-to-day life in modern combat zones. This book also shares the story of how fully functioning districts of the Church were organized and operated in the war-torn countries of Afghanistan and Iraq to meet the spiritual needs of the Church members there. Richly illustrated with photographs from the participants, this book will introduce you to a new generation of Latter-day Saint heroes.