Veteran Accounts
(Arranged alphabetically by last name)
GREGORY T. ADAMS
During Operation Iraqi Freedom, Greg Adams served 2009–10 as a U.S. Army lieutenant colonel (promotable). His assignments included deputy director for all Iraqi army training and military adviser to the Iraqi Army joint training staff. He also served in the first Baghdad Iraq Military District presidency. He currently lives in Utah, where he is a coordinator for the Church's Institutes of Religion program. He has served in many Church positions including district presidency, bishop, stake high council, and elders quorum president.
Soldiers from a brigade combat team are shown while on patrol on April 8, 2005. Courtesy of DoD.
As I boarded the "Freedom Flight" in Kuwait to return home to my family in the United States, I was placing my luggage in the cargo bay when I heard "Bruder Adams, Wie geht's!" It took me by surprise. I had grown accustomed to hearing Arabic during the last year and was now hearing German, the language of my mission. I turned around and saw my old mission companion from Wuppertal, Germany—Elder Checketts. I had not seen him for years. He was now Colonel Gus Checketts and was returning home after arranging for his command to deploy to Balad, Iraq, in the coming months.
We enjoyed a wonderful flight reminiscing about our missions in Germany. I also outlined all of the wonderful events happening in the Church in Iraq. As we parted after landing in the States, I asked him to give me a call before he returned to Iraq. He called several months later, and I asked when he was deploying. He said he was leaving the next week but asked me to guess where he was. When I expressed I had no idea, he told me he had just left Elder Paul Pieper's office at Church headquarters in Salt Lake City. Elder Pieper had just finished setting him apart to take my place in the district presidency in Iraq! Later that year, Gus was called to be the third president of the Baghdad Iraq Military District. After so many years, who would have ever thought two young missionary companions would again cross paths as soldiers in a war with an opportunity to bring the blessings of the gospel to Iraq.
I had many memorable experiences while serving my country in Iraq. Some were very rewarding and others were very difficult, as soldiers often witness man's inhumanity to man. However, seeing the Lord's hand with the people of Iraq and experiencing his love for them and for those serving in the country gave me a different perspective regarding God's love and his divine plan for us all. It surely was a great privilege to serve my country and the Lord during that remarkable time.
KEN BACKES
Ken Backes served as the military assistant to the senior adviser for health for the Coalition Provisional Authority (CPA), which enabled him to work closely with the Iraqi minister of health and his staff.
The first Iraqi I met was Saba, a translator. She was a beautiful twenty-four-year-old woman who had recently graduated from college and hoped for a medical career. She was a bit shy on our first meeting, and she quickly introduced me to her friend Muntador, who was also a translator. Muntador went to school with Saba and had also recently graduated. He was twenty-five years old and looking forward to eight years of schooling to qualify as a brain surgeon—a skill sadly lacking in Iraq. Both Saba and Muntador were upbeat and positive about the future. Saba spoke with an Irish accent, strangely enough. She learned English from watching American movies. She shared the Iraqi version of cheese puffs with us, and we teased her about her "boyfriend" Muntador, although she protested that he was only a friend from school. The day ended with me feeling very positive about Iraq's future.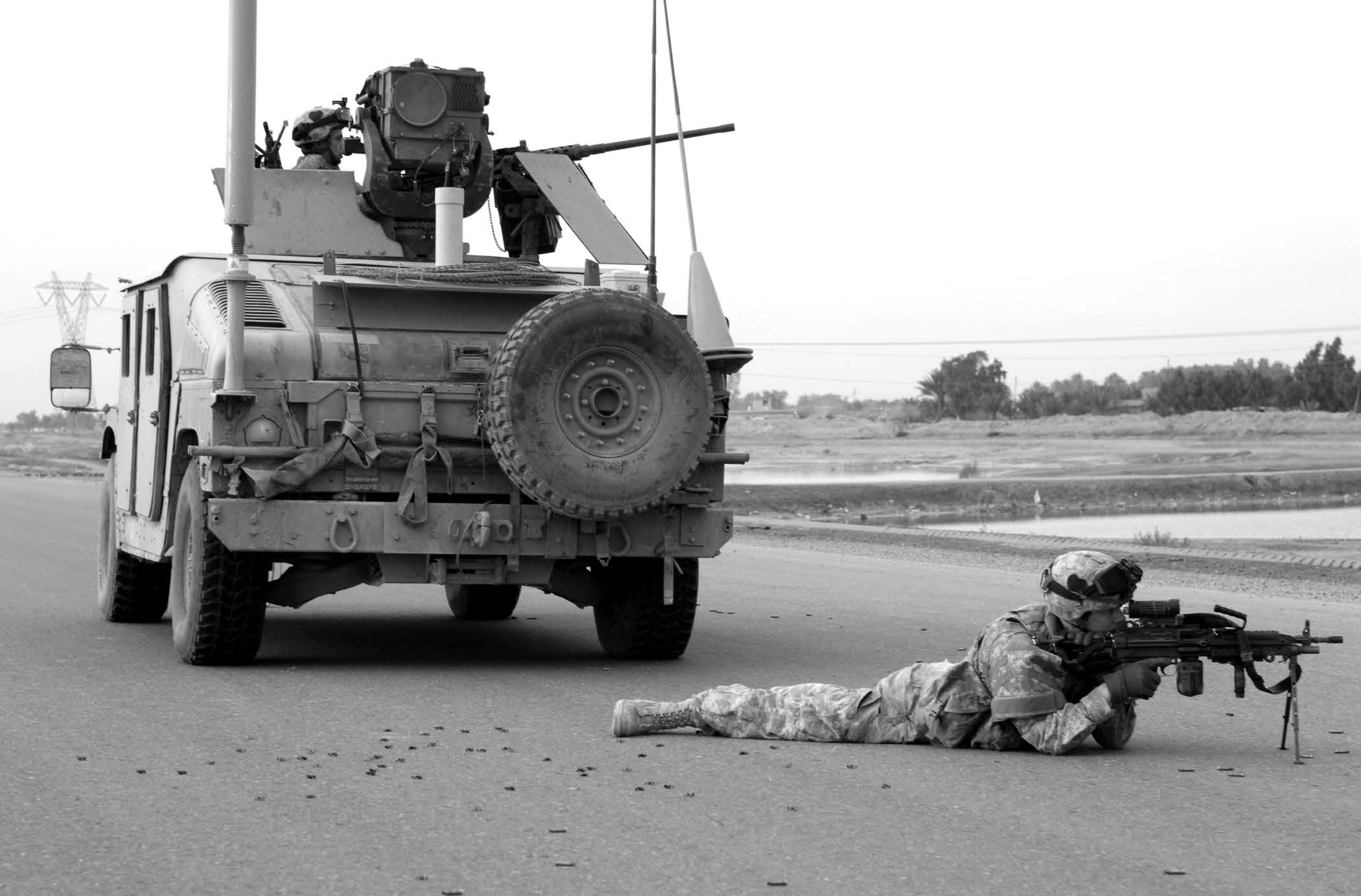 Brass shell casings lie scattered in the road as U.S. Army soldiers from the 101st Airborne Division provide security after an altercation in Baghdad, Iraq, on February 22, 2006. Courtesy of DoD.
The next day was not as good. We were headed out of the palace when my boss got a call from Ambassador Bremer's office requesting a briefing on the Hajj [the Muslim pilgrimage to Mecca]. After a quick U-turn, we made our way to the office and received some guidance on preparing material for the governing council. As we left the palace, my phone rang. Our director of operations told me that someone had attempted to carjack the car of the director general and shot his driver, wounding him. He also said one of our translators had been assassinated in front of her home. I felt the air go out of my lungs as I realized he was talking about Saba, my new Iraqi friend. Apparently, the Iraqi version of the Mafia inside the Iraq Ministry of Defense threatened six people who were cooperating with the management of the ministry as they reorganized. Saba was the first on their list. Much of the day was spent in discussions and grief counseling for friends of Saba and employees of the ministry. We learned that Muntador had planned to meet Saba's family tonight to ask for her hand in marriage. (Apparently, she was more enamored by him than she let on.) Tragically, he met her father for the first time as he told him of her death.
So that's how things go in Iraq—good days and bad days. Democracy is messy and building it will unfortunately require some sacrifices that will be tough to make. I'm positive that what we are doing here is the right thing, and I'm proud to be contributing to this effort in a small way.
MICHAEL BEESLEY
See Michael Beesley's brief biography in the Afghanistan section.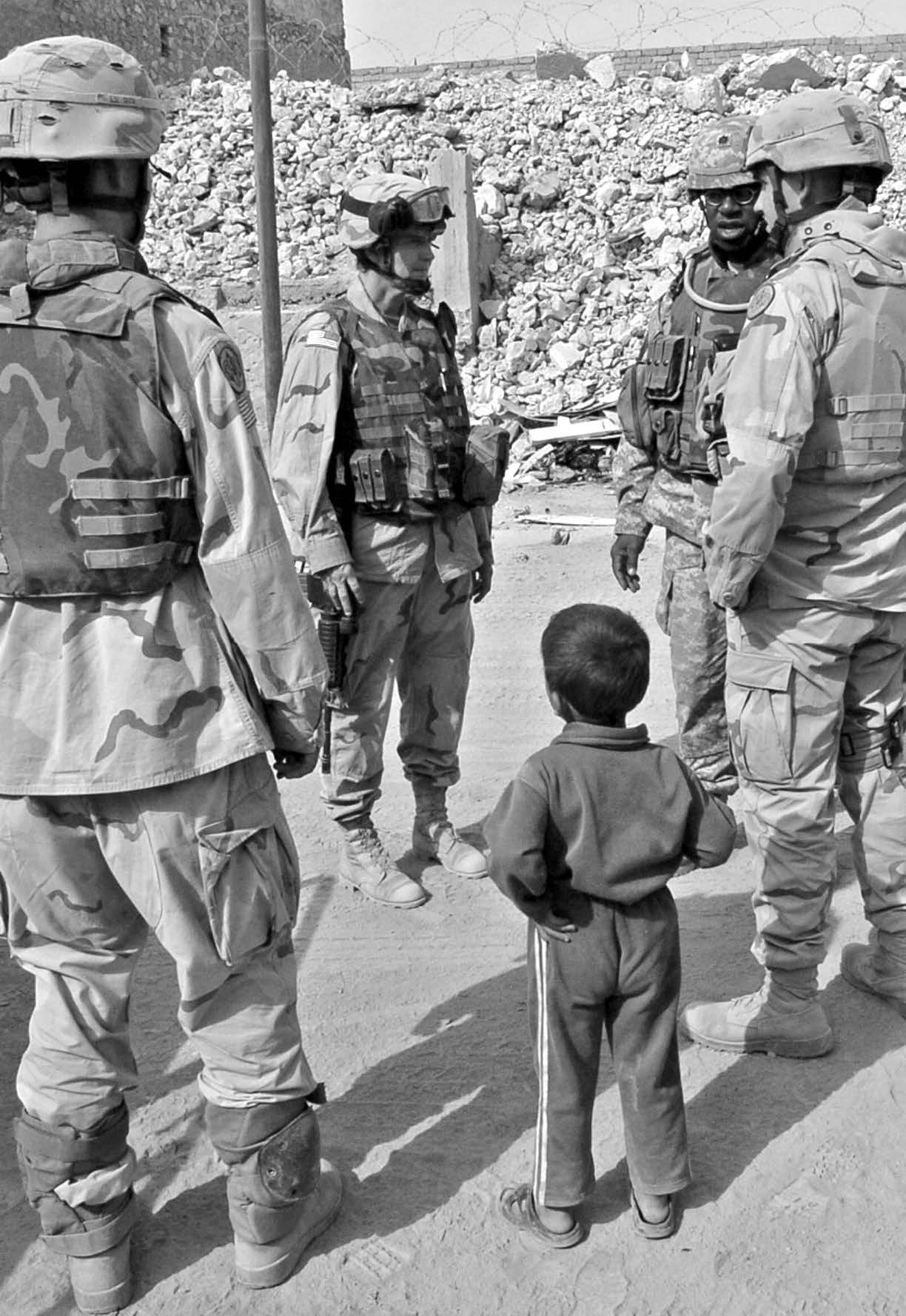 A local Iraqi boy observes U.S. Army soldiers in downtown Tall Afar, Iraq, on October 11, 2005.
Courtesy of DoD.
Every month, the commander of the 511th Military Police Company and his personal security detail (PSD), to which I was attached, would hook up the trailers. Then, with a fist full of money, we would convoy into Duhok in Kurdistan, Iraq, to purchase supplies for the Iraqi Police (IP) stations we were in charge of. I had the opportunity to go on such trips if I wanted and decided to join up with this one. I had heard that Duhok was one of the friendly provinces in Kurdistan—one where you could walk freely down the streets without having to worry. I was looking forward to a change of scenery and being able to stroll into stores and restaurants again.
After we passed through the southern battle zones, the mood in the Humvees changed noticeably. Some of us even took off our helmets. Well, I didn't need an invitation. I happily took any opportunity to take that heavy thing off without putting myself in danger. When we pulled into Duhok, I was surprised to see people, especially women, roaming about in western attire and looking normal, at least to me. There were no long, black, head-to-toe burkas or niqabs (face coverings that are traditionally worn in the south).
Our soldiers knew where they needed to go to get their supplies. After agreeing on a time to return, we all went our separate ways. As we started out, we were immediately thronged by a group of young boys, ages eight to fifteen, who were standing by to assist us with directions, answers, and translation. They even held our bags as we walked. One of the older boys sized me up quickly and cheerfully introduced himself in almost perfect English as he extended his hand in friendship. I was duly impressed and gladly accepted his offer to help. As we walked from place to place, I noticed that my helper was the ring leader of the group, as he would order other boys to be runners for certain items. When they returned, he would take the items from them and give them to me. I also noticed that he was sometimes mean and demanding to the smaller ones, at times slapping them about the head as he scolded them in Kurdish. I had to confront him a couple of times and let him know that wasn't necessary. He would smile, grab my hand, and then shake it. After observing this young guy in action, I realized that this well-dressed kid with the flashy smile was simply a hustler, doing what he had to do and using who he had to use to make a buck. I also knew that the payoff would come at the end of the day. I was sure he was expecting the "rich American" to reward him for his service rendered.
For the remainder of the time we were together, I couldn't help but notice a scruffy little guy who lagged behind, seemingly not interested in the run-and-get-things job. He was a polite boy when spoken to and also spoke very good English. I kept my eye on him and went out of my way to recognize him when the bigger kids would push him aside. The last hour, I walked with him, making sure he was by my side the whole time, which I could tell infuriated my older and wiser escort. There was just something about that little freckle-faced boy that captured my heart. He appeared poorer than the rest, as his clothes were torn in places and his face was a little dirtier. But he had a unique spirit about him—a quiet confidence that all would be well. As we talked, I learned he lived with his mother and didn't have a father. He was proud of the fact that he went to school, and he wrote down a few words in English for me on a small notepad he carried. I would purchase things like bananas or ice cream for the kids as we walked, and they would all clamor around with arms extended in an attempt to get theirs first, except for this little fellow. He would wait politely, standing in the back and never expecting anything.
U.S. Army soldiers with the 14th Cavalry Regiment from Fort Wainwright, Alaska, near the Syrian border monitor the movement of local Iraqis by the Euphrates River in Iraq on October 2, 2005. Courtesy of DoD.
When our day of walking and shopping was over, sure enough, our helpers were Johnny-on-the-spot with their hands out! Though this kind of irritated me, I was grateful for their assistance and therefore gave each of them a few U.S. dollars. The bigger boy showed his disapproval with what he received—to the point I almost took it back. I looked around for my little friend, but he was gone. I concluded that he probably got caught up in the large crowd that had gathered to see us off. Before we left, I noticed the older boy wore two colored rubber wristbands with words in English embossed on the outside. When I asked him about the bands, he quickly took off the blue one and handed it to me. I declined but thanked him. He was insistent and pressed the small gift into my hand. I again thanked him; this time accepting his offer. As we drove off, I looked down at the band and read "Expect a Miracle" written on it. I liked what I saw and slipped it on.
I was later transferred to Sulaymaniyah in the northern part of Kurdistan. I decided to join the military on their trip to Duhok. It had been several months since I was last there, and I decided I needed another break from Tal Afar. Upon our arrival, the same group of boys met us, and I was delighted to see my little buddy among the group. I quickly reunited with him, put my arm around his shoulder, and gave him a little squeeze. I could tell he was as glad to see me as I was to see him. He talked freely and openly as we walked. The other boys looked on with envy. They knew this little eight- or nine-year-old boy had captured my attention and my heart. I offered to buy him things along the way, but he politely refused each time.
At the end of that most rewarding day, I took him aside. While kneeling on one knee, I took the liberty to give him some fatherly advice. I encouraged him to stay in school and to go to college. I told him to never smoke or drink and to always look after his mother and two younger brothers. He listened intently and promised me he would. I reached into my pocket and pressed a fifty-dollar bill into his small hand. I made him promise me he would give the money to his mother. He again assured me he would, and I believed him. I gave him a big hug, and he squeezed back. I opened the door to our Humvee and sat down, making ready to depart. As I was closing the door, my little lifelong-in-spirit buddy ran over and pointed yearningly at my blue wristband, then pointed back at himself. A flood of emotion came over me as I took off the band and handed it to him. I slowly closed the door. As we pulled forward, I looked out the thick bulletproof window for what would probably be the last time I would ever see him and noticed tears streaming down his face. The last thing I remember as we left Duhok that memorable day was this little boy pressing his fingers to his lips as he blew a kiss my way. Expect a miracle? I had just been allowed to be a small part of one that day.
FAREED M. AND JOAN S. BETROS
Fareed M. Betros, a 1981 graduate of the United States Military Academy at West Point, served on active duty during both Gulf Wars. He was a colonel in the U.S. Army Reserve, speaks Arabic, and is a Middle East expert. He worked in Baghdad, Iraq, as the coalition civil-military adviser for the executive offices of the Iraqi Ministry of Defense. He served in many Middle East assignments, both in the military and as a civilian contractor. He has worked as a volunteer for his church and other civic organizations. He is married to Joan Synan Betros.
Joan Synan Betros has many years of experience in the media industry with writing, hosting, casting, interviewing, reporting, and directing family television programming with an emphasis on women's and children's issues. She was the director of women's and children's family television programming for the Iraqi Media Network under the direction of the Coalition Provisional Authority. She wrote and produced a family-oriented television talk show in Saudi Arabia. Formerly, Joan was an executive producer for CNN, CNN International, CBS, Transworld Media Publicity Corporation, the King Faisal Foundation, and other cable networks. She has served as a Relief Society president and in numerous other Church callings.
December 29, 2005
In almost twenty years of marriage, we have shared many unique experiences together. One of the most dramatic was in Iraq. As a U.S. Army Reserve lieutenant colonel, I served on active duty there from May 2003 to July 2004 supporting the Coalition Provisional Authority (CPA). My wife, Joan, arrived in Iraq in December 2003, working as executive director of family television programming for the Iraqi Media Network (IMN). Our experiences together in Iraq bonded us together more strongly than ever before.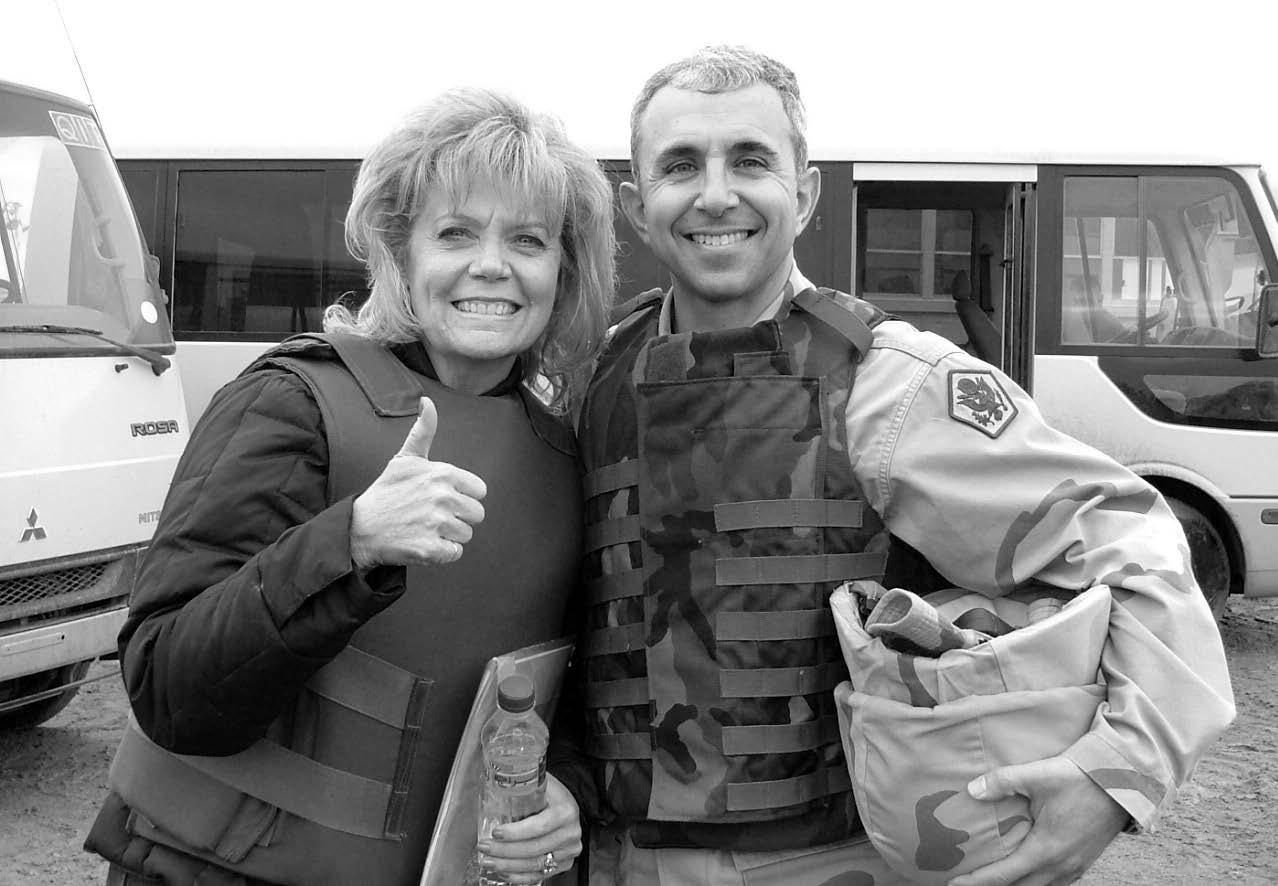 Joan and Fareed Betros served together in Baghdad. They are pictured at the Baghdad International Airport on Christmas Eve 2003. Courtesy of Joan
and Fareed Betros.
My tour of duty in Iraq was not my first Middle East deployment. In 1989, I decided to join the Utah National Guard (UTNG) and was placed in charge of their Arabic language section. I was called to active duty in August 1990 after Saddam Hussein attacked Kuwait. As an Army captain, I led a detachment of Arabic translators in the Kuwait theater during Operations Desert Shield and Desert Storm.
I deployed with my unit to Saudi Arabia, Iraq, and Kuwait for nine months. We were attached to various U.S. forces to assist with vital translation requirements. I worked as a cultural affairs advisor and translator, interacting closely with Saudi military and government officials. I also worked with many Iraqi refugees and prisoners of war.
Our journey back to Baghdad started as a result of the terrorist attacks of September 11, 2001. As a U.S. Army Reserve lieutenant colonel and Middle East expert, I was called to active duty. We were living in northern Virginia. As the executive director of a public and cable television station, Joan became closely involved with news coverage of those events. She produced a television special that saluted families affected by the tragedy.
I arrived in Iraq in May of 2003. Our immediate mission concerned the dissolving of the Iraqi military. The Iraqi Ministry of Defense (MOD) and Iraqi military had been dissolved by order of Ambassador Bremer shortly before my arrival. My primary task was to find a way to pay hundreds of thousands of former Iraqi military personnel a monthly stipend in lieu of their monthly pay.
Through a contact I made, Joan was able to obtain a position to work in Iraq as the executive director for family television production. On December 24, 2003, Joan became my Christmas present when she arrived at the Baghdad International Airport. Fortunately, we both worked in the main presidential palace in the Green Zone and were able to stay in a small trailer.
Our first evening together in Baghdad was memorable. As we started to settle in for the evening after a long day, we heard the loud swoosh of a rocket being launched. A moment later, we heard the much louder explosion as the rocket slammed into the Sheraton Hotel across the Tigris River. Our trailer was situated close to the river so the rocket attack sounded as if it was right on top of us. We dove for the floor, put on our helmets and protective vests, and wished each other a merry Christmas!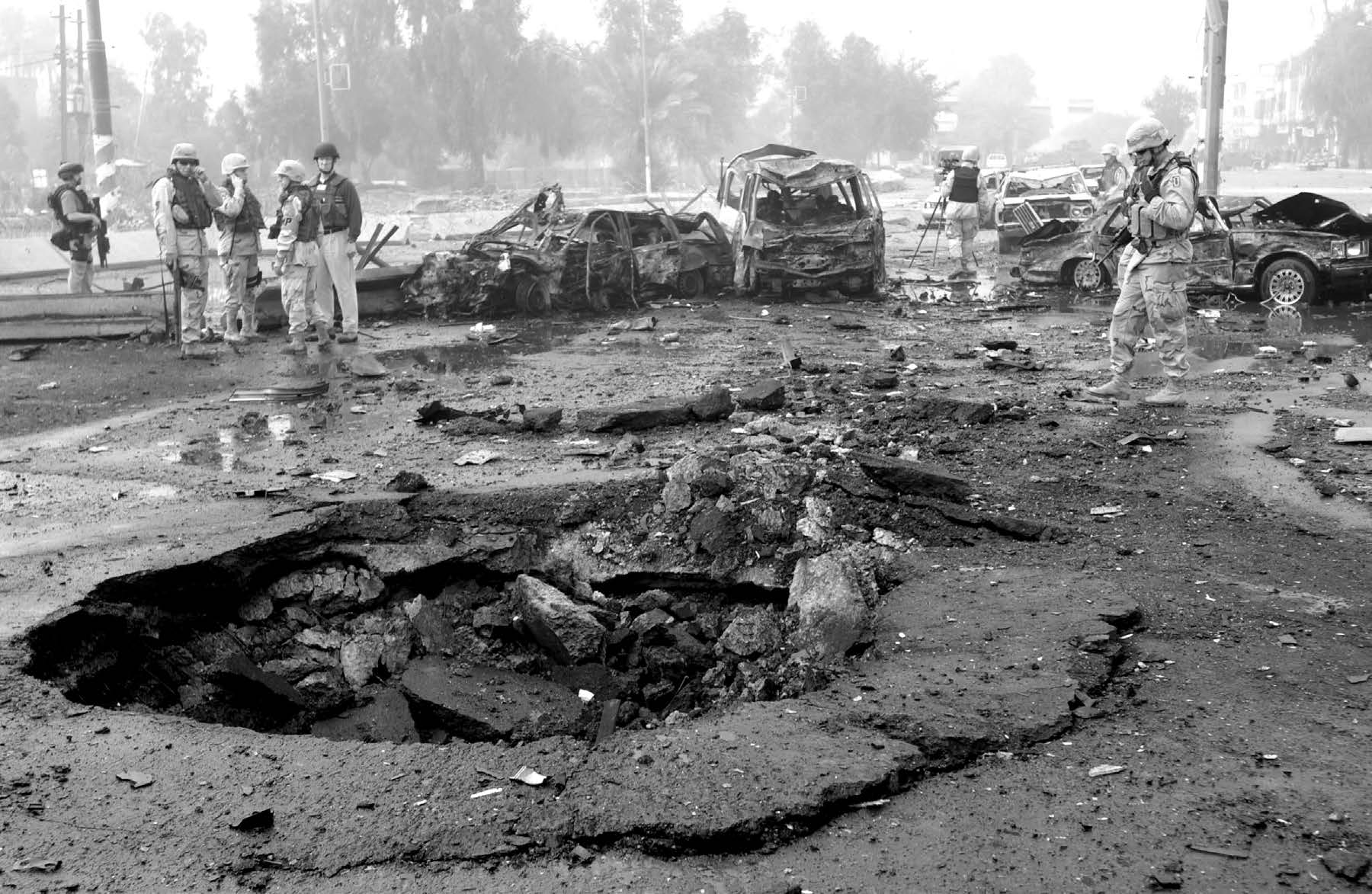 Several people were killed during a suspected car bombing outside Entrance 1 to the Coalition Provisional Authority on January 18, 2004, at 8:03 a.m. local time. The vehicle exploded in the middle of the intersection outside the gate, causing massive destruction. Courtesy of DoD.
January 18, 2004, started like most other days. Joan was scheduled to give a presentation that afternoon on her programming ideas to some officials at the CPA palace. I was going to meet my team at the Green Zone checkpoint so we could work on the stipend payments. I was in a bit of a rush to get out the door that morning because I did not want to be late. As I placed my hand on the door handle of our trailer, I paused for a moment and then released the handle. I felt Joan might need some assistance going over her presentation. I asked if she would like some help, and she said yes.
We left our trailer and walked to the palace. We were standing in the hallway when I said goodbye. Less than fifteen seconds after separating from each other, a powerful explosion rocked the palace, knocking out some of the windows. I ran back to Joan to ensure she was all right. We listened for any special instructions that might come from the guards but quickly learned the explosion had occurred some distance from the palace. Then we received the news that the explosion had occurred at the gate where I was scheduled to meet my team.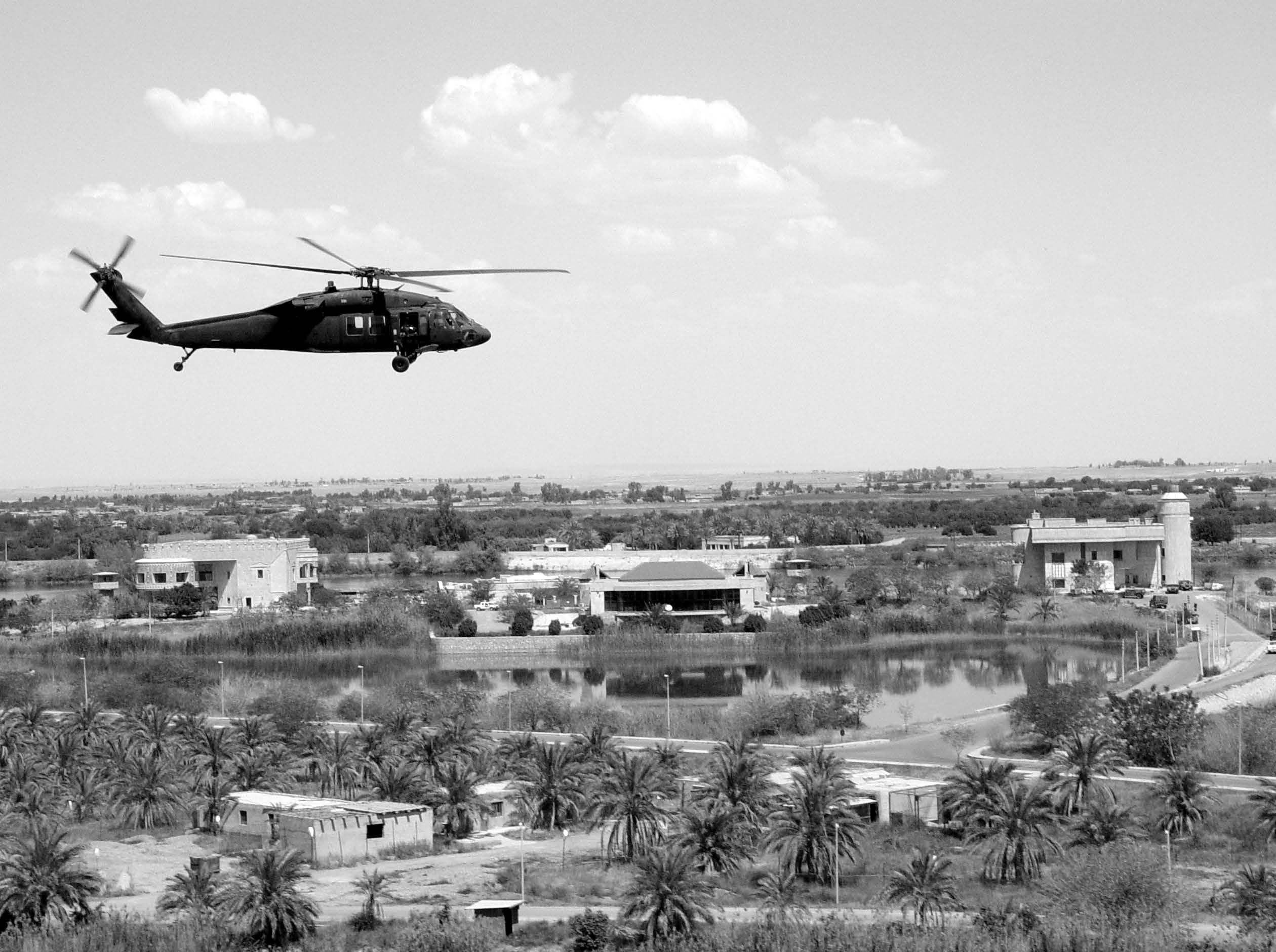 A Blackhawk helicopter from the 106th Aviation Regiment, Illinois Army National Guard flies past one of Saddam Hussein's former palaces in Tikrit, Iraq. Courtesy of DoD.
I raced to the main gate to look for my Iraqi team. What I found was a terrible scene of destruction. I soon found one of my team leaders. He told me three members of the team had been slightly injured. Fortunately, they had been on the opposite side of a large intersection in front of the main gate—a distance of about sixty meters. The car bomber had stopped his car about fifteen feet from where I would have been standing, if I had not stayed to help Joan. The explosion was so powerful it made a crater about two feet deep and ten feet round in the street pavement. The blast killed twenty-four people and wounded over eighty others. When I reached the site, emergency crews were already there and had taken the injured to local hospitals. A number of cars were on fire or still smoldering.
That day was a Sunday. Despite our busy schedules in Iraq, we always made it a point to attend church together. Our service was scheduled for 2:00 p.m., and with everything that happened that morning, we definitely planned on going. As we walked into the part of the palace set apart for chapel services, we heard the start of the opening song, "Count Your Blessings." We definitely had much to be thankful for.
JIMMY F. BLACKMON
Jimmy Blackmon grew up in Ranger, a small town in northern Georgia at the foothills of the Appalachian Mountains. He joined the Army Reserves in 1987 and attended North Georgia College (a military college with strict military lifestyle rules) in Dahlonega, Georgia. He joined the Church and married the former Lisa Martin in 1992. He served as an Army Aviator and Ranger and was stationed at Fort Benning, Georgia; Fort Rucker, Alabama; Fort Bliss, Texas; Fort Knox, Kentucky; Fort Hood, Texas; Fort Leavenworth, Kansas; Washington, DC; Buedingen and Hanau, Germany; Italy; and two tours in Iraq. He has served in a variety of Church assignments.
In February 2003, we moved south to Kuwait. After a few days in Kuwait, I flew home to be greeted by my pregnant wife, Lisa, and our three kids. The most difficult thing for me was reuniting with my darling three-year-old, who had forgotten who I was. She knew she had a father. Everyone told her it was me, but she didn't know me. I'll never forget her walking up to me numerous times, looking up at me with those crystal blue eyes and asking, "Are you my daddy?"
I'd say, "Yes, Madison. I'm your daddy."
After which, she would wrap her tiny arms around my leg and hug me as tight as she could while saying, "You're my daddy." On the second day, Madison walked into the kitchen and saw me kiss Lisa. She looked up at us and asked, "Are you guys married?"
* * * * *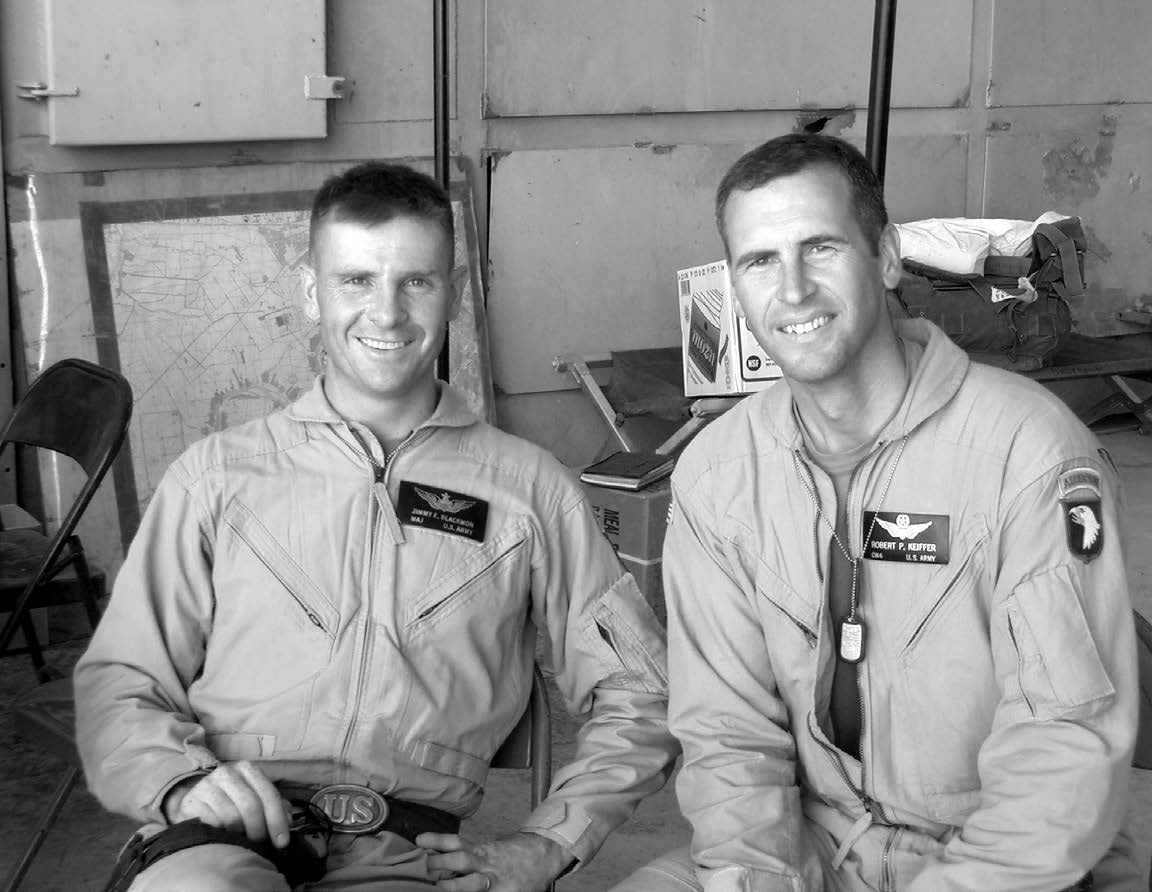 Major Jimmy Blackmon is shown relaxing with a fellow Army aviator. Courtesy of Jimmy F. Blackmon.
In June 2003, I deployed to Mosul, Iraq, where I assumed duties as the operations officer of 2-17 Cavalry. It was my first combat experience in actual firefights. In September 2003, we received a mission to locate and destroy a terrorist training camp in southwest Iraq. We conducted reconnaissance in the surrounding area and soon found numerous ammunition caches that included rocket-propelled grenades [RPGs], sniper rifles, mortars, and surface-to-air missiles.
The OH-58D [helicopter] we were flying is ideal for observation. We flew with the doors taken off so we could see better. One afternoon we saw two men sitting in the middle of the desert with their bed-rolls laid out. It was clear they were not Bedouins. They appeared very much out of place. Beside them was a handmade blanket. We came in closer to take a better look at those guys. I was flying in the left seat and had my M4 rifle lying in my lap. Our rotor blew up the blanket, revealing something underneath it. We flew in closer and saw the blanket was covering a cache of weapons. Those two guys were there to watch the cache.
We radioed the command and control helicopter in which our division commander, Major General David Petraeus, was flying and continued to circle the weapons cache. During each pass, we were prepared to fire. The two men realized we had seen the cache. They stood with their hands in the air as if to show their innocence or beg for our mercy. I listened as my squadron commander discussed the situation with General Petraeus. The dilemma was what to do with the two men, as there was no way to get them back to the holding facility at Al Asad [air base]. We realized that our commanding general might direct us to kill those two men. I knew they were terrorists and guilty, but I struggled with the thought of shooting them.
On each pass we came close enough to see their faces. I wished they would pick up a weapon and fire at us, but they only fidgeted with their hands up. Finally, the word came, "Shoot the cache. Blow it up. Leave the men." My immediate feeling was of relief, but I began to wonder what I would feel if one of those men killed an American service member in the future. We blew up the cache with rockets and machine gun fire and then silently flew back to Al Asad.
* * * * *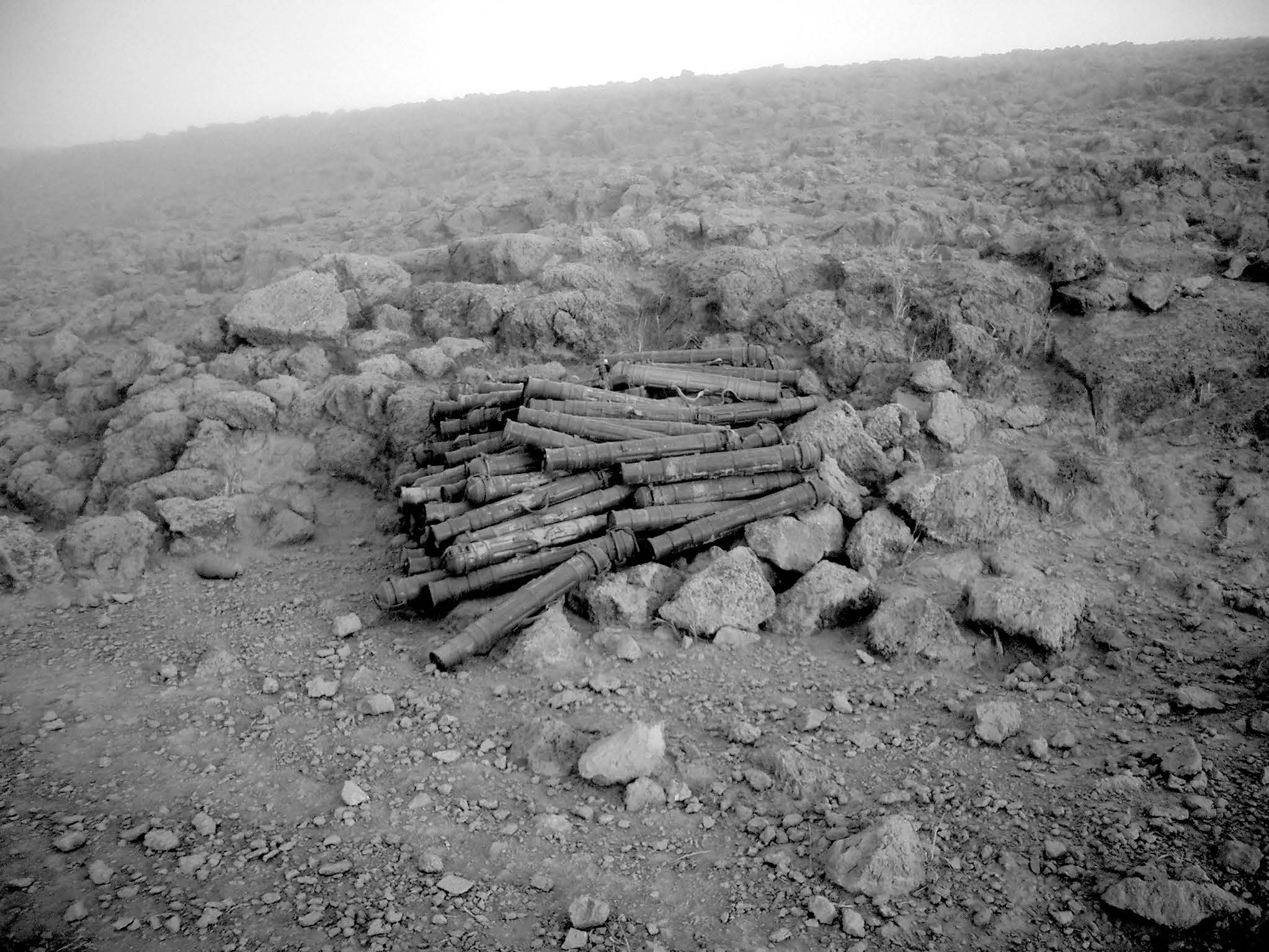 This cache of rocket-propelled grenades discovered in southwest Iraq. Courtesy of Jimmy F. Blackmon.
When I arrived in Iraq for my second tour, I settled in at Forward Operating Base [FOB] Speicher in Tikrit, Iraq. I arrived in September 2005, found the service members' group, and attended my first meeting. I was amazed at the organization of the group. The Church had made tremendous strides organizing groups and calling group leaders. We had twenty to thirty Saints who regularly attended our meetings. I was set apart as an assistant group leader and was grateful to serve my nation, my church, and the people of Iraq. We received tremendous support from Church headquarters, such as the video Let Not Your Heart Be Troubled, which I found to be most inspirational. I showed it to our division chaplain, a Protestant minister, who was so touched by its powerful message that he suggested to his superiors that they consider making a similar Protestant video.
While serving in OIF I was set apart as a group leader, and as such I tried to ensure that I kept an eye out for my fellow Latter-day Saint members. There was a young man who regularly attended meetings. He seldom spoke with other Church members and routinely slept during lessons. Each Sunday, I noticed he drifted off prior to the opening song. Combat deployments certainly drain you mentally and physically, but this good brother just seemed distant. I began to think how I could approach him and check how he was doing without pressuring him too hard.
One fast and testimony meeting, it was my week to conduct. During the announcements, I noticed that young man had already drifted off. During the passing of the sacrament, I said a prayer asking Heavenly Father that the testimonies today would touch each one present and that we would receive the blessing of the Spirit in our meeting. After my initial testimony, another brother bore his testimony, which was followed by a few moments' pause, during which I continued thinking about the previously mentioned brother. After a few moments a Samoan brother from the Utah Air Guard came forward. He said he was lonely and didn't know how we married brothers and sisters did it. He was engaged, and he missed his fiancée dearly. He said he felt alone, even when among friends, but he had a song that helped him. At that moment this fine young brother broke out in song. He stood at the podium and sang "Abide with Me." It was beautiful. Complete silence consumed the room except for his beautiful voice and occasional sniffles from a congregation filled with teary eyes and the Spirit.
When his testimony was closed, he returned to his seat and wasn't completely seated before the brother I was thinking about moved to the stand. He thanked our Samoan brother for his song and then related a story to us of him singing that song to a lady who had lost her son. He couldn't get through the song, and she joined to help him finish. I thought my heart would burst as I listened to that young man bear his testimony of Jesus Christ and the restored gospel. I had prayed fervently, and Heavenly Father had sent a young Samoan brother.
BRYAN BLAIR
Bryan Blair served as a first lieutenant and captain in the Army during Operation Iraqi Freedom II. He was assigned as the company executive officer for Headquarters and Headquarters Company (HHC), 3rd Brigade, 1st Cavalry Division, stationed in the International (Green) Zone in downtown Baghdad, Iraq. His primary duties involved coordinating logistical support for companies that were housed in the Al Sijood Palace complex. He has always considered central Texas his home despite moving a lot as a child. He served a mission in Paraguay and has held callings in the Primary, Young Men, and elders quorum. In Iraq, he served as a service member group leader.
I deployed March 17, 2004, with HHC 3rd Brigade, 1st Cavalry Division. I was the executive officer for the company, which can be a particularly disdainful job. I wasn't very happy about leaving my platoon and going to the brigade, but as time went on in Iraq, I saw why the Lord put me in that position. I found myself in a company with several other members of the Church, which wouldn't have happened if I had stayed with my old battalion. CW2 [chief warrant officer] John Church and I were set apart as service member group leaders before we deployed, and our jobs at the brigade gave us the flexibility and resources to support our Church meetings.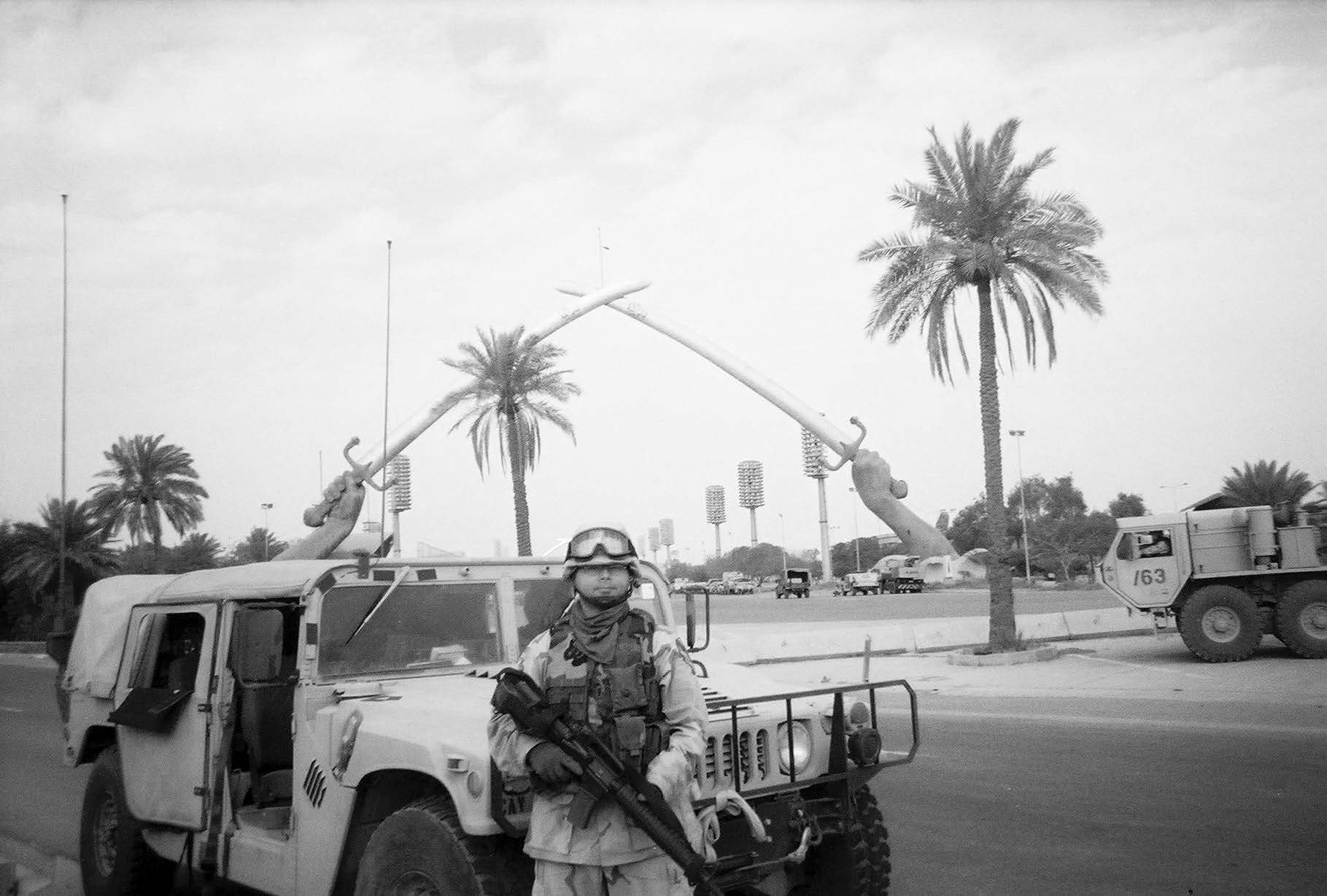 Bryan Blair is shown near the Crossed Sabers monument in Baghdad, Iraq. Courtesy of Bryan Blair.
We were stationed in the International Zone (Green Zone) in downtown Baghdad. We lived in the Al Sijood Palace compound, which was one of the original palaces Saddam Hussein built in the early 1980s. One of the larger and nicer rooms in the palace was converted into a chapel by the previous unit. We initially held our church services there. Our meetings were simple, but we did our best to make them as close to home as possible. We played our music on CDs because we didn't have a pianist. I used my computer and printer to make programs for each meeting. We did our best to follow the normal program of instruction using the priesthood manual.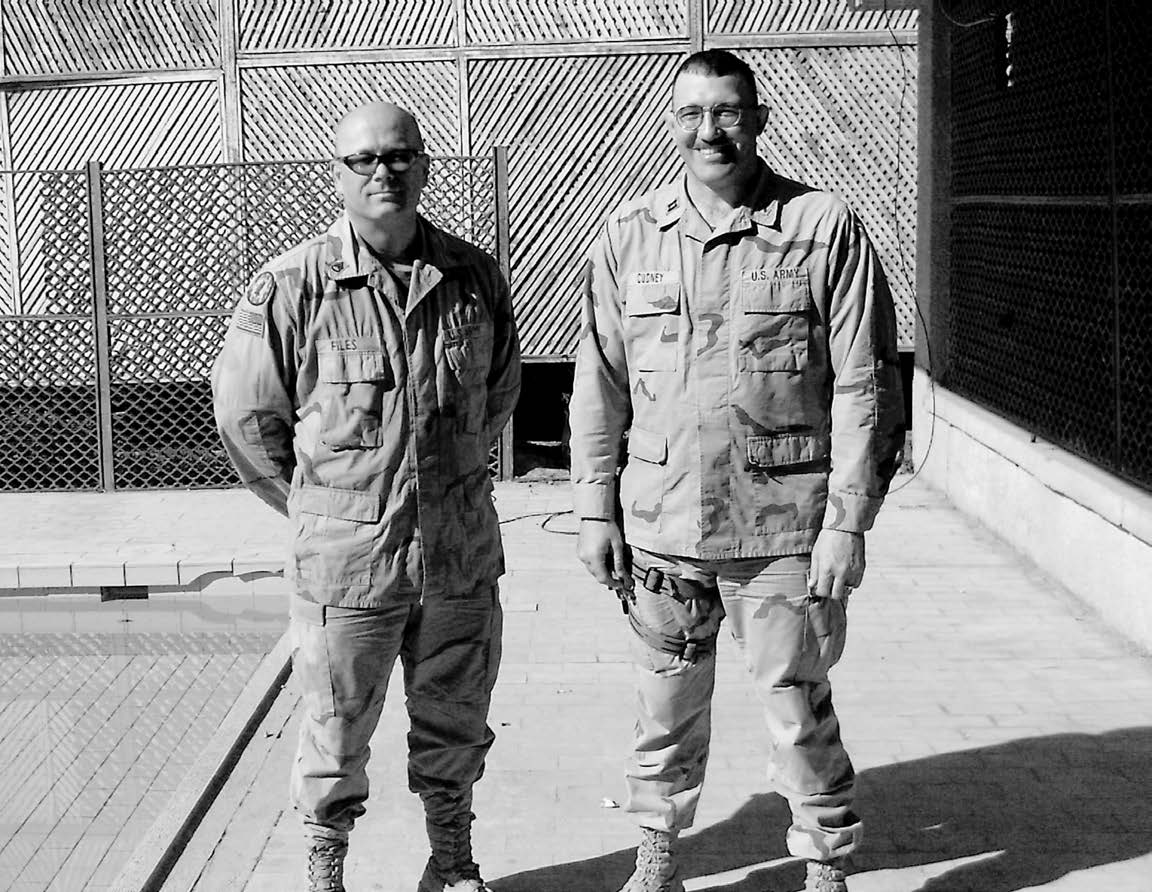 Staff Sergeant Files (left) was baptized by Captain Cudney (right). Courtesy of Bryan Blair.
About the time of the first Iraqi elections, a battalion from the Wyoming National Guard was attached to our brigade. They worked with the Navy SEALs to provide security for government officials. The Church members from the new battalion did not have a group leader. We decided to hold the meetings in their complex for the convenience of everyone. It was nice to double our size and the list of potential speakers. The chapel in their complex was not as nicely appointed as our room in the palace, so we built a podium and sacrament table.
The week before we redeployed, we had a service member baptism (from the Wyoming unit). Brother Fines, who was baptized, met with us so frequently that we didn't initially realize he wasn't a member. After a few weeks, he decided to be baptized and didn't want to wait until he returned home. We arranged to use one of the pools on the palace grounds next to our headquarters. His white baptismal clothes didn't arrive in time, so we performed his baptism in uniform. It was a very spiritual experience.
My time in Iraq helped me value the importance of meeting together with other members of the Church. It was the first time I had ever felt anxious to go to church, not because I wanted to be away from work, but because I had to know if my brothers were all safe and sound. I felt a wonderful bond with them.
MARC E. "DEWEY" BOBERG
A former West Point football player, Dewey served a mission in Santiago, Chile. He graduated from the U.S. Military Academy in 1992 and was commissioned in the U.S. Army as an armor and cavalry officer. He served with the 1st Cavalry Division at Fort Lewis, Washington, and taught at the Armor School at Fort Knox, Kentucky, and in the Foreign Language Department at West Point. He deployed to Iraq twice with the 3rd Infantry Division. He also served as the U.S. Army ROTC professor of military science at Brigham Young University in Provo, Utah.
When I went to Iraq (Diyala Province, northeast of Baghdad) from 2004 to 2006, we took smaller operating bases and consolidated them into larger ones, trying to transition responsibility to the Iraqis and consolidate U.S. forces. We did the reverse a year later. We pushed out from large operating bases to build platoon and company-sized combat outposts that were more imbedded in the area. We wanted the Iraqi population to see us there 24-7, as opposed to someone who came for a few hours and then left because all kinds of crazy things happened while you were gone. That policy meant that we were in a constant construction mode.
The Latter-day Saint service members' group at Forward Operating Base Warhorse in Baquba, Iraq, during 2005.
Courtesy of Marc E. "Dewey" Boberg.
About six months into our deployment, we also received two battalions of Georgians from the former Soviet republic of Georgia. There were some communication challenges at times. It was difficult finding Arabic-Georgian-English interpreters, but we had a generally successful fifteen months trying to stop the influx of weapons and ammunition between Iran and Baghdad.
The first week of January 2007, I was at the National Training Center trying to unload the train as President George W. Bush announced the surge, and we immediately were placed on orders to deploy directly from the National Training Center to Kuwait, draw equipment, and move into combat operations as soon as possible. I was in Kuwait about two weeks before they assigned us to east Baghdad, just east of the Tigris River, and the towns and area immediately east of Baghdad. We were tasked with stopping the Iranian influx of weapons into Baghdad, specifically IED-making materials [improvised explosive devices].
We started from scratch. We built a brand-new forward operating base east of Baghdad. We started doing our combat role as quickly as we could, but we were also building living quarters and trying to figure out force protection. And the area had not been patrolled by U.S. forces since the initial invasion. In some ways we kind of disturbed a hornet's nest. My brigade lost about thirty soldiers in the first six months, primarily due to IEDs on the roads.
* * * * *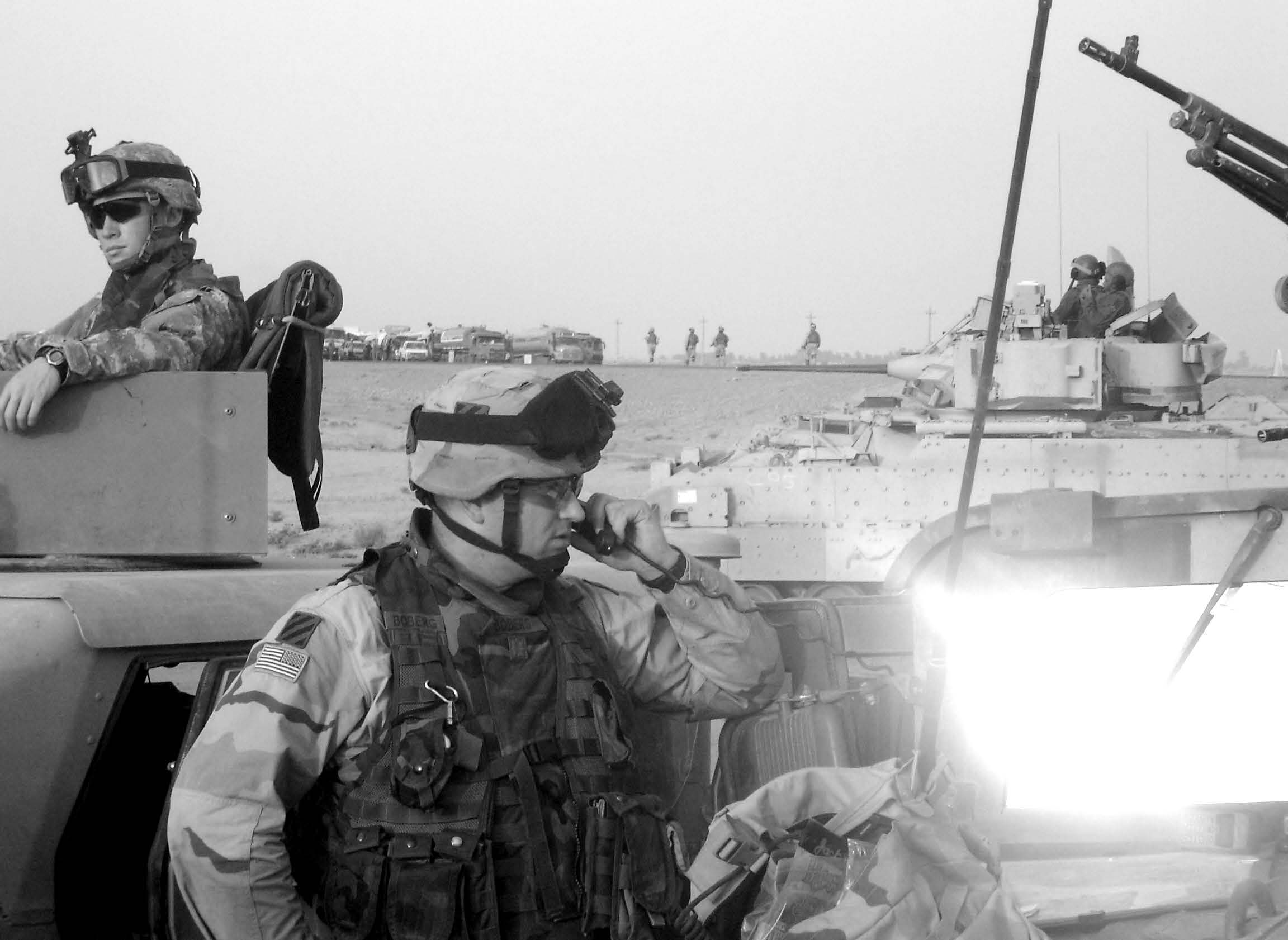 Major Marc "Dewey" Boberg (center) is shown during an armor operation as the S3 of 1st Battalion, 30th Infantry, in Diyala Province during Operation Iraqi Freedom in 2005. Courtesy of Marc E. "Dewey" Boberg.
We normally worked eighteen- to twenty-hour days. Inevitably, you would go back to your tent and fall asleep as fast as you could because you had to get up again in three or four hours. I found that even if I was exhausted and could read only a couple of verses out of my Book of Mormon, it allowed me to clear my head, to realize other priorities. I would stop and pray, and it really caused me to be much calmer under pressure. If you could attend church services, it would rejuvenate you in the same way. It allowed you to take a small amount of time to remove yourself from the very chaotic, often very violent situations you were in. You could reorganize your mind and your spirituality to realize what really is important. It would be incredibly uplifting 99 percent of the time, even if it was only one hour out of an entire week. In those very quick moments of awesome violence, I could maintain my head and understand what was going on around me.
* * * * *
I was called to be a service member group leader. We had an average attendance of about fifteen. We met in a little building designated as a chapel, and we had a set time to meet. Church was about an hour long. We tended to start our meetings as a traditional sacrament meeting—with the sacrament—but instead of talks we tended to then have a lesson out of the priesthood manual. It was kind of a hybrid meeting. Once a month we would have a testimony meeting. We took the sacrament, though, every week. Several members of our group couldn't attend weekly because of other operations, but they would attend when they could. We attempted to organize some home teaching, but it was not the most effective thing because of the mobility of our units.
* * * * *
I was in no less than seven or eight convoys that got hit by IEDs. Here's one example: One night I was in my Bradley Fighting Vehicle along with a company who was attempting to secure an extended route from where our brigade headquarters was in Buquba to Muqdadiyah. It was a route where IEDs were placed night after night (they rarely were during the daytime). We were closer to the Iranian border, which meant the enemy had access to higher quality IEDs. We'd been patrolling for seven or eight hours that evening. It was probably three or four o'clock in the morning. We were traveling with five Bradleys headed back toward the forward operating base. I was riding in the second Bradley.
Suddenly, an IED exploded near the front end of my Bradley. There was a huge flash of light. It did not hit the Bradley squarely. It went off a few feet in front of my Bradley. The trigger mechanism must have been slow—detonating after the first Bradley and right before mine. We felt incredibly lucky. Debris went flying past my head. The explosion occurred five or six feet in front of me. I automatically had my gunner start scanning for whoever the trigger man was. The Bradley in front of us heard the explosion, moved forward, and secured the road so we could move out of the blast area. The Bradleys behind us didn't enter the blast area.
We immediately started to dismount and secure the area. It was a semi-residential area, so we searched the houses around us, looking for suspects. We also checked for injuries. My driver was actually closer to the explosion than I was, but his hatch was closed while my hatch was open. I was looking at what was going on around us. None of us were hurt other than being banged around inside the Bradley. It does wake you up!
We were very lucky it went off at the wrong spot. A similar IED—just two days later—went off under a Bradley, hitting it squarely in the back where the personnel compartment is located. The force of the explosion warped the Bradley Fighting Vehicle's hull to the point that the entire vehicle has to be removed from combat; however, it did not penetrate the armor. Fortunately, we didn't lose any soldiers.
My crew was very blessed that we did not suffer anything greater than superficial damage. We had thousands of dollars of damage in broken glass and stuff, but no one ever was evacuated from one of my vehicles after an IED, even though we were hit several times.
DANNY BOYD
Danny Boyd entered U.S. Air Force active duty in July 1986. He served as an intelligence officer in Operation Joint Guard in Bosnia and during two deployments to Iraq, December 2003 to August 2004 and August 2008 to August 2009. Danny has served as a bishop, elders quorum president, ward and stake mission leader, Primary teacher, and high councilor. He currently serves as an early-morning seminary teacher. He married his wife, Laurie, on May 1, 1984.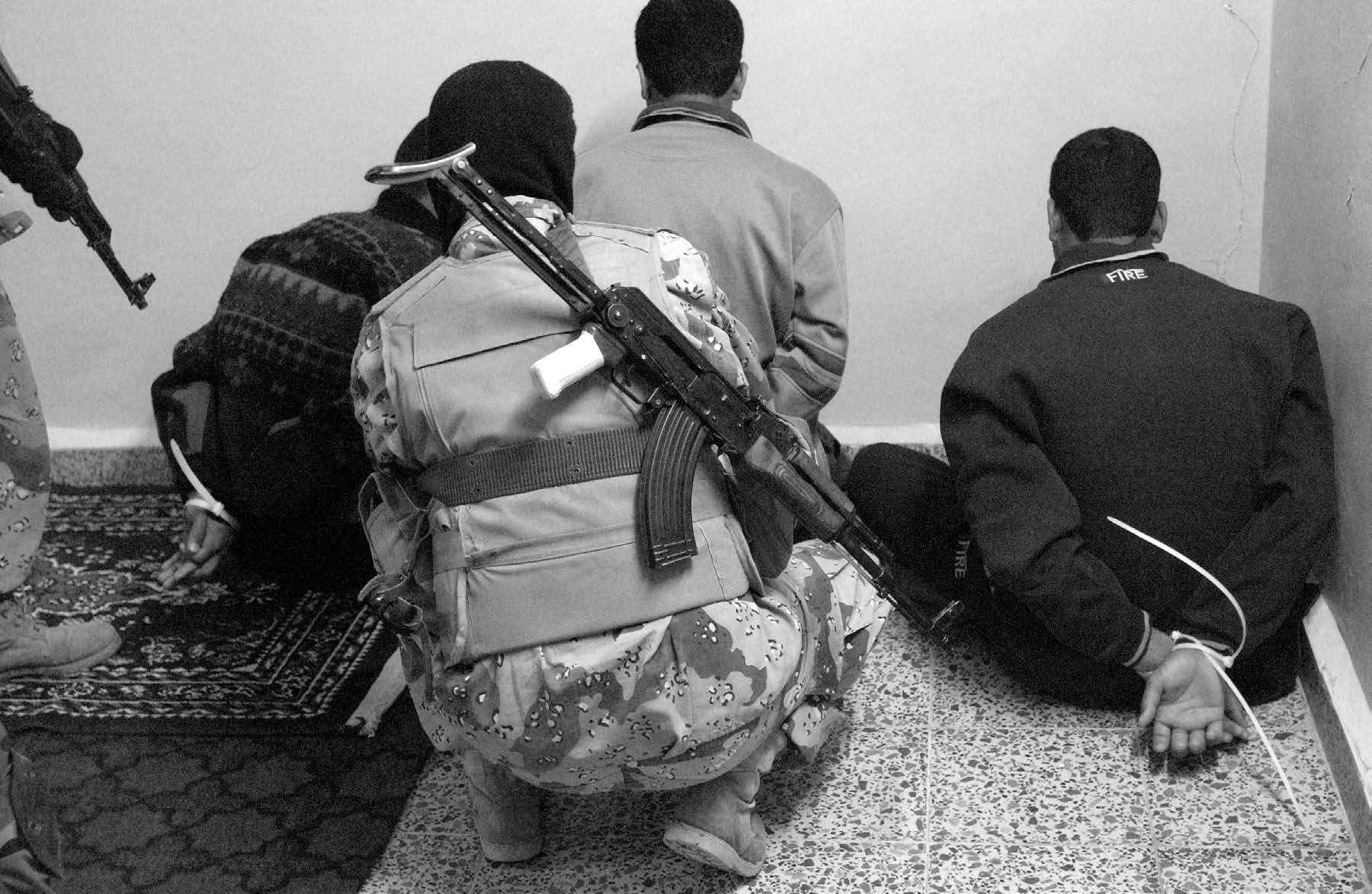 An Iraqi soldier secures three suspected insurgents after a raid near Kirkuk, Iraq, on March 17, 2005. Courtesy of DoD.
I was assigned as an interrogator when I deployed to Iraq in 2004. Our unit was responsible for interrogating prisoners immediately after they were brought in from the battlefield. Some were not guilty of any crimes other than being in the wrong place at the wrong time. This was a determination we needed to make based on evidence brought in from the operation as well as the prisoner's own testimony during our interrogation.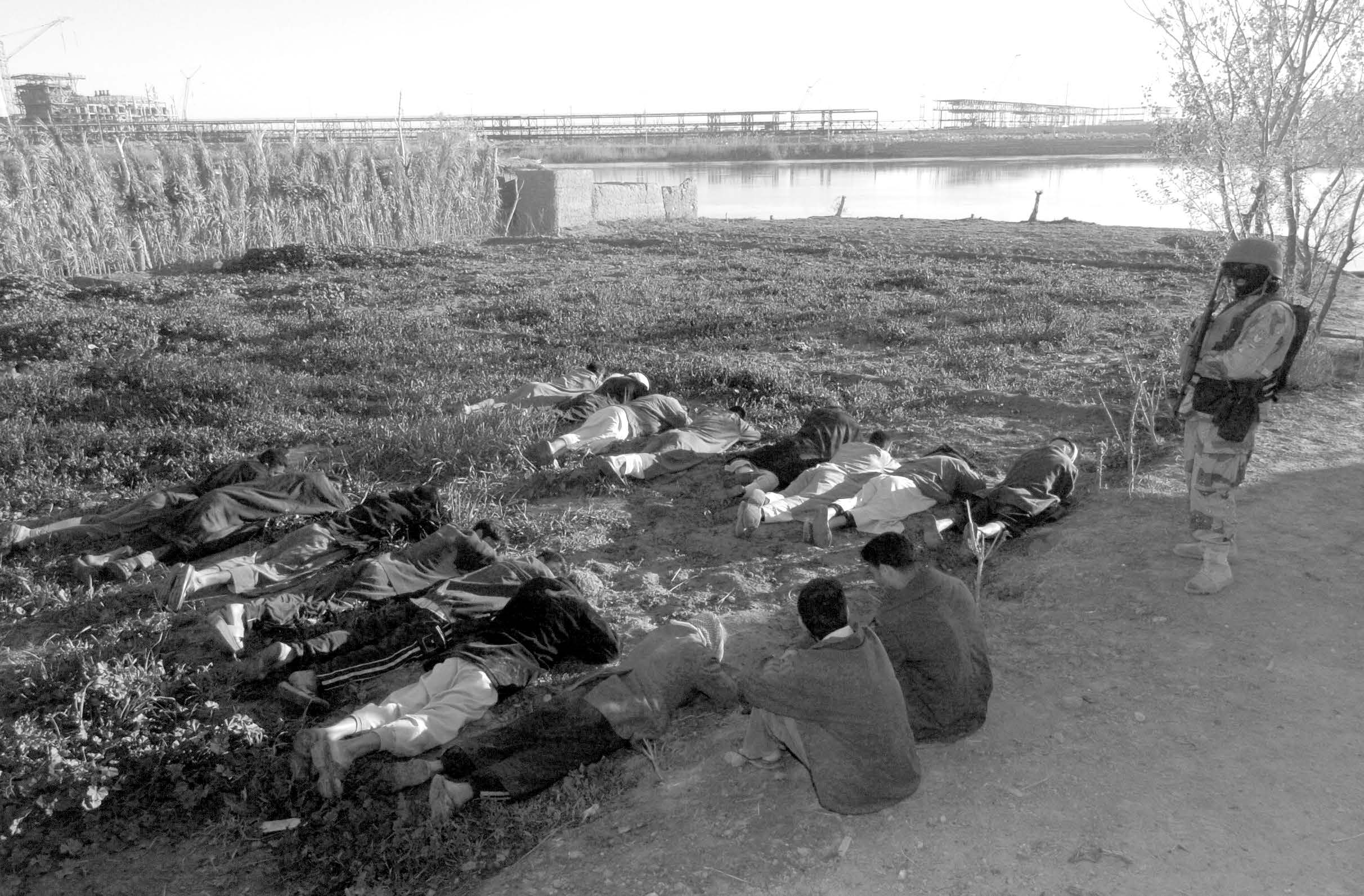 Suspected insurgents are assembled in a field as members of Iraqi National Guard, together with U.S. Army escorts, search the suspected insurgent's homes during a raid in Babil Province, Iraq, on March 25, 2005. Courtesy of DoD.
In the first few days of my tour, I was assigned to interrogate a suspected bomb maker. The evidence against him seemed incontrovertible: explosive gunpowder and empty artillery shells had been found at his home. His wife had lost several fingers during an accidental explosion. This man was turned in by a known informant as a maker of improvised explosive devices [IEDs], which were being used at the time to target both U.S. soldiers and Iraqi civilians. While the evidence against him was strong, he fervently denied any involvement. He seemed sincere, and even our experts could not detect him to be lying. His explanations of the presence of explosive materials were plausible. He claimed that he, like many Iraqis, collected artillery shells, emptied them of their gunpowder, and sold the empty casings as scrap metal. The gunpowder was given to children to make fireworks.
His case was perplexing for all of us. We could not come to a consensus as to what to do with him. We did not want to release back into society a bomb maker who would then be free to kill or maim fellow Americans and Iraqi civilians again. On the other hand, we did not want to send an innocent husband and father to prison for many years. He would have been transferred to the now infamous Abu Ghraib prison.
Because the case had been assigned to me, I was the one who had to make the final decision regarding his fate. My supervisors would abide by whatever I decided. I struggled over the evidence and over his interrogation reports. Finally, in the quiet of my tent and the relative solitude of my cot, I prayed. I asked Heavenly Father to please help me make the right decision: the life of one of his children was in the balance. As I prayed for guidance, I was overcome by the feeling that we should let this man go free. I felt comfort in that decision.
The next day, I told my colleagues I thought he was innocent, and we should release him. When they asked how I had come to that decision, I hesitated. I was not sure I was ready to share my religious devotion with those hardened soldiers. But in the end, it was the only way I could justify my decision to release him. I told them I had prayed about it and felt that it was the right thing to do.
Without much hesitation and with very little fanfare, they accepted my decision, and we went on with the day's business. The man was released and never put into prison. Later that day, one of the experienced interrogators came to me privately and said that he wished he had prayer as a tool in his toolbox. We later learned that our alleged bomb maker was indeed innocent and that the informant who turned him in had been corrupted. I'm grateful for the power of prayer and the knowledge that our Heavenly Father is with us at all times, in all things, and in all places.
BRIAN BROOKER
Brian Brooker deployed to Iraq as an Army JAG (Judge Advocate General's Corps) attorney with the 1st Brigade of the 25th Division Stryker Brigade Combat Team from September 2008 to March 2009. While deployed to Forward Operating Base [FOB] Warhorse in Diyala Province, Brian served as the service member group leader for approximately thirty Latter-day Saints stationed with him. With authorization from the stake president in Manama, Bahrain, Brian and his fellow group members taught missionary discussions to over forty Ugandan soldiers who were stationed with them at FOB Warhorse. He has served as a first counselor in a bishopric, stake executive secretary, Young Men president, and ward mission leader.
Forward Operating Base Warhorse, Diyala Province, Iraq
September 2008–March 2009
As an Army JAG attorney, my duties included being the criminal prosecutor for my brigade of over five thousand soldiers, providing legal reviews for proposed kinetic [drone] strikes, and advising commanders on the laws of war. But my most significant responsibility was the calling extended to me by the stake president of the Manama Bahrain Stake to be the group leader over more than thirty Latter-day Saint soldiers who were stationed with me at FOB Warhorse in the Diyala Province of Iraq.
After arriving in Iraq, I pondered and prayed about our circumstances. I knew all of us would be confronted with many spiritual challenges and temptations during our deployment. We were without most of our usual support structures, such as our families, home wards, and temples. We all faced the stresses and adversity of being in a combat zone. Our new environment could sometimes be an immoral one, full of all of Satan's trappings. The language, conversations, jokes, entertainment, and decorations in our new surroundings were often foul. With the ancient city of Babylon being only one hundred miles south of us, we were both literally and figuratively in the midst of Babylon. It became clear to me that it was my job to get these soldiers home alive—physically and spiritually.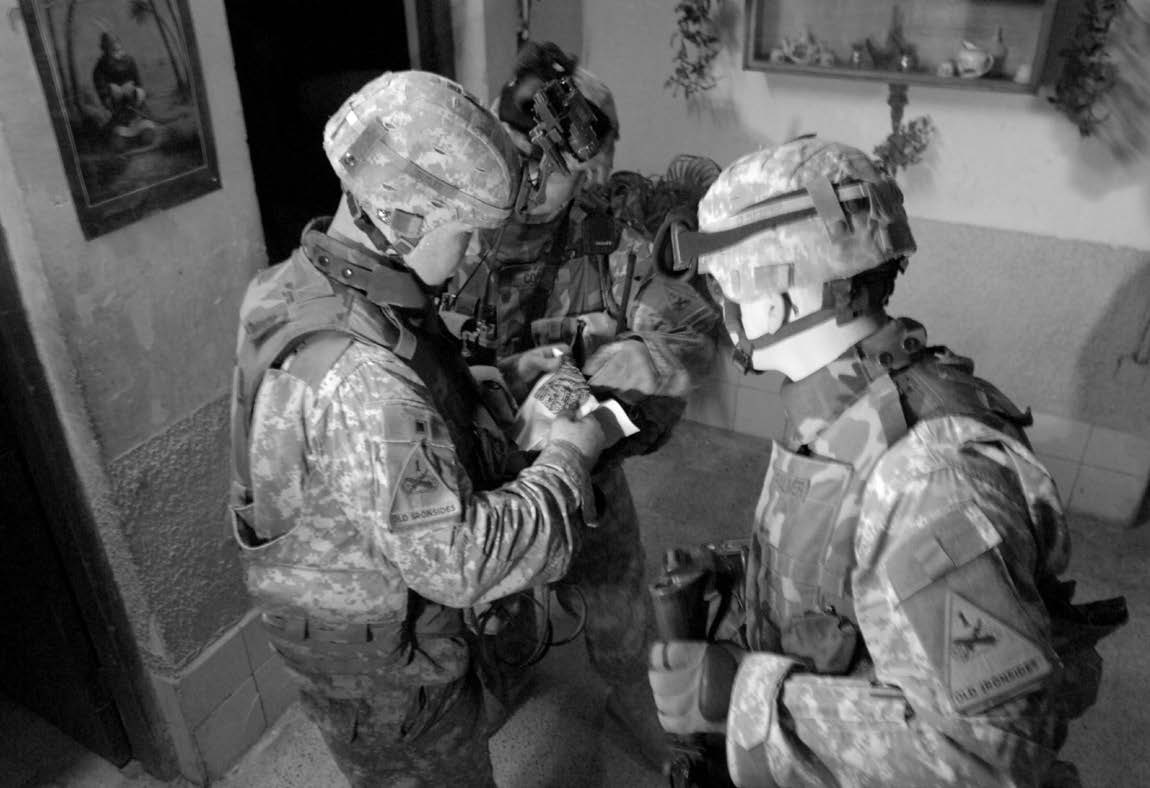 U.S. Army soldiers examine a map found by fellow soldiers during a house search in Al Bayaa, Iraq, June 21, 2006. Courtesy of DoD.
We focused on building spiritual strength as the means for seizing opportunities for personal growth. We encouraged our Latter-day Saint soldiers to read at least one chapter in the Book of Mormon each day and to engage in additional daily uplifting study to remain spiritually nourished. I experienced Zion among our group of Latter-day Saint soldiers in a dusty, Middle Eastern desert war zone more than I ever had. We worked to lift each other's burdens and mourn with those who mourned. Members built their spiritual strength through study, prayer, fellowship, and service.
In addition to serving one another, we worked to serve others by teaching them the missionary discussions. The Manama stake president authorized me to teach the missionary discussions to those interested in our faith and to baptize investigators with his approval. Our group taught missionary discussions to several U.S. soldiers and over forty Ugandan soldiers who were stationed with us at FOB Warhorse. The Spirit was always very strong as we met with the Ugandan soldiers in the plywood shed they built to house their prayer meetings. As many group members as possible were involved in the missionary discussions, which gave a spiritual lift to all of us. It was especially rewarding seeing soldiers who had not served missions doing well at teaching the discussions. It was a life-changing experience for them.
Our group's faith and effort resulted in many blessings and miracles. Soon after our arrival in Iraq, we had given away all of our copies of the Book of Mormon to the soldiers we were teaching, and we had no more copies to give other investigators with whom we had appointments to teach. I had requested more, but the shipment from Salt Lake City would not arrive in time for our next teaching appointments. I prayed and asked that somehow sufficient copies of the Book of Mormon would be provided. Two nights later, I stopped by the FOB Warhorse chapel with another member of our group after family home evening. To our great joy, we discovered six red military copies of the Book of Mormon neatly stacked in our chapel cubbyhole. I sat down where I stood, overcome with the Spirit. We learned the next day that the perimeter of the FOB had been breached, but the perpetrator had not been caught. In the following days, I confirmed with group members and our chaplains that they had not placed the books in the cubbyhole. We never learned the story behind their sudden appearance.
JOSEPH CAMPBELL
Joseph Campbell was born in 1978 in Tremonton, Utah, and was raised in southern Idaho. He had no intention of joining the military, but he kept his mind and heart open regarding what the Lord wanted him to do. He joined the United States Army and worked on an air ambulance platform (medevac). He married his wife, Tawny, on July 21, 2000.
When I think back on my time in Iraq, I can tap into life lessons, friendships, and moments where I could hold my head a little higher because my crew and I were heroes to someone. I was a flight medic on a Black Hawk helicopter. We landed in mountains, deserts, and cities to pick up the wounded. There were four of us on a crew—two pilots, a crew chief, and me, the medic. I never thought I would have an Iraqi patient reinforce an eternal principal for me. Negative propaganda by al-Qaeda made us hesitant to trust Iraqi, even Iraqi Police [IP] security details. A few of the IPs believed al-Qaeda's lies and would put on a uniform to get close to Americans or fellow policemen in order to hurt them.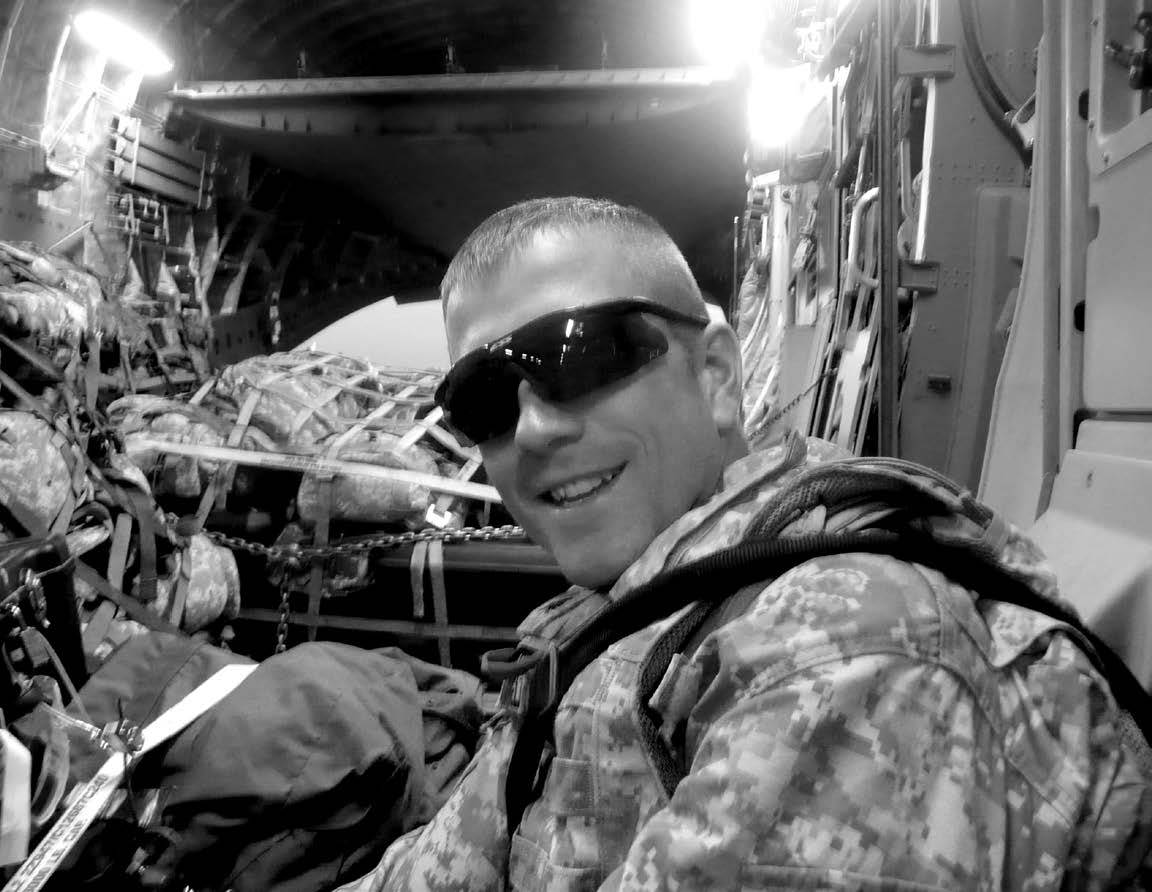 Joseph Campbell sitting in a cargo bay. Courtesy of Joseph Campbell.
It was a warm June afternoon in Al Taqaddum [American air base in central Iraq]. (I use the term warm loosely; it was actually downright hot.) I was at a workstation with my laptop, filling out run sheets, when a crew chief came in and said, "Campbell, urgent." They never have to say anything else. Urgent was the highest mission priority. It means someone is severely hurt, and their lease on life is based on the time we spend rushing to a prepped aircraft and flying to their location.
When I got my 9 line [military term for calling in a combat injury] from operations, I recognized the location—Fallujah. I had been there the previous night. The patient I had helped had a gunshot wound to the head. The lucky part was that the bullet missed everything that would have killed or permanently injured him. Not all of my missions were so easy.
Now we were returning to the same place. We got off the ground in minutes. Fallujah was close. It was not long before we crossed the river into the dusty city. I could see the yellow smoke at our landing zone on the north edge of the city. Our wheels touched the small cement pad that used to be the floor of a building long since destroyed and cleared. I hopped from my window just as the dust was dissipating. Marines on the landing zone pointed me toward one of their Humvees. As I was running toward the vehicle, a litter team was unloading the patient. It was a small Iraqi policeman; he was still conscious but in a tremendous amount of pain.
The policeman had been in an explosion and was now missing his left hand at the wrist, his left leg below his knee, and his right leg above the knee. I took pride in my ability to detach myself. My patient's problems are my problems until I hand them off, and then I could sleep soundly at night. I got in the aircraft and clipped my D-ring into the frame as the litter team was leaving. Sergeant Bigelow, my crew chief, said, "What can I do, Joe?" I told him to work on the lower extremities to control bleeding, stabilize shrapnel, and look for bones protruding from what was left of the legs.
I took my medic shears and cut his pants and belt. His blue stained uniform was shredded and in pieces. As we lifted off, the man worked to get my attention. I couldn't read lips, but I could see that he was asking for water. I am not supposed to give water to my patients, but he only wanted me to pour water over his head. There was a warm bottle rolling around on the floor. I had used it earlier that day to clean the windshield. I took the remaining amount and dumped it on my patient's head. He closed his eyes as the water cascaded over his face. Blood and dirt washed free from his mouth.
The rapport I have with my patients is only as good as my ability to read lips and play charades, but the man used his remaining fortitude and leaned on his elbow on the arm where only a stub remained. I read something in his eyes I had never seen in any of my patients before. I had seen it before elsewhere; it was sincere brotherly love. "Thank you," he said in English. He then dropped back to the litter and watched the rotor blades break the sunbeams as he was left to cope with the agony of losing three limbs.
The noise of the mission faded. I was deeply touched by the example of the skinny Iraqi policeman. This was not a time I needed to be a recipient of a gesture of thanks. More pressing issues plagued his mind, yet he still thought enough of those around him to offer thanks. In all the noise I make in my life about me, how many times have I thought to offer thanks?
Later that night we got a call to take the policeman to a higher level of care. The man had clean white bandages on his transformed body. He was sedated and connected to monitors and oxygen. I looked at the humble man on the litter. He was my friend and my brother.
TOMMY D. COOPER
Tommy Cooper grew up in California and joined The Church of Jesus Christ of Latter-day Saints in April 1976. He enlisted in the U.S. Marine Corps after high school and served for twenty-six years. During Operation Iraqi Freedom, he served as a logistics contractor at Al Asad, Iraq. He has served in many Church positions, including bishop, branch president, counselor in a district presidency, elders quorum president, and service member group leader in Iraq. He is the father of ten children.
I deployed from North Carolina while serving as a bishop and was stationed in Iraq with many members of my ward. Here are some of the journal entries I recorded during my deployment:
February 16, 2005—Al Asad, Iraq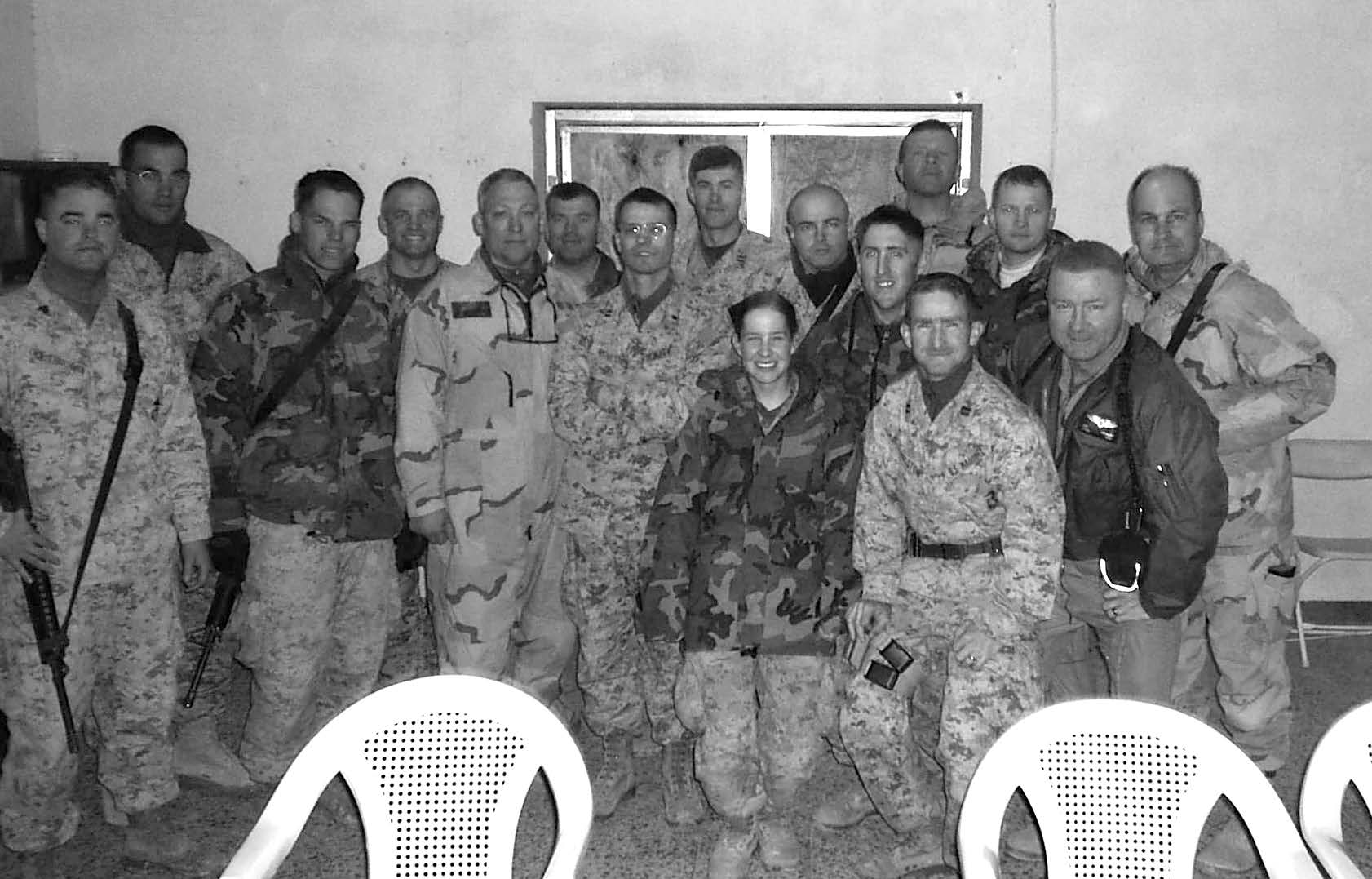 A group of Latter-day Saint solders at Al Asad, Iraq, in 2005. Courtesy of Tommy D. Cooper.
While walking back from the chow hall this evening, we were passed by a large convoy of tanks returning to the base. Although we have felt some stress here, our combat ground troops have felt it most acutely. Staring back at us from the top of their tanks, eighteen- and nineteen-year-old faces showed the lines of stress. None of them laughed or joked. They just stared at us with steely eyes. It is easy to understand why these young men are succumbing to the stress of combat. A trip "outside the wire" brings the possibility of attack from every direction. And where do these attacks come from? They come from people who look like everyday citizens. Attacks can also come from everyday objects—a parked car, an empty can, a dead animal, even human beings attacking as suicide bombers. From the moment they leave the semi-security of our base until their return, they are in danger.
What keeps these young warriors going? The Marines say that it is their commitment to each other. Helping each other return home safely is their motivation.
February 20, 2005—Al Asad, Iraq
Insurgents launched a rocket attack against our base this morning. From a scene of destruction and confusion, I walked quickly to a converted chapel and followed the back sidewalk to a rundown adobe-colored building. The building is scarred with holes created by shrapnel. The room assigned for Latter-day Saint services is dusty, gray, and lit by two protruding fluorescent lights centered in the middle of the roof. The floor is covered with a large maroon prayer rug and white plastic chairs.
Upon arriving, I began making preparation for our sacrament service, and I was soon joined by other priesthood holders. Within twenty minutes after the "all clear" signal was sounded, I was on my knees reciting the sacrament prayers. For the next hour, our Latter-day Saint service member group relished the period of tranquility felt during sacrament and the opportunity to freely worship our Father in Heaven.
May 9, 2005—Al Asad, Iraq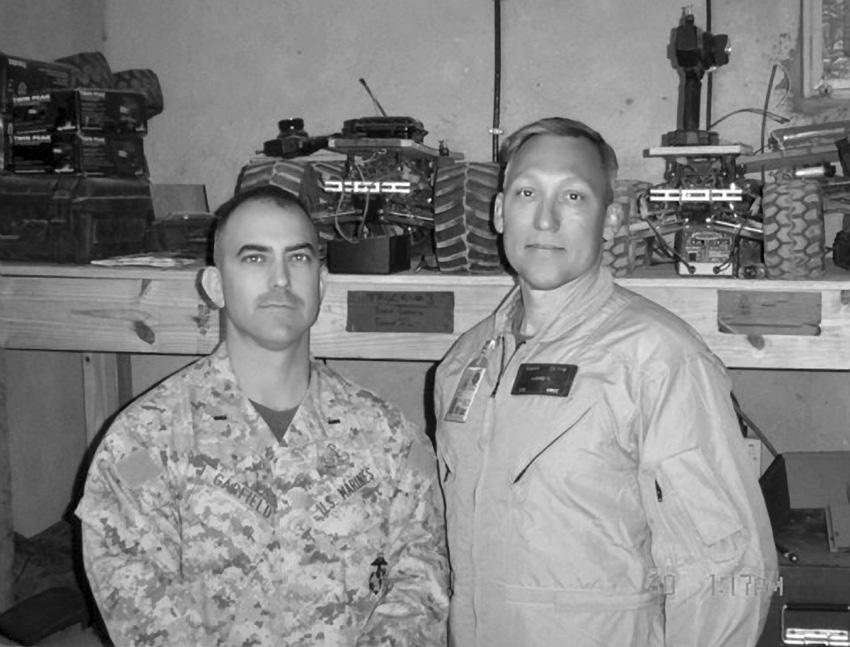 Lieutenant Tommy Cooper is pictured on the left. Courtesy of Tommy D. Cooper.
Another Marine died today defending our base in an intense firefight. Tonight we assembled at the back end of the KC-130 aircraft, which was scheduled to take us home to safety and our families. Upon command, we came to the position of attention while members of the flight line detail carried the gray metal casket quietly up the aircraft's back ramp and strapped it to the aircraft's floor with thick cargo netting. We stood motionless while an American flag was draped over the casket as a silent testimony to the Marine's ultimate sacrifice. My eyes scanned the white tag with the young man's name on it, while the words "Having died with honor on the field of battle" echoed through my mind. This was a makeshift service in a foreign land by comrades who honored him. In the confined space of that KC-130 aircraft, we silently gazed at his flag-draped casket and faced our own mortality.
JOHN COX
A member of the Utah Army National Guard, John Cox served in Operation Iraqi Freedom from January 2005 to June 2006 as a Humvee gun truck driver, radio/telephone operator, and biometric automated toolset operator. John served a mission in Munich, Germany, and has served as an elders quorum second counselor and teachers quorum assistant adviser. He was working as an elementary school teacher in Las Vegas, Nevada, when his battalion was activated. John and his wife, Jessica, married in 2003 and have four children.
On January 5, 2006, I had some hours off between patrol missions. Though occasionally "time off" meant a recruiting security detail, this time I was not assigned to work security at the Iraqi police recruiting drive being held at the nearby Ramadi glass and ceramic works. There was a lot of recruiting going on. Due to financial hardships in their community, the opportunity to work locally as a police officer was becoming a coveted position. Unfortunately, the huge turnout exceeded expectations and was too much for the provided security. As young men were bustling to get inside the gates of the glass factory to be considered as a police recruit, someone wearing an explosive vest laden with metal ball bearings came near the entrance, pretending to be just one more person wanting a job.
Fortunately, before that murderer could get inside the gates, a military working dog smelled the explosives. The canine and handler were able to intercept the suicide bomber and prevent his entrance through the main gate. The handler, knowing full well what his dog was smelling and what that meant for his life, made the ultimate sacrifice in order to minimize Iraqi and American casualties. Though the bomber was as far away as possible, casualties after the detonation were still horrendous. A mass casualty treatment and evacuation situation ensued. It took the lives of over sixty Iraqis and a number of Americans and injured many more.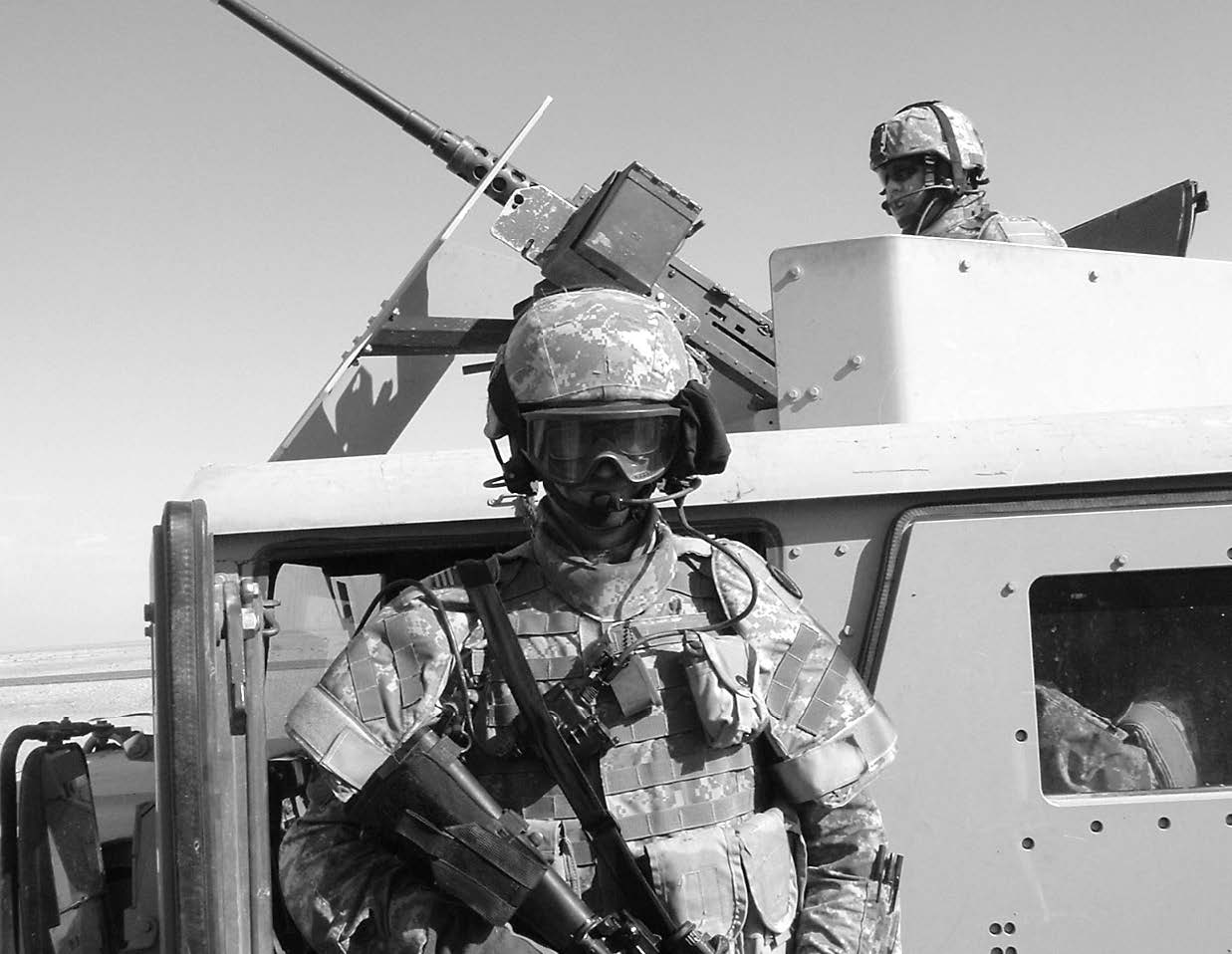 John Cox participating in a military operation. Courtesy of John Cox.
I did not know any of that. I was a few kilometers away at Forward Operating Base Ramadi busy writing an email to my wife back home. I heard a loud explosion but did not think much of it, since we heard numerous unidentifiable explosions every day. It was not until someone stopped by and told us about a great need for soldiers to donate blood at Charlie Med that I realized what had happened. I had a package for my wife that I had planned to mail at our FOB post office. I decided I would mail it quickly and then donate blood.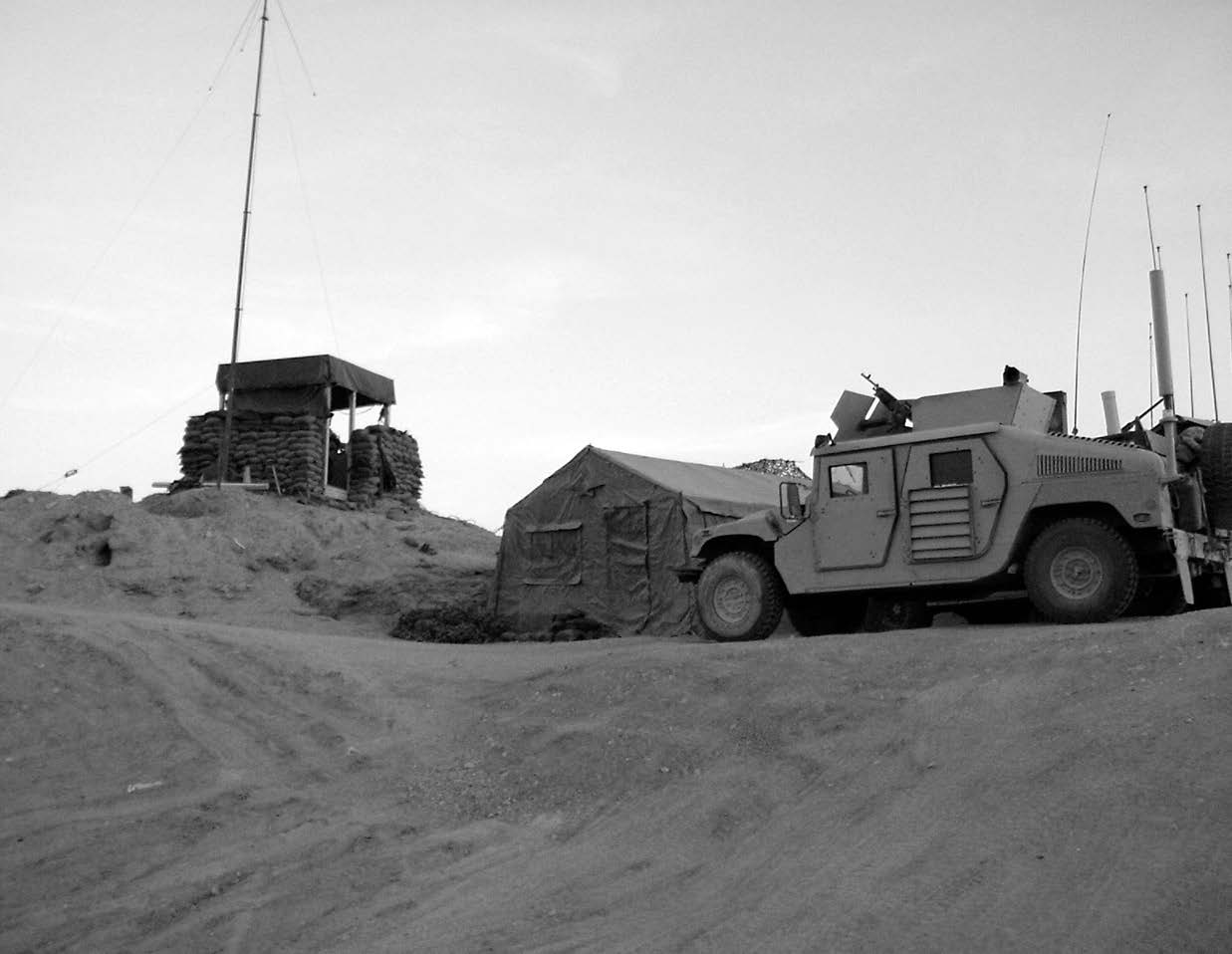 Living conditions in Iraq were often spartan. Courtesy of John Cox.
I received a distinct impression to rearrange my schedule. Even though the post office was closer, I should go to Charlie Med first. I recognized it as a prompting from the Spirit and obeyed. There was a long line of soldiers who were willing to donate blood to help the suicide bomber's victims. Knowing how caring and giving U.S. soldiers are, I expected as much. I felt good, however, knowing that I had followed the Spirit to go to Charlie Med first. I took my package and proceeded toward the FOB post office, wanting to get the package mailed before my time off ran out. As I went toward the post office from the direction of Charlie Med, I went right past the helicopter landing pads, which, for safety reasons, are surrounded by high dirt berms. Two large Chinooks flew overhead and began landing.
As I walked by the opening to the helicopter pad, I saw a number of military ambulance Humvees waiting there. I stopped when I noticed there were a number of full stretchers in each ambulance. It dawned on me that I was about to witness emergency helicopter medical evacuations of stabilized suicide bombing victims who would be transported to bigger and better medical facilities across Iraq. They were diverting helicopters from all over in order to help us distribute our injured. There was only one medical soldier to move all those stretchers onto the huge helicopters. I quickly looked around and saw a group of four soldiers about two hundred meters from me. I ran to them as quickly as I could. It turned out to be a group of officers who were surprised to be interrupted by a low-ranking enlisted man. That did not matter, however, because they were the right group to talk to.
As soon as they understood the situation, they dispersed and ran to get other groups of soldiers. I returned to the concealed landing pad and began helping pick up a bloody stretcher with a severely injured Iraqi man on it. My package was left forgotten against a sandy berm. I am of a slight build but was at the head of the stretcher, carrying the majority of the injured man's weight. A big U.S. soldier got there in time to pick up and carry the little IV bag attached to the injured man's arm. The three of us loaded the injured man, placing him on the furthest rack up front as the helicopter crew directed us.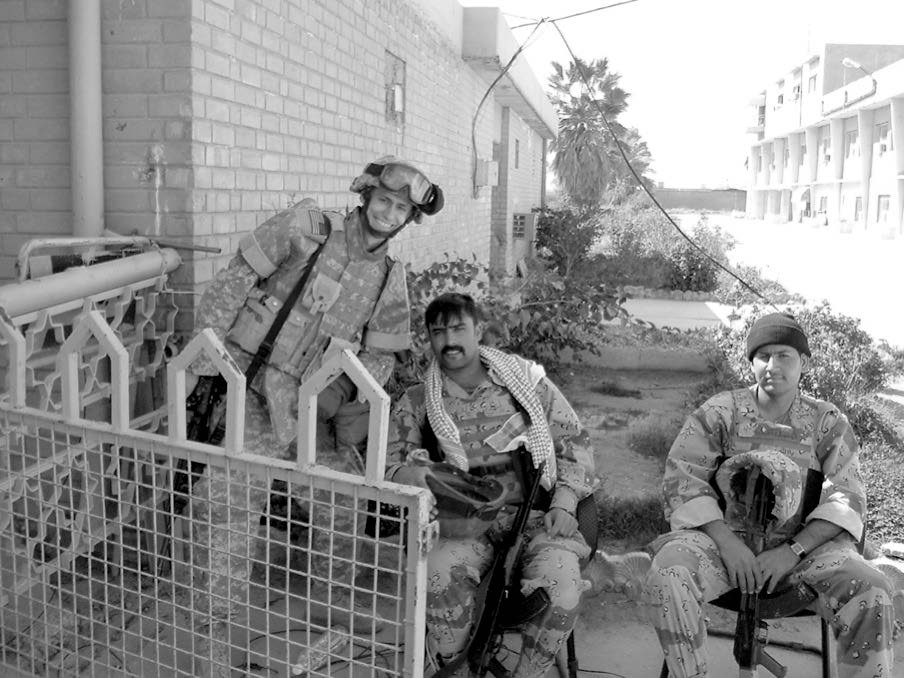 John Cox (standing) with two Iraqi soldiers. Courtesy of John Cox.
By now, there were enough soldiers helping at the landing pad that the helicopters were being filled to capacity. I tried to mouth a few words of comfort in Arabic to the man I had helped carry and then quickly got off the helicopter so they could take off. There were still plenty of casualties but no room left on the helicopters. I contented myself by trying to talk to the Iraqi men who were obviously confused and in pain. I got more gauze from Charlie Med to help add to the bandages that were becoming saturated with blood.
When it became clear there would be a considerable wait before the arrival of more helicopters, other soldiers began sitting down to rest against the berm. I picked up my package covered with Iraqi sand and went to the post office. I walked slowly and tried to regain my breath. After mailing the package, I got a sergeant I knew who had studied Arabic more than I. The staff sergeant, Frank Staheli, made the long trek, without complaint, from our barracks past the post office to the helicopter landing pad in an attempt to talk to more of the injured Iraqis. I am sure many of them had no idea what had happened to them. One moment they had been trying to get in the front gate of the city's former glass factory so that they could get a police job, and the next moment American medics were towering over their broken bodies trying to slow their bleeding. I hoped that they would receive some comfort from our attempts to talk to them.
It turned out that a number of brave soldiers from our Utah National Guard unit, the Triple Deuce, were also injured that day by the terrorist bomber. It was a hard day, but I felt blessed I could have a small part to play in helping evacuate injured people perhaps just a few minutes faster. I may never know in this life what happened to the man I helped carry, nor to the other men evacuated that day. Without that gentle prompting from the Holy Ghost, I never would have had any part in helping those injured people. I will always be grateful for a loving Heavenly Father who knows the thoughts and intents of my heart and knows what paths my feet should take on the way to a dusty old post office in a faraway city.
CHRISTOPHER DEGN
Christopher is from South Ogden, Utah, and entered the Army Reserve in November 1981 as a medical laboratory technician with the 328th General Hospital. He later graduated as a distinguished military graduate from the Army ROTC program at Brigham Young University. He earned a bachelor of arts degree in Spanish translation from BYU, a master of business administration degree from the American Graduate School of International Management (Thunderbird), and a master of science degree in counseling from the University of Phoenix—Utah Campus. After graduating from the Chaplain Officer Basic Course in 2001, he served as battalion chaplain for the 264th Corps Support Battalion (Airborne) at Fort Bragg, North Carolina, deploying with them to Bagram, Afghanistan, in support of Operation Enduring Freedom and later to Baghdad, Iraq, in support of Operation Iraqi Freedom. He would return a second time to Iraq for a third combat deployment in 2006–7 with the 3rd Brigade Special Troops Battalion of the 25th Infantry Division.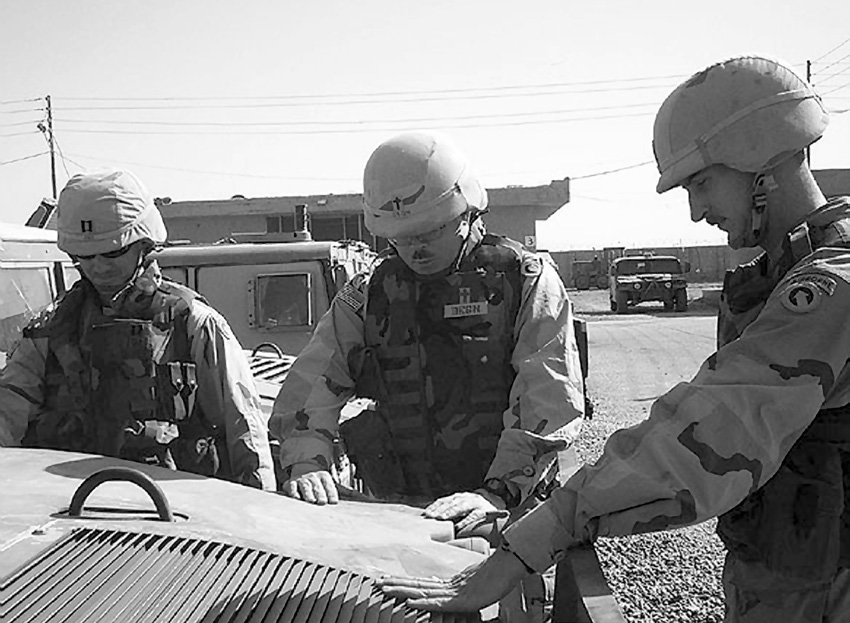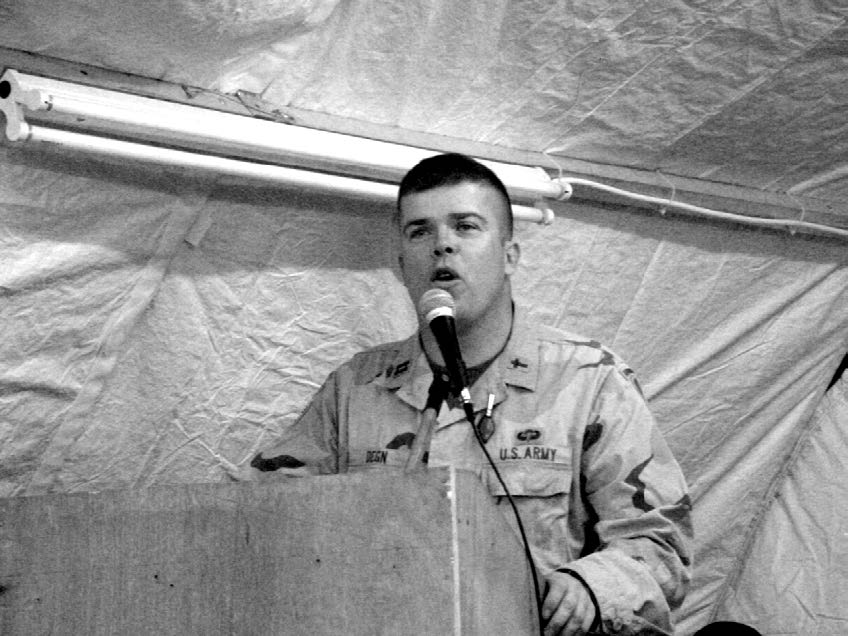 Top: Chaplain Christopher Degn is shown praying over a Humvee he was asked to bless before it "left the wire." Bottom: Latter-day Saint Chaplain Christopher Degn is pictured preaching a Sunday sermon. Courtesy of Christopher Degn. Courtesy of Christopher Degn.
There's an old television and radio jingle about using a well-known service to "reach out and touch someone." One of the unique things of Operation Iraqi Freedom [OIF] that reached out and touched me and my soldiers was the improvised explosive device, or IED—basically, a roadside bomb. The IED set OIF apart from other wars in which American soldiers have given their lives. It was a booby trap device, primarily used on roadways, designed to be triggered when an unsuspecting victim touched or disturbed a seemingly harmless object. It could also be remotely triggered by an electronic device (such as a cell phone or garage door opener) when the victim entered the kill zone. For that reason, I preferred getting to the battlefield by flying in helicopters, rather than driving in convoys down the treacherous MSRs [main supply routes] of Iraq. I served with soldiers of Logistics Task Force 264 for four years and deployed with them to both OEF [Operation Enduring Freedom] in Bagram, Afghanistan (2002–3), and OIF in Baghdad, Iraq (2004–5).
In 2003, while at Fort Bragg, North Carolina, I was tasked to escort the remains of SFC [Sergeant First Class] Clint Ferrin, a Latter-day Saint soldier, back to his hometown of North Ogden, Utah, and conduct his military graveside honors there. Brother Ferrin's Humvee had driven over an IED that used an unexploded, 500-pound Air Force bomb. The huge explosion resulting from such a hulking piece of ordnance flipped his vehicle four and a half times through the air and off the road into the river alongside the convoy route. The awful destructive force of the IED tore up his body, and his remains were gathered into what is known as a patriot roll, a green Army wool blanket closed up with thirteen safety pins. I drove out to Brother Ferrin's home in Fayetteville, North Carolina, to help console his family. When I arrived, I immediately recognized his wife, Melinda. I had spoken in his ward a couple of times the year prior as a Fayetteville stake high councilor. This helped me connect in a powerful way to her immediate and extended family. I spoke at his memorial service held in the Fayetteville Ward, his funeral service at his home ward back in North Ogden, Utah, and at his graveside service.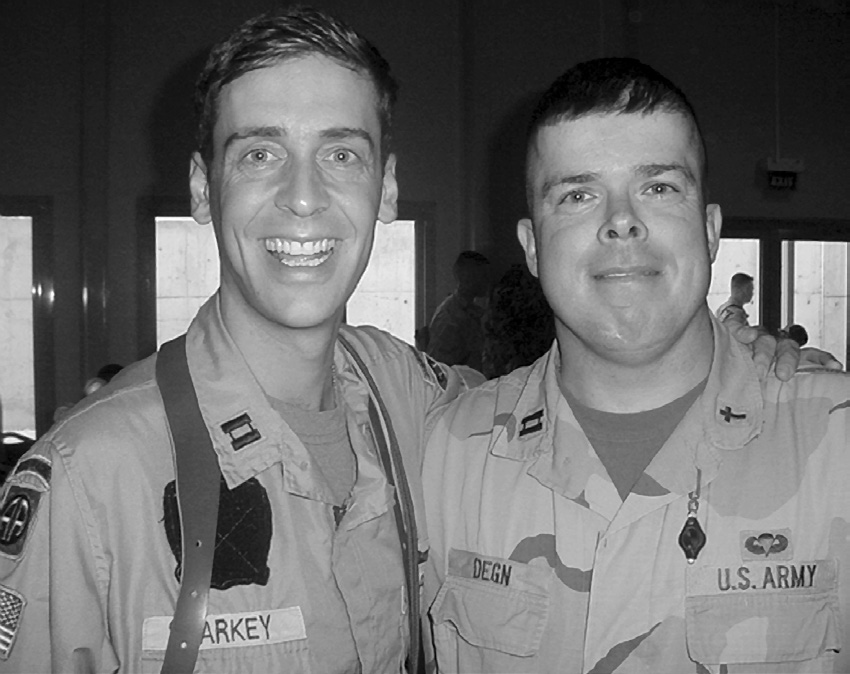 Chaplain Christopher Degn (right) is shown with a fellow Latter-day Saint, Captain Starkey. Courtesy of Christopher Degn.
Some interesting things stand out in my mind from the experience. The company commander and I opened his casket with nobody else around, due to the sensitive nature of the disposition of his remains, in order to place his garments and temple packet alongside his patriot roll. For the second time in my career, I took a ribbon off my own dress uniform and placed it on his greens in the coffin because he had the incorrect number of oak leaf clusters on one of his awards. My father, Bill Degn, who lived just a few miles away from North Ogden, was able, for the first time, to come see me do my duty for God and country as a chaplain. He watched the graveside service from the sidelines, but he was somehow noticed by the deputy commanding general of the 82nd Airborne, who had been to forty straight graveside services for his troops. He walked up to my dad, shook his hand, and thanked him for raising me to do what I do. It really touched my father. I remember playing escort to the chain of command of the 82nd Airborne that took SFC Ferrin home to Utah. Having been raised in Ogden as a boy, I knew my way around. They got an exposure to Utah Latter-day Saint culture and learned what "funeral potatoes" were.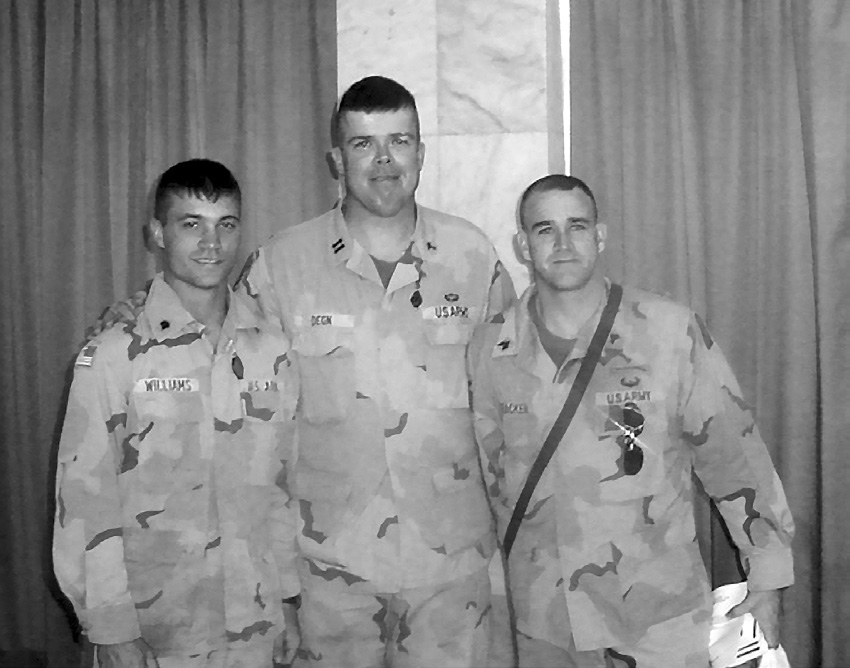 Chaplain Christopher Degn with two newly baptized members. Courtesy of Christopher Degn.
On March 16, 2005, the convoy of SGT Rocky Payne of the 497th Transportation Company (which came out of Fort Lewis, Washington) drove past the smoking, destroyed remains of a flatbed truck and received the full force of an IED set at the gunner's level of their Humvee. Sergeant Payne rode at his usual post of gunner in that vehicle. I remember getting the call and riding with my task force commander, LTC Steve Cherry, to the Green Zone in Baghdad to minister to Sergeant Payne, but he was pronounced dead upon arrival. We were taken to the morgue and identified his remains. I gathered us all together in a circle and cried through a prayer. This one hurt more, because not only was it one of my troops, but it was one of my Latter-day Saint brethren.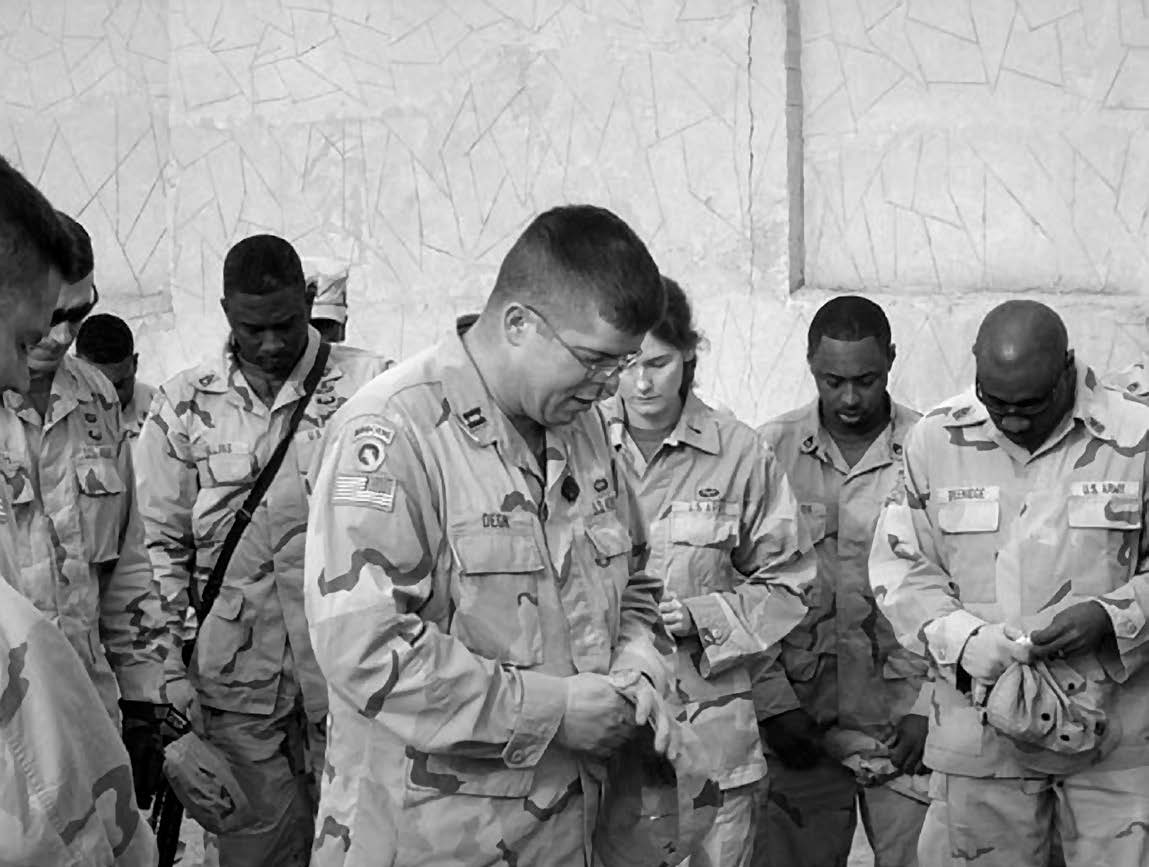 Chaplain Christopher Degn is pictured leading a group of soldiers in prayer in Iraq. Courtesy of Christopher Degn.
I was not allowed to escort Brother Rocky Payne home to Utah like I did Brother Ferrin, but I gave him my all in the memorial ceremony we held at the Marne (3rd Infantry Division) Chapel at Camp Victory [about three miles from Baghdad International Airport]. My message contained what I called "Payne's Points": Be a Soldier. Be a believer. Be a friend. It was modeled loosely on President Gordon B. Hinckley's book on the Beatitudes. These described Payne, who truly was a stripling warrior, a modern-day Captain Moroni, who enlisted in the Army after the Marine Corps put him out because of his bad knees. He had served two tours to Iraq: one as a Marine and one as a soldier. I was inspired to tell the story of Captain Moroni and his "title of liberty" (Alma 46) in my message, the only time I have ever heard the Book of Mormon quoted in a memorial ceremony. Latter-day Saint chaplains can't get away with doing that often since we are called upon to be more Protestant or ecumenical in our quoting of scripture as ministers to a religiously diverse military. The division chaplain did not like me using a nonbiblical scripture as my theme, but the division commanding general commented to us that he loved the title of liberty story since "[1] had encouraged his fellow soldiers to remember that they were walking, talking titles of liberty in that each and every soldier there wore the U.S. flag on their right shoulder." Rocky was a very unique soldier. He was known for his quirky sense of humor and the Army value of personal courage. He indeed deserved a unique scripture. When I finished speaking of the title of liberty, I just knew it was perfect!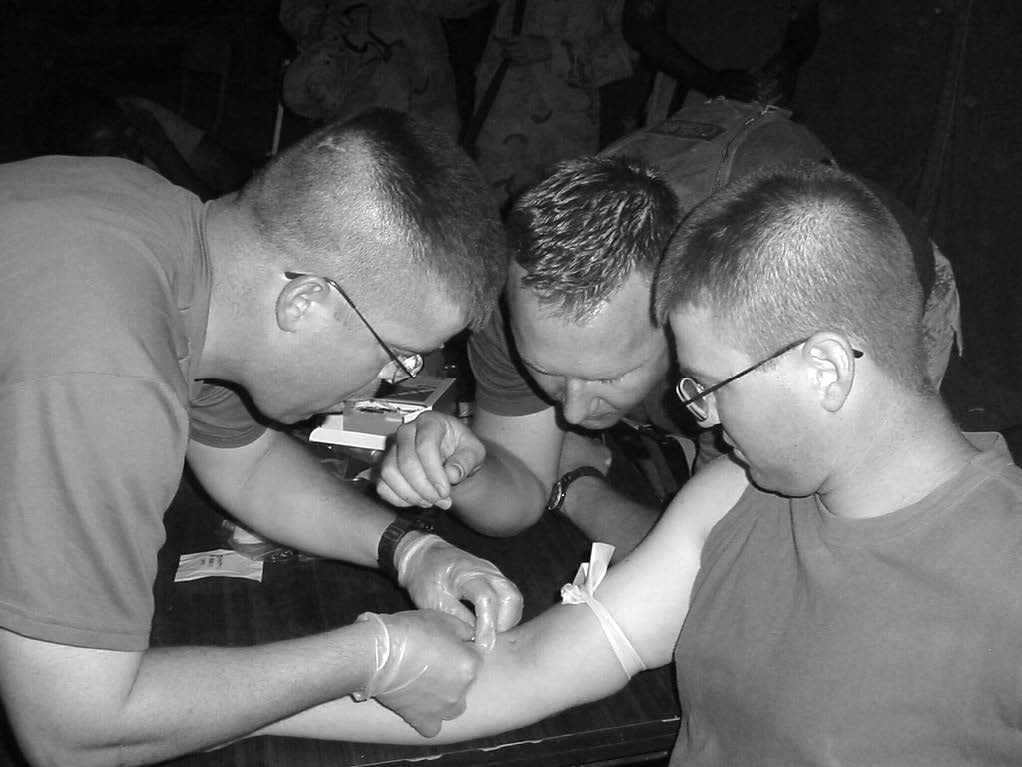 Chaplain Christopher Degn serving in a medical assistance role. Courtesy of Christopher Degn.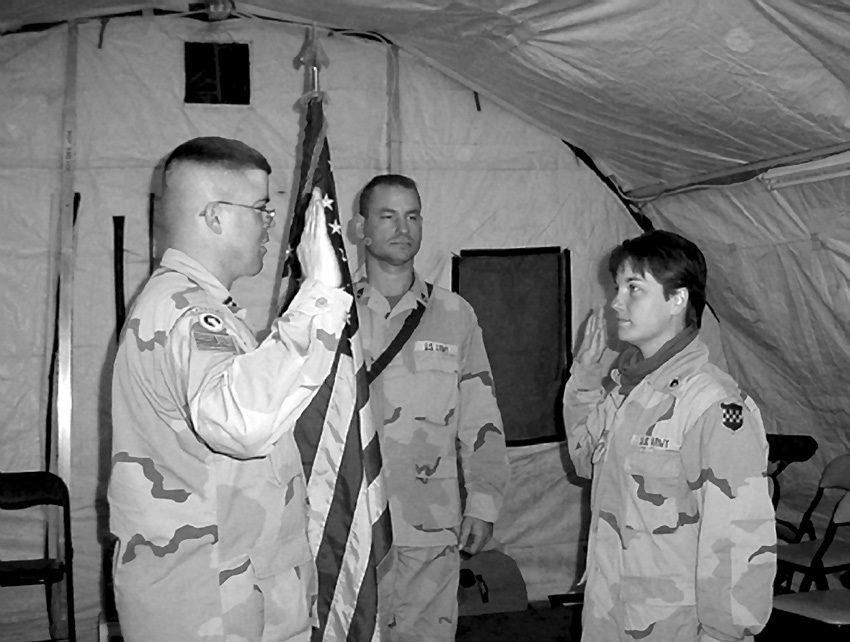 Chaplain Christopher Degn conducts a reenlistment ceremony in Iraq. Courtesy of Christopher Degn.
Eight months later, I was able to join three leaders from SGT Payne's company—the company commander, platoon leader, and squad leader—on a snowy December trip to little Howell, Utah, to visit his parents, brothers, and friends. They fed us. We presented Rocky's CAB [Combat Action Badge] to them. We reminisced. We cried, and we healed. We visited the two-room schoolhouse in Howell, where one wall contains a memorial of Rocky Payne, one of Utah's greatest sons. We visited his graveside and kneeled for photos next to "Payne's Points," which were engraved on the backside of the headstone. Rocky, as a teenager at a Latter-day Saint boys camp (he was also an Eagle Scout), had received the "title of liberty" award from his peers for his love of God and country. I was blessed by the trip with the confirmation of the divine inspiration of my message to his battle buddies and to his family.
MICHAEL E. FISHER
Michael Fisher grew up in Ann Arbor, Michigan. After graduating from Brigham Young University in 1996, he enlisted in the Utah National Guard. He taught high school for two years before deciding to become an officer in the regular army. He received his commission through ROTC in April 2001. He was stationed in Iraq for fifteen months during 2003–4 with the 2nd Armored Cavalry Regiment and later served a second tour there. His Church experience includes full-time missionary service, Young Men president, Gospel Doctrine teacher, elders quorum presidency, and service member group leader of three separate groups.
As a first lieutenant platoon leader in Iraq, I often wondered how I would react if confronted with a life-or-death situation. We patrolled aggressively and visited often with the people in our area of responsibility. Most of the people appeared happy to see us patrolling their neighborhood. I prayed constantly that my soldiers and I would be attentive, recognize any threats, and act appropriately.
In March 2004, during my first tour in Iraq, I was supervising a tactical checkpoint in eastern Baghdad. We were searching vehicles for weapons or any materials used to make improvised explosive devices [IEDs]. There were several considerations regarding where and how we established our checkpoints. We looked for spots that made it difficult for people to turn around, turn onto a side street, or in any other way avoid our checkpoint. We considered, of course, where to station our soldiers in order to provide them with the best possible security. We also needed enough room so we could separate the vehicles we would be searching. Finally, we placed signs and orange cones about a hundred meters from our checkpoint to sufficiently warn approaching vehicles to prepare to stop.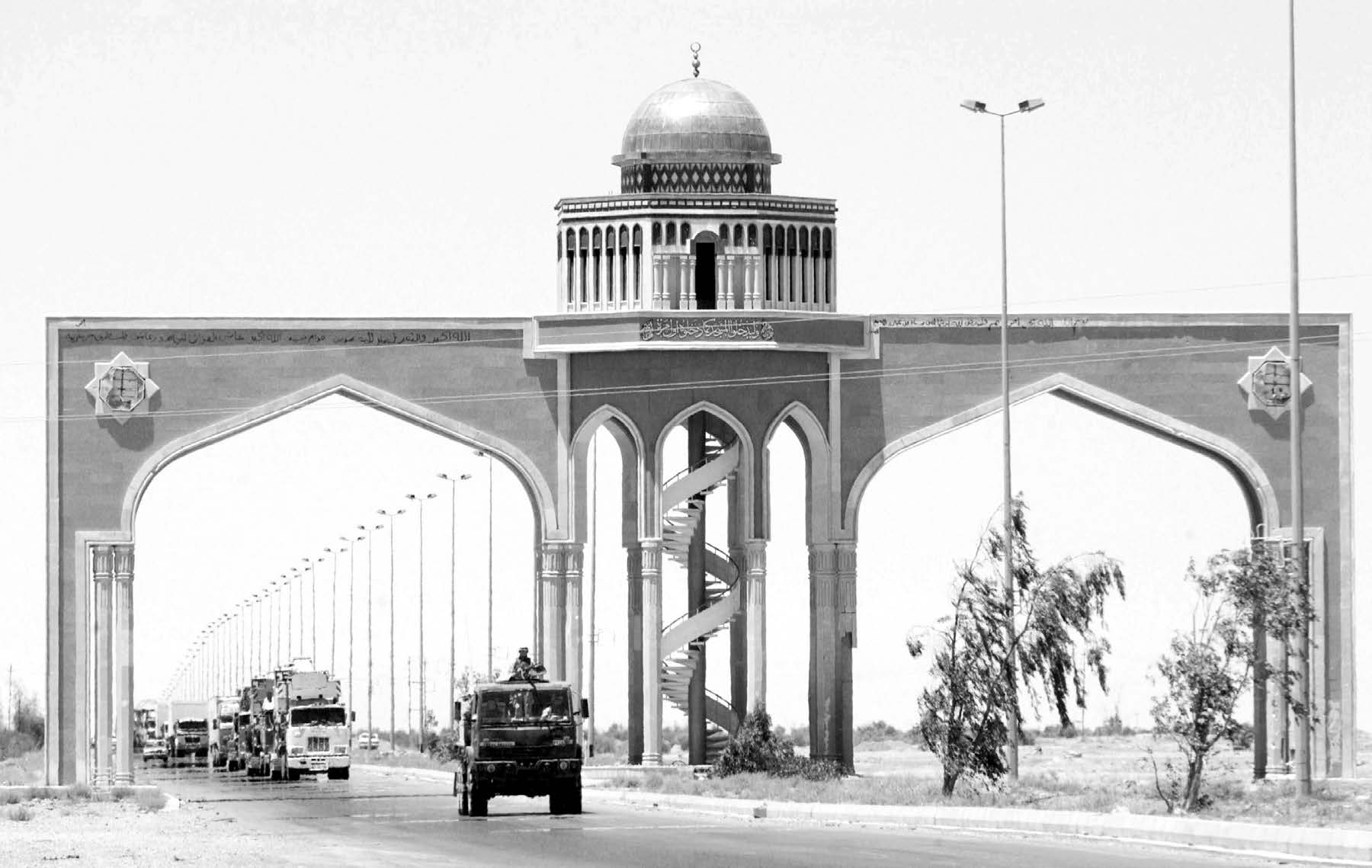 A gun truck from an air expeditionary force transportation company moves under an archway on the Main Supply Route with a convoy in tow in June 2004. Courtesy of DoD.
I clearly remember one night in particular. I'm sure we confiscated a handful of weapons. We usually did. But what I remember most was a Suburban vehicle and the family who almost died. Many cars on the streets of Baghdad are old, and their brakes don't work very well. It was common for vehicles to fail to stop because their brakes didn't work. It was impossible for soldiers to know if the driver of those vehicles was a suicide bomber, or if the vehicle simply had bad brakes.
There were few streetlights in Baghdad and none near our checkpoint. I heard tires screeching before it registered in my mind that a vehicle was approaching way too fast. The sergeant manning the machine gun next to me yelled, "Can I engage?" I quickly said, "No!" There wasn't time to think through what the driver's possible intentions might have been. The situation presented itself, and I just reacted. The Suburban didn't come to a stop until it reached the search area, but as the men, women and children piled out of the vehicle, I was grateful I had refrained from shooting. I believe I reacted correctly that night because earlier that day I had prayed for the guidance of the Spirit, which saved the lives of nine people.
CHRISTOPHER FOGT
Christopher Fogt joined the ROTC at Utah Valley University (UVU) in 2005. He was commissioned in 2008 as an Army intelligence officer. He joined the Army's world-class athlete program and competed in three Olympic Games for the USA bobsled team in Vancouver, Canada, in Sochi, Russia (winning a bronze medal), and in Pyeongchang, South Korea. He served in Operation Iraqi Freedom and Operation New Dawn from July 2010 to July 2011 in Baghdad. He also served a two-year mission in the Philippines.
I spent my first six months in Iraq as an Army intel officer, training different Iraqi intelligence agencies how to track sources and use UAVs [unmanned aerial vehicles], signal intelligence, and other tools like that. After six months, I was chosen as the aide-de-camp for Major General Perrin. This was a great opportunity for me, as a first lieutenant, to be working with the United States Forces-Iraq J2 [a senior staff officer in charge of military intelligence] on a daily basis. I was with him from 0530 [5:30 am] to about 2000 [8:00 pm] every day. I traveled everywhere with him and attended key leader engagements. I got to sit through meetings with Defense Secretary Robert Gates and Admiral Michael Mullen, Chairman of the Joint Chiefs of Staff. I was a first lieutenant—a fly on the wall. I wasn't allowed to speak, but just listening to those leaders talk was a great opportunity to learn how to think and act at the strategic level.
Major General Perrin is a good man. His PSO [personal security officer] was a Latter-day Saint. The general didn't cuss or drink coffee. He lived a very clean life. He was married and loved his kids. His family was his world. He was very supportive of attending church meetings and things like that. He read the Bible every day. When you're in a war zone, questions arise: "What happens after death?" "Where did we come from?" "How are we all related?" It was great to work for an officer who was strongly rooted in his Christian faith. We had many conversations about the Church and about God.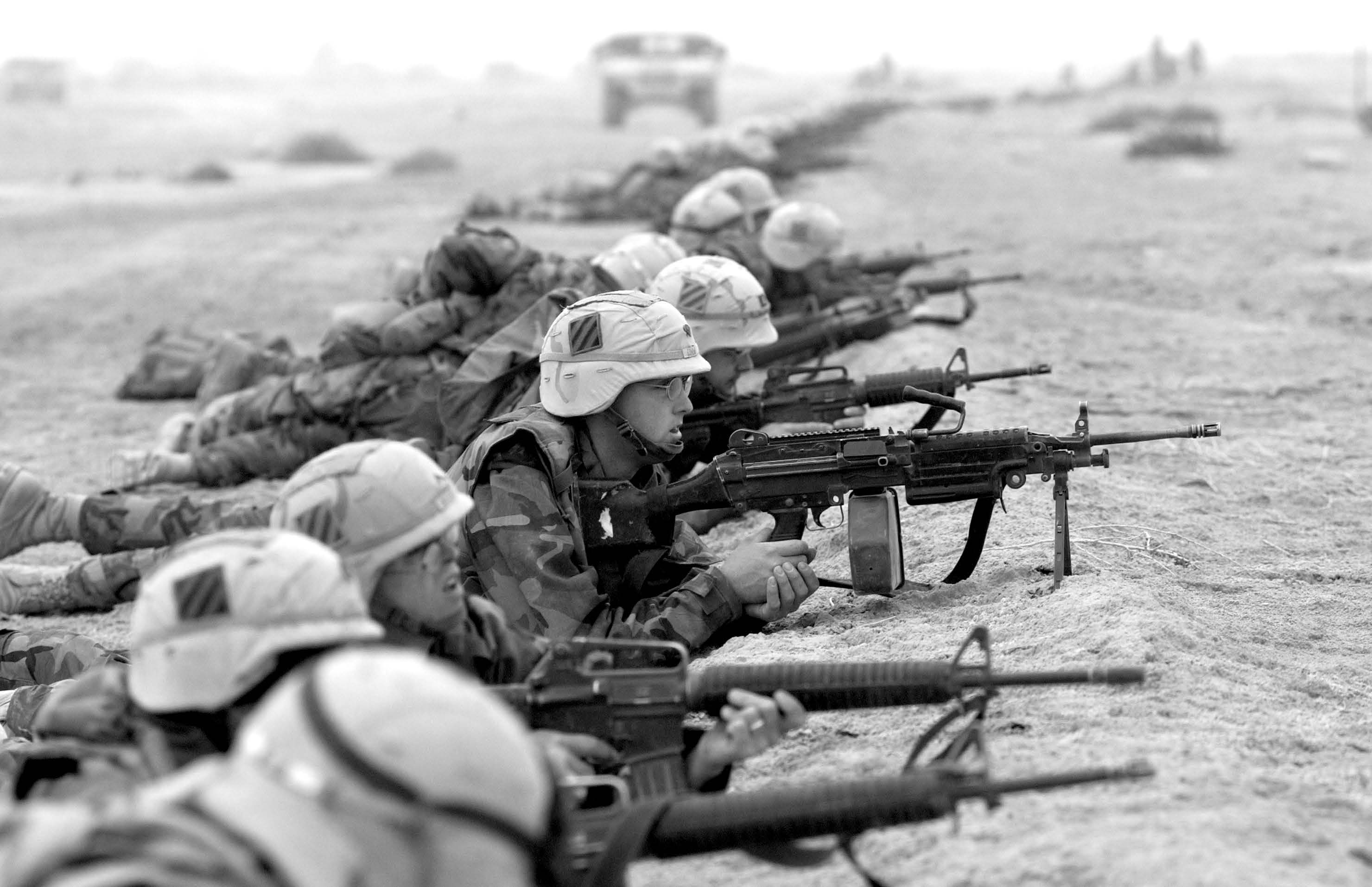 Soldiers from the 3rd Infantry Division in firing positions during an enemy approach on their position in southern Iraq on March 24, 2003. Courtesy of DoD.
My deployment to Iraq changed me in a lot of ways. I developed a much deeper love for Christ and my family back home. Being able to lean on my family in those hard times was very comforting. Also, it was important knowing that regardless of whatever happened over there, we would all be resurrected and could be together again. Seeing death can be a crushing blow to people who do not have hope. I saw it affect units and people. A few lost hope. Through an understanding of the gospel, I was able to gain hope when I was over there. I also gained an increased love for the plan of salvation and for the Savior.
* * * * *
I've had the unique opportunity to wear the U.S. flag on my Army uniform and on a one-piece spandex race suit. I've had a chance to represent the USA on the greatest stage—the Olympic Games. I went from competing in the Olympics, being in front of the camera and doing interviews, to being in Iraq four months later. When I got home from Iraq, I transitioned back to lifting weights, working out, and traveling the world to race a bobsled. I feel very blessed to have had the opportunity to represent the USA in that way.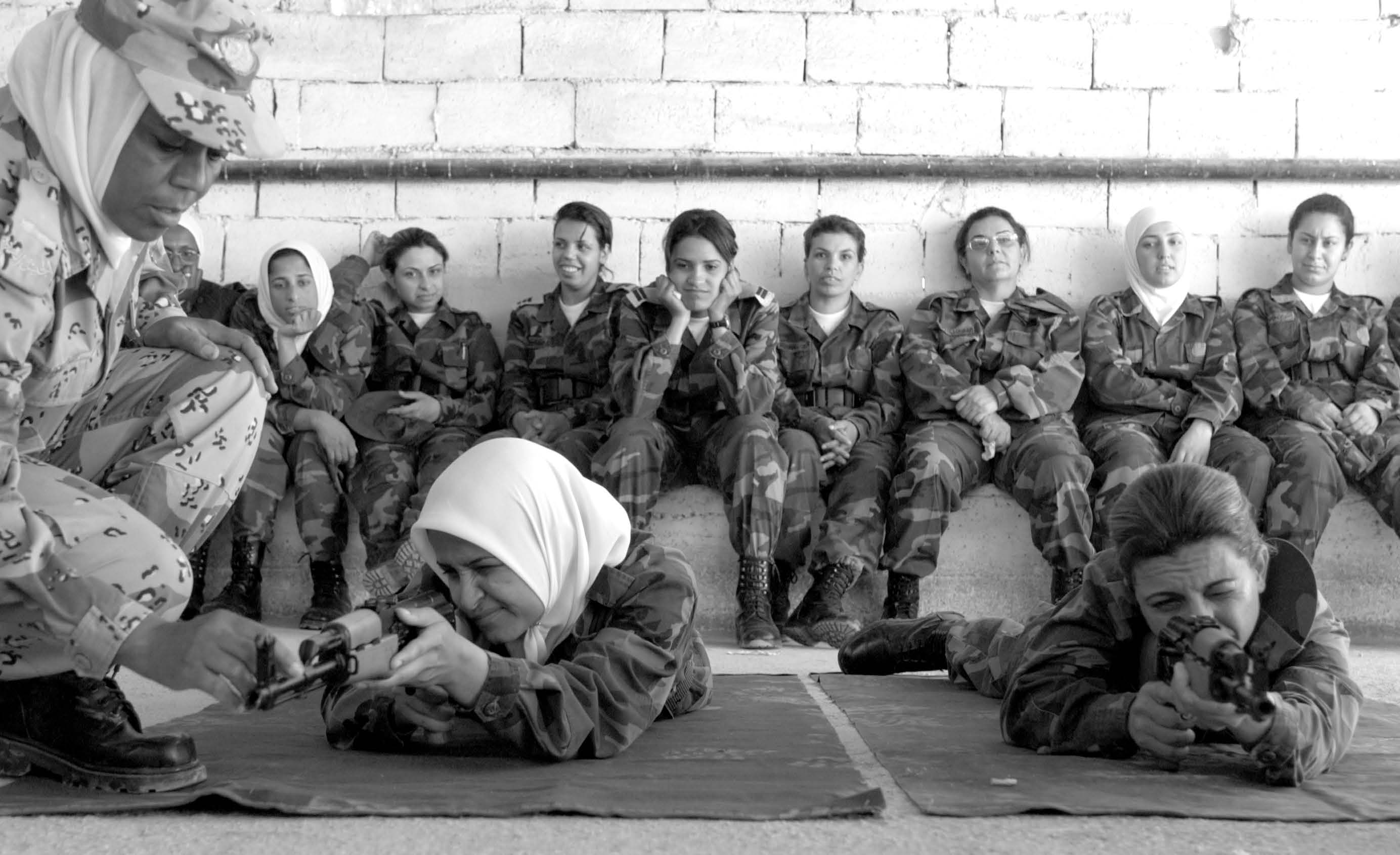 A Jordanian warrant officer instructs female trainees from the Iraqi army on proper techniques while firing an AK-47 as part of their basic training at the Jordanian Royal Military College during June 2004. Courtesy of DoD.
Bobsledding found me. I was running track at UVU in 2007. I was at a track meet at Brigham Young University when two gentleman wearing black jackets with "USA Bobsled" on them approached me. They said, "Hey, we're so-and-so with the USA Bobsled Team. Would you like to try out?"
I thought, "Is this real? Who tries out for bobsledding? That never happens."
So, I said, "Sure." I went and tried out up at the Olympic Oval, and my times were pretty good.
I was a little small for a bobsledder, but they said, "We want you to come compete at team trials with us in the fall."
I said, "I have Warrior Forge this fall. I'm already in the Army; I can't really do this right now, and I still have a year of college left."
They encouraged me, "Come, try out anyway. You'll really like it."
I thought, "We'll see." I went to Warrior Forge and had a great experience at Fort Lewis, Washington. I came back and was hounded.
For a month, they called me almost every day saying, "We want you to try out. Come, be on our team." I finally gave in and decided to try it out. I flew to Lake Placid, New York, in October and while there met a coach who was a sergeant in the Army.
He said, "Just so you know, when you graduate and earn your commission, there's a program called the World Class Athlete Program that you can apply to if you want to try and race in the 2010 Olympic Games."
I said, "I've always wanted to be in the Army and to be a professional athlete." This could help me achieve both childhood dreams. Lo and behold, I tried out for the team and made it that year and then went and traveled Europe for a month and a half. When I was on tour in Europe, I really learned to love the sport. I got home, went through my officer basic course, applied for the Army's World Class Athlete Program, and was accepted.
Going into the 2010 Olympic Games, we were the third-ranked sled in the world. We were sliding down a curve called "50/50." It was so named because you had a 50/50 chance of making it through. At that point, we were going about ninety miles an hour. We had high hopes to win a medal. I had the Army pulling for me, the Latter-day Saint community rooting me on, and my whole family was there. My girlfriend (now my wife) was there watching too. They were at the bottom of the track, expecting us to do great things. We had a great run going when suddenly, the sled flipped over. My mom, my girlfriend, and my whole family watched me come by on my head upside down at ninety miles per hour. It wasn't a good feeling.
Once the pain wore off from the actual crash, for me, the biggest feeling was disappointment. I would have loved to come back with a medal and shown them that "one of us" made it—someone from our hometown, someone from the Army, someone from this community made it to the Olympics and had won on that stage. I felt like I had let a lot of people down. I had to put my tail between my legs, go home, and think about that loss. In hindsight, I think it was good for me. It instilled humility, a sense of purpose, and helped me to refocus on what was important.
Going from bobsledding to serving in Iraq was easy because I'd always wanted to be a soldier. Coming home from Iraq and going back to bobsledding was a much harder transition. I felt like I was wasting my time. I felt like I should be back over there. I was letting my friends down because they were still over in the sandbox. I was sleeping in until 9:00 a.m. every day. I spent my days lifting weights, running sprints, and pushing a bobsled. I had a much more relaxed lifestyle than they did. When I got home, I thought that I might quit bobsledding and go back to the Army.
Major General Perrin told me, "This is a once-in-a-lifetime opportunity. You can still affect soldiers. This is your current job in the Army. You are a great morale boost for your fellow soldiers when they see one of their own competing at this level." During the Sochi Olympic Games, I received emails from Korea, Afghanistan, and all over the U.S. Many of my Army friends from Iraq called to say, "We're so proud of you. It's so great to see a person in the Army succeeding on this level." Their support helped motivate me.
One of the harder things I had to do while I was in Iraq was when I met a three-star general, Lieutenant General Helmick. My boss introduced me to him and said excitedly, "This is my aide-de-camp. He competed in the 2010 Olympic Games." Lieutenant General Helmick said, "Oh, that's awesome. How'd you guys do?" I was embarrassed to answer, "We took last place." Seeing the surprise and disappointment on his face hit me hard. During my deployment, everyone eventually found out that I had competed at the Olympics and had crashed on our second run.
U.S. Army soldiers from the 579th Engineering Battalion secure a rooftop during a search and seizure mission in August 2004. Courtesy of DoD.
When I got home from Iraq, I made it onto the U.S.A. number 2 sled. I didn't have the same opportunities to work out and train like an Olympic athlete while in Iraq, of course, so I felt fortunate to make the team again. I trained harder than I've ever trained before in my life. I wanted so badly to make the USA number 1 sled and have a chance to win an Olympic medal. There were about sixty-five guys competing in a "push championship," and I took first place. I actually broke the push record and was selected for USA number 1 in August. We had very high hopes of going to the Olympic Games. I was with the driver, Steve Holcomb, who had won gold in 2010. According to Vegas odds makers, we were actually favored to win the gold medal in Russia. It was a very different feeling leading into the 2014 Winter Olympic Games. I was much more confident. I knew I had put the time in and that I was in the best shape of my life. My team had all trained together. We had been through sixteen races in the lead up to Sochi and had won nine of them. We were ready.
You only have a very small window to win an Olympic medal. You might only have one chance in your life. Having not done well the first time, I was really hoping I could come home with a medal. There was added pressure knowing that this could be my last Olympics. Thoughts of failure tried to creep in. I definitely had some doubts. I thought, "Maybe I'm just bad luck. Maybe there's something wrong with me." I had competed in the two-man race before the four-man race, and we were in third place after the first heat. In the next heat, I actually almost crashed with my two-man pilot, Cory Butner. We dropped down into eleventh place—a terrible run! I thought, "Maybe I just can't bring it when it matters. Maybe I can't bring it on race day."
But I had done something that none of those guys had done. I was an Army officer and had gone to Iraq. I thought, "I can do anything. I've been to hell and back. I'm mentally stronger than all these people because of what I have gone through. I served a Church mission and learned a foreign language. I lived in a crazy country, eating crazy things with amazing people. I've been to Iraq." That gave me strength, and it definitely helped on race day when things got tough. We came out, and in the very first heat we broke the start record on the track. We pushed amazingly and things lined up well those first few days.
Crossing the finish line, knowing we had secured a medal, made everything I had gone through worth it. The crash in 2010, a deployment in Iraq, years of training, time away from family and my wife (who was pregnant at that time) all felt like it was worth it. There was a sense of relief knowing I had accomplished my job. We crossed that line and saw our teammates jumping up and down celebrating. We knew we had won. I embraced all of my teammates, walked off to the corner, and sat down. The sense of relief, accomplishment, and pride I felt was huge for me. One of the big messages I love to tell people is "Don't quit. Don't give up."
* * * * *
Taking the oath of office of a commissioned officer in the United States Army was an important experience for me. I promised I would "support and defend the Constitution of the United States against all enemies, foreign and domestic." I hold that with the utmost respect.
I'm grateful for the opportunity I had to serve in Iraq. I'm grateful I was able to serve with U.S. soldiers, civilians, and contractors. I was grateful to work with a wide array of great people and learn about the Islamic culture and the Iraqi people. There are a lot of great people out there who belong to different faiths and religions. I learned that on my mission, I learned that through the Olympics, and I learned that in Iraq. If you have the assumption everyone is a terrorist and a bad person, you're not going to get very far. You must take people for what they are and try to improve on what they know. In Iraq, I just tried to love everyone. I was there because I loved them, and I wanted them to have a better life. I did it because I wanted to help people.
CORY GAYLOR
Cory became a career soldier in 1993. He deployed to Operation Iraqi Freedom from February 2004 to February 2005. He has served in various Church callings, including ward mission leader and first counselor in a bishopric.
Tikrit, Iraq
December 16, 2004
A few days ago, we were assigned to fly our helicopters from Tikrit to Baghdad; it was a common trip made at least once each week. While conducting the mission planning, we determined we would be returning to Tikrit after dark and would therefore be flying under NVGs (night vision goggles). This normally wouldn't have presented a problem, except we would be coming out of Baghdad after dark, and the lights of the city would almost certainly interfere with the operation of the night vision goggles we would be wearing.
After talking it over with the other pilots who would be flying with me (in a two-ship formation), we decided we would climb up considerably higher than normal to avoid other air traffic and make it harder for insurgent forces on the ground to spot us. After the decision was made, there was a quiet pause and each of us started going over the mission in our minds, considering possible scenarios that we might face.
Suddenly, one of the other pilots made the comment that we should continue flying at a higher altitude from the refuel point back to Tikrit. Initially, I was against the higher altitude (six hundred feet versus the normal four hundred feet) because it made the ground harder to see making it difficult to navigate in the event our GPS failed in flight. Something kept telling me I should agree to the higher altitude so I joined the discussion in favor of the change. We finally reached the conclusion that it was better to fly at the higher altitude than spend time arguing.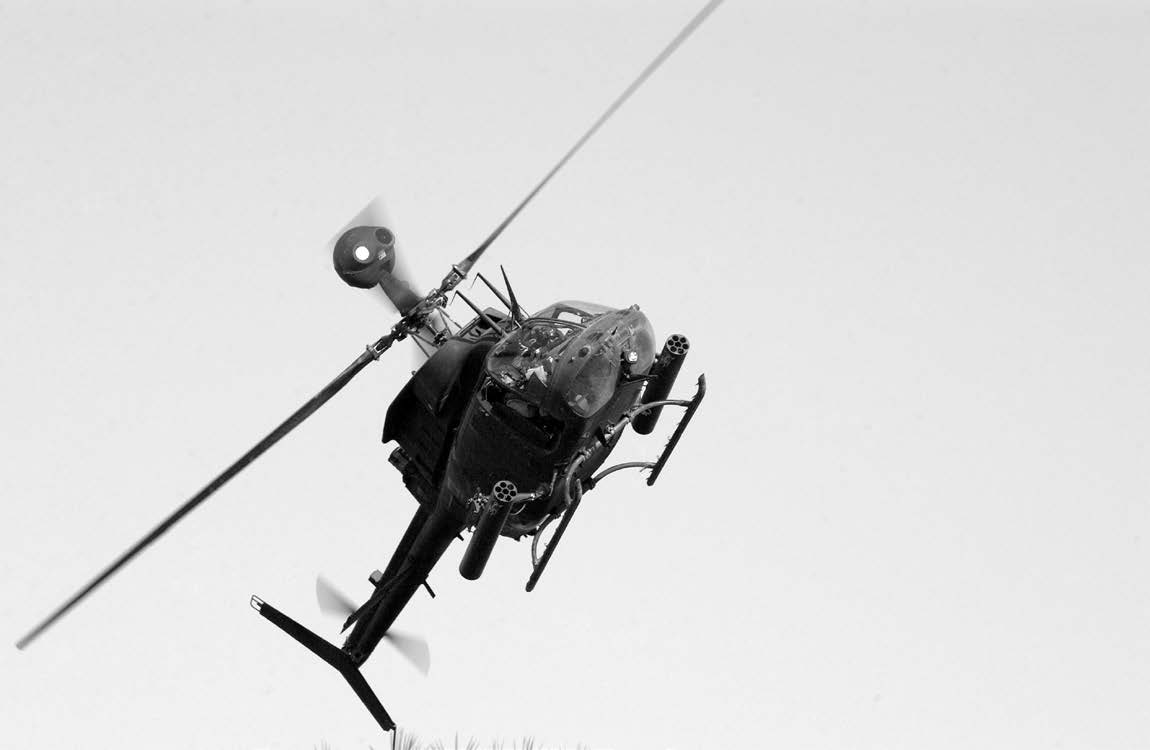 A U.S. Army Kiowa helicopter provides aerial support during a joint U.S. and Iraqi National Guard weapons cache sweep of the Tigris River area in the Al Rashid District of Baghdad on July 15, 2004. Courtesy of DoD.
The first part of our trip was fairly uneventful—only a few tracers flew into the night sky toward us. There was no moon that night. The cloud layer prevented any starlight from illuminating us. We made it out of the city and to our refuel point but had some difficulty locating the airfield where we would be landing. It was the first time any of us had been there at night. Dark as it was, it was difficult to find the landing zone among the disorganized clutter of bombed buildings, fig trees, power lines, and mud-hut dwellings. After we located the airfield, we refueled our helicopters and were ready to return to Tikrit, where we could call it a day. We took off, climbed to the predetermined six hundred feet, and started following our planned course. We made the necessary radio calls, alerting other aircraft of our presence. Everything was going as planned.
We had been in the air about five minutes when my right-side door gunner suddenly let loose a series of expletives that immediately made me start imagining missiles and RPGs [rocket-propelled grenades] coming our way. I cut his cursing short and asked him what was wrong. He told me we had just flown right over the top of two Black Hawks heading in the opposite direction. He had been looking right at the spot where they had come from, but because it was so dark, he couldn't see them until we were practically on top of them. Had we been flying at our normal altitude of four hundred feet on that very dark night, we would have likely collided with one of the other helicopters (if not both), resulting in the deaths of everyone in my helicopter and in the other bird.
I have no doubt the Spirit intervened that day—saving us from untimely death and our families from heartache. I hate to think what could have happened if I hadn't listened to the promptings that told me to agree with the altitude change over that dark, open desert.
STEVE GUNDRY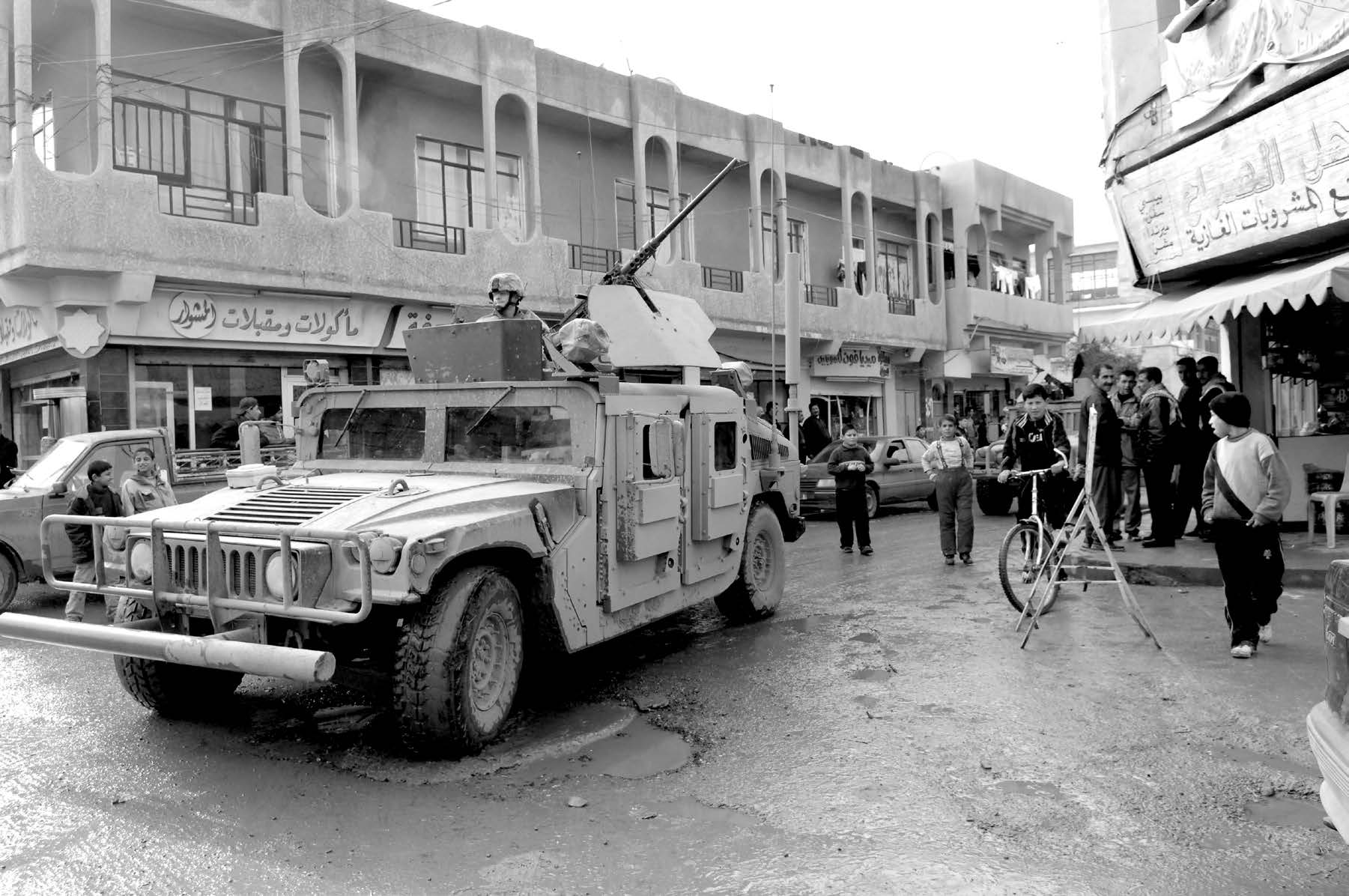 U.S. Army soldiers from the 1st Cavalry Division make a humanitarian run through Kirkush, Iraq, February 7, 2007. Courtesy of DoD.
Steve served as a cavalry officer to the Support Squadron, 3rd Armored Cavalry Regiment. He served as the battle captain in the support operations cell and as a U.S. Army liaison to the independent election committee of Iraq during the 2005 Iraqi constitutional referendum and the Iraqi national election. He has served in many Church callings, such as service member group leader and Sunday School teacher. Steve grew up in Boston and graduated from the U.S. Military Academy, where he joined the Church in 2002. Shortly after graduating, he deployed to Iraq in support of Operation Iraqi Freedom. [Due to security concerns associated with his post-Iraq employment, this officer requested that his real name be replaced with a pseudonym in this book.]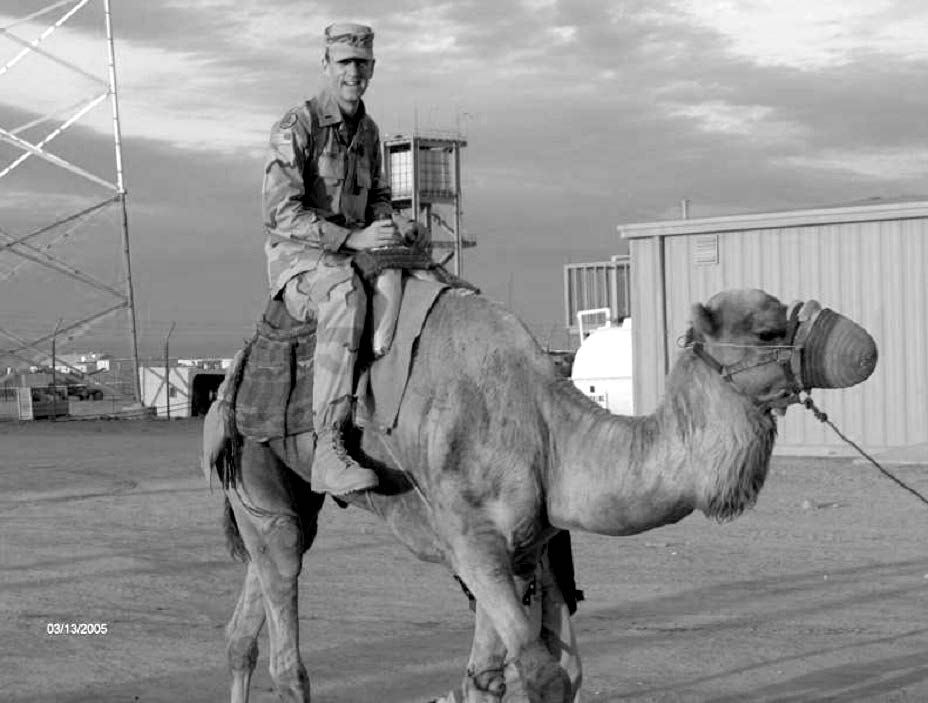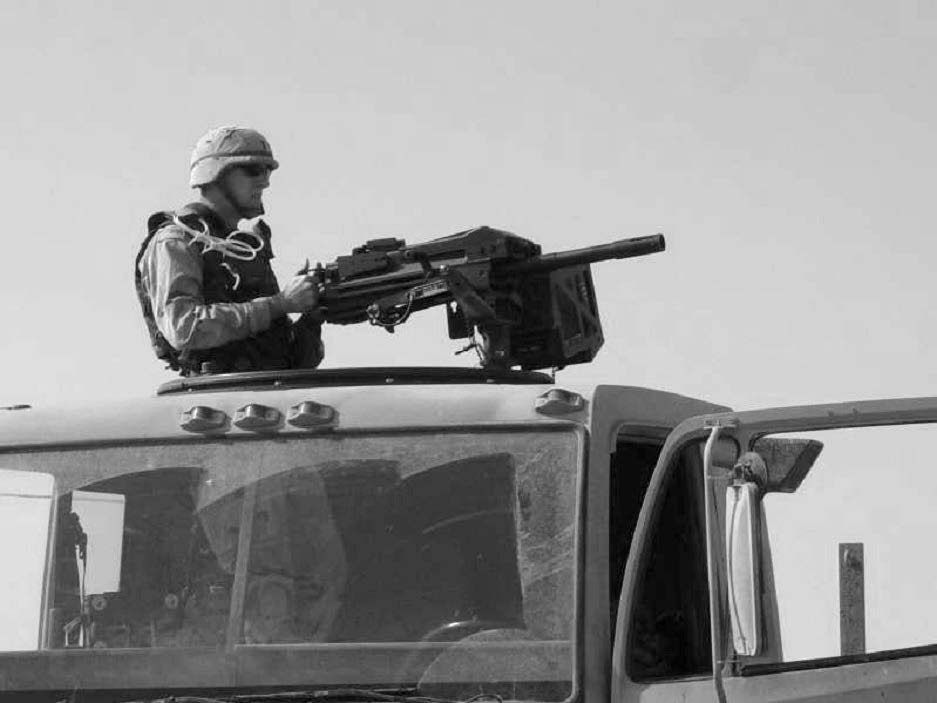 Top: An American officer is shown filling the time in Kuwait until his unit was ordered to move into Iraq. Bottom: A soldier is shown in a protective overwatch position during a combat logistics patrol to an outlying forward operating base. Courtesy of Steve Gundry.
Hīt, Iraq, outside of Ramadi
November 2003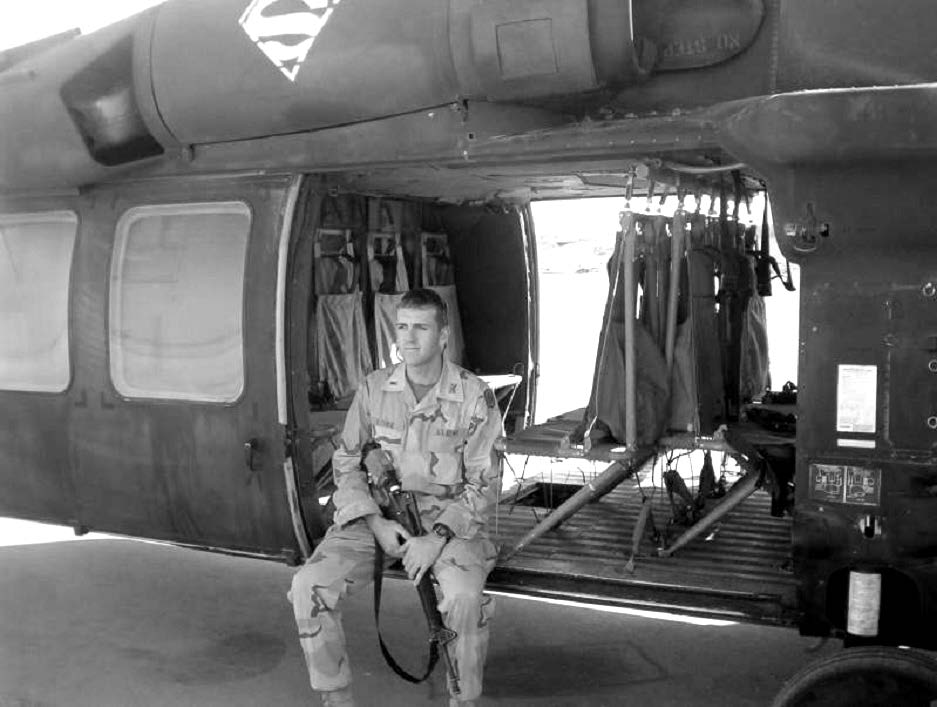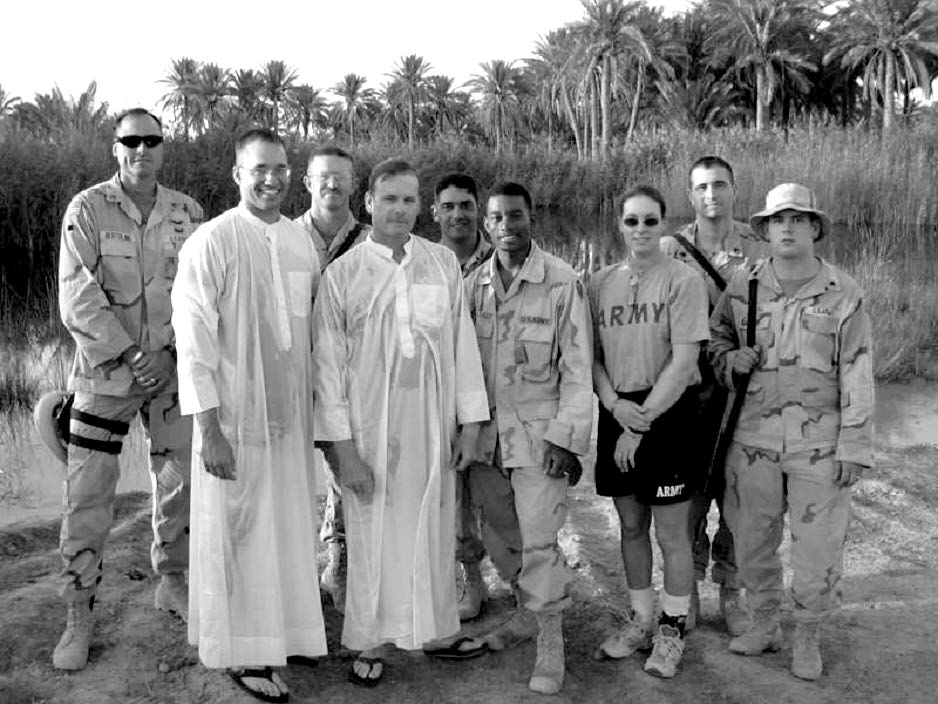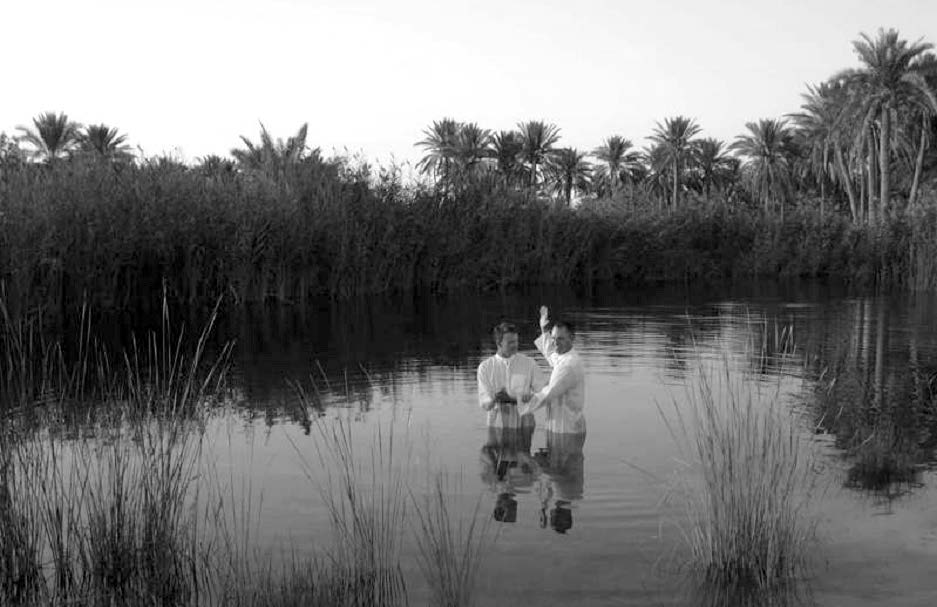 Top: Relaxing after a flight on a U.S. Army UH-60 helicopter. Middle: The 3rd Armored Cavalry Regiment's Latter-day Saint service member's group is shown after performing a baptism for Sergeant Kevin Wood (center) in an oasis in western Iraq's Al Anbar province. Staff Sergeant Tony Bertolino (far left) was later killed by sniper fire during a convoy traveling toward the Syrian border. Bottom: A Latter-day Saint service member of the 3rd Armored Cavalry Regiment baptizes Sergeant Kevin Wood in an oasis in the Al Anbar province. Courtesy of Steve Gundry.
During the war in Iraq, I had the opportunity to lead several convoys. Missions ranged from presence patrols to logistical resupply convoys. They took me all over Iraq and several times through many dangerous areas. It was not uncommon to experience improvised explosive devices [IEDs], mines, and automatic weapon fire because the routes we traveled were plagued with terrorists and pro-Ba'ath Party fighters. I can't remember when it started, but before every convoy, I wrote the name of my fiancée, Emily, on the palm of my left hand. I'm sure it must've started as a reminder to write her when I arrived back at base safely, and over time, it just became a habit.
On one particular morning, while traveling along a route that took us through the Sunni Triangle and into the Fallujah area, my convoy came across a large stretch covered in the thickest fog I have ever experienced. My men and I could scarcely see twenty feet in front of us, much less the vehicles in front of or behind us. To stop would be foolish, and to continue would demand heightened vigilance. My lips whispered a silent prayer to the Lord to "guide our convoy through the fog, and bless us so that no harm would befall the men and me—that we would emerge beyond the fog together, unscathed."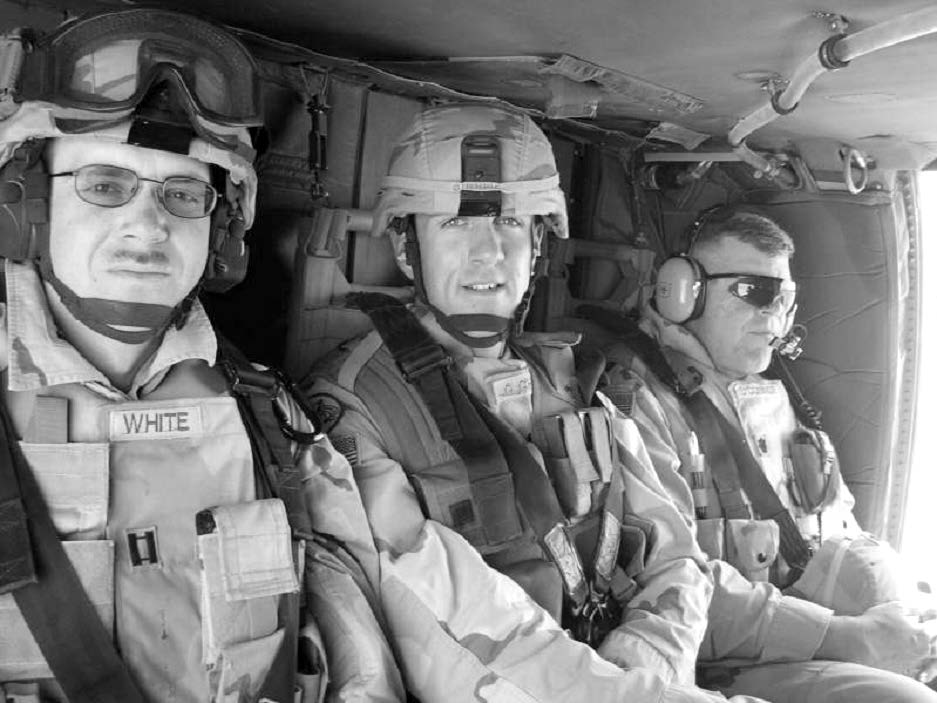 Army officers on a flight to Mosul, Iraq. Courtesy of Steve Gundry.
Support squadron lieutenants shown on a cliff overlooking Al Asad Air Base only days after a ground assault captured the air base from the Iraqi air force. Courtesy of Steve Gundry.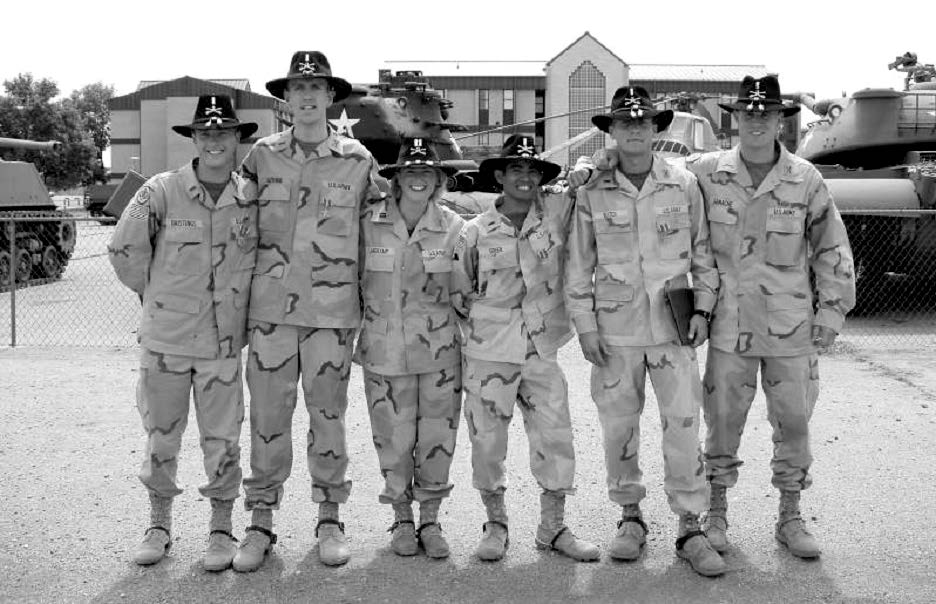 Supply and transportation troop officers are pictured after a homecoming awards ceremony at Fort Carson, Colorado. Courtesy of Steve Gundry.
While traveling through the fog and just outside Hīt (a town known for its anti-Coalition activity), I noticed two or three men standing intermittently alongside the road, about a mile apart. It was not unusual for men to wait by the roadsides for rides to work or into town, but it seemed odd that they would be standing by themselves in such heavy fog. And then it happened—an explosion shook the ground, and clods of earth were strewn across the tops of our vehicles. Over the radio, the men excitedly reported an explosion to the rear of our convoy, roughly 150 meters to the side of us—most likely a 120 mm mortar round. Along with the supposition it was a mortar came the grim realization that we were being watched. It occurred to me that the men along the road must have been spotters calling in our location to an enemy mortar man. Within moments, we began receiving automatic rifle fire from buildings adjacent to the road. The men could not see anything, and they were nervous. It is difficult to positively engage an unseen enemy. Getting through that town was critical to our survival: another mortar could have disabled or split the convoy, and we would have been torn apart by the automatic weapons.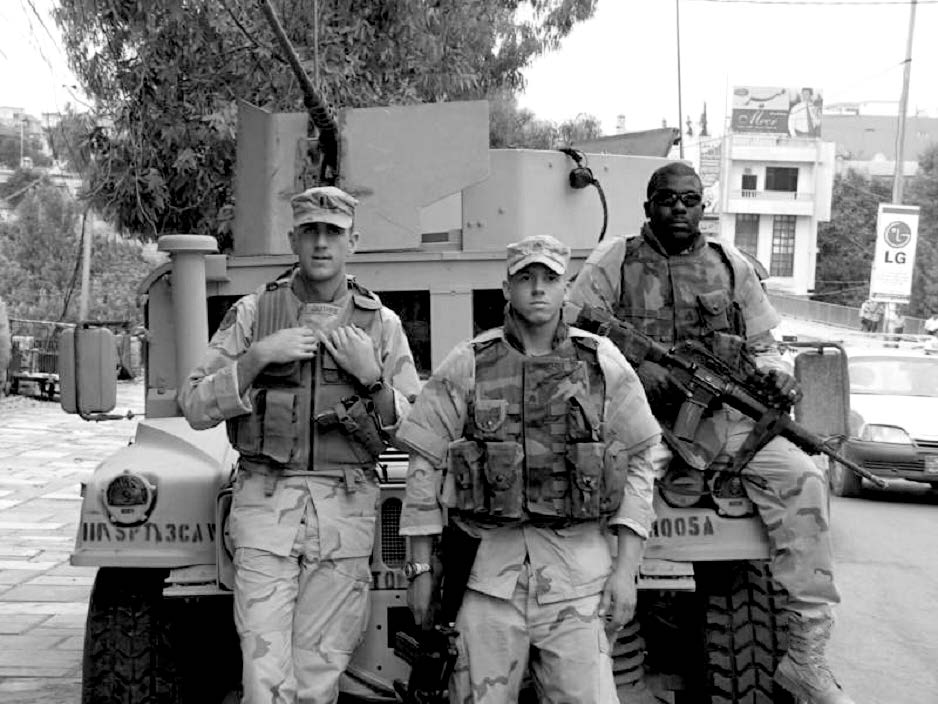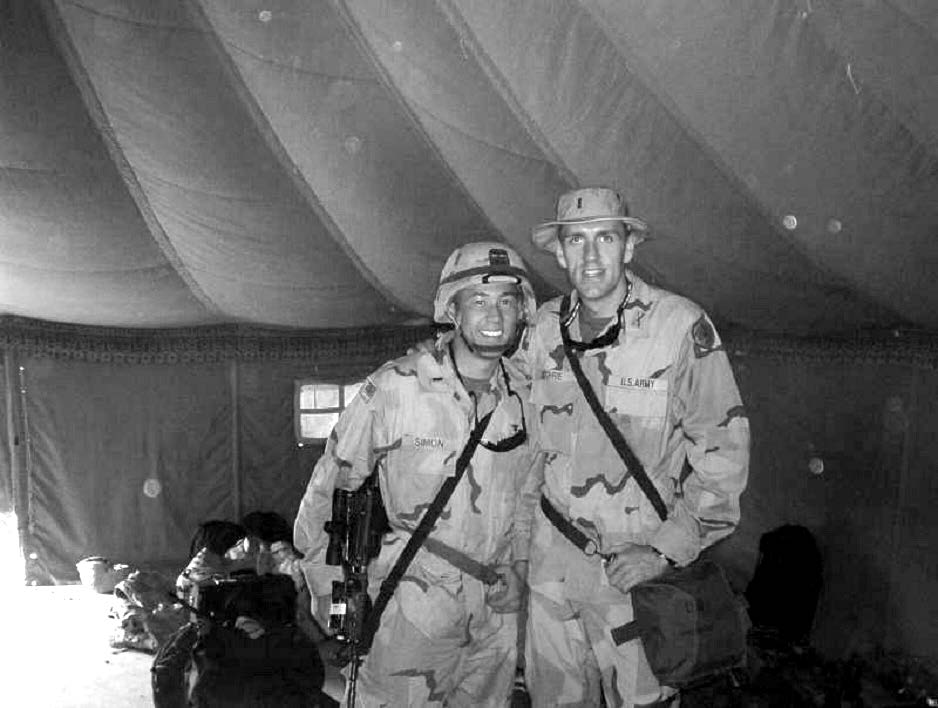 Top: A platoon leader (left) with his driver (center) and gunner in Dahuk, Kurdistan. Bottom: Two college roommates meet in Kuwait before each moved north with their unit toward Baghdad in the early stages of the Iraq War. Courtesy of Steve Gundry.
Despite the low visibility, I increased our speed, and my men fired several suppressive bursts from our weapons in the direction we believed the enemy was engaging us. Although I couldn't see anything and it was nearly impossible to gauge where we were in the town, I felt we were more than halfway through, and a few more minutes would bring us out the other side. I knew there was a traffic circle located somewhere in the center of the town, and if we didn't make it through quickly enough, the enemy would no doubt use it to their advantage and turn it into a veritable kill zone. My heart was racing. My mind was firing, and yet my thoughts were turned in supplication to the Lord and his guidance. It wasn't until much later, I realized it was the promptings of the Holy Spirit that guided my actions. The men immediately realized speed was the key to their survival, coupled with heavy firepower. I felt strongly we would never make it unless I halted and placed my gun trucks at opposite ends of the traffic circle. But where should I emplace them? I couldn't see anything. I actually took a brief moment to close my eyes and listen through the fog to the weapons fire—only then was I able to tell from what direction the enemy was engaging.
Once the gun trucks were staged, we pushed the rest of the vehicles through the rotary. The fog cleared and our safety materialized in the form of open desert on both sides. Without realizing it, I immediately looked down and saw the name of my beautiful fiancée written on my left palm, as I always did. I knew then that Heavenly Father had guided me through the fog and that he had sustained me when I was without sight.
GREGORY HADFIELD
Greg Hadfield served as commander of the 141st Military Intelligence Battalion (linguist) and as the deputy commander of the Joint Interrogation and Debriefing Center in Baghdad, Iraq, where he was responsible for daily operations at the theater interrogation facility. After serving a mission in Seoul, Korea, in 1986, he graduated from the University of Utah in 1993. He returned to his wife, Kathryn, and their family in Springfield, Virginia, after his deployment to Iraq.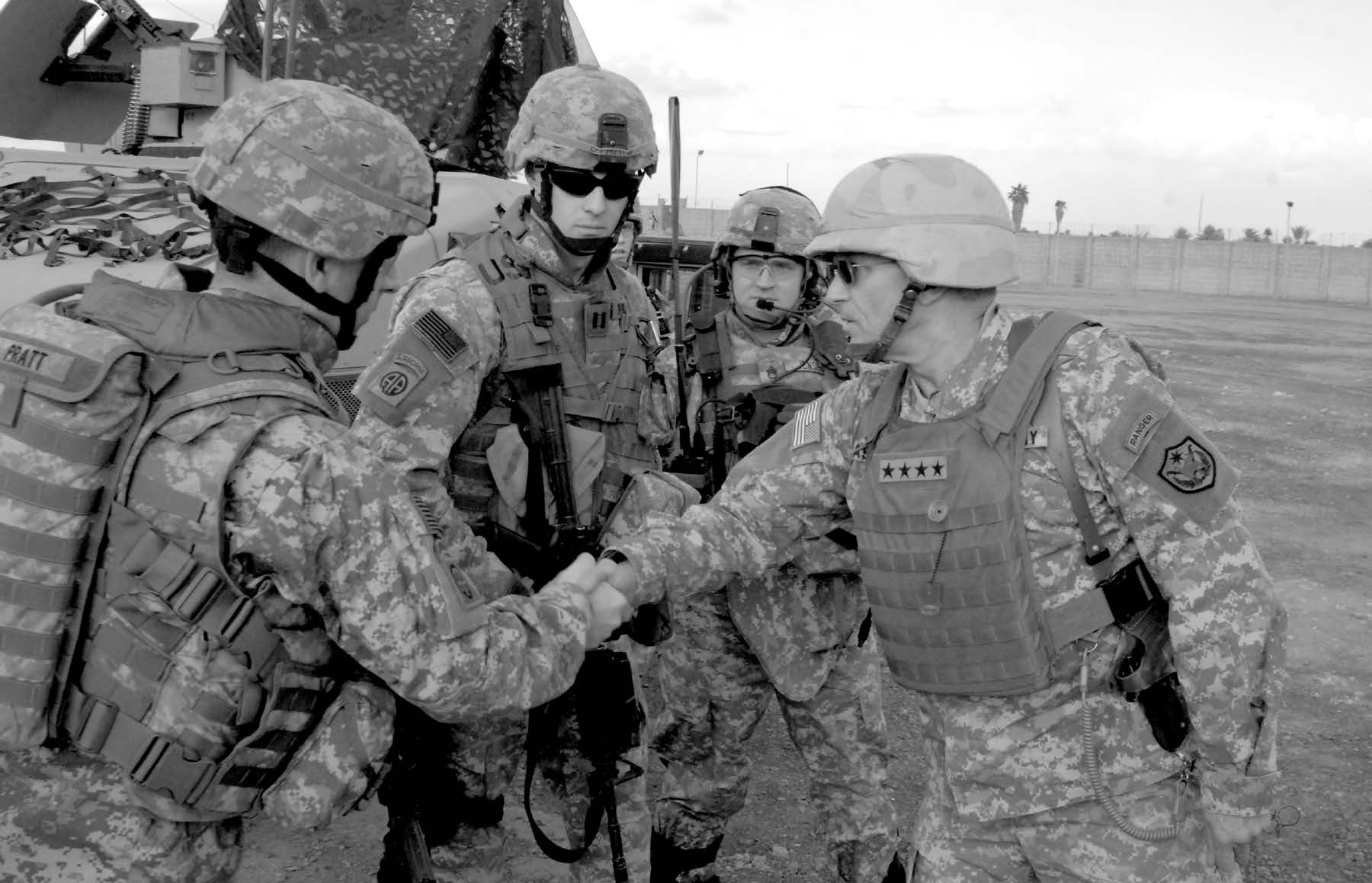 U.S. Army soldiers from the 504th Parachute Infantry Regiment shake hands with General George Casey (right), the commanding general of the multinational forces in Iraq, after a briefing at Forward Operating Base Shield in the Rusafa area of East Baghdad, Iraq, during February 2007. Courtesy of DoD.
Life for a soldier in Iraq is pretty intense. When I get a chance to slow down for a minute, I always think about my family and how I can stand any hardship as long as they are safe and their needs are being met. Despite the long hours and the difficulty of being away from home, I am proud to be a soldier.
In very difficult situations, it has been essential to rely on prayer and my knowledge that I am being watched over by my Heavenly Father. War is challenging, but I know that if I keep the faith I will be blessed in my duties and, more importantly, my family will be watched over while I am away from them. I am reminded daily that the Lord has a part in all things. I watch my soldiers—many of whom are right out of high school—do some amazing things. Their determination and will are amazing. It is a great feeling to be a soldier, and, more importantly, it is comforting to know that the Lord is always with us.
JOHN HADFIELD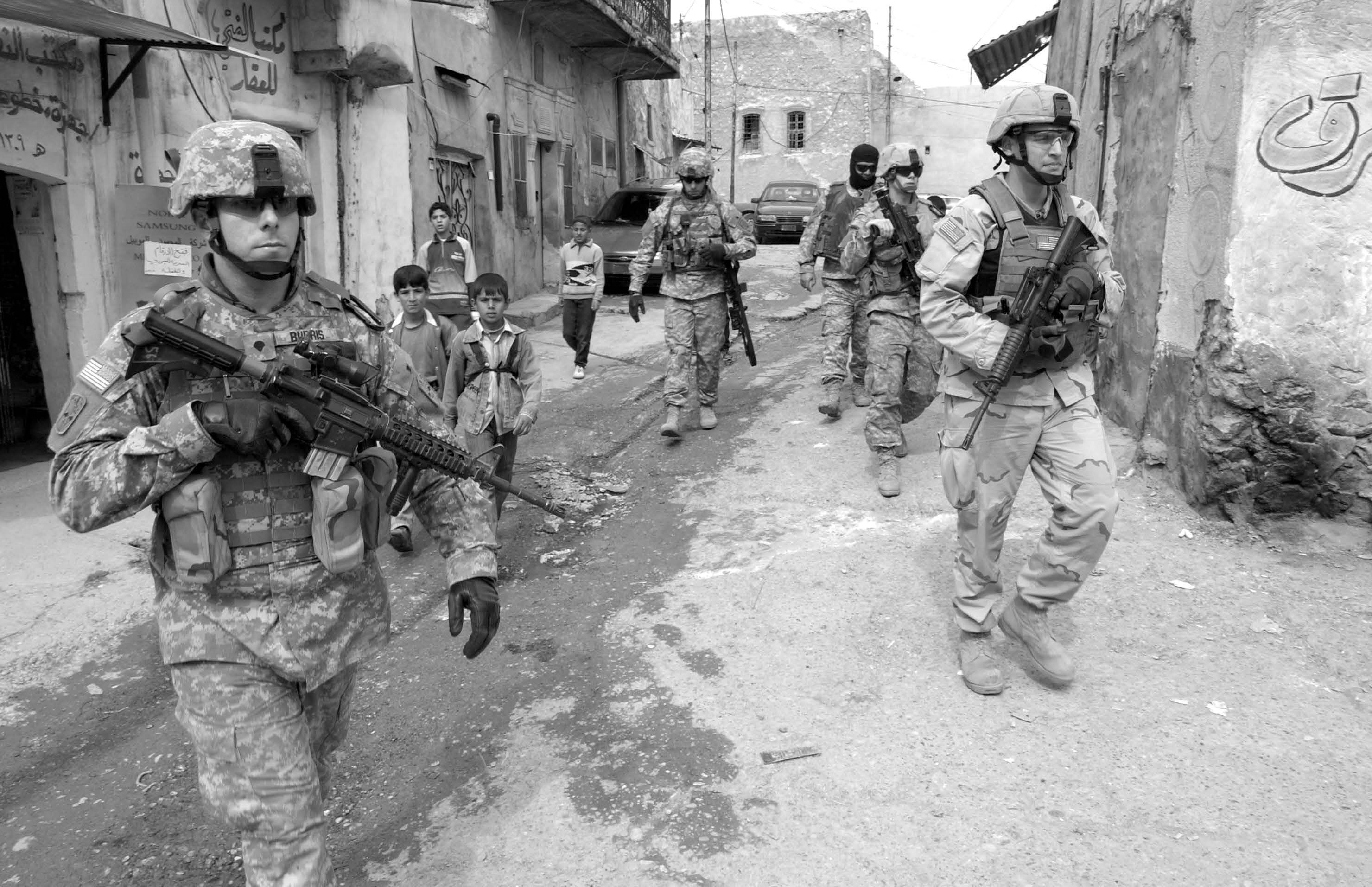 Soldiers from the U.S. Army's 172nd Stryker Brigade Combat Team patrol the streets of Tall Kayf, Iraq, on March 1, 2006. Courtesy of DoD.
John Hadfield was raised in Utah and served as a missionary in the New Mexico Albuquerque Mission. Prior to serving in the U.S. Army, he worked for United Healthcare and studied at Salt Lake Community College and Utah State University. He married his sweetheart, Tabatha, in the Bountiful Utah Temple. He was serving in Germany on September 11, 2001, when New York's Twin Towers were attacked. On May 1, 2003, he deployed to Iraq with the nickname "the Stormin' Mormon." His first child, a daughter, was born while he was stationed in Iraq.
Crossing the border from Kuwait to Iraq in full battle rattle [full military gear] and armored vehicles, we noticed the humble circumstances of the people around us. Little children stood at the roadside and waved at us. Most of them had no shoes and were looking for MRE [meals ready to eat] handouts and water. We smiled and waved back, randomly passing out some of our leftover MRE packets. I thought, despite all the tyrants and enemies we faced ahead of us, children are still children. During the time I was deployed, I worked hard to drop the stereotypes others put on the people in Iraq. I made many wonderful friends in Iraq, especially the Iraqi carpenters who built our shelter for us.
I was assigned at St. Michael, an FOB [forward operating base] about 20 klicks [kilometers] south of Baghdad. Formally known as Camp Italy, it received its new name after it came under a heavy mortar attack. During the attack, one of the mortars ripped through the steel roof where hundreds of U.S. soldiers were sleeping, struck the ground but didn't explode. The camp was renamed FOB St. Michael after the Catholic patron saint of protection.
While doing physical training, I hurt my lower back, and it became a nagging problem. Within a short time, I found the local chaplain and asked about church services for Latter-day Saints. Chaplain Hales happened to be a Latter-day Saint and was happy to give me the information. I attended a short sacrament meeting service on Sunday. There were five of us reverently worshipping in quaint circumstances. It's amazing how reverent an MRE box for a tray, MRE bread, and bottled water with a newspaper as a sacrament cloth can become when used as the sacramental emblems. We became a close-knit group. One week after sacrament meeting, I asked the chaplain for a blessing as my back was still giving me problems. During the priesthood blessing, I was promised I would be protected throughout my stay in Iraq.
On April 22, 2004, Sergeant Preston and I found ourselves at the top of a sixty-foot metal water tower, relocating our antenna. As I worked, I hoped snipers weren't out there waiting to take a shot at me. Ten feet below me, Sergeant Preston waited for me to hand the antennas down to him. The wind was blowing. A storm was coming. In the distance, we could see lightning. We weren't quite quick enough, and the storm reached us as we were working on our third antenna. The Spirit had prompted me to get down and out of the storm, but I had a job to do and placed the mission first.
As I prepared to hand down the next antenna, I felt a cold chill, then silence, and finally an intense pressure all around me. The hairs on my neck and arms stood up. There was a loud clap, and I was engulfed in light. Was I dead? Everything seemed to slow down. Light was all around me. It was very peaceful, though. Then time seemed to speed up again, and I heard Sergeant Preston yelling at me to get off the water tower. I dropped everything and climbed down from the tower.
At the bottom we collected ourselves and paused. Sergeant Preston asked if I had seen anything. I said, "No, all I saw was light all around me." He said a bolt of lightning coming down to hit the water tower suddenly arced and went toward a nearby building, where it was absorbed into a circuit breaker box. I was in awe! I remembered my blessing of protection and thanked my Heavenly Father for keeping me safe. I told Sergeant Preston the Lord was really watching out for us, and he agreed. We kind of laughed it off, thinking about how worried we had been of snipers. That day, the only sniper after us was from the sky.
ALBERT HAINES
Albert Haines spent about ten months in Baghdad under a contract with RTI [formerly Research Triangle Institute] for the USAID [United States Agency for International Development] contract. He worked on the Local Governance Project and was assigned to work with the Coalition Provisional Authority [CPA]. He provided technical support in building governance, organization, and management capacity for local governments. His assignment was as a team leader for the city and governorate of Baghdad.
One of many noteworthy experiences that stands out to me was the opportunity to lead the first delegation (in several decades) of local Iraqi government officials to the United States. Beginning with meetings in Washington, DC, we sent the city council to Denver and the administrators to Houston for training. I accompanied an Iraqi city council chairman and a deputy mayor to meetings before Christmas in 2003. One of them was a Shia, and the other was a Sunni Muslim. They were both fascinated by the holiday lights. I invited them on Sunday night to accompany me to the temple grounds in Washington, DC, to look at the lights. We planned to stay about thirty minutes, but nearly two hours later—after a marvelous tour and presentation by a visitors' center sister missionary, they insisted on having their picture taken with the sister in front of the Christus statue. The spirit of that experience will not soon be forgotten. A second highlight of our time together took place in New York City as I observed true compassion and sorrow by these two very close friends during a visit to the site of the World Trade Center.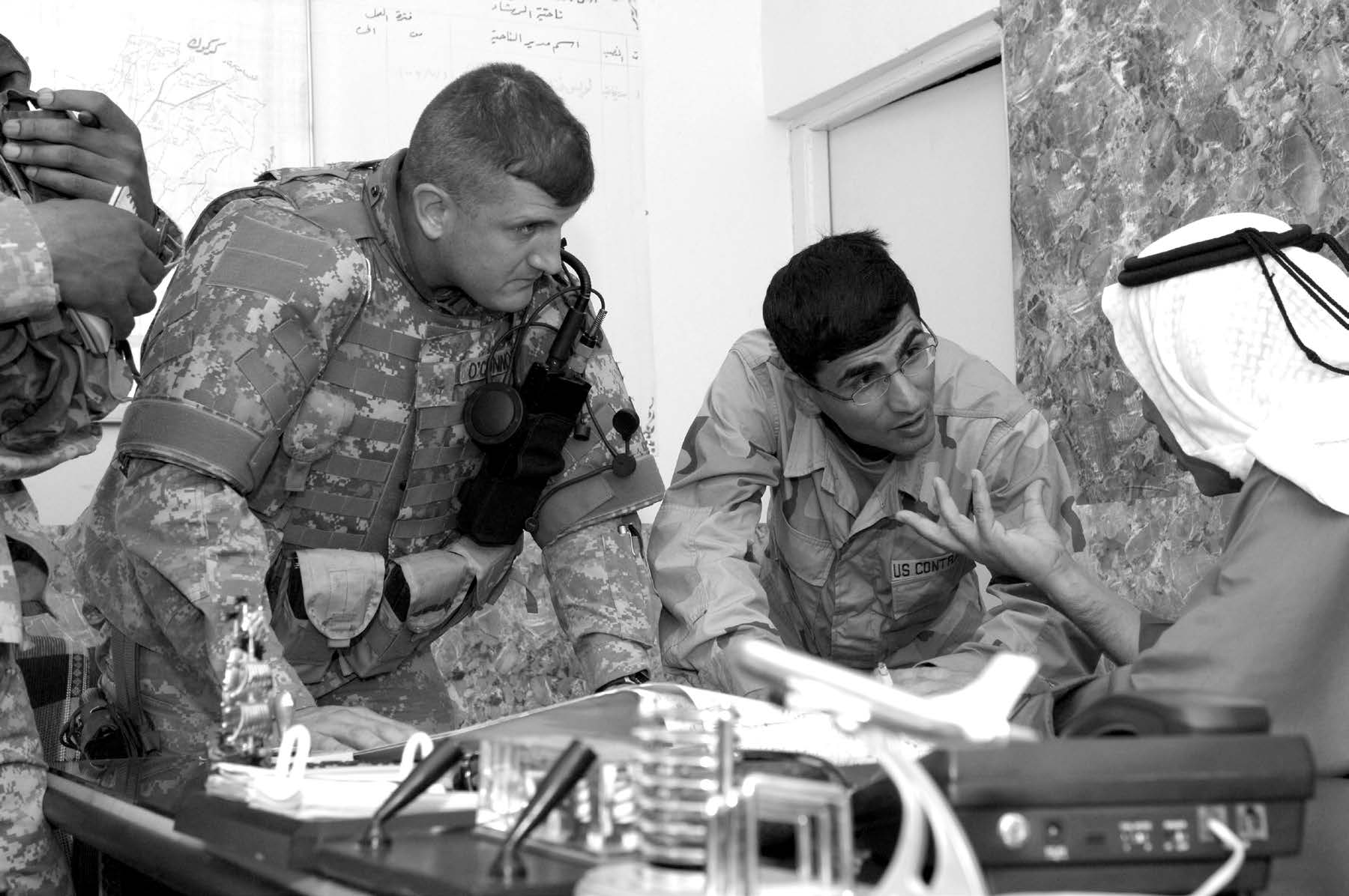 With the assistance of an interpreter, Sheik Luis Fandi Muhammed Salih Al-Obeidi, the mayor of Rashad, Iraq, discusses projects and locations of interest for clean-up efforts with the local U.S. Army commander from the 17th Cavalry Regiment. Courtesy of DoD.
(The following are entries from Albert Haines's journal. The text has been edited, primarily for length.)
May 10, 2004
There have been some real frustrations in the past week about what I consider to be unnecessary restrictions on our ability to get our job done. The day started out with situation reports that did not bode well for us in the few missions that we had to get done with such scarce resources at our disposal.
At 1230 [12:30 pm], I was wondering if I would get out at all, feeling some agitation and anxiety about being "stuck" there for another Sunday. About that time, one of our security guards came to my office. Through our interpreter, he informed me that there was "a man at the checkpoint with a letter for me." Under the circumstances and in the condition we were in, that kind of message could mean just about anything. I took my interpreter with me, and we went to the checkpoint. The man was there, but he didn't have a letter. He had a piece of paper with a colonel's name and email address on it. He asked if I could help find that man. I told him I did not know the name and could not help him. Then I asked him what he was doing here and how he knew my name. He introduced himself as Basim, and I invited him to my office.
Then the miracles began to unfold. Basim was baptized in Jordan, received the Aaronic Priesthood, and was ordained to the office of a priest. He is a native of Baghdad and fled to Jordan in 1999. While there, he met a couple from Cedar City, Utah, who taught him the discussions and arranged for his baptism. I knew in an instant this man reflected the light of the gospel. He later moved to Beirut, where he remained active and involved in the Church. I believe it was there he received the priesthood. He was overjoyed to meet another member of the Church and fellow holder of the priesthood. His statement to me was "I am ready to serve as you would like me to."
May 14, 2004
Today, Basim and I met together for a short Church service. It was held in my office. We each offered an opening prayer: I prayed in English, and Basim in Arabic. We felt the Spirit enter into our hearts and fill the room as the two of us bowed our heads in reverence. Basim broke the bread and blessed it, reading from his Arabic translation of the Book of Mormon. I then blessed the water, reading from the English Book of Mormon. Basim gave a lesson on the first discussion. We decided to use the missionary discussions as our weekly theme since they are the only materials he has in Arabic. As simple as the setting and as basic as the language had to be, it was an incredible experience.
Basim spoke repeatedly of God's love for us and his desire for peace in our lives that can only come through the plan God has for his children. He spoke of the power of prayer—the blessing and promise that God will answer us if we seek after the truth. He also talked about how God reveals truth through his prophets. He asked me to talk about Joseph Smith and the Restoration, which I did. We read together the promises of the power of the truth contained in the Book of Mormon, reading in both Arabic and English. We shared our personal testimonies of the truth of the things we had studied and discussed, then closed following the pattern at the beginning—each of us praying in our own language. It was an affirmation of the universality of the gospel of Jesus Christ to all the children of God, irrespective of language, culture, or circumstance.
RICHARD O. HATCH
Richard Hatch, a native of Monticello, Utah, was commissioned in the U.S. Army in 1979 after serving a full-time mission in Spain and graduating from Brigham Young University. After law school, he entered active duty in 1982. A career Army judge advocate, Colonel Hatch served as the staff judge advocate (senior military attorney) for the 101st Airborne Division during combat and postcombat operations in Iraq in 2003. He returned to Iraq in 2004–5, serving as staff judge advocate to the Multinational Security Transition Command–Iraq (MNSTC-I)—the organization created to train, equip, and mentor Iraqi police and military forces. During the course of his military career, he served as a bishop, bishopric counselor, high councilor, early-morning seminary teacher, stake and ward Young Men president, stake mission president, and high priests group leader. While deployed in Iraq, he served as a service member group leader in Nineveh Province and Baghdad's "Green Zone."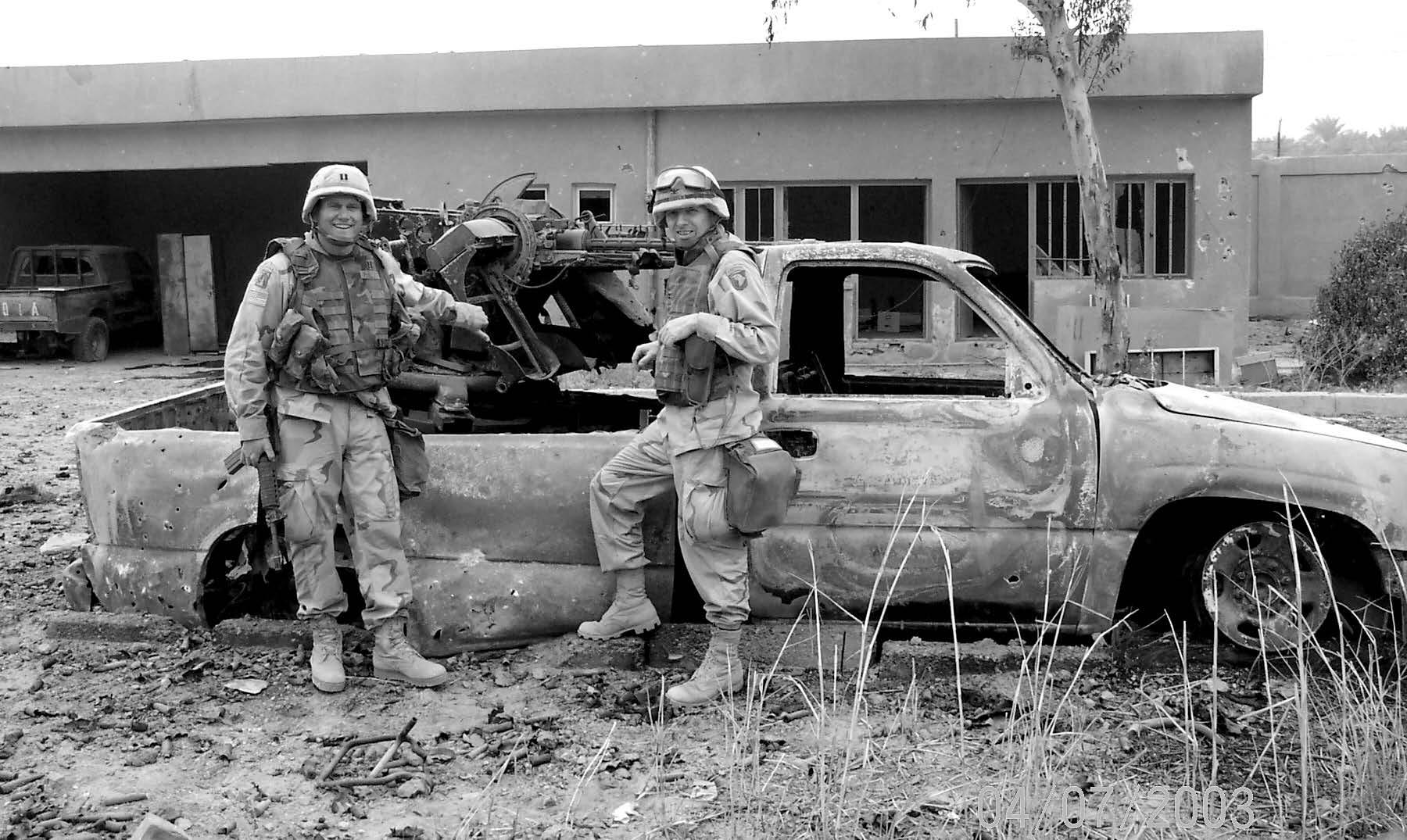 Colonel Richard Hatch (right) is pictured with one of his subordinates in front of a damaged Iraqi vehicle. Courtesy of Richard O. Hatch.
In the middle of March 2003, I was with the rest of the 101st Airborne Division, sitting in several forward base camps on the Kuwait-Iraq border, preparing and waiting for what was going to be a war with Iraq. I felt impressed to gather all the soldiers and officers in my charge and talk to them about what they were about to undertake, since most of them were serving their initial Army tours and had never experienced combat. We gathered in a large mess tent at one of the forward camps. I had been praying for days, asking the Lord to guide me as to what I should say to the seventy-five young soldiers and officers for whom I was responsible. As the appointed day and hour came, I still didn't have an answer. It was not until the twenty-minute Humvee ride across the open desert from my camp to the camp where we were meeting that I got an answer. It came to me as clearly as if my remarks were being dictated: "Helaman's stripling warriors." As I all too frequently do, I initially resisted the prompting. Although all my staff knew I was a devout Latter-day Saint, as their leader, I was very sensitive not to push my religious convictions on my subordinates.
Notwithstanding these concerns, I knew there were truths to be had from this familiar Book of Mormon story. Why were these young, inexperienced Nephite fighters able to be successful in battle with lots of wounds but no fatalities? Three things were put into my mind, and I gave them to my troops: (1) they had a conviction of the justness of their cause (see Alma 53:17); (2) they were confident in their abilities as a result of their upbringing and training (see Alma 53:20–21; 56:47–48); and (3) they obeyed all commands with exactness (see Alma 57:21). With regard to this third point, I felt impressed to talk specifically to my soldiers about the need to always be in the prescribed uniform: if body armor (flak vest) was to be worn, wear it no matter how hot and uncomfortable and how seemingly safe the environment. If you were to have your chemical suit and gas mask within reach, you have them within reach. As I concluded my remarks, I felt prompted to promise these young soldiers that if they obeyed every command with exactness, we, like the stripling warriors, may suffer wounds but would all return home alive.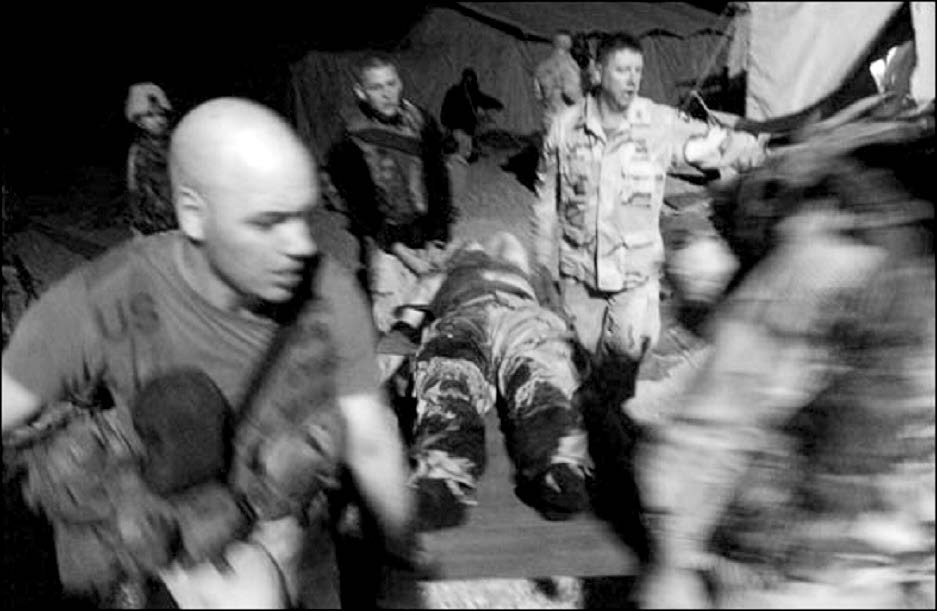 Captain Andras Marton (center), one of the officers in Colonel Richard Hatch's unit, was wounded by shrapnel during a grenade attack and is shown being evacuated shortly after the nighttime attack. This photograph was taken by an embedded civilian reporter. Courtesy of Richard O. Hatch.
Three days later, that promise was tested. The initial bombing of Baghdad began, and our division began final preparations for our assault into Iraq. On the night before the 1st Brigade of the 101st Airborne Division was to begin their attack across the border, a U.S. soldier—a devout Muslim—rolled grenades into the three tents that housed our brigade's leadership and then began shooting the officers as they exited their tents. He killed two officers and wounded fourteen others. Among the most seriously wounded was one of my legal officers, who was with us at our meeting on the 18th—Captain Andras Marton.
I was able to see Captain Marton briefly as he was coming out of his initial surgery to stabilize him at the combat support hospital set up near our location on the Kuwait-Iraq border before he was air evacuated to Landstuhl, Germany, and then to Walter Reed for months of treatment and rehabilitation. In that brief meeting, he described to me what he remembered. He had just gone to bed but had carefully laid out his protective gear so that it was within easy reach and where he could find it quickly in the dark. He heard the grenades explode in the first two tents and immediately grabbed his flak vest and Kevlar helmet. He was exiting his tent when a grenade rolled in and exploded about five feet from him. As he described his injuries to me, he said that one grenade fragment had penetrated his flak vest and collapsed a lung, causing some other internal injuries, but that the vest had stopped several other fragments that would have been fatal. While several fragments hit him in his legs and other exposed areas, the surgeon told him that had he not put on his body armor, there is no way he could have survived.
GUY M. HOLLINGSWORTH
See Guy M. Hollingsworth's brief biography in the Afghanistan section.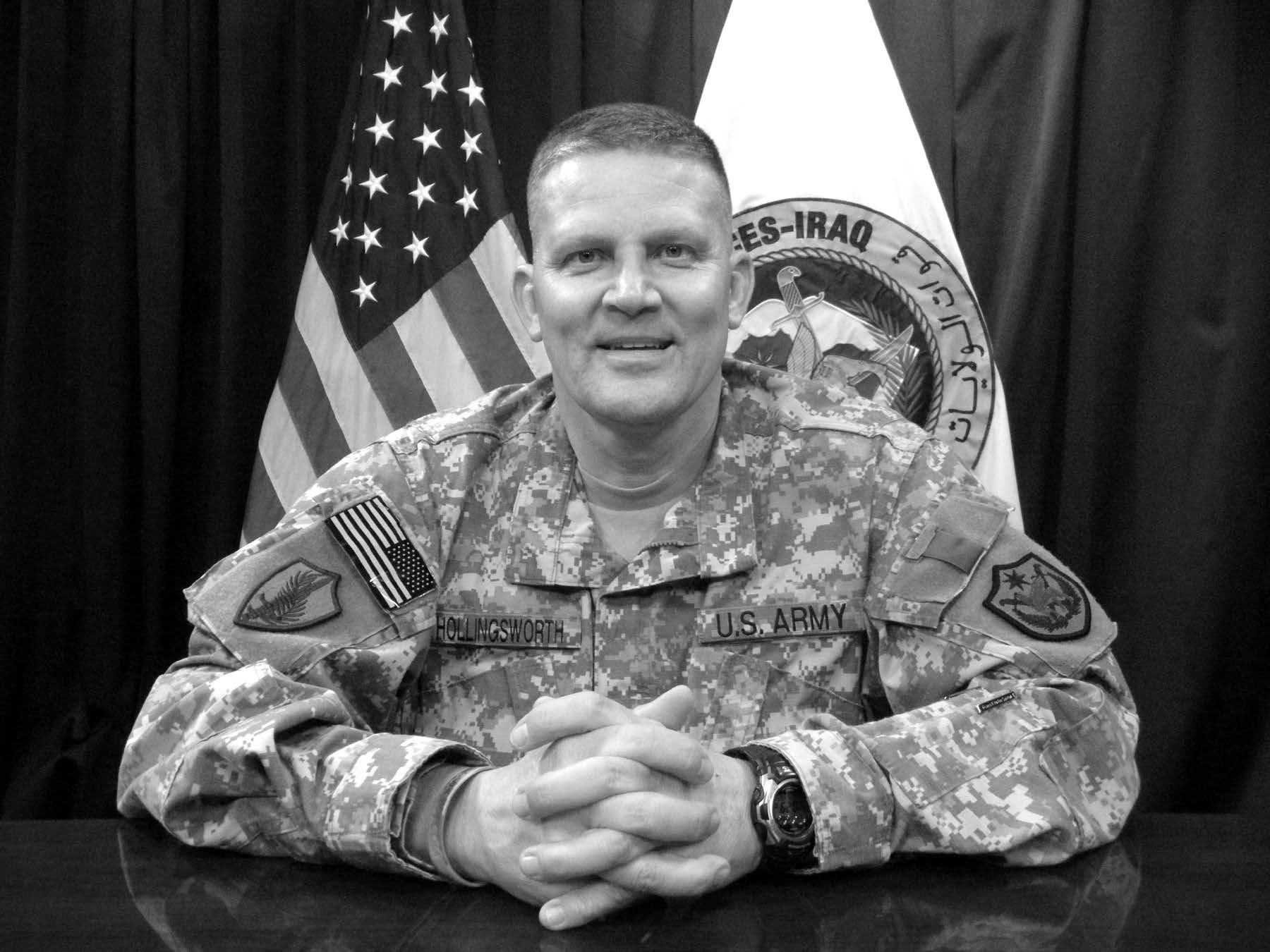 Colonel Guy M. Hollingsworth served as the first district president of the Church in Iraq. Courtesy of Guy M. Hollingsworth.
I'm just a simple farm boy from Preston, Idaho, who witnessed a miracle halfway around the world. In the fall of 2008, I was assigned to serve a one-year combat tour in Iraq. I arrived in the Middle East in June 2009 and served almost all of my four hundred days in the country as the director of training for the Iraqi Army and as the senior adviser to the Iraqi Chief of Staff for Training. I oversaw twenty two Iraqi training centers and sixteen Iraqi military schools. My responsibilities enabled me to travel throughout the country, most of the time using dedicated Black Hawk helicopter support.
In October 2009, I received a Skype call from Elder Paul Pieper, of the First Quorum of the Seventy—not an everyday occurrence in my life, to say the least. I knew Elder Pieper, as we had been childhood friends in rival high schools. He was serving on the Church's Middle Eastern desk with Elder Jeffrey R. Holland and Elder Bruce D. Porter. After exchanging pleasantries, he told me the First Presidency had decided to create the Baghdad Iraq Military District—to serve the 1,300 military service members, contractors, diplomats, and U.S. embassy staff in Iraq. And he asked me to serve as the new district president. He then invited me to select worthy and accessible counselors and gave me two weeks to obtain approval for him to fly to Baghdad to set me apart and give me the appropriate priesthood keys. After saying goodbye, I knelt next to my bed in my little twelve-foot by six-foot living space and wept. I was sure there was someone better prepared than I was to serve in such a capacity.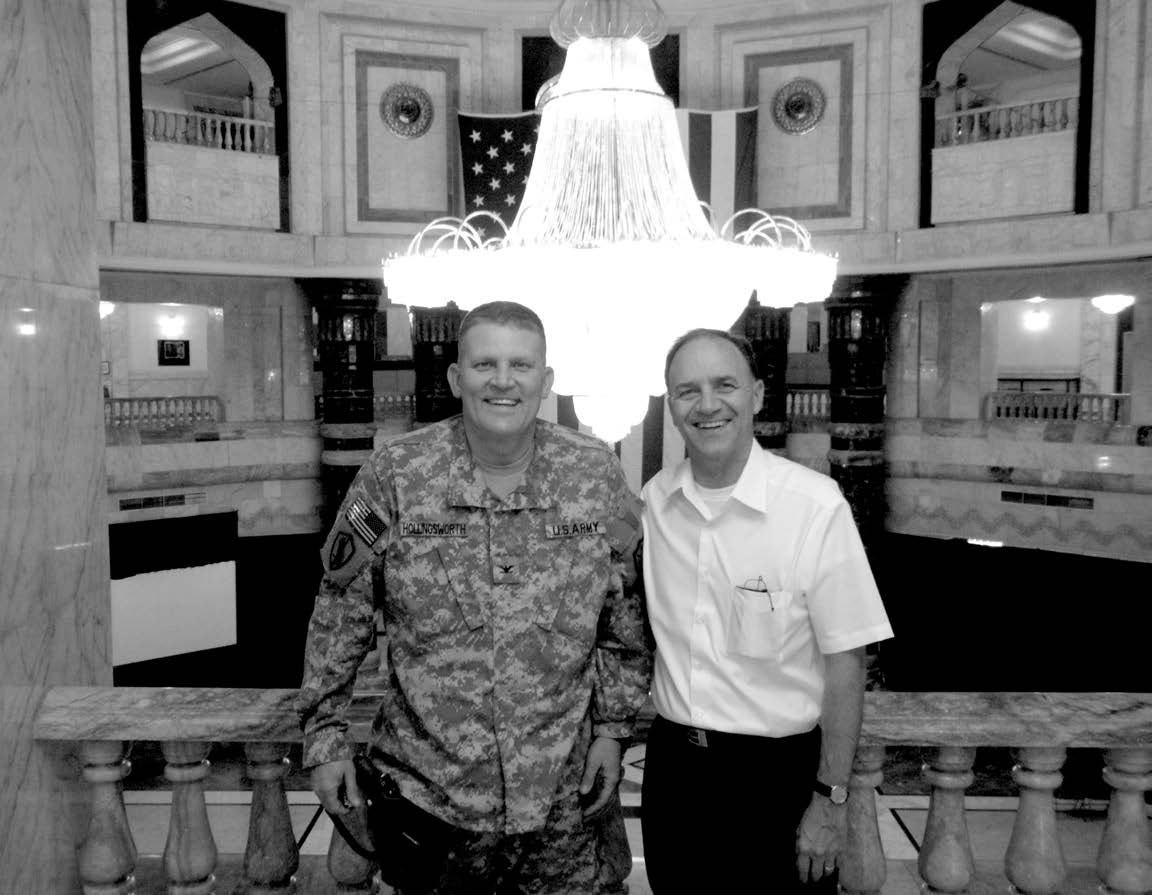 Colonel Guy M. Hollingsworth (left) with Elder Paul B. Pieper, General Authority Seventy, at the Al Faw Palace in Baghdad in November 2009 when the Baghdad Iraq Military District of the Church was organized. Courtesy of Guy M. Hollingsworth.
I quickly learned that getting approval for Elder Pieper to fly into Iraq would be much harder than I initially surmised. Over the next fourteen days, I approached key personnel at every major command—all the way to the four-star general officer level. The answer was always the same—civilian religious leaders were not allowed into Iraq due to safety reasons. My two weeks to arrange his visit were quickly turning into a nightmare with no approval in sight.
I prayed in earnest—harder than I had ever prayed in my life—that Heavenly Father would help open the necessary doors. I worried I would fail in my quest. Somewhere, I acquired the contact information for Elder Bruce A. Carlson, a retired Air Force four-star general who had recently been ordained as a member of the Second Quorum of the Seventy. In June 2009, Elder Carlson was appointed by President Barack Obama as director of the National Reconnaissance Office in Washington, DC, the agency that operates the nation's reconnaissance satellites. I didn't know him, but I explained my dilemma in an email message and asked if he could help get Elder Pieper into Iraq. I needed a miracle.
With only three of my fourteen days remaining, I continued my earnest prayers. My anxiety was constant. Less than twelve hours after I emailed Elder Carlson, I received a reply. It was short and said simply: "I understand the problem—am working on an answer—need a little more time." It was now forty-eight hours before Elder Pieper was supposedly scheduled to land in Baghdad.
My prayers continued, and my anxiety peaked. And then the answer came in a simple but definite manner. With only twenty-four hours to go, I received another short email from Elder Carlson: "You have permission from the U.S. government to have Elder Pieper land in Baghdad for one day in one location before he will need to leave the country—and that's all we need isn't it? May the Lord bless you in your new calling, President Hollingsworth." My emotions could not be contained, and many tears were shed that night. My prayers indeed had been answered. A miracle had transpired—from seven thousand miles away.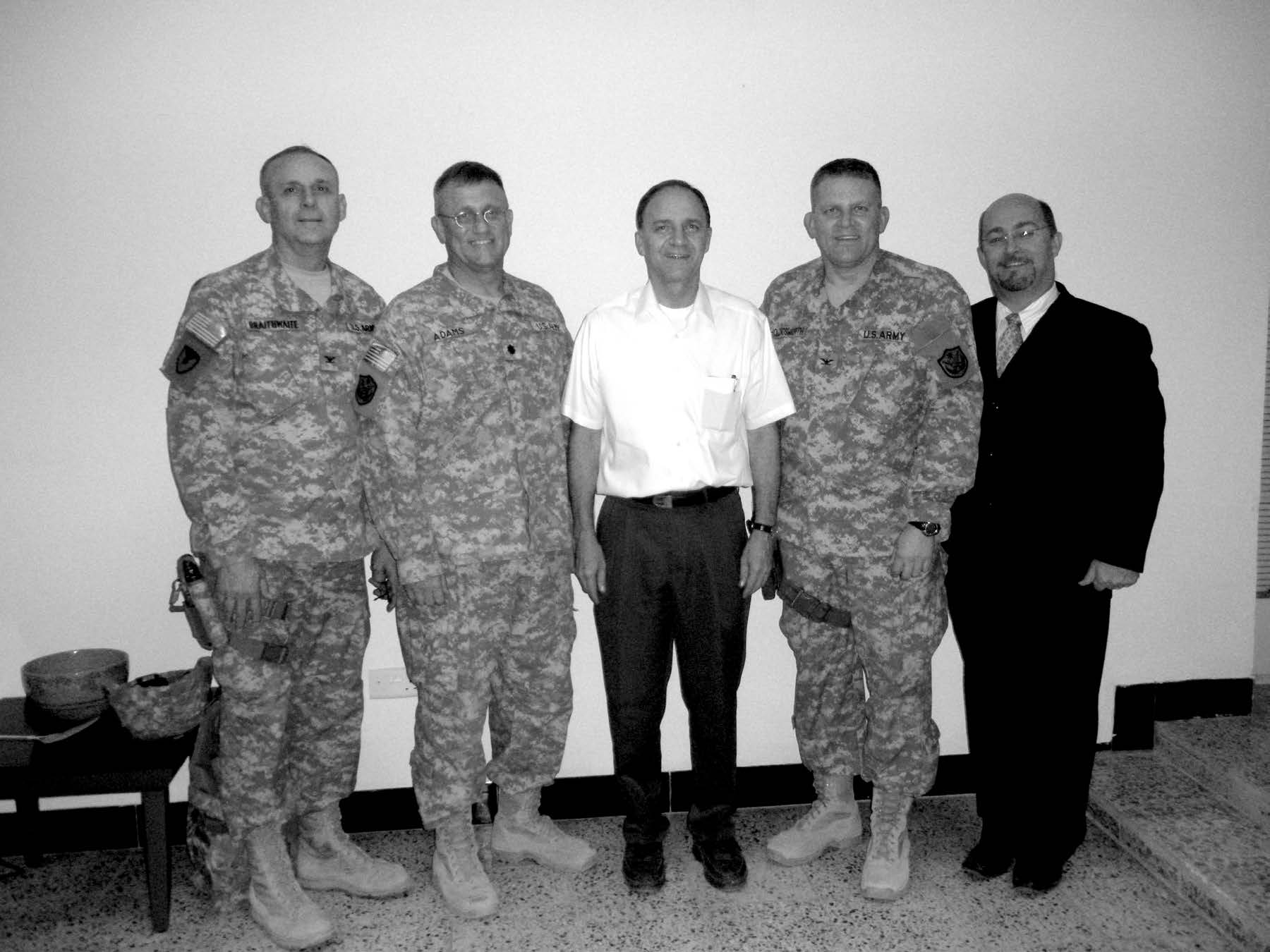 The Baghdad Iraq Military District was organized by Elder Paul B. Pieper in November 2009. From left to right: Alan Braithwaite, executive secretary; Greg Adams, second counselor; Elder Paul B. Pieper, General Authority Seventy;
Guy M. Hollingsworth, district president; and James Phipps, first counselor. Courtesy of Guy M. Hollingsworth.
The next day Elder Pieper landed in Baghdad. I immediately put him in body armor, fit a Kevlar helmet on his head, and then we jumped into my unmarked armored SUV. My soon-to-be-counselors and I whisked him off to the infamous Green Zone in the heart of Baghdad to a prearranged safe house. It was small, dingy, poorly lit, and desperately needed cleaning. With security guards outside, Elder Paul Pieper laid his hands on my head and set me apart as president of the Baghdad Iraq Military District. In sobering and emotional words, Elder Pieper stated later: "This is very likely the first time since the days of Daniel, the Old Testament prophet, when the keys of the priesthood of God have returned to Babylon" (for modern Iraq is indeed Babylon of old).
The following day Elder Pieper departed Iraq. During the next several months, three branches were organized. (Three additional branches would be created before Operation Iraqi Freedom drew down.) Branch presidencies were prayerfully set apart, and the lives of 1,300 members of the Church were blessed because of priesthood keys. My helicopter access enabled me to establish and visit those wonderful little branches and spread priesthood keys throughout the country of Iraq to worthy judges in Israel in ways I never imagined when I arrived in the country. The humility I felt during those days was indescribable—events never for me to be forgotten.
RIIKKA JACOBSEN
Riikka Jacobsen was born in Finland and served a full-time mission in Dallas, Texas. Her husband, Captain William W. Jacobsen Jr., U.S. Army, was killed on December 21, 2004, at Mosul, Iraq.
Bill and I both served missions in Dallas, Texas. I went out there in August 1993, and he had come out the month earlier. We were in two areas together and just hit it off as really good friends. I came home in February 1995, about six months before he did. We wrote to each other until he came home in August. We were married that December.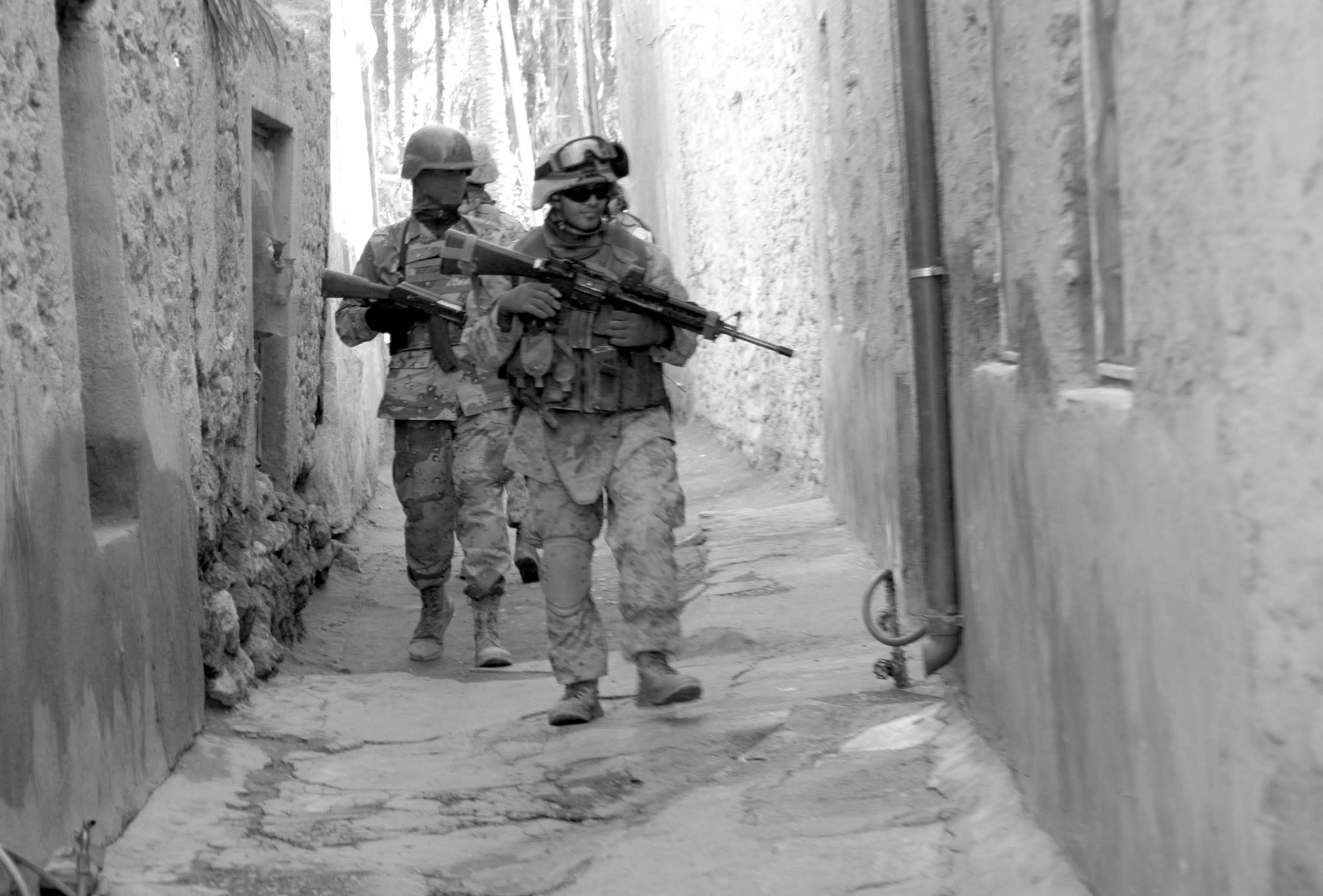 American and Iraqi soldiers conduct a security patrol through the streets of Barwana, Iraq, on January 15, 2006. Courtesy of DoD.
As a military spouse, I actually enjoyed the moving. I miss it now. But it was hard with him being gone a lot. The longest he was gone was three months, and that was for Ranger school. (At that time, I went home to Finland to be with my parents.) Those times were difficult because everything broke: the car broke down, the kids got sick—everything always happened when he was gone. You are forced to become very independent. You have to figure out how to fix the car, and you have to drag all four kids to the doctor. You have to learn to survive. Of course, I relied a lot on the other wives who were in the same situation I was in.
Having the Church in your life, you always feel like you have a family, like you're going somewhere where you already have something in common because of the gospel. We talked about that a lot because there's a family support group in the Church. It was a huge blessing. A lot of the people in our wards were military, so you have that and the gospel in common. Each time we moved, I would take a map and just start driving until I knew where the church was and what time we met. I think it was a great help because the people there are in the same situation you are.
The night they notified me about Bill, the bishop came over right away, in the middle of the night, and gave me a blessing. I remember that my life just stood still. Everything was happening: food was brought in, my laundry was taken and brought back, someone took the kids, someone brought me a drink because I couldn't eat anything. It's almost like I just sat there because I couldn't do anything. I had to concentrate on even breathing. That whole month, there was always someone there. It was such an outpouring of love and support. I never felt alone—never. The Spirit was so strong. I knew and gained a testimony that this was the plan. I knew it happened because it was supposed to happen. As difficult and as horrible as it was, still I knew this was part of the plan. I had to figure out how to move on, how to keep going. I think I probably would have crumbled if I didn't have the gospel, my testimony, the service, and the love. My parents were there. My sister moved to live with me for a while. Bill's parents and family were also there. I feel very, very blessed I had all that.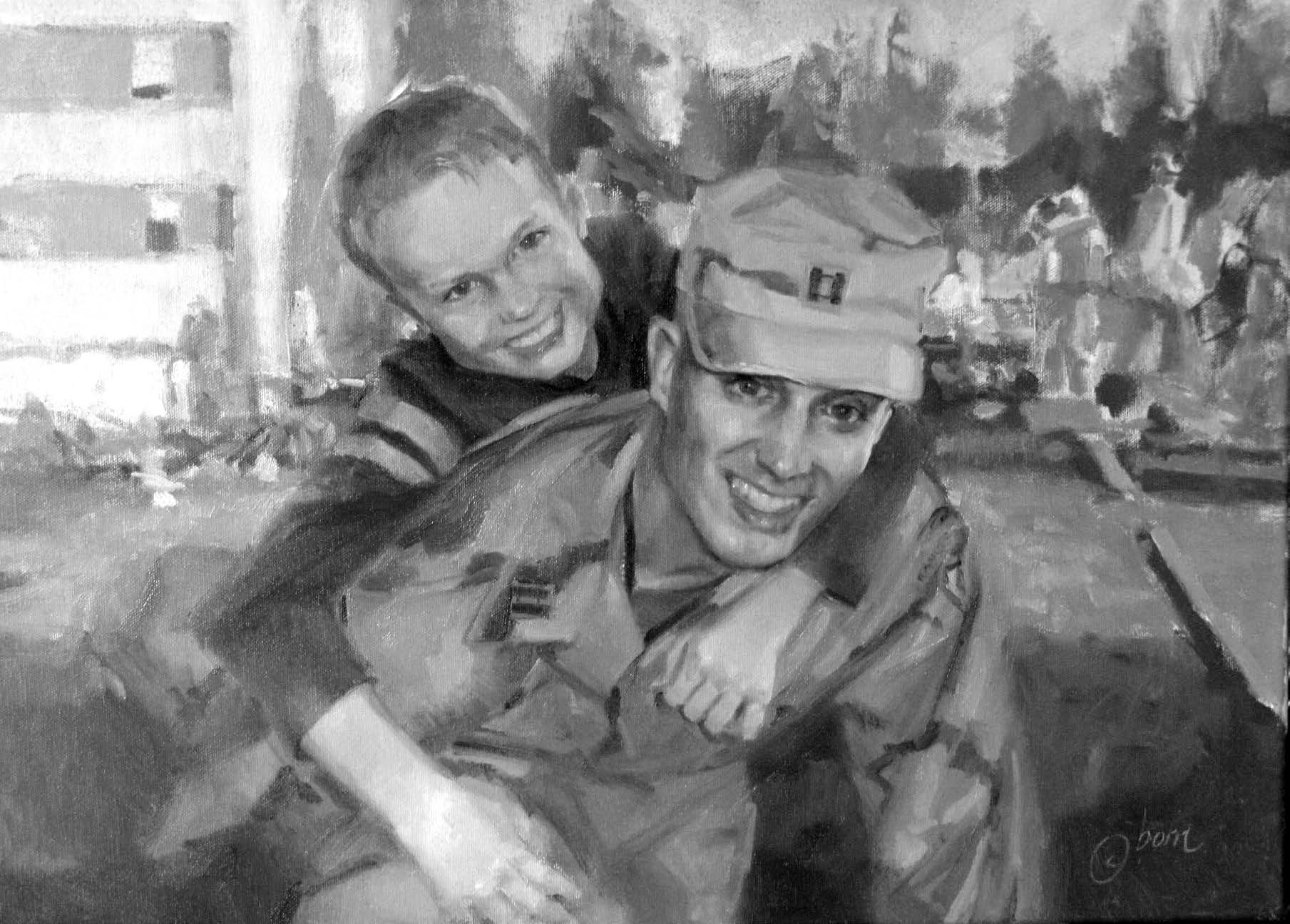 Marie Oborn painted this picture for the family of William W. Jacobsen Jr., who was killed in Mosul, Iraq, in December 2004. Courtesy of Anne Marie Oborn.
I think you go through different emotions: you're sad, you're grateful for what you've had, you're angry—sometimes all at the same time. In the very beginning—it hadn't even been a year—on his birthday, we took balloons and wrote on the balloons and let them go. We all cried, which I think was good, but that was so difficult we have not done it since. All of my children have grieved in their own ways. I keep pictures in their rooms of them with their dad. And we talk about him. I sometimes say, "This was your dad's favorite meal," or "Remember when we did this?" We talk about him a lot, though maybe not as much now as we did in the very beginning. But he's very much alive in our thoughts. We read from his scriptures, and my boys wear his T-shirts. He's very much a part of us like that.
Because of the type of leader Bill was, he was there with his guys. His first sergeant would get mad at Bill and say, "Sir, you stay here—we're going to do this." And before he knew it, Bill was with him. So the first sergeant would say, "Sir, you can't do that!" But that's how Bill was. Bill's battalion commander told me, "Bill is an incredible combat company commander; if I knew all Mormons fought like him, I would have had the whole battalion converted before we came here."
WILLIAM W. JACOBSEN JR.
Bill Jacobsen graduated from Brigham Young University in 1998 and was commissioned as an Infantry officer in the United States Army, like his father. He served a full-time mission in Dallas, Texas. He was killed on December 21, 2004, by a suicide bomber at Forward Operating Base Marez in Mosul, Iraq.
[The following article is reprinted from BYU Magazine, Spring 2005.]
Army Officer Lost in Mosul Massacre
By Sarah E. Jenkins (BYU '05)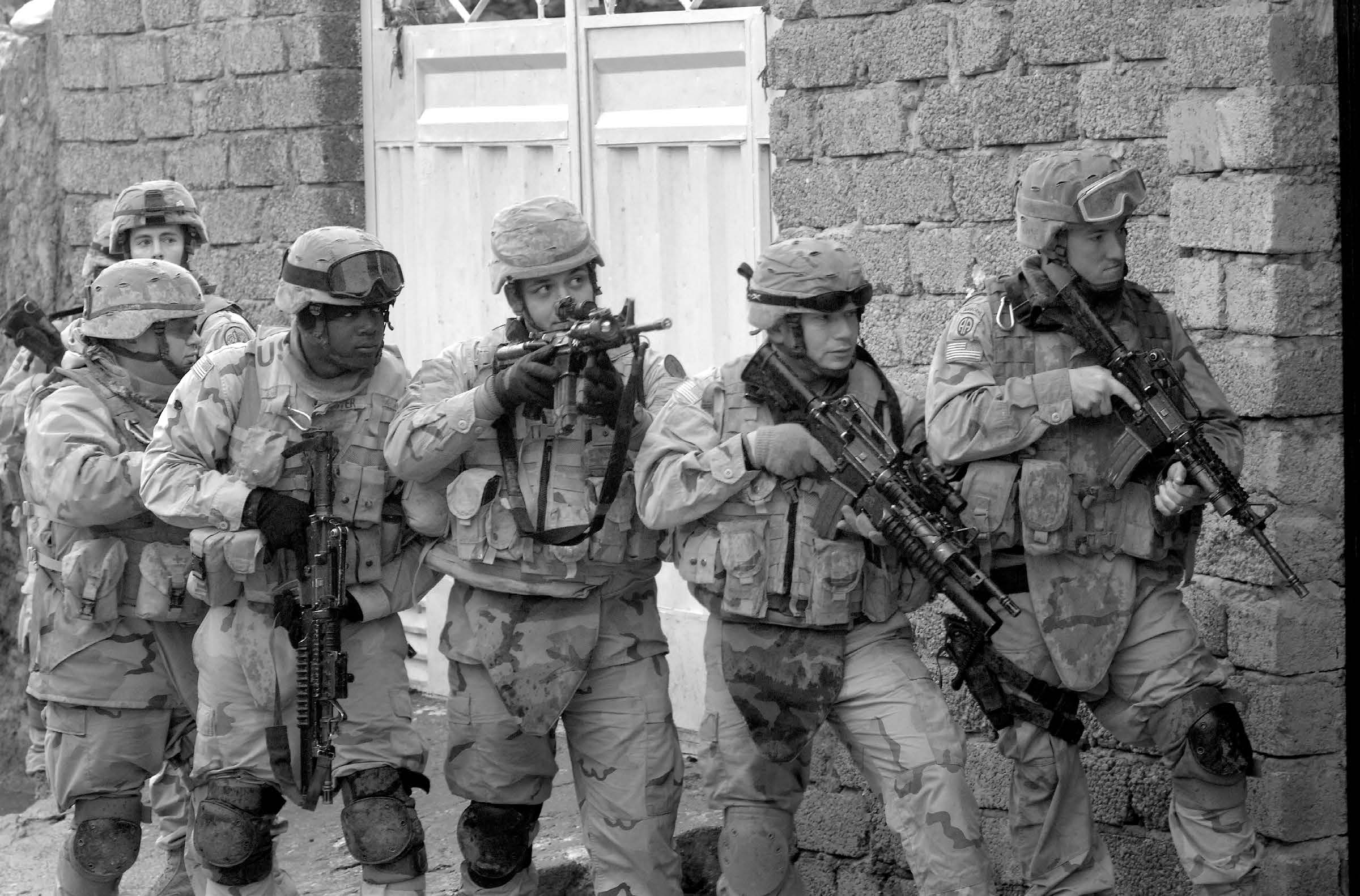 Soldiers from the U.S. Army's 3rd Armored Cavalry Regiment prepare to enter a building during a combat patrol in Tall Afar, Iraq, on February 7, 2006. Courtesy of DoD.
Before each meal, Captain William W. Jacobsen Jr. (BYU BS '98) would pause to pray. "It didn't bother him where he was," his wife Riikka explains. "Bill just closed his eyes and said a little prayer." Jacobsen's dedication to his religion set him apart from many of his fellow soldiers in Iraq. Captain Jacobsen had been stationed at Forward Operating Base Marez in Mosul, Iraq, for almost three months when, on December 21, a bomb exploded in the mess tent, killing Jacobsen and 21 others. Later investigations determined the attack was the work of a suicide bomber.
Jacobsen was the highest-ranking officer killed that day. He commanded Company A, First Battalion, 24th Infantry—a unit of 174 troops. "He had a great love for his soldiers," comments Riikka. "He was a great leader, the type of leader who didn't just sit there and tell you what to do but was actually out there in the front with his guys."
Jacobsen was an example to his soldiers and leaders alike. "His battalion commander said that if he knew all Mormons fought like Bill, he would convert the whole battalion."
A New York Times article published in January reported that Jacobsen had refused to use the derogatory name many soldiers used for Iraqis. "I believe we are all God's children," he had said. "Just born in different places."
Jacobsen attended Western Kentucky University for a year before serving a mission to Dallas, Texas, where he and Riikka met. "He was my district leader twice," remembers Riikka. She returned home six months before he did, and they stayed in contact through letters until he came home. Jacobsen began attending BYU in the fall of 1995, and Riikka was accepted for the following winter semester. They married that December. Sadly, Jacobsen was killed on their ninth wedding anniversary.
A father of four, Jacobsen often used his family as an example of something he had in common with the Iraqi people. Pictures of his children—Bill, Sedric, Yonah, and Avalon—covered the wall of the room where he slept, and he talked about them constantly. "One of the things his soldiers told me was that in ten years or so he wanted to bring me and our kids to Iraq on a vacation," says Riikka. "He was very grateful for our free nation, and he wanted to help to provide that to the people of Iraq. He was very committed to that."
BERNT JENKINS
During Operation Iraqi Freedom from September 2006 to October 2007, Bernt Jenkins served in the 1041st Engineering Company, which was assigned to run convoy security missions in northern Iraq. During those missions, he served as a gunner, driver, and vehicle commander. He graduated from Brigham Young University after studying business management.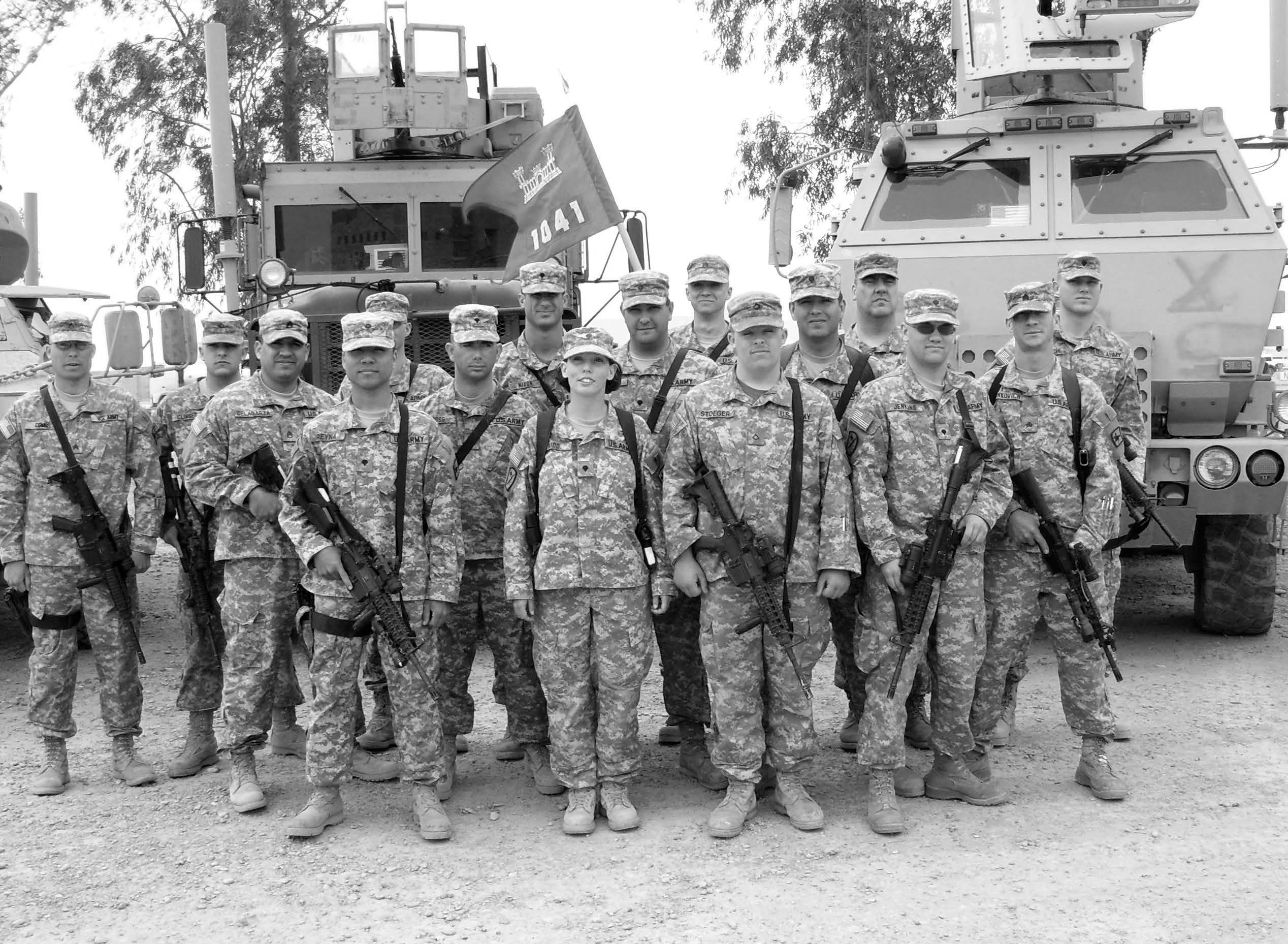 Specialist Bernt Jenkins (third from right) is pictured on April 14, 2007, with members of his squad from the 1041st Engineering Company. Courtesy of Bernt Jenkins.
I attribute the safety we enjoyed while serving in Iraq to the fact that we had many people praying specifically for the safety of our unit and the individual soldiers in our unit. While in Iraq, we became an amazing statistical anomaly. We ran more convoy security missions and had more days on the road than any other unit in northern Iraq at that time, yet we experienced fewer explosions (from roadside bombs, or IEDs), had few soldiers sent stateside for injuries, and no combat-related deaths in our unit.
Several times trucks carrying Latter-day Saint soldiers rolled over IEDs without setting them off, only to see them explode soon after. One time, a bomb went off right next to one of our trucks—blowing a crater in the road that spanned a full traffic lane. However, the truck (which was only an arm's length away from the explosion) came away with only three marks on it, which didn't even chip the paint. When the driver behind them saw that bomb explode, he was certain everyone in the truck would be dead or injured. But the convoy never even stopped.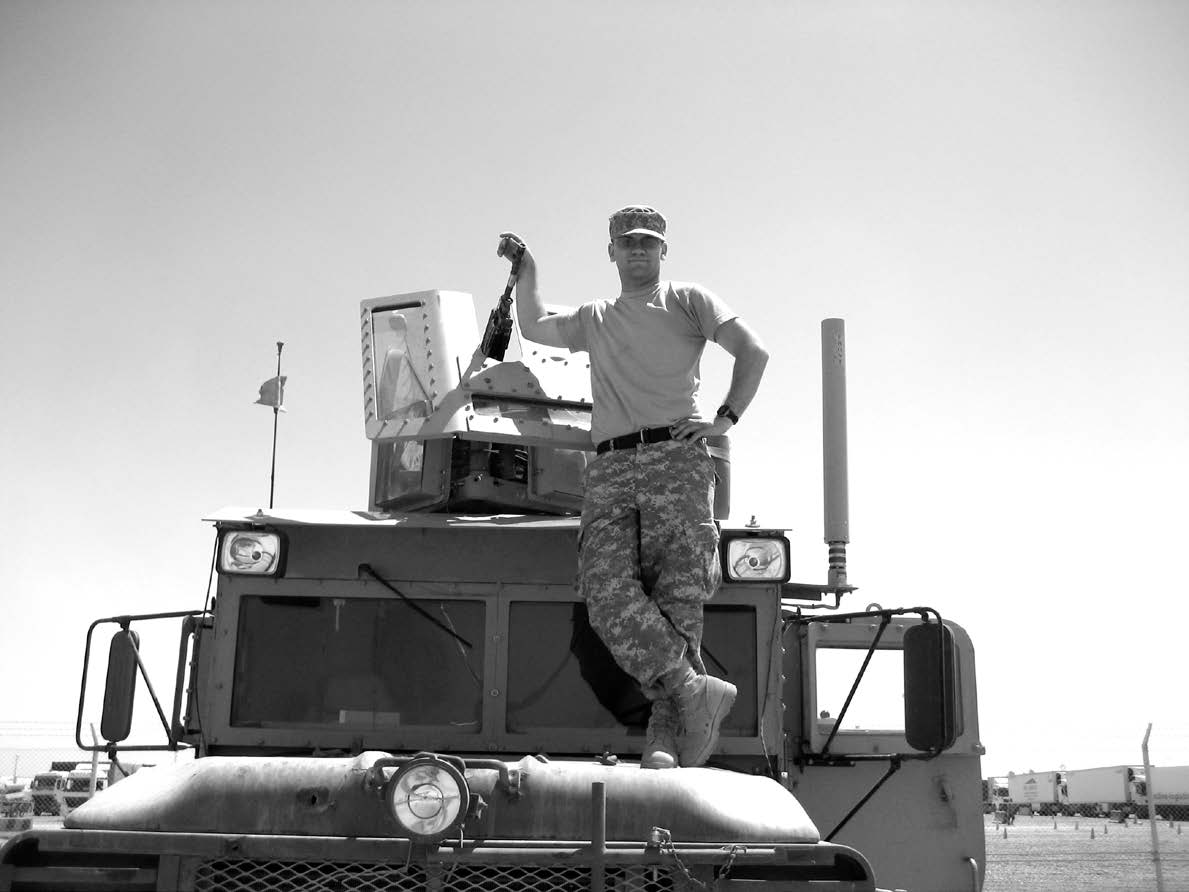 Specialist Bernt Jenkins, standing on his guntruck at FOB Q-West, is waiting for a mission to begin in August 2007. Courtesy of Bernt Jenkins.
It got so monotonous on the roads that our friends started accusing us (there were two active Latter-day Saint soldiers in my squad) of creating a safe zone, which they jokingly referred to as the "Mormon bubble."
One night we were returning to our base near Tikrit from a base north of Baghdad. I was a gunner in the second-to-the-last truck in the convoy. We were not escorting any trucks. I was in my turret facing to the left, when suddenly the air above my turret was filled with tracer bullets coming from enemy fire in the direction I was facing. My adrenaline was pumping. I have to admit I was excited. I turned my turret and fired about twenty rounds in the direction of the enemy. When the gunner in the following truck opened fire, I disengaged. It took me a while to calm down. My hands were shaking, and I felt as though I was untouchable.
By the time we returned to our base, I had calmed down. When we arrived, we were informed three of the people we shot at were dead. The fact I felt a rush while shooting and being shot at scared me immensely. Was it a sin to have that kind of a rush in a combat situation? I definitely wasn't feeling good about it. Had I delighted in bloodshed, or was it just a natural reaction to help me get through the experience?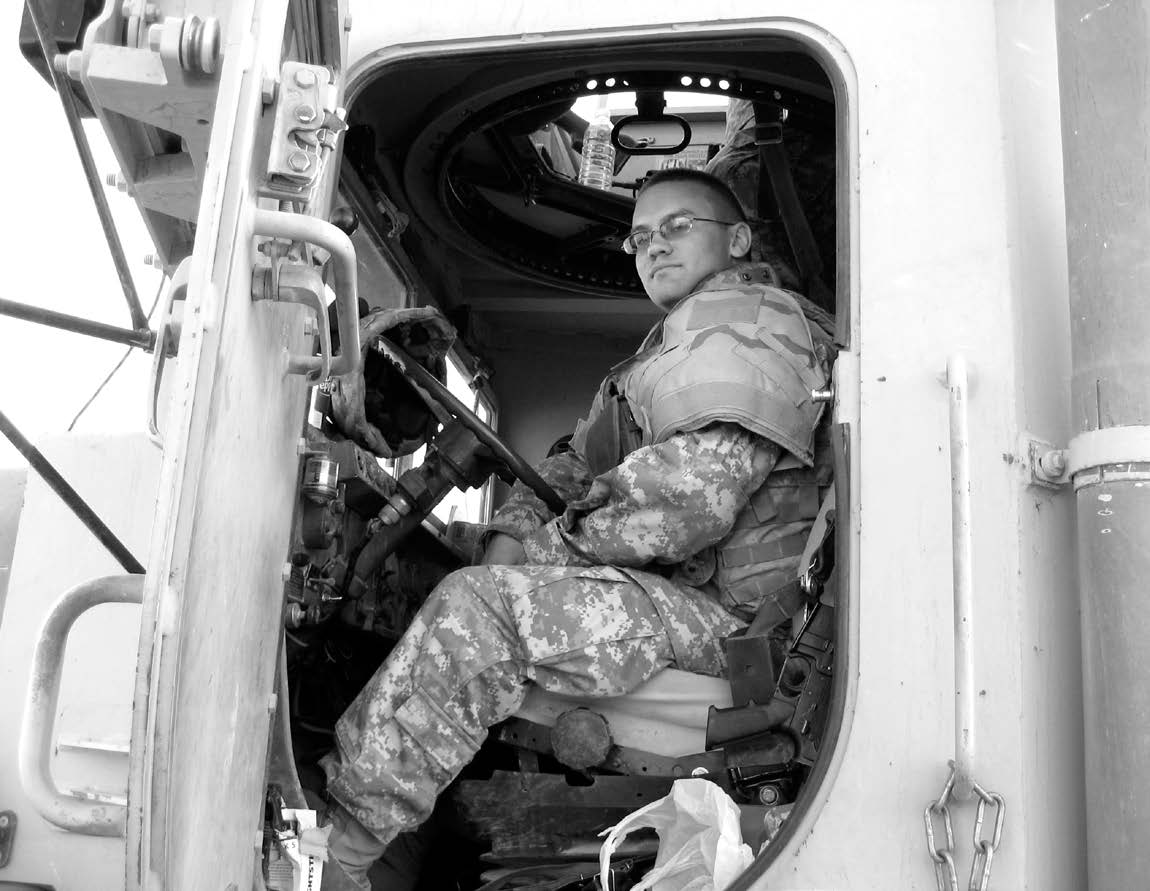 Specialist Bernt Jenkins waiting to leave his base on a mission as a gun driver on August 16, 2007. Courtesy of Bernt Jenkins.
I thought about it for a very long time. I have always been a person who avoided violence whenever possible. In fact, I'd never even been in a fight that extended beyond words. I'd never thrown a punch, and yet I had shot at other human beings and quite possibly killed one or more of them. I was disappointed and alarmed at my emotional reactions. This became a focus of my prayers for the next while.
Two things helped me through this experience. The first was the fact I knew it wasn't an unnecessary action that we had committed. The men who died had definitely attacked us, and it was my responsibility to shoot back in order to protect the soldiers with me. I had done my duty. The second was the fact that even if I experienced that rush when I was actually in the fight, I wasn't feeling that way anymore. The act of fighting back wasn't what bothered me. It was my emotions in the moment of the actual fight that bothered me the most. When I looked back, I realized that my reaction was natural. I realized I was justified in what I had done. It was a welcome realization.
While in Iraq, I learned much about the Comforter. I was in the middle of a war, not knowing if the next bomb to go off would be under my truck or under the truck of one of my friends. I had been shot at and returned fire. I'd had IEDs go off close to my truck but not actually damage it. I'd been on missions where we were on the road for fourteen hours at a time. But all through that experience, as long as I kept the commandments, I felt the protection, love, and peace of my Savior.
PAUL KEENE
Paul Keene lived in Salt Lake City with his wife and four children. He was a sergeant first class in the Army Reserve when he deployed to Operation Iraqi Freedom. He served as a personal security specialist.
We first rolled into Baghdad two days after the war was supposedly over. We had people running up to our vehicles so happy to see us, elated to be free from the tyranny of Saddam Hussein. We had insurgents try to attack us, but they were a minority. Most Iraqis were happy to have schools, hospitals, and more electricity than they'd had in their life, as well as freedoms they never had before.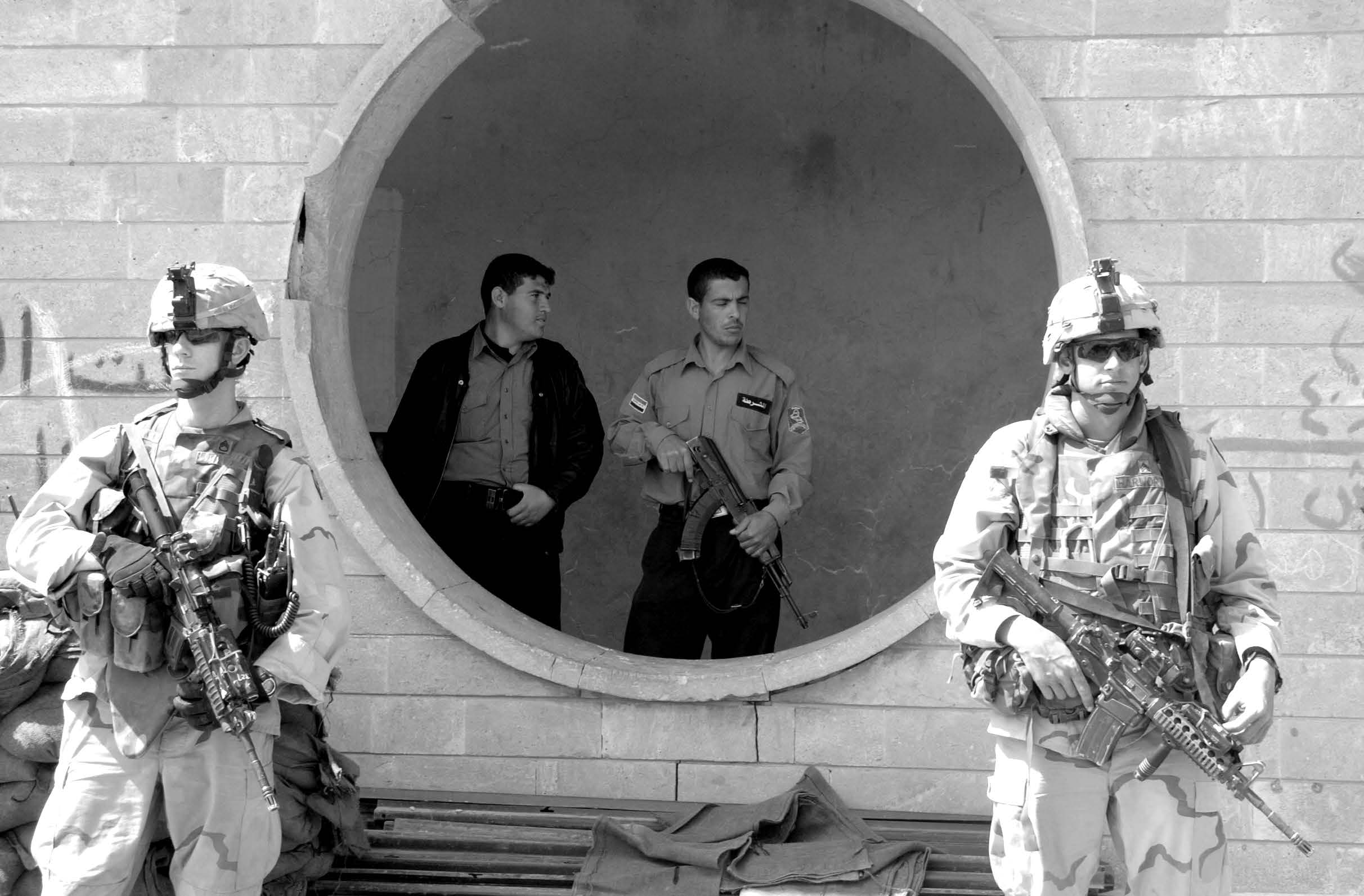 The two soldiers (in front) are armed with M4 rifles, and Iraqi police (in back) are armed with Tabuk 7.62mm short assault rifles. Courtesy of DoD.
Most of the Iraqis I've seen are so grateful. The majority of them want us to be there. We had seven women who worked for us who came in and cleaned the general's quarters while they were there. Every day, they were smiling, happy, and joyful, and they genuinely cared about us. They brought us food we couldn't get, little treats they thought we'd like. They dearly loved us. When we drove into Baghdad the first time in a convoy, there were kids running alongside the vehicles waving to us. It was incredible to see their love for us. The majority of what you saw on the news was just a snapshot showing the bad parts.
The first time I went to Saddam's palace, it was incredible to see the gaudiness of it. There were gold doorknobs and nine-feet-wide chandeliers. Everything was marble inside the building. There was a swimming pool in back and a huge moat around the outside. It was interesting to see the entry point of a missile we sent into Saddam's bedroom. When we drained the moat, we found numerous bodies. They had been shot and thrown in the water. Those are the things you hope not to have to see.
If you look at the war in Iraq and the spiritual battle we fight every day of our lives, I think you'll find that they are similar. As a nation, we are not infallible. We're a blessed country as long as we live within the guidelines of our Heavenly Father.
The battle we fought in Iraq was worth everything we put into it because the people are worth it. They're our brothers and sisters. They might not have the same color skin or language, but they are our brothers and sisters. That alone makes it worthwhile for us to look to their future.
LARRY KITTELL
Larry Kittell grew up in the Church in Henderson, Nevada, as the oldest of eight children. When he was twelve years old, his Scoutmaster gave him his first car, a 1952 Cadillac. He got his first job as a mechanic when he was thirteen and has had grease under his fingernails ever since. He joined the U.S. Army the day after he turned eighteen and was trained as a machinist. He worked on jeeps, trucks, tanks, helicopters, and all types of equipment. He met his wife, Amanda, while serving in Panama. In 1986, Larry and Amanda left active duty and moved to Orderville, Utah. In the Utah National Guard, he served as a nuclear/biological/chemical specialist until he returned to active duty as a machinist three years later. In Germany, Larry earned a degree in automotive service and repair from Central Texas College. After fifteen years of active duty, the Army decided it had too many machinists, and Larry was forced to leave the Army. He and his family left Germany and moved to Spring Lake, Utah. In December 2003, Larry reenlisted in the Utah National Guard as a mechanic and was sent to Iraq.
Camp Duke, near Najaf, Iraq
May 2005
I had an unusual experience on the way to the mess hall from the motor pool where I worked. An older Iraqi man walked toward me on the side of the road. I think he was one of the many construction workers there. They were tearing down old tents and preparing the ground for the "cans," two-man buildings, we were supposed to move into next month. He was wearing a long white shirt [a traditional Arab garment called a thawb] over white pants that looked like pajamas. He had gray hair like my dad's but looked like he was in his late fifties.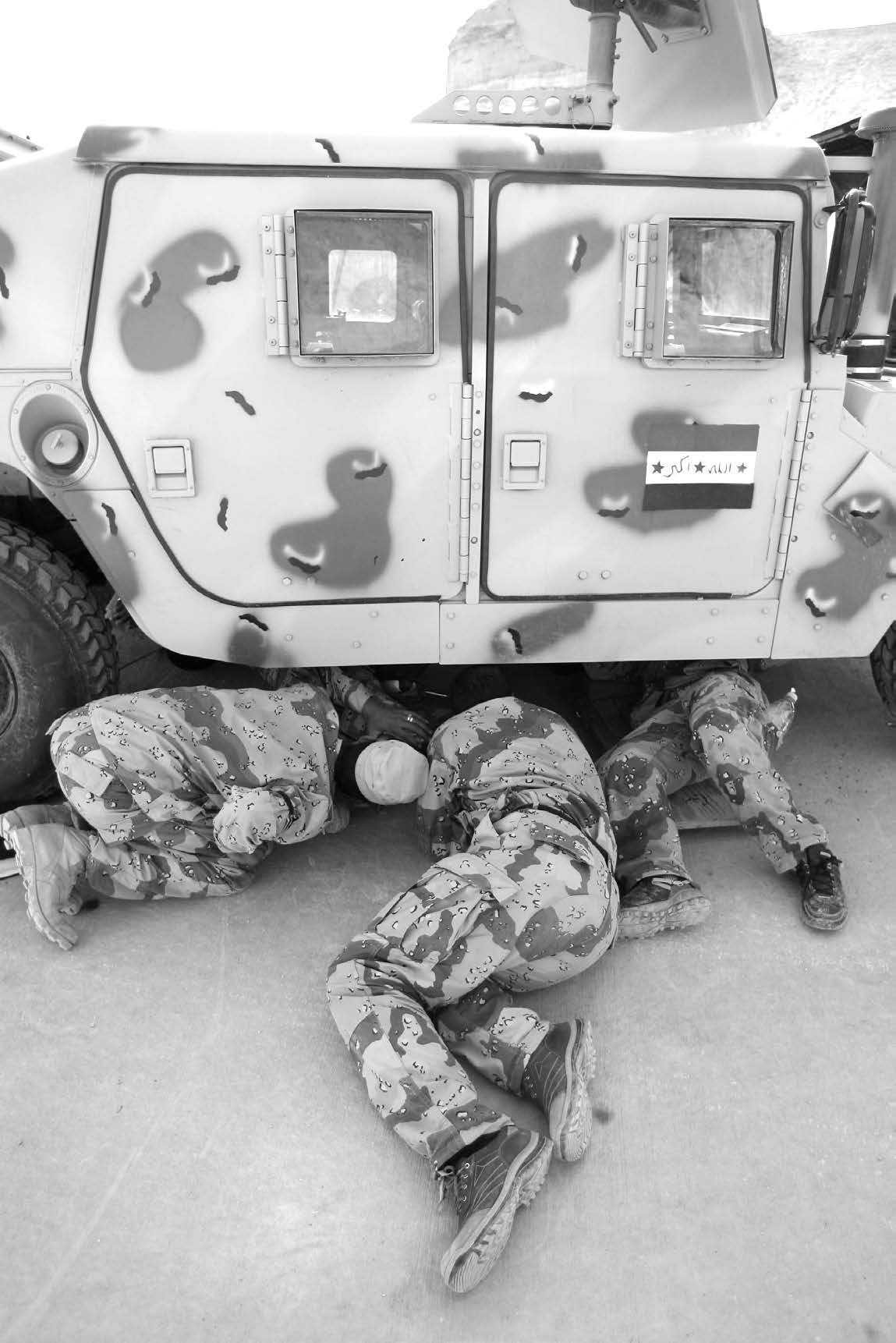 Iraqi army soldiers examine the underside of a Humvee as they learn high-mobility multiwheeled vehicle maintenance during a class in Al Anbar, Iraq, during March 2006. Courtesy of DoD.
I said hello and started to walk around him, but he wanted to talk to me, so I stopped and removed my dark sunglasses so he could see my eyes. He said hello and asked where I was from. When I said Utah, he looked puzzled. Then he asked, "You come from America?" When I said yes, he smiled wide and said, "America good! George Bush good! Saddam Hussein bad!" Then he asked, "What part America you come? North, south, east, west?" When I told him west, he seemed to understand a little more where I came from.
He asked, "You say you come, or Army say you come?" I told him that I volunteered for the Army and that the Army sent me here. I think he understood. Then he asked, "What you do job?" I told him that I was a mechanic, but he looked puzzled so I told him I fixed trucks. "Oh, with the wrench, you fix the truck!"
Then he pointed to the M16 on my back and said, "And the gun? You use gun too? You fight?" I told him I would if I had to, and he replied, "You fight for Iraq? For Najaf? You fight for me? For my family?" Each time, I told him yes. "You fight bad men who come to Iraq, make problem for us?" I said yes. Then he asked, "You die for Iraq? For me?"
When I said yes, his eyes filled with tears. He put his hand over his heart and thanked me for being here. Then he stuck out his hand like he wanted me to shake it. When I stuck out my hand, he grabbed it and pulled me close and hugged me hard. Then he kissed me on the cheek and thanked me again for coming to his country to help it become free. He said, "May Allah bless your journey here in my country!" I could see the tearstains in the dust on his cheeks as I walked away with a full heart.
* * * * *
While working as a motor pool mechanic at Camp Duke, a Humvee with an overheating problem no one could fix was brought to me. Our daytime high temperatures seemed like they were over 150 degrees Fahrenheit, and after a long drive, this particular Humvee was like an oven inside. The driver had taken it into several shops across Iraq to have it worked on, but no one could find out what was wrong with it. It had a new radiator, new radiator hoses, a new fan, new fan belts, and a new thermostat—even the radiator cap was new. I double-checked everything and could find nothing wrong with it; everything was in perfect working order. I had mechanics from two other nearby shops check it out, and they found nothing wrong either. I had a special interest in solving the driver's problem. He never went anywhere without his Bible and seemed to be honestly concerned about his other soldiers who had to ride in his overheated truck.
After everyone else had gone to lunch, I sat inside the Humvee where it was quiet. I said a little prayer and asked for help repairing it. As soon as I finished, I had a strong impression to look underneath it. I thought it was a strange place to look for an overheating problem, but I looked anyway and discovered an extra skid plate underneath the transmission I had never seen on other Humvees. At sixty miles per hour, the engine and transmission of a fully loaded and heavily armored Humvee generate a lot of heat. With that extra skid plate under the transmission, that extra heat was transferring inside the vehicle and cooking the passengers.
After its first long trip away from our base, the driver came by my shop to tell me the problem was completely fixed. When he asked me how I figured out the problem, I asked him if he was a Christian. I knew he was, but I wanted to hear it from him. When he responded with an enthusiastic yes, I told him I had prayed about it. He said it was funny because he had been praying I would find the problem when he dropped it off for me to work on it. I don't know if it was my prayer or his that was answered—probably both. Either way, it was clear that Heavenly Father answers prayers about overheated trucks.
TED LEBLOW
Ted Leblow was baptized as a member of The Church of Jesus Christ of Latter-day Saints in 1989. He graduated from the Army ROTC department at the University of Oregon and was commissioned as a U.S. Army Aviation officer, flying AH-64 Longbow helicopters. He completed assignments at Fort Campbell, Kentucky, two tours in Iraq, and international tours in Korea, Singapore, and Kuwait. He deployed to Iraq for a second tour of duty in December 2004 with the 101st Airborne Division, serving as an S3 (battalion operations officer) and battalion executive officer during that deployment. He later served as the Army ROTC professor of military science at Brigham Young University in Provo.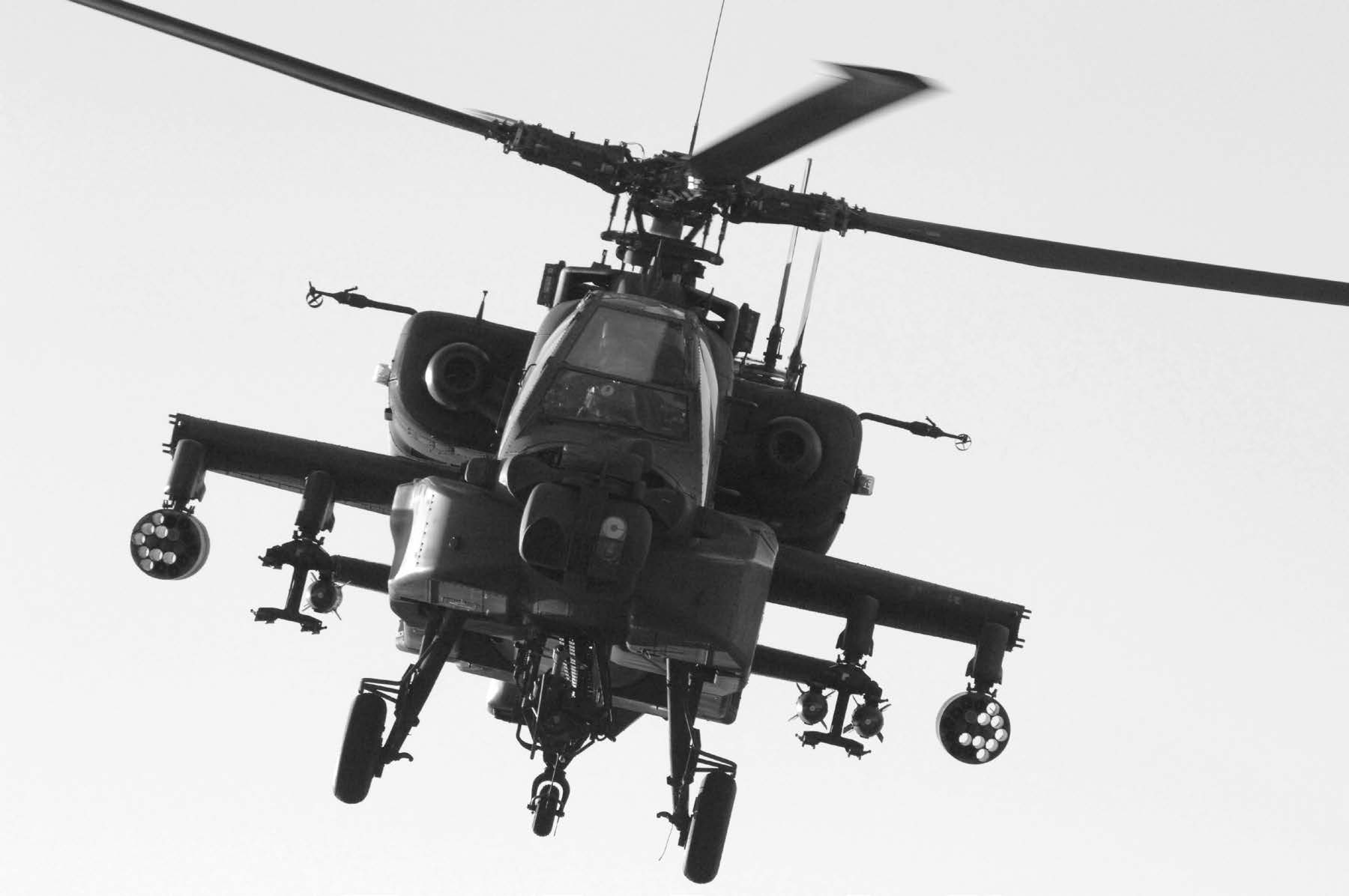 An Apache helicopter approaches a landing zone to refuel and provide air support. Courtesy of DoD.
As an AH-64 Apache attack helicopter pilot, I flew numerous combat missions, including over six hundred combat flight hours in support of ground soldiers. During that time I faced some new spiritual and emotional challenges I had not dealt with previously in my life. I was adamant about reading my scriptures daily and praying each night. In blessings I gave to my children before I deployed, I challenged them to be diligent with family scriptures and prayer. I felt it was my duty to do the same, regardless of the challenges I faced.
In combat, many aspects of the job we perform are not uplifting. It is not easy dealing with the fact we must engage and kill the enemy in combat. Soldiers coped with this in different ways, but many did so in a negative way. Some soldiers dealt with it by hating their enemies. If you could hate your enemies and convince yourself they were all terrible people, then dealing with their death seemed easier. For me that wasn't true. Hating our enemy, coupled with the frustration and anger of the work situation I was in, was dragging me down spiritually.
After a few months, I reached a point where I was not sure how to deal with it. I turned to the Lord in prayer for help. I prayed that the Lord would give me a way to overcome my feelings of frustration and anger. I received a quick and clear answer—one I was not prepared at first to accept. The answer I received was I should pray for my enemies and for those around me who were causing feelings of anger and frustration. I did not understand at first, but as I continued to pray and ponder, it became clearer to me. I understood—from a gospel perspective—that we should pray for our enemies. But how could I pray for people who were daily trying to kill my fellow soldiers and friends? And how could I pray for a boss who was so demanding and demeaning?
Through the Spirit's guidance, I realized I could and should do both. When I prayed for my enemies, I was not praying for their success in battle. I prayed for their families and for their eternal souls. I prayed their families would be comforted with the loss of their loved one and not harbor hatred and revenge in their hearts. I prayed the enemy would receive an opportunity to understand the gospel as I knew it, even if it wasn't in this lifetime. I prayed for my boss that he would be comforted and better deal with the stress of combat so he could be able to lead in a more positive light. I prayed I would have compassion for those around me and the ability to overcome the daily challenges I faced.
When I was able to do this, I noticed a change in myself. I was able to focus on positive things and do my job better. I was a happier person from that point forward. Others around me seemed to notice as well. Soldiers I worked with asked me what had changed. They wanted to know why I was in a better mood all the time. I know the Lord answered my prayers in my time of need.
MICHAEL McMAKEN
Mike McMaken has served in the military and in law enforcement. He began serving as a contractor working on the reconstruction of Iraq in August 2004.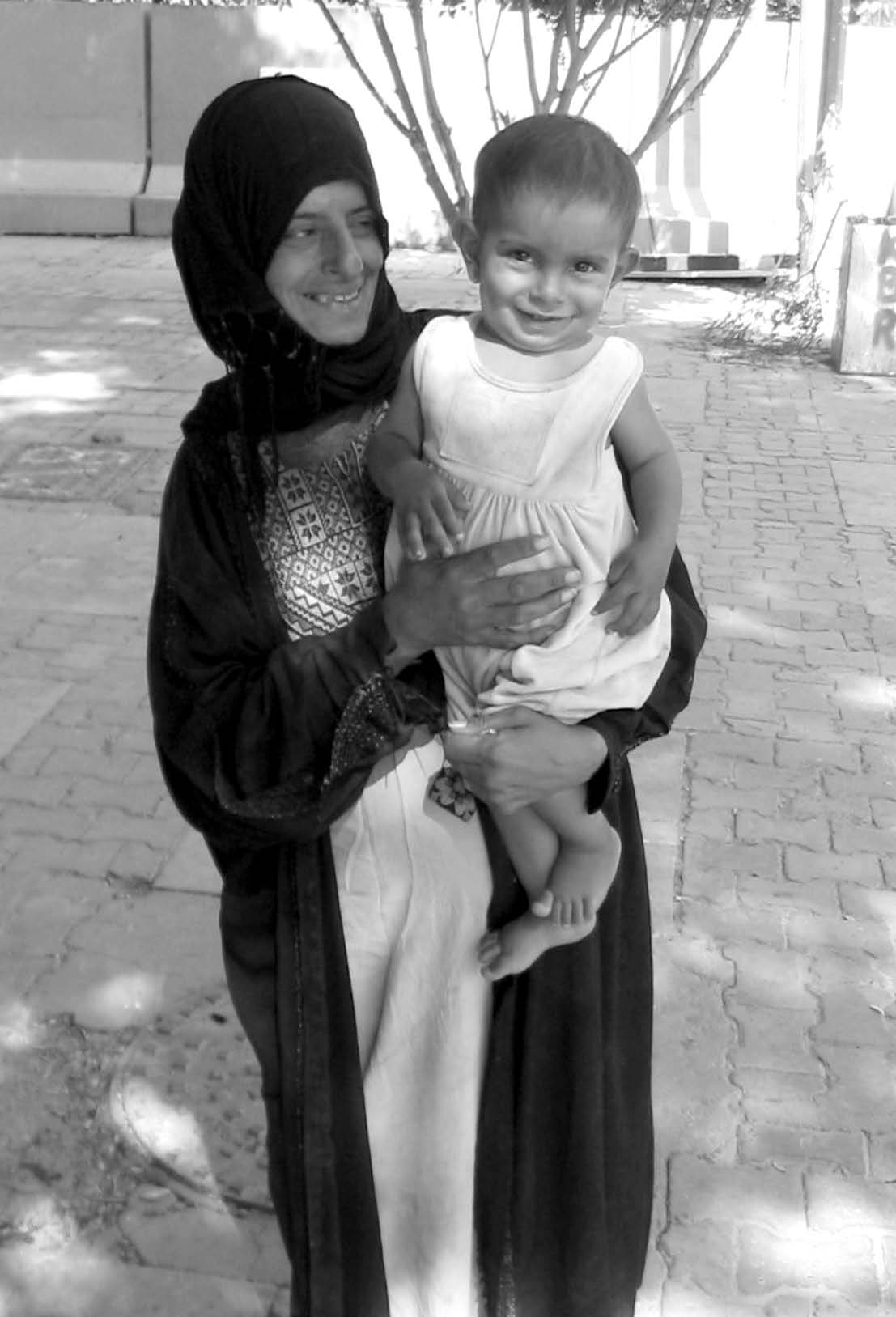 An Iraqi mother and child at a Baghdad bazaar. Courtesy of Michael McMaken.
In 2004, soon after I first started working as a contractor in Iraq, I was at a street bazaar in Baghdad. After I finished shopping, I walked across the street to wait by our vehicles for the rest of our security team. As I stood there, I noticed a woman dressed in traditional garb standing on the curb across the street with a baby. She was trying to sell a pack of candy and a pair of socks to anyone who walked by. The baby was dirty, and flies swarmed around her eyes as she played on the dusty ground at her mother's feet. As I walked over to the woman, she held the small pack of candy out, entreating me to buy it. I gave her some money and motioned to her to keep the candy. The look of desperation in her eyes faded as she expressed her gratitude, and my eyes instantly filled with tears.
One of my team members noticed me talking to the woman. He came over and gave her some money as well. I gave her another dollar and asked if I could take her picture. She became very excited and picked up her baby so she could be in the picture too. When I showed her the picture I had taken on the digital camera, she kept saying "tenk, tenk" and touched her chest, which is a sign for sincerity. My friend and I went back to the trucks and got our cold drinks and what little food we had with us and gave it to her. I was crying by now. It made me happy to see an American soldier also stop and give her some money. She wasn't a beggar. She didn't want something for nothing. Looking into her young, but also somehow old, face broke my heart, and I realized she is why we are here. She looked at us with such gratitude in her eyes. I cried a lot as I sat alone in the truck waiting for the rest of my team to return. I've come to realize how blessed we are.
A smiling Iraqi girl carrying clothes donated by American supporters. Courtesy of Michael McMaken.
* * * * *
In 2005, during my second year in Iraq, I discovered an abandoned amphitheater in a remote part of the International Zone. About thirty-five Iraqi families were living there as squatters. A few of the adults had jobs working for the Americans or wealthier Iraqis. They had hung blankets to make small living quarters for their families. Some of them tried unsuccessfully to tap into the power and water lines for electricity and clean water. There was no trash collection—garbage and debris were everywhere. They had no air-conditioning. About 7 p.m., it cooled off enough that they came outside. There were children running around everywhere, playing in the rubble and garbage.
I wanted to do something for them—anything. After I returned to my room, I got the box of teddy bears my wife had sent, filled my pockets with candy, and invited one of my fellow workers to go with me to deliver them. It was a little bit spooky as we drove back to the amphitheater. We kept our weapons close and kept driving.
At the amphitheater, it didn't take long for a mob of excited, big-eyed children and women to swarm around us. I had learned several words in Arabic, and their faces lit up when I said something to them in their own language. It was heartbreaking to see the desperation on the mothers' faces as they tried to get my attention so they could receive something—anything—for their children.
I gave away everything I had in a couple of minutes. How blessed I felt to be able to help them. Being a convert to the Church when I was twenty-five, I never served a full-time mission. I have often prayed to Heavenly Father for the opportunity to do so one day. As I knelt beside my bed that night, I entreated the Lord with my usual desires to serve him in any way I could, especially to go on a mission. As the words left my lips, it seemed as if a voice answered, "You're on one." Tears filled my eyes as I realized the truth: I was indeed on a mission. The decision to go to Iraq was a prayerful one my dear wife and I made together, one that has provided such a tremendous opportunity for growth and spiritual experiences for my entire family.
RICK PACE
Rick Pace graduated from the United States Military Academy and was commissioned as a second lieutenant in the United States Army in 2005. His older brother Scott was a member of the same class. Rick was deployed to the Middle East in 2007 in support of Operation Iraqi Freedom. He has served in a wide variety of Church callings.
Christmas Day 2007 will always be remembered by me as the day I flew to Iraq. As we left Kuwait on the C-17 airplane, I fell asleep as I normally do on planes. When it came time to land, the Air Force pilots started flying a little crazy, probably to avoid getting shot down. That night we stayed at the airport, and the next night we took Chinooks over to Camp Taji, which is about twenty miles northwest of Baghdad. It was there that I met up with the unit we would be replacing.
Captain Rick Pace (left) with one of his sergeants after completing a patrol near Camp Taji in Iraq.
Courtesy of Rick Pace.
My company was pulled from our battalion to work for the brigade as the tactical reserve. Our mission consisted of targeting terrorists in their homes at night and capturing them. The platoon leader I replaced was Dave Plotts, a fellow member of the Church and West Point graduate. The first night, we went to the air mission control briefing regarding an upcoming mission. The aviation major leading the briefing was one of my systems engineering teachers at West Point.
January 6, 2008
After a meeting with our commander, I went to the warrior chapel for church. It was fast and testimony meeting, and I decided to bear my testimony. I shared feelings about how I don't really like to be in the field or on deployment, but I like that there are few distractions, that makes it easier to study the gospel. Normally, I would never read the lesson for elders quorum unless I had to teach the class. The other night, however, I found myself reading the manual. I am grateful for the basic principles of life. We have a Heavenly Father, and he does have a plan for us. As far as my own life is concerned, I must be prepared as much as possible, do my best, and understand there is a plan for me. This deployment is a test.
January 15, 2008
Tomorrow is the first day I will lead my men through a combat zone. We have prepared as much as we can. I know I am as ready as I will be. I know my men, their families, and their troubles. I have prayed repeatedly for the safety of my men. I truly do love every single one of them. I hope my mind will be strengthened and quickened as I take on this assignment. I need to be like the two thousand stripling warriors, never doubting while understanding that the Lord is at the helm. I need to put the welfare and the future of these people before my own life.
* * * * *
A high-level decision was made to build a wall isolating Sadr City. One of our generals described it as the Berlin Wall. Everything north of the wall would be East Berlin. Everything south would be West Berlin. The goal was to flood the Jamila region with money and let the northern region live in poverty until they decided to stop fighting. Building the wall was no easy task. It was ugly from day one. The workers building the wall were constantly getting shot at with small arms fire and RPGs [rocket-propelled grenades]. My task was to gain and maintain contact with the enemy. Basically, we had to get the enemy to shoot at us so that the builders could do their work.
* * * * *
Our Sadr City operation that was supposed to last for ninety-six hours lasted forty-two days. As far as history goes, I do not know how it will be remembered, but my men and I will never forget it. I think we will always be haunted by the explosions, the incessant gunfire, and the impact of RPGs. We felt many different emotions on the rooftop of Patrol Base Texas and in the streets of Jamila.
As I spoke with many soldiers, I found that their families were constantly on their minds. They would talk to me about their wives and their children in the dull moments on the rooftop. Some decided that after this deployment they will have had enough and are planning on getting out of the Army. Others took a more serious look at life and thought about all of the time they had wasted. They talked about going to college with the hope of finding a better way to support their families. While taking cover from sniper fire, many of us laughed at the situation and made jokes. Laughing made time pass faster rather than dwelling on what-ifs.
One night at COP Ford, after a grueling thirty hours at PB Texas, I was just getting out of the shower and saw Private Snowden on the bench. He was a new private, and this was his first time outside the wire. The majority of us had already seen death, had seen our friends wounded, and had experienced combat. Snowden started to talk to me about the day's events.
"Sir," he asked, "don't you get scared of the IEDs and getting shot at?" My answer was truthful and simple. I replied, "If you get killed, then it will be over quickly. There is no reason to worry about something out of your control. If you are wounded, we are very good at medically evacuating our soldiers so you will only be in pain for a little while before we get you to a hospital." I believed what I said, but I also wanted to tell him where my confidence comes from. I wanted to tell him about the plan of salvation and how Jesus Christ overcame physical death for us. I wanted to tell him about agency and how important it is to our eternal progression. I wanted to tell him death is not to be feared but is part of a bigger plan. I wanted to share Abinadi's story and how he didn't fear being burned to death. I wanted to share the New Testament story where Jesus Christ was asleep on a ship in the Sea of Galilee and was awakened by his Apostles because of the fierce winds and strong waves crashing into the ship. Christ told the
Apostles to have faith. I wanted Snowden to know that all storms will pass and that Christ can calm the winds.
SCOTT P. PACE
See Scott P. Pace's brief biography in the Afghanistan section.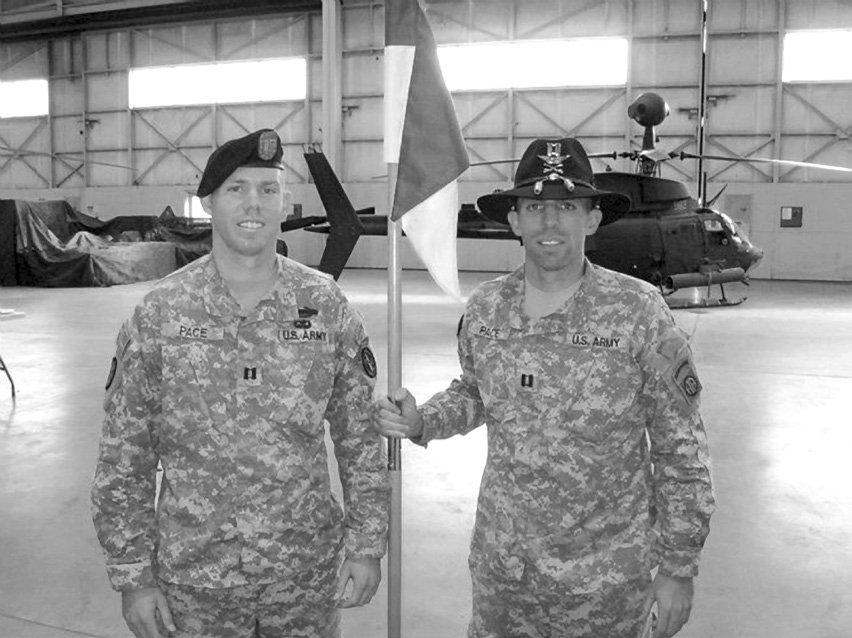 Captain Scott Pace (right) with his brother Captain Rick Pace. Courtesy of Rick Pace.
In Kirkuk, the terrorists loved to shoot mortars and rockets at us. By the time I had been in Iraq seven months, many mortars had landed on our base, and I had been within a hundred yards of at least a dozen of them. Then it got personal. On December 6, 2008, I had a long day. I was ready to leave and go back to my room. For whatever reason, I got stuck at work and couldn't leave. Then a series of mortars hit the base.
When I left work a few hours later and returned to my room, I opened the door and found parts of my ceiling smashed on my chair and on my floor. I climbed onto my roof and found an inert 120 mm mortar round. Had I been in my room, sitting in my favorite chair, I would have almost certainly suffered serious head injuries. Fortunately, the round was inert, and it landed on a beam in my ceiling. if that was not the case, my room and the few possessions I enjoyed would have been destroyed.
* * * * *
On December 20, 2008, I had an afternoon-into-evening mission to fly. The afternoon was warm, but once the sun set the temperatures dropped quickly. Due to the drastic changes in temperature, we would not put our thermal tops on until right before we started our aircraft. The last thing you wanted to do is walk around in thermals getting them sweaty. If you did, then once the sun set they would be wet, cold, and useless.
My copilot and I walked out to our aircraft. As I was putting on my thermal top, I heard a loud explosion next to me. I hopped into the cockpit to gather my thoughts. I noticed I was bleeding and my arm stung. The engine of the aircraft to our immediate right 150 feet away was destroyed by the shrapnel. The aircraft to our immediate left had shrapnel go through the ammunition can and the tail, but the aircraft I was about to fly suffered no damage. After the doc cleaned me up, we reinspected our aircraft, found no rocket damage, climbed into our aircraft, and completed our mission.
KEVIN R. RIEDLER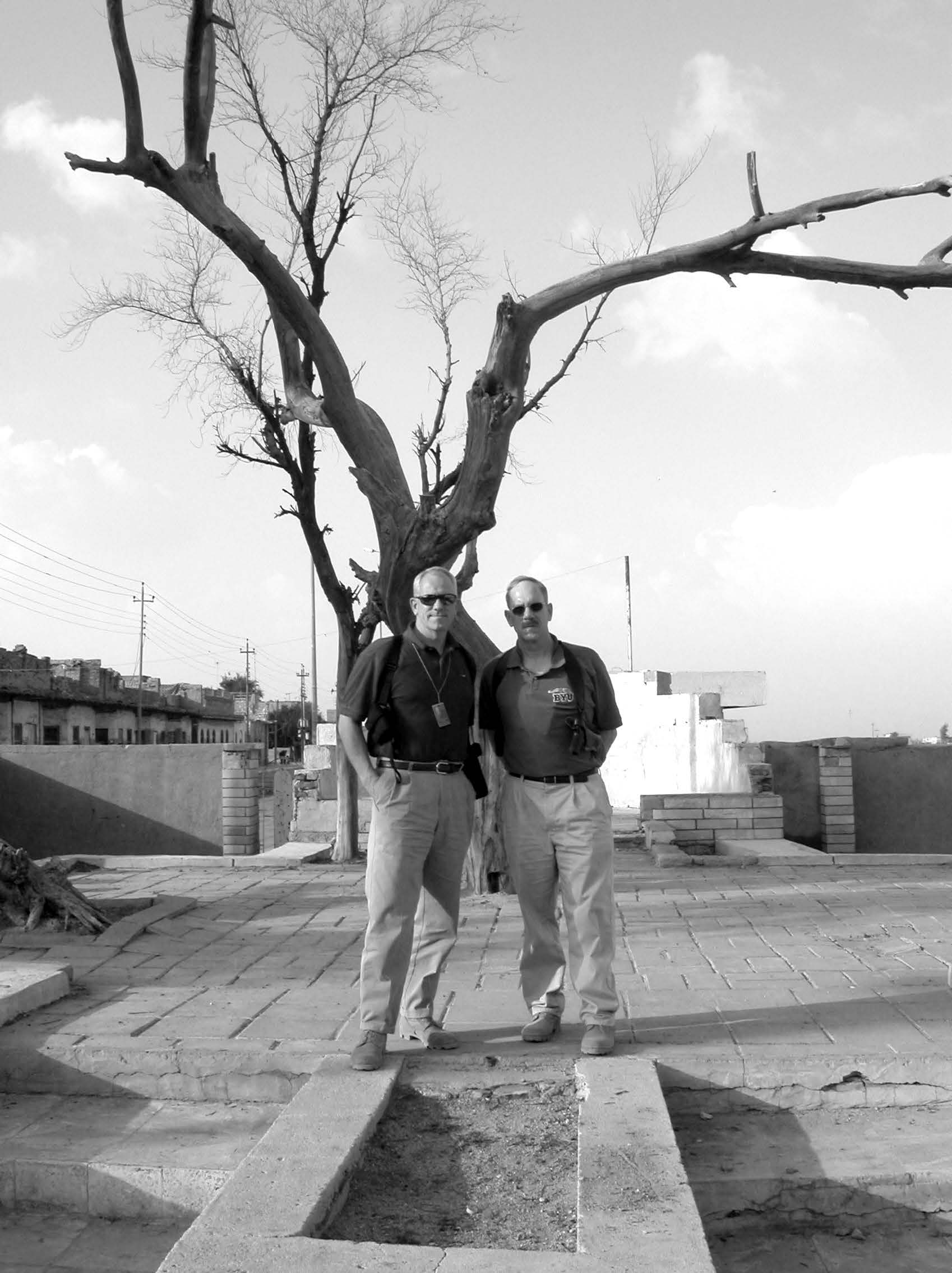 Lieutenant Colonel Kevin R. Riedler (right) and Colonel
Jim Slavin are pictured standing in front of the "Adam Tree" near where the Tigress and Euphrates Rivers meet—a site traditionally accepted by some people as the location of the Garden of Eden. Courtesy of Kevin R. Riedler.
Kevin Riedler graduated from the United States Military Academy in 1981. He has served in numerous stake, ward, branch, and service member group callings; as an ordinance worker in the Chicago, Boston, Birmingham, Orlando, Bountiful, Manhattan, and Washington D.C. Temples; and as a veil worker in Atlanta and Oakland. He is one of a growing number of West Point graduates who served a full-time mission (his was to Denmark) and then returned to the Military Academy. He served as the deputy commander for an organization of more than thirty thousand soldiers in the southeastern United States. He and his bride, Beth, are the parents of five children. He served in Iraq beginning in 2003.
During December 2003, Church meetings in Baghdad, Iraq, were held in Saddam Hussein's former presidential palace. Courtesy of Kevin R. Riedler (second from right on the front row).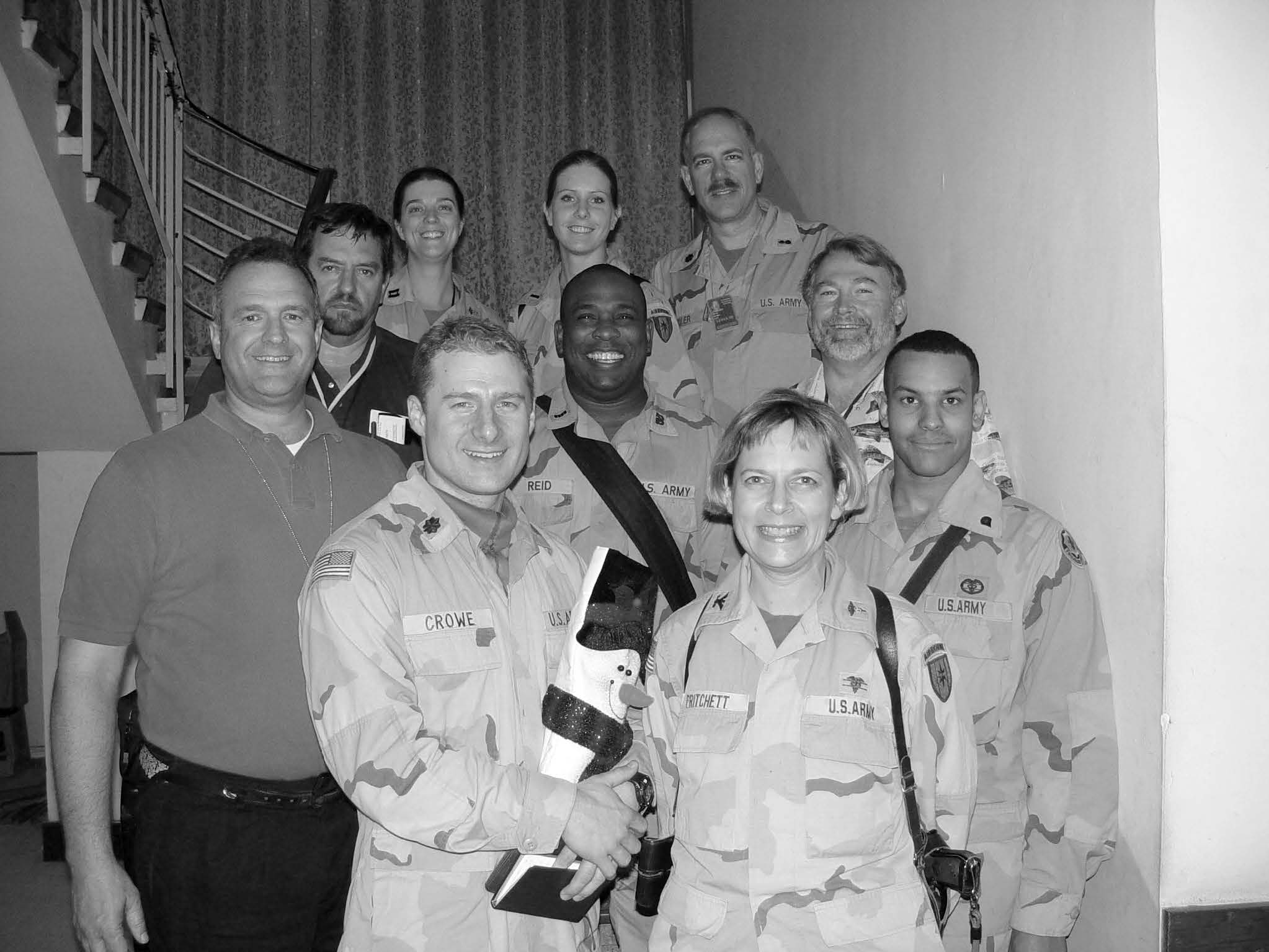 Lieutenant Colonel Kevin R. Riedler (right, back row) caroling with a group of Latter-day Saint soldiers in Baghdad on Christmas Day in 2003. Courtesy of Kevin R. Riedler.
Within a couple days after arriving in Baghdad, I went looking for shower slippers in what was irreverently referred to as the "Haji Mart"—the local bazaar inside the Green Zone. I discovered a shop owned by Abu Hazem—a gentleman who had served as an interpreter for several U.S. units (and later for me). Because I was doing PT [physical training], I didn't have any money with me. Abu Hazem insisted that I take the slippers and pay for them when I next came by, which I made sure was later that day. He introduced me to his friends as "my dear friend Abu Robbie ["father of Robbie"], whose heart is pure." Several weeks later he invited me to his house, and much to my boss's chagrin, I spent a night with Abu Hazem and his family—outside the Green Zone.
When I left Baghdad after a few months for a quick trip back to the Pentagon, he hugged me and cried, afraid we would never see each other again. My first visit upon my return a week later was back to his shop, and I was again greeted as before. I brought several gifts from my family, though I couldn't match those he had sent with me for mine.
By March 2004, I felt strongly that Abu Hazem would want a copy of the Book of Mormon, and I inquired through my service member group leader and a Latter-day Saint chaplain. After receiving proper permission and securing a copy in Arabic, I presented it to Abu Hazem. When I handed it to him, he held it in both hands, hugged it to his chest, kissed it, and placed it in the most prominent display area in his shop: "This way everyone can see it in a place of honor when they come!" he said. Abu Hazem's shop was later destroyed by a suicide bomber. He sent his family to live in Egypt, out of the "danger zone" as he described it, though he was unable to secure a visa for himself at that time. Over a year later they were reunited in Amman, Jordan, and many years later permitted to emigrate to the United States. Abu Hazem and most of his family now live in Texas, safe from the wars in the Middle East.
FRANKLIN SAFFEN
During Operation Iraqi Freedom, Frank served as a military transition team leader, advising an Iraqi Mechanized Infantry Battalion operating north of Baghdad. His wife and five daughters lived in Kentucky during his deployment. He has served in the Church as a member of several bishoprics and as a high councilor. He also served as a service member group leader during his deployment.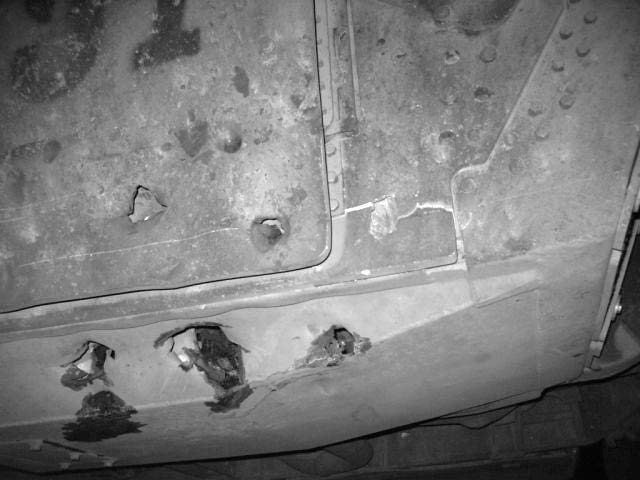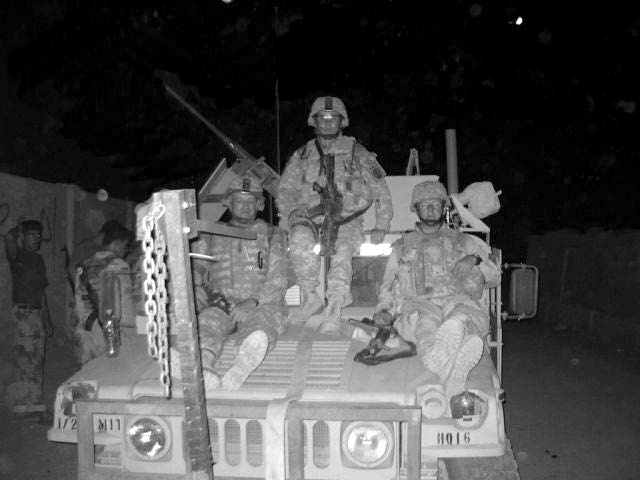 These photos show some of the damage received to the Humvee that Major Franklin Saffen and two of the soldiers in his unit (shown in the last photo) were riding in when an IED exploded underneath it on September 2, 2006. Fortunately, none of the occupants was seriously injured. Courtesy of Franklin Saffen.
On September 2, 2006, I was leading a patrol of three up-armored HMMWVs (two U.S. and one Iraqi Army). Our mission was to check the morale and conditions of Iraqi Army soldiers at traffic control points along the Tigris River north of Baghdad (Taji Beach Area). My HMMWV was in the lead, followed by my Iraqi Army counterpart, COL Mohammed, the commander of the 1st Mechanized Battalion, 2/9 Iraqi Armored Brigade. The rest of my team was in the rear. It was about 1900 [7:00 pm], and it was dark.
We were traveling a little-used road known for the many potholes we had to dodge. Some of the holes were caused by IEDs [improvised explosive devices], but there hadn't been an IED on that road for several months. That fact changed that night. Suddenly, a deafening explosion and an orange flash rocked our senses. My HMMWV disappeared in a ball of dust and fire. An instant after my mind registered we had hit an IED, I realized I was still alive. The rest of my crew survived as well, though the vehicle stalled after a few yards due to transmission damage and four flat tires.
Fortunately, it was not a complex attack. We aggressively scanned for targets but didn't find any. We towed my vehicle to the nearest checkpoint and waited for a recovery. The blast went off right under my seat. It penetrated the reinforced underarmor and destroyed the batteries under my seat. The only thing left between me and deadly shrapnel was thin sheet metal and a seat cushion. My only injury was bruised heels from the force of the blast carrying through the floorboards. My machine gunner suffered a ruptured eardrum, which earned him a Purple Heart, and all of us received the Combat Action Badge.
BRENT R. TAYLOR
See Brent Taylor's brief biography in the Afghanistan section.
The first few months of our deployment to Mosul, Iraq (2007–8) were the most eventful as far as enemy actions, although we would have attacks and events throughout the tour. One of my first missions became the most famous mission of the entire tour—the "Mosul Tour." We were conducting a normal nighttime convoy mission north through Mosul to the Turkish border and then back again south with a new set of supply trucks. We dropped off our trucks but were delayed because of some IEDs and other problems.
Because of our TTPs [Tactics, Techniques, and Procedures] at that time, the convoy commander was placed at the start of the second serial [convoy group], about one-third back in the convoy. We generally had three serials of thirty supply trucks each. Daylight came on us rapidly, and it was dawn as we reached the outskirts of Mosul. There was a lot of concern among the convoy members as we entered Mosul because the city was rapidly coming alive. The sun was rising, and people were moving and going about their days. Perhaps worst of all, there started to be cars and vehicles on the road. I told everyone to stay close and keep the convoy tight as we drove through the city. It would probably be an hour before we would be on the other side.
Major Brent Taylor served two voluntary deployments to Iraq (during 2007 and 2008). Courtesy of Jennie A. Taylor.
A few minutes later, a very strange sight appeared: the walls of Nineveh[1] rose alongside the road. We had never seen these walls before, and I took some pictures. I didn't think anything of seeing the walls because we were new to the route. It did not seem out of place. A few minutes later, however, one of my NCOs radioed that he thought we were on the wrong route. I told him I didn't think so, and we continued. He was farther in the front of the convoy, however, and he was correct; we were on the wrong route. The scout vehicle had taken a wrong turn, and the entire two- to four-mile-long convoy was snaking through the city on the wrong route.
As it became apparent that the convoy was on the wrong route, bad stuff started to happen. The first of multiple IEDs blew up alongside the convoy. This damaged several supply trucks and started to cause panic. We were lost in a strange and unfamiliar city with a one hundred-vehicle convoy that was not very agile. It was daytime, and the narrow streets were beginning to fill. My scout radioed that he could not find the route. There were a few seconds of silence on the radio as everyone waited to hear my decision regarding how to handle the situation. I radioed back that my vehicle would take the lead, and I asked Major Roberts to drive us quickly to the front of the convoy. The convoy was halted because they didn't know where to go, and a "slinky effect" was moving its way back. We crossed into the other lane and drove to the front of the convoy, while more reports of IEDs came.
Meanwhile, I got on the radio and gave the best performance of my military career. I could tell my men were afraid and concerned. I told them I knew exactly where we were (not true) and how to get us back to the right route (also not true). I prayed to God to guide me, and I felt an incredible calm about the entire situation. I knew everything would be OK. The Lord gave me a clear understanding of where to go. I took over as the scout vehicle and started us on a path back to the proper route. We traveled down a very narrow street, barely big enough for our convoy. I could see the shock on the Iraqis' eyes as we rolled through. Clearly, Americans were not common in this area. We later learned this was a "black route," where U.S. forces were not supposed to go.
My initial route would take us back over the Euphrates, but as we arrived at the bridge, I realized with sadness it was destroyed and blocked off. No one outside of my vehicle knew this, however, because I kept all my messages positive and confident. I kept telling my soldiers it would be okay. The supply trucks received other IED attacks and small arms fire. But after about one hour of tension and apprehension, we all made it back to the correct route. This took serious time and effort because the giant convoy was like a snake winding its way through the city streets, trying to avoid crossing over itself and always continuing in a forward direction (as there was no way to turn around ninety eighteen-wheelers in Mosul).
After we got everyone to the right route, my scout took over again, and we headed south. We hit another IED south of Mosul, but no serious damage was done. We got back to our base. About twenty vehicles had been damaged by IEDs and small arms fire, but no one was seriously injured. A number of soldiers received Purple Heart awards for concussions and blown eardrums, but no one was seriously hurt. I was grateful for God leading me through the mission and helping me stay calm and for empowering my personal feelings of peace and calm to help keep the emotions of my soldiers in check as we made our way back to safety.
RANDALL E. TWITCHELL
Colonel Randall E. Twitchell served on active duty as a military policeman (MP) in the United States Army for more than thirty years. He graduated from Brigham Young University in August 1983 and entered active-duty Army service in September 1984. He commanded the 14th Military Police Brigade at Fort Leonard Wood, Missouri, from 2007 to 2009. He also commanded the 95th Military Police Battalion at Mannheim, Germany, from July 2002 to April 2005. In February 2004, his battalion was deployed to Iraq as part of Operation Iraqi Freedom. The 95th MP Battalion had not been deployed with a combat support wartime mission since the Vietnam War. While serving as a commander in Iraq, Randy had many personal experiences that forever changed his outlook on life and the role the gospel plays in his life.
MPs provide combat support to maneuver commanders by protecting main supply routes [MSRs], escorting convoys, providing area security, and protecting VIPs. They also establish internment and resettlement areas as needed, conduct intelligence operations, uphold law and order by training and participating with Iraqi Police units, and execute other missions necessary to support combat operations. While Army infantry and Marines were fighting house-to-house in Fallujah, Karbala, and Najaf, MPs were in and outside those cities. They secured the MSRs, manned checkpoints, and protected critical infrastructure.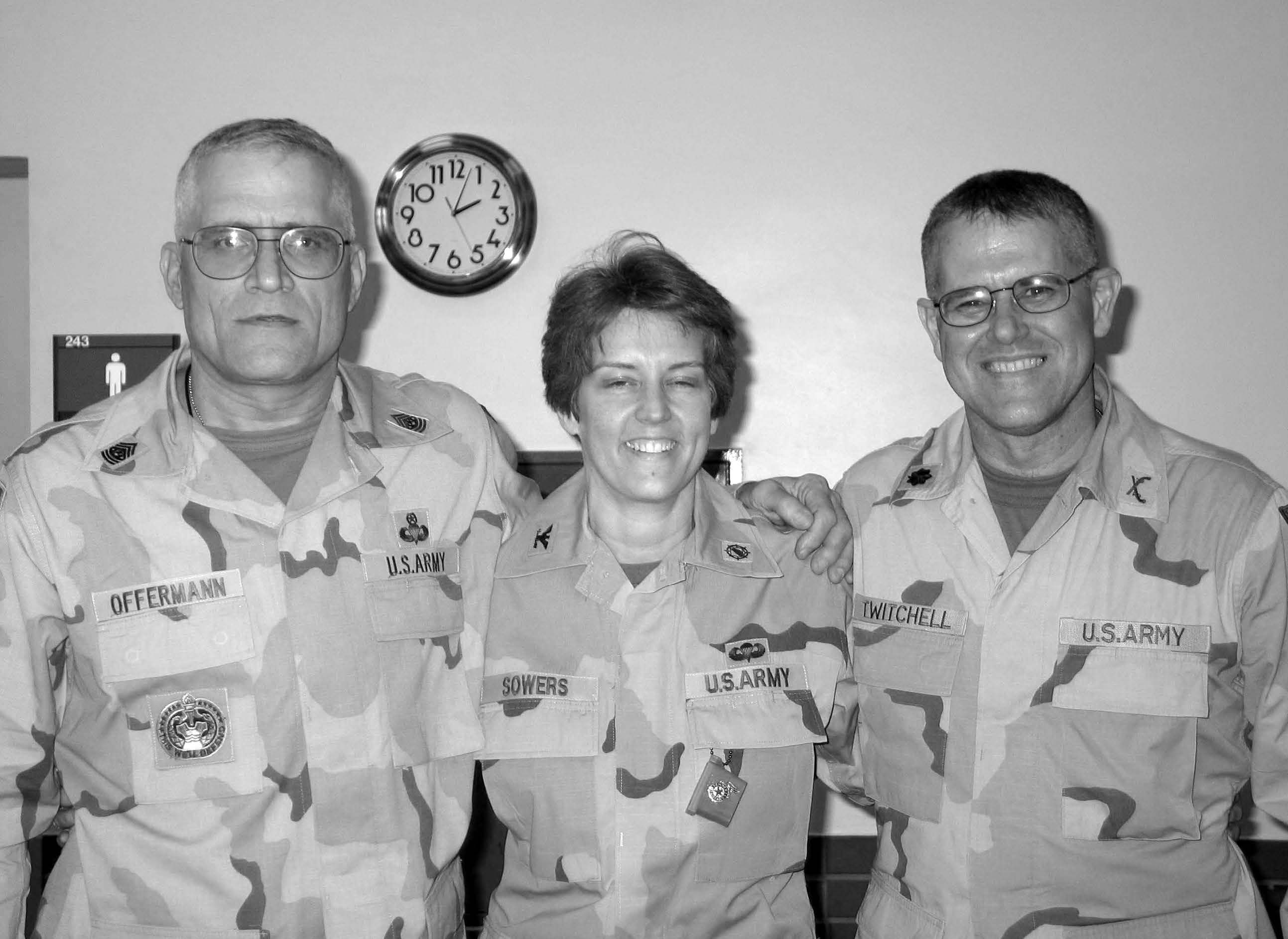 Lieutenant Colonel Randall E. Twitchell (right), Command Sergeant Major Mark Offermann (left), and brigade commander Colonel Susan Sowers (center) are shown on the day the battalion colors were cased in Mannheim, Germany. Courtesy of Randall E. Twitchell.
On Easter Sunday in April 2004, an Apache [helicopter], responding to a convoy under fire, was shot down by a surface-to-air missile. When my command team and I arrived on the scene, the pilots were dead. We assisted in the recovery of the pilots' bodies. I couldn't help but think that, here it was—Easter Sunday—and these two brave pilots, who were thousands of miles from their homes, lay dead. Their families had no idea at that moment what had happened to them. It was a very sobering moment. I grieved for the pilots and their families, and I reflected on the gospel principles I had been taught all my life. I took comfort in the knowledge there is life after death and a resurrection of body and spirit.
MP patrols and the convoys they protected knew the enemy frequently had vehicle-borne IEDs [VBIEDs] on the road, looking for targets of opportunity. One of those vehicles attacked one of my MP patrols. The VBIED managed to work itself in between two of their armored Hummers. The enemy vehicle used for the attack was an old, multicolored GMC Suburban, fully loaded with high explosives. When the driver blew himself up, it threw the lead MP vehicle over fifteen feet into the air, causing the vehicle to do a triple turn as it came down. All the vehicle's doors were blown off their supports, the windows were shattered, and the vehicle was destroyed. Remarkably, only two of the three soldiers in the lead vehicle were knocked unconscious, and the third individual, their squad leader, was able to pull them to safety from the burning vehicle. I visited those soldiers in the hospital and spoke with their squad leader (who was also badly burned). His concern was for the welfare of his comrades. He spoke only of them and not of himself. Were it not for his heroic actions, they would surely have perished in their burning vehicle.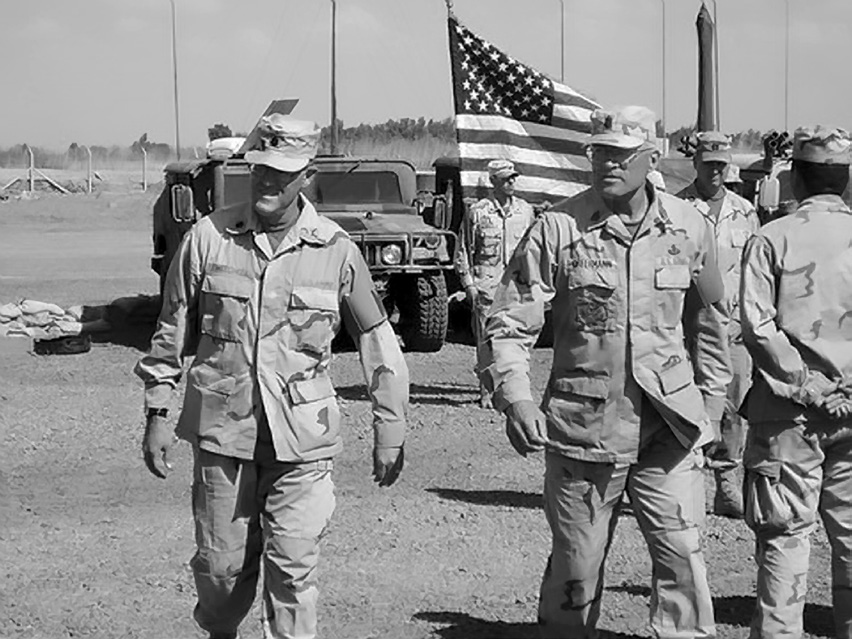 Lieutenant Colonel Randall E. Twitchell's battalion headquarters, located near Baghdad International Airport, on the day the 95th Military Police Battalion
assumed control of operations in Iraq from the 118th Military Police Battalion. Courtesy of Randall E. Twitchell.
Truck drivers, civilian and military, were frequently the target of snipers. A good sniper could shoot a truck driver from quite a distance. In one such instance, the targeted driver was driving a semitrailer full of fuel. The sniper scored a direct hit on the truck driver. One of the MP vehicles escorting the convoy stopped to get the injured driver out of the vehicle. As two of the soldiers were rendering first aid, the enemy shot a rocket-propelled grenade [RPG] into the fuel pod of the truck. The truck burst into flames, engulfing the driver and the two soldiers in an inferno. At that moment of great danger, a platoon leader who had observed what was happening from the other side of the highway, directed his vehicle to the site of the incident. He then dismounted and ran directly into the flames, pulling the two soldiers and the driver out while suffering even more serious burns than those they had received: uncommon love and selflessness demonstrated by a leader who put the needs of others before his own. The platoon leader was severely burned. He spent the better part of a year in a burn center before being medically retired from the Army.
* * * * *
As a commander, I tried to set the example for soldiers in my battalion. One night, as we were returning to our base from a visit to one of the Iraqi police stations we partnered with, we were ambushed and attacked. We successfully fought our way through the ambush, and all my soldiers survived the attack. My security team leader came into my office and said, "Sir, I just want you to know that the men feel safer when you are with them." That statement meant more to me than any award or promotion I ever received while serving in the Army. I believe the primary reason we survived was because my drivers and gunners were well trained in responding to those kinds of attacks. I always made it my practice to have prayer before we departed on our journeys. I believe on this occasion, as well as others, our lives were preserved because we did all we could to protect ourselves and then relied on the Lord to do the rest.
I know the faith and prayers of others helped protect me throughout my deployment. There were many times in Iraq when I knew my life and the lives of those who traveled with me were at risk. One day I received an email message from a non–Latter-day Saint friend in the United States. He told me he was awakened early one morning and impressed he should pray for my safety—that my life was in danger. He offered prayer at that time in my behalf. I am sure his prayers helped keep me safe.
On another occasion, I called my wife early one morning to let her know I would be on the road for a few days visiting my units and would not contact her for several days. After speaking for a few minutes, we hung up, and she went back to sleep (as it was early in the morning where she was). She later told me she was awakened a few hours later, around four a.m., with a distinct impression she needed to get out of bed and pray for me. At first, she ignored the prompting because she was tired, but the impression came again, stronger. She got out of bed and said a prayer for my safety. I called her about thirty minutes later to let her know one of my vehicles had broken down so we would not be going on the road. We believe her faith and prayers helped keep me safe that day. I don't know what would have happened if I had left as planned, but I do know the Lord watched over me—that day, during my deployment, and throughout my career.
EUGENE J. WIKLE
See Eugene J. Wikle's brief biography in the Afghanistan section.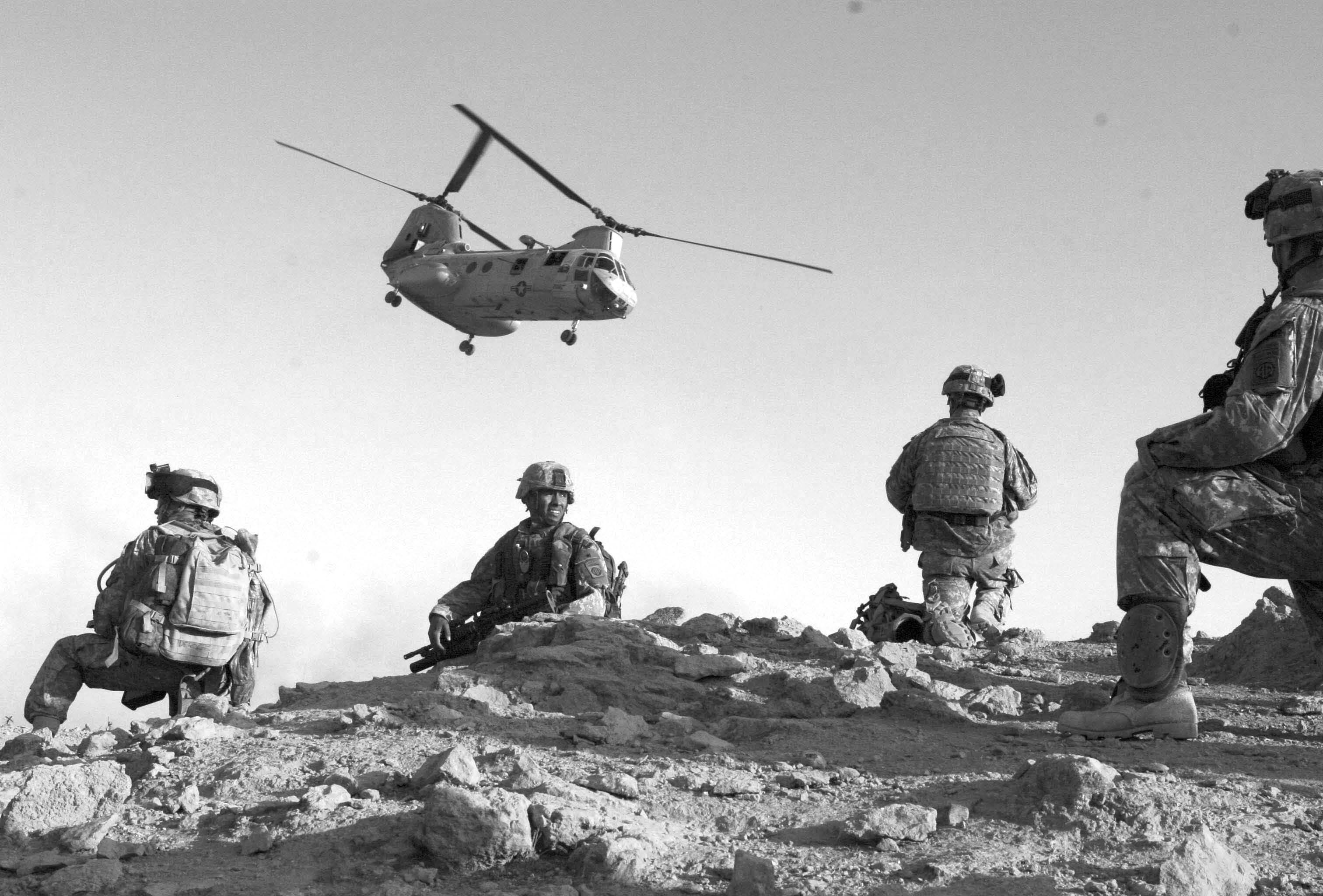 U.S. soldiers awaiting helicopter transport. Courtesy of DoD.
When Saddam Hussein was in power, he mandated that all universities teach English as a second language and that graduates must be fluent in English. The two Iraqi translators assigned to Ken Gray (a retired U.S. Army colonel) and myself were graduates of Baghdad University with degrees in engineering. Amnah and Wamidh faithfully served as our translators as we mentored the senior leadership of the Iraq Ministry of Defense and served as logistics advisers at the U.S. Embassy in Baghdad.
During my mission in Iraq, Wamidh and I would often talk about the Islamic faith and my Christian faith. We developed a mutual respect for each other's religion. Soon, we began addressing each other as "Brother Wamidh" or "Brother Gene." . . . He would later view a PBS broadcast on the Latter-day Saint Church and Joseph Smith that was broadcast on an Arab TV station in Iraq. After viewing it, Wamidh stated that we really did have much in common, and we truly were "brothers."
Every day, Amnah and Wamidh risked their lives to travel to the U.S. Embassy to assist Ken and myself. They were loyal and dedicated to the mission we had to perform. They provided great wisdom and insight regarding the culture, history, religion, and politics of Iraq. We were served well by them.
When it came time for Ken and me to leave, as we said goodbye, tears were shed and gifts were exchanged. We exchanged email addresses and promised to correspond. Wamidh and I corresponded over the course of the next ten years. In 2008, while serving in Afghanistan, Wamidh asked if I would sponsor him for the State Department Special Immigration Visa program. When I left Iraq in 2004, Wamidh was single, but in the course of four years he met an Iraqi woman, fell in love, and was married. His family grew with three children.
I agreed to sponsor Wamidh and offered my support to him. We discussed where to relocate to in the United States. Phoenix became his choice at my recommendation because of a similar climate and relatively large Iraqi population there. Imagine going to a country you have never visited and only read about in books or seen on TV. The country speaks a foreign language. You are allowed just one suitcase per person.
On April 24, 2014, a new life and adventure began for Wamidh and his family. They quickly adapted to their new home, new country, and new friends. Susan and I invited Wamidh and his family to our home to share meals, let the children swim in our pool, and have fun together. I took the bold step to invite Wamidh and his family to our Latter-day Saint church services. Wamidh did not hesitate and said, "Sure, why not!" On Mother's Day 2014, Susan and I escorted Wamidh and his family to attend our sacrament meeting. Susan and I happened to be the sacrament speakers. We bore our testimonies about the gospel. Wamidh translated for his wife so she could appreciate the words spoken.
Wamidh was introduced to the missionaries, the bishopric, and the first counselor in the stake presidency. After meeting them, Wamidh commented, "I can see a glow around each of you, and I know I am with God in this church." Women and children in our ward warmly greeted his family. I enjoyed watching the astonished looks on the members' faces they witnessed a Muslim family attend Latter-day Saint church services. Sharing the gospel with Wamidh and his family has been one of the greatest experiences of my life. We are brothers, comrades-in-arms.
Notes
[1] Mosul is located near the ancient city of Nineveh. Saddam Hussein had a portion of the ancient walls rebuilt.