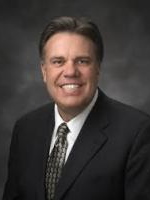 Bradley Ray Wilcox was born on 25 December 1959. Brother Wilcox was mainly raised in Provo, Utah, but he did spend some of his early years in Ethiopia. He served a mission for the LDS Church in Chile. He earned his bachelor's degree from Brigham Young University in 1985, and also earned a PhD from the University of Wyoming.
Brother Wilcox is an associate professor of ancient scripture at Brigham Young University and has been an associate professor of education and a member of the Sunday School general board. Before joining the BYU faculty, Brother Wilcox was a sixth-grade teacher in Provo. From 2003 to 2006, he was president of the Santiago Chile East Mission. He has also served at times in several other positions in the Church, ranging from cub scout leader to bishop. In 2007, he was called as a counselor in the presidency of the BYU Fourth Stake.
Brother Wilcox and his wife, Deborah "Debi" G. Gunnell Wilcox, are the parents of four children.