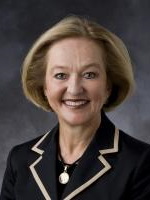 Kathy Kipp Clayton is a mother of seven children and grandmother of eighteen. She and her husband, Elder L. Whitney Clayton of the Presidency of the Seventy, raised their children in Southern California.
Kathy graduated from the University of Utah with a degree in English and French education. She later earned a master's degree in educational linguistic development in California. She has taught composition, English, mathematics, and family life courses at junior high, high school, and junior colleges in Utah and California.
For the Church, Kathy has served most commonly among the youth. She taught early morning seminary for seven years in California, then for three years in Buenos Aires, Argentina, in Spanish. She was actually called to teach Seminary in Argentina before she had any substantial command of Spanish. As a result of the insights into significant, life-changing teaching she gained as she served in that improbable calling, she published with Deseret Book a book entitled, Teaching to Build Faith and Faithfulness: Ten Strategies for Parents and Teachers.