Teach One Another Words of Wisdom
Selections from the "Religious Educator"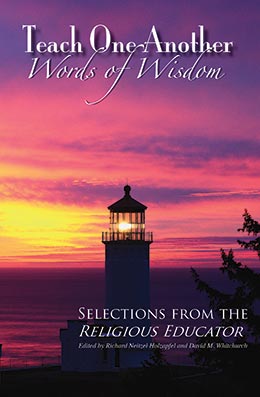 About the Book
Jeffrey R. Holland, then dean of Religious Instruction at Brigham Young University (BYU), established the Religious Studies Center (RSC) in 1975 with the mission of encouraging and supporting the pursuit of truth through scholarship on gospel-related topics. This collection of essays, like all RSC endeavors, is part of Religious Education's overall mission of building the kingdom of God by teaching and preserving the sacred doctrine and history of the gospel of Jesus Christ. The Religious Educator, a publication of BYU's RSC, is a place where Church leaders and teachers publish thoughtful essays for those who study and teach the restored gospel of Jesus Christ. The editors of this compilation selected some of the outstanding contributions from past issues to celebrate the Religious Educator's tenth year of publication. This volume features outstanding articles by Elder Robert D. Hales, Elder Richard G. Scott, Elder Tad R. Callister, J. R. Kearl, Brent L. Top, Kathy Kipp Clayton, and others.
ISBN 978-0-8425-2717-0
Published in 2009