The Journey West
The Mormon Pioneer Journals of Horace K. Whitney with Insights from Helen Mar Kimball Whitney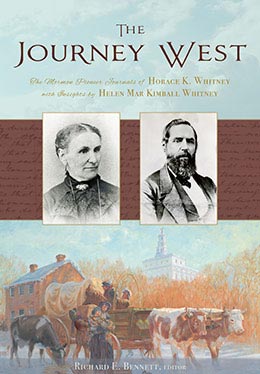 This book has not been released for online reading.
Published in 2018
ISBN 978-1-9443-9434-9
Book $34.99
Ebook $14.99
About the Book
How did a young newlywed couple experience the pioneer trek west? In The Journey West, award-winning author Richard E. Bennett has compiled the first combined husband-and-wife account of the pioneer trek. The six journals rank among the great exodus journals. They were written by Horace K. Whitney, son of Newel K. and Elizabeth Whitney, with reminiscences and insights from Helen Mar Kimball Whitney, daughter of Heber C. and Vilate Kimball. One of Helen's greatest contributions was to share a woman's perspective and complement her husband's perspectives in so many faith-building ways. The book has been richly illustrated and annotated to provide historical context. It is a remarkable story, with few parallels in the church history, of a young newlywed couple heading west with the exodus. It is a story of triumph over trials.
Watch the book trailer here: