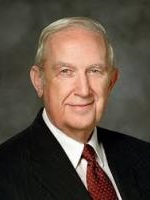 Richard G. Scott was born on 7 November 1928, in Pocatello, Idaho, a son of Kenneth Leroy and Mary Whittle Scott. At the age of five, he moved with his parents to Washington, DC, where his father served with the Department of Agriculture. He graduated from George Washington University as a mechanical engineer, served a full-time mission to Uruguay, and completed post-graduate work in nuclear engineering at Oak Ridge, Tennessee.
Richard Gordon Scott was sustained an Apostle of The Church of Jesus Christ of Latter-day Saints on 1 October 1988. He was called as a member of the First Quorum of the Seventy on 2 April 1977, and served as a member of the Presidency of that Quorum from 1 October 1983, until his calling as an Apostle. He is blessed with a gifted wife, Jeanene Watkins, to whom he was sealed on 16 July 1953 in the Manti Temple. She passed away on 15 May 1995. They are the parents of seven children.
Elder Scott passed away on 22 September 2015 in Salt Lake City.