Moral Foundations: Standing Firm in a World of Shifting Values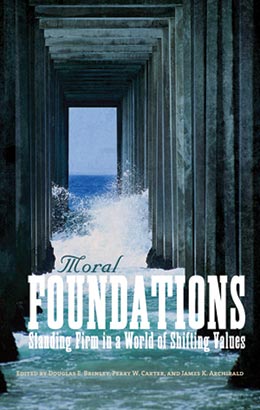 About the Book
A symposium titled "The Gospel: The Foundation for a Professional Career Symposium" was held on Brigham Young University campus in March 2007. It was cosponsored by Religious Education and the Ira A. Fulton College of Engineering and Technology. The purpose of the symposium was to emphasize how important it is for graduates of BYU to live the highest standards of morality and integrity as they leave campus and assume residency and employment in the world community. It was an opportunity to make principles taught by the Latter-day Saint faith find practical application in the lives of graduates. This volume contains the presentations from this symposium.
"We live in most interesting times. Scandals in society and infamous episodes in the lives of respected leaders force us to ask hard questions about what matters in people's lives. We must explore the difficult issue of whether leaders' private morality is in any way related to their capacity to make responsible and moral judgments in our behalf."—Robert L. Millet
"Both by doctrine and by covenant, members of The Church of Jesus Christ of Latter-day Saints are compelled to be men and women of character, honesty, and integrity in their personal and professional lives. As students attend Brigham Young University, graduate, and move out into the community and various chosen careers, they have an obligation to maintain the highest standards of integrity. In the workplace, whether they are employees or employers, they must be immune to improper incentives, social and corporate pressures, and shortcuts designed to enhance balance sheets at the expense of integrity and sound, acceptable business practices.
"Integrity is a matter of behavior, sound thinking, and an attitude that honesty is essential to good business and engineering practices. Adherence to a code of professional integrity has its foundations in the doctrines of the Restoration, particularly the knowledge that we are all sons and daughters of God and face eventual accountability for our words, works, and thoughts (see Alma 12:14). Church membership compels Latter-day Saints to be trustworthy and immune from political, financial, or personal corruption in a world where such traits are fast losing ground to economic expediency and personal greed."—The Editors
ISBN 978-0-8425-2686-9
Published in 2008