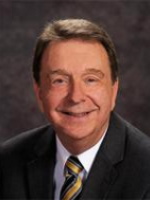 Richard G. Moore grew up in Salem, Utah. After serving as a missionary in Japan, he graduated from Brigham Young University with a bachelor's degree in American history. Richard also received a master's degree in history from Brigham Young University and a doctorate in educational administration from the University of the Pacific.
He has been a speaker for Know Your Religion and Education Week. He was a seminary teacher in Arizona and Utah, a Church Educational System coordinator and institute director in northern California, and an institute instructor at the Orem Institute of Religion.
Richard taught for more than thirty years in the Church Educational System. He and his wife, Lani, have three children: Adam, Travis, and Asia.