Winter 2017
Review Magazine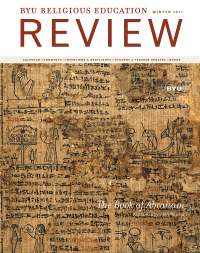 Many Gifts, One Spirit
Message From the Deans' Office
Brent L. Top, Dean Religious Education
I recently attended a concert where the BYU Philharmonic Orchestra performed. It is always amazing to me how all the instruments—each with its own unique function and sound—combine together to make incredible music. Likewise, people with different talents, training, and abilities often unite to produce something greater than the sum of the individual parts.
Such is the case with Religious Education at BYU. As I walk down the halls, visit classes, and read publications, I am amazed by the quality of our faculty and students. Each brings incredible intellectual and spiritual abilities. Each has a unique contribution to make, but working together they can and do produce something special. This issue of Religious Education Review is a prime example of that. There is a wide a variety of topics in the articles contained herein—representing the entire spectrum of what we do in Religious Education and the broad interests of you, our readers. There are other individual contributions to the quality of this publication, and our overall success that may not be as visible as those of authors and editors. Behind the scenes are student research assistants, source checkers, copy editors, graphic designers, technical support, and office staff who make the rest of us look good and ensure the quality of this publication and other Religious Studies Center endeavors.
As the Apostle Paul taught the Corinthian Saints, "There are diversities of gifts, but the same Spirit" (1 Corinthians 12:4). Paraphrasing, we can also say, "There are diversities of givers, but the same unity of purpose." Like the combined talents of individual musicians and unique sounds of instruments in an orchestra, the consecration of many individual gifts makes possible religious scholarship that enlightens the mind and shapes the soul. Also, generous donors have given of their means to support the work of the Religious Studies Center. Those consecrated gifts—whether large donations or widows' mites—allow us to extend the influence of Religious Education beyond the Provo campus, helping to build the kingdom and strengthen faith and knowledge throughout the world. I express my deep appreciation for all the gifts and my sincere admiration for all the givers.
Brent L. Top
Dean, Religious Education