The Book of Mormon Academy at Brigham Young University
Tyler Balli (tylerballi@gmail.com) was a history major at BYU when this was published.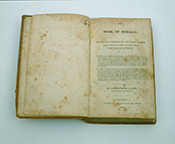 About three years ago, influential Book of Mormon Scholars from Brigham Young University were in the midst of concluding their careers. With the prospect of these scholars' departure, Drs. Robert L. Millet, Paul Y. Hoskisson, Dennis L. Largey, and Camille Fronk Olson discovered a need for a formal organization, the Book of Mormon Academy (BOMA), that encouraged and supported a rising generation of Book of Mormon researchers at BYU. The work of these researchers would ultimately benefit the general membership of the Church, providing members with accessible, first-rate resources that would deepen their understanding of the Book of Mormon.
Dr. Olson hoped that this organization would help faculty members "grow deep roots in Book of Mormon scholarship." She said, "Because there is no postdoctoral program at any university for our faculty to attend to achieve content mastery on the Book of Mormon, and because the faculty who achieved such mastery over twenty years ago were retired, we wanted to offer a professional-development venue to select faculty with serious interest in Book of Mormon studies." The academy seeks to be a resource for faculty members, asking them, "How can we help you in your academic career if you want to specialize in Book of Mormon research and teaching?" Dr. Olson said that members "could elect self-directed agendas, collaborate with others on projects, or invite experts in Book of Mormon scholarship to instruct them." The first chair of the academy (a rotating positon that periodically changes) was Dr. Shon D. Hopkin, an assistant professor in the Ancient Scripture Department. His duties as chair included facilitating, supporting, and encouraging periodic meetings among members in which they could discuss collaborative projects, develop new methods of teaching their Book of Mormon classes, and listen to lectures given by Book of Mormon researchers. The organizational structure and support provide what Dr. Kerry Hull, the second chair of BOMA and a professor of ancient scripture, described as "a training ground for the group to increase their knowledge in areas of Book of Mormon research," further elevating scholars' research.
Collaborating with Other Faculty
While no one has a PhD in Book of Mormon studies, the Religious Education faculty comprises experts in many different fields. One of the purposes of BOMA is to bring together scholars of different skills and areas of expertise that also share a common interest in the Book of Mormon, creating what a BOMA pamphlet calls "a supportive and collegial environment where fellows of the Academy can exchange ideas and information about the Book of Mormon." Dr. Olson described the different areas of expertise that members of the academy bring from their graduate studies, "such as Hebrew, biblical studies, Mesoamerican studies, nineteenth-century American literature, pedagogy, instructional design, philosophy, and New Testament studies." This diversity among members allows them to bring together their expertise and provide to their audience fuller and deeper scholarship about many aspects of the Book of Mormon, from the theological interpretation of a passage of scripture to the historical context surrounding the translation process.
A current BOMA project is a perfect example of the kind of in-depth, collaborative, and multifaceted scholarship the academy is capable of. The project is a book-length volume that focuses exclusively on Abinadi, which the Religious Studies Center will publish in 2018. The book capitalizes on the strengths and areas of expertise of each contributing author, delving deep into Abinadi's relatively short appearance among the people of King Noah. It uses several different lenses to provide new insight and understanding, including literary, intratextual, intertextual, cultural, historical, and theological perspectives.
Helping Students of the Book of Mormon
Ultimately, the biggest beneficiaries of Book of Mormon expertise among BYU faculty are the general members of the Church. The aims of the academy state the organization's desire to "facilitate effective teaching of the Book of Mormon" and to have its members "be better able to provide students with a rigorous examination of the Book of Mormon." Dr. Olson added further, "We want to encourage Book of Mormon expertise among academy members that will equip us to respond to questions and needs among our students and within the Church if and when we are called."
Dr. John Hilton III, the current chair of the academy, mentioned that one of the questions that members of the academy have asked themselves is "How do [we] talk about potentially difficult issues with students?" Students, who have easy access to mountains of information that could potentially challenge their faith in the Book of Mormon, will no doubt have many questions for professors teaching them about the Book of Mormon. Dr. Olson said, "Whether the questions be on Book of Mormon history, doctrine, translation, languages, the authors and abridgers, or the various arguments for and against the Book of Mormon's authentic ancient voice, we want to support members of the academy with the needed resources to be equipped to answer accurately, faithfully, and appropriately."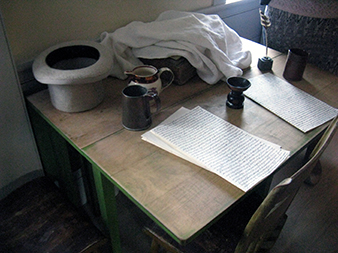 The translation process of the Book of Mormon might be one of those potentially difficult issues, and members of the academy have recently accomplished excellent work on that topic. For example, in 2015, Dr. Michael H. MacKay coauthored From Darkness unto Light: Joseph Smith's Translation and Publication of the Book of Mormon, and this past year he and Dr. Nicholas J. Frederick (another BOMA member) authored Joseph Smith's Seer Stones, which Deseret Book has listed as one of its best-selling books from 2016.[1] Highlighting the importance of Dr. MacKay's and Dr. Frederick's work, Dr. Hilton said that "those [books discuss] topics that could easily come up in the first two or three periods in a Book of Mormon class that would be important for teachers to give a faithful, scholarly, and accurate response to."
Dr. Frederick has also done extensive research on the presence of the New Testament in the Book of Mormon, which Dr. Hilton called "another important issue for students to recognize and grapple with." Dr. Hilton also described how Dr. Frederick presented his findings to the academy and then members collectively discussed how to use this research effectively in the classroom and "share it in a meaningful way with students." This process is invaluable. After all, these scholars don't just spend their time poring over dusty records in archives; they have the opportunity to influence and shape the views of hundreds of students over the course of their careers. And as Dr. Olson said, "Our students should enjoy the fruits of professors who can answer their questions based on reputable sources." Dr. Hopkin believes that teaching BYU students more expertly will benefit more people than just the students themselves: "We hope that teaching BYU students as effectively as possible will have a ripple effect as those students later become gospel teachers."
Moving Forward
Moving forward, the Book of Mormon Academy is now trying to publish more of the products of their scholarship and collaboration, extending its influence beyond BYU's campus. "As we produce teaching resources, we hope that those will be useful for gospel teachers outside of BYU, such as gospel doctrine instructors and S&I faculty," Dr. Hopkin said. One such resource that the academy is currently working on is an annotated bibliography of what Dr. Hull called "must-read sources" for those interested in scholarly studies about the Book of Mormon.
The Book of Mormon is more than a topic of academic and spiritual interest. The Prophet Joseph Smith once called the Book of Mormon "the key stone of our religion."[2] About 140 years later, President Ezra Taft Benson expounded upon that statement, calling it "the keystone in our witness of Christ . . . , the keystone of our doctrine . . . , [and] the keystone of testimony."[3] If this book of scripture truly is a keystone of everything that the Prophet Joseph Smith and President Benson said, then it needs to be a preeminent focus of our study and our scholarship. The Book of Mormon Academy is playing an important role in BYU's focus on this keystone, helping faculty, as Dr. Olson said, to "think deeply about the Book of Mormon as more than simply one of our core classes that we teach"—which is indeed a worthy goal.---
Notes
[1] "Best Books of 2016," Deseret Book, accessed 17 January 2017, https://deseretbook.com/t/best-of-2016.
[2] Wilford Woodruff's Journals, vol. 2, 1 January 1841 to 31 December 1845, ed. Scott G. Kenney (Midvale, UT: Signature Books, 1983), 139.
[3] "The Book of Mormon—Keystone of Our Religion," Ensign, November 1986, 5.