Fall 2017
Review Magazine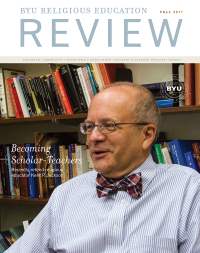 Thinking Globally at the RSC
Robert C. Freeman, Associate Dean
In our day, it seems, everyone is thinking global. Nowhere is global perspective more exciting than in the context of the gospel. The story of Church expansion in the international setting over the past several decades has been truly phenomenal. A recently published RSC volume, The Worldwide Church, indicates that over the last thirty years the Church has grown abroad over 500 percent.
Fortuitously, this period of growth has coincided with the emergence of the Religious Studies Center as a significant publisher of Church history. As we reflect on the recent growth of the Church, we wonder what the membership of the Church will look like in the coming decades. The answer to this question has important implications for the RSC and its mission to "encourage and publish faithful scholarship." Publishing works on global Church history and advancement of the Church worldwide has been a key commitment of the RSC. The list of recent RSC publications dedicated to such history includes Mormons in the Piazza: History of the Latter-day Saints in Italy, The Field Is White: Harvest in the Three Counties of England, Voice of the Saints in Taiwan, and Canadian Mormons.
As the Church continues to grow and expand into various areas of the world, there will continue to be a wealth of opportunities to tell the story of LDS beginnings in these places. Fortunately, there are very able LDS scholars at BYU and elsewhere who are well prepared to tell this story. What a great day we live in as the gospel rolls forth in our day! When the Savior issued the charge during his earthly ministry to take the gospel throughout the world, those in his day could scarcely have imagined what would eventually occur. Around the globe today, Apostles, missionaries, and other emissaries of the Lord continue to fulfill this commission. Those associated with the Religious Studies Center are working hard to publish this history and to bring the world his truth.
Robert C. Freeman
Associate Dean, Religious Education