Fall 2013
Review Magazine
New Dean of BYU Religious Education Appointed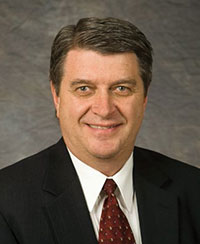 On July 1, Religious Education had a change in leadership. After serving as dean for seven and a half years, Terry B. Ball stepped down and BYU academic vice president Brent W. Webb announced the appointment of Brent L. Top as dean.
Dr. Top received broad support from the faculty and strong endorsement from the search committee and has the full confidence of the BYU administration. He brings a combination of experiences that prepare him well for this new responsibility. He is looking forward to helping Religious Education continue in its progress and development.
Brent Webb commented, "I am deeply grateful to Dean Terry Ball, who has provided fine service to Religious Education and has brought insights and skills to our university councils."
Top received his degrees from Brigham Young University—a BA in history, a master's degree in instructional media, and a PhD in instructional science and technology. Dr. Top served as associate dean of Religious Education from 1997 to 2002. He held the Endowed Professorship in Moral Education for two years prior to his call as president of the Illinois Peoria Mission (2004–7). He was appointed department chair of the Department of Church History and Doctrine in June 2009. He is married to Wendy Cope, and they are the parents of four children and reside in Pleasant Grove, Utah, where Brother Top currently serves as the president of the Pleasant Grove Utah East Stake.
Due to Top's appointment, other changes became necessary. Replacing him as department chair is Richard E. Bennett, who served as an associate dean to Dean Ball. Bennett is being replaced by Dana M. Pike, who had been serving as the publications director of the Religious Studies Center. The other associate dean of Religious Education, Dennis Wright, retired and was replaced by Robert C. Freeman, who had been serving as the associate chair of the Department of Church History and Doctrine.