Religious Educator
Vol. 23 No. 2 · 2022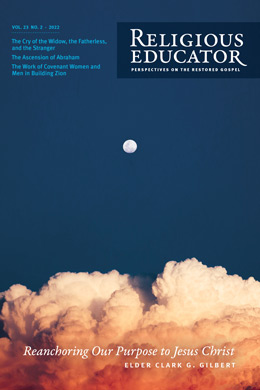 Remembering Our Purpose
Editor's Note
When I was serving as a mission president in the Thailand Bangkok Mission twenty-five years ago, I realized the importance of helping my missionaries remember the purpose behind their work. I taught them to ask themselves a grammatically challenged question: "Why am I doing?" I wanted them to continually seek to make their efforts match their purpose. Our efforts in religious instruction demand a similar alignment to inspired purpose. So what is our purpose as religious educators? Worldwide, we teach students who are as varied as they are precious. Our own circumstances are as varied as our students. We teach hundreds of them each year in homes, in Sunday School and seminary or institute classrooms, and in universities. And yet we are united in our ultimate desire to help our students come unto, and stay covenant connected with, Christ.
The lead article in this issue of the Religious Educator takes a deep look at how we can become better at "reanchoring our purpose to Jesus Christ." Elder Clark G. Gilbert, Commissioner of the Church Educational System and General Authority Seventy, shares three important truths that, in helping us to better answer the question "Why am I doing?," can lead us to accomplish our purpose more effectively.
We also continue to focus on Old Testament themes to go along with the primary course of study in the Church and in CES this year. You will find several articles on issues related to covenants, a primary theme of the Old Testament. Other articles connect the Book of Mormon to the Old Testament and focus on more modern Restoration topics.
In all, I hope that each article helps us in our attempts to "reanchor" our efforts in bringing our students and ourselves to Christ.
Michael A. Goodman
Editor in Chief