The Rise of the Latter-day Saints
The Journals and Histories of Newel Knight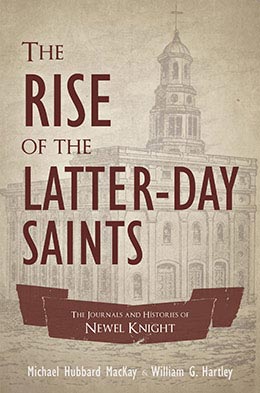 This book has not been released for online reading.
Published in 2019
ISBN 978-1-9443-9483-7
Book $24.99
About the Book
Newel Knight (1800–1847) was one of the very earliest Latter-day Saint converts and maintained a lifelong friendship and close association with Joseph Smith Jr. The journals of Newel Knight are part of a handful of essential manuscript sources that every historian of The Church of Jesus Christ of Latter-day Saints relies on to understand its early history. He was one of a few early converts to provide an eyewitness account of the founding events in Church history, including the rise and fall of the Church in Missouri, miraculous healings, legal battles, the construction and dedication of the Kirtland Temple, the first marriage performed by Joseph Smith Jr., the martyrdom, and the cold, difficult exodus from Illinois to Winter Quarters. Knight's history has always been a difficult source to use because it was never published in one volume until now. This book brings together his various accounts into one place to tell the story of the rise of the Latter-day Saints.