Regional Studies in Latter-day Saint Church History: The British Isles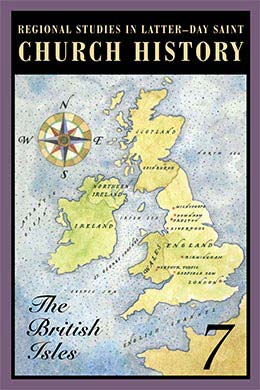 About the Book
Volume 7 in the Regional Studies Series
History is replete with examples of the accomplishments of the first Latter-day Saint missionaries to England. Prophesying of the importance of the missionaries' success, Joseph Smith said that their work would be the means of bringing salvation to the Lord's latter-day Church. In 1837, Latter-day Saint missionaries from America set foot in Great Britain seeking converts to the Mormon faith. Isaac Russell was one of the seven missionaries who served on that historic first mission to England. Elder Russell, unquestionably a successful missionary, later fell into disrepute during those tumultuous times in Missouri in the late 1830s.
Seventh in the collector series, Regional Studies in Latter-day Saint Church History: The British Isles is a collection of scholarly papers having to do with the Latter-day Saint experience in Great Britain. Contributors include Scott C. Esplin, Arnold K. Garr, Carol Wilkinson, Craig James Ostler, Clyde J. Williams, Richard E. Bennett, Jeffrey L. Jensen, Mary Jane Woodger, Jerome M. Perkins, Alan K. Parrish, David F. Boone, Richard O. Cowan, and Alexander L. Baugh with an introduction by Paul H. Peterson.
Some members do not realize the twin challenges the British Saints faced of dealing with the disruption of life due to the constant flux of emigrating fellow Saints and the almost constant harassment of fellow countrymen who resented their religion. A chapter is devoted to this topic and its explanation. Elder George A. Smith's efforts as well as those of David O. McKay are assessed. This volume includes a photographic essay and a discussion of the restoration of the first Latter-day Saint chapel at Gadfield Elm in Worcestershire. Also included is a dialogue regarding the Titanic disaster and its impact on Latter-day Saints.
ISBN 978-0-8425-2672-2
Published in 2007