Pioneers in the Pacific
Memory, History, and Cultural Identity among the Latter-day Saint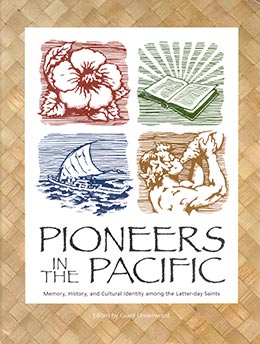 About the Book
The inspiration for this book and the source of most of its chapters was a conference held to commemorate the 150th anniversary of the coming of the Mormon pioneers to Utah's Salt Lake Valley. In recognition of the fact that by the end of the twentieth century The Church of Jesus Christ of Latter-day Saints was a global presence with more members outside North America than in it, Church leaders suggested that sesquicentennial celebrations might appropriately focus on local pioneers who had helped establish the Church in their respective areas.
The chapters in this book are grouped into three sections that roughly correspond to the volume's subtitle. Since memory, identity, and history inevitably intertwine in the presentation of past experience, readers should expect considerable overlap between sections. Nonetheless, chapters have been grouped according to their dominant orientation and approach.
Histories by and about Pacific Islanders are never impersonal. They focus on individuals more than on institutions and on ordinary people more than the elite. The people-centered, personal-narrative character of islander discourse is apparent in many chapters throughout this book.
By the time readers close the cover of this volume, it should be clear, as it was at the close of the Pioneers in the Pacific Conference, that LDS pioneering in the Pacific required the same faith and inspiration, hardship and heartache, miracles and mighty works that European and United States converts in the mid–nineteenth century exhibited in crossing the North American plains. It is a legacy that beckons to every generation of Latter-day Saints in every land. To demonstrate similar "faith in every footstep" and to witness along the way what great things the Lord has done, and will do, for His people is at the heart of our Christian discipleship.
ISBN 0-8425-2616-1
Published in 2005