Give Ear to My Words
Text and Context of Alma 36–42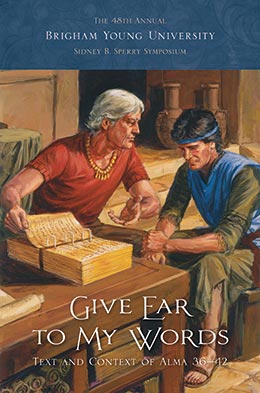 This book has not been released for online reading.
Published in 2019
ISBN 978-1-9443-9484-4
Book $31.99
Ebook $19.99
About the Book
The 48th Annual Brigham Young University
Sidney B. Sperry
Symposium
Alma's deeply personal writings to his sons contain some of the most informative doctrinal discussions in scripture. Originating out of the love and concern of a parent, these chapters present salient teachings on key gospel principles, proper behaviors, and correct theology. Here the pure doctrines of God's merciful plan of redemption through his Son, Jesus Christ, are laid plain. This volume compiles essays given at a BYU Sidney B. Sperry Symposium. Drawing on both academic training and dedicated study of the scriptures, the authors in this volume provide valuable new contexts to understand Alma's doctrinal expositions. Tad R. Callister, former Sunday School General President, was the keynote speaker. The diversity of scholarship from this book's contributors provides this book with valuable new contexts to help readers understand Alma's doctrinal expositions. The range of topics covered, and the contrasting perspectives will appeal to a broad audience and speak to many different people at different levels.