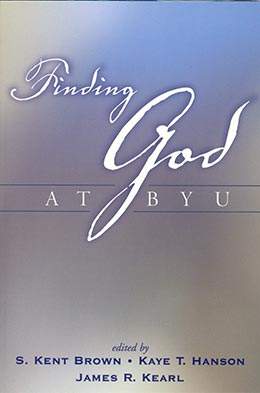 About the Book
This book is about finding God and strengthening faith. Though some stories are about joining the LDS church, this is not a book of conversion stories. This three-year effort began as a search for interesting stories about how BYU intertwined with people's lives and how it affected their faith. The compilers were pleased to discover experiences that were much richer in thought and detail, and far more complex than the anticipated recitations of meaningful classroom interactions and the introduction of religious values in an intellectual environment.
In this thoughtful, inspriring, and sometimes humorous book, you'll read the stories of more than twenty people and their personal interactions with BYU. You'll read the account of Patricia Holland, who as a young teenager was deeply touched by her first contact with the University. Rabbi David Rosen shares his poignant account of traveling to Salt Lake City to meet with Church leaders about the BYU Jerusalem Center. And you'll read about Earl Kauffman, then a non-LDS athlete who visited BYU on a recruiting visit and immediately fell in love with the University and found God in his daily interaction with teammates, students, and faculty, and later joined the Church.
These essays, each a significant part of the contributors' life histories, also serve to enrich our lives, as well as our perspectives on Finding God at BYU.
ISBN 9781577349297
Published in 2001