Commitment to the Covenant
Strengthening the Me, We, and Thee of Marriage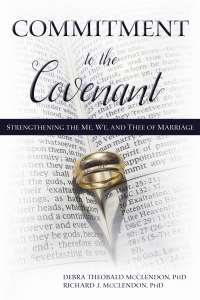 This book has not been released for online reading.
Published in 2018
ISBN 978-1-9443-9431-8
Book $27.99
Ebook $14.99
About the Book
In recent decades, prophets have repeatedly emphasized how a strong marriage and family are the basis of a robust society; they have counseled and warned of the many modern obstacles that can erode a healthy family life. This book draws on inspiring personal stories, research from sociology and psychology, and doctrines of the gospel of Jesus Christ to present key principles that, when applied, will help a marriage thrive. The authors use three broad content areas—the things we each need to do personally to improve our marriage (Me), the things we need to do together as a couple to strengthen our marital relationship (We), and ways we can more fully involve God in our marriage relationship (Thee). This three-part approach is theoretical and practical and will help guide you to a successful and happy marriage.
Watch the book trailer here: