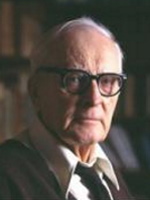 Hugh Winder Nibley (1910–2005) was a professor at Brigham Young University and an apologist for The Church of Jesus Christ of Latter-day Saints. He was born in Portland, Oregon, and became an LDS missionary in the Swiss-German Mission at age seventeen and served for two and a half years, from 1927 to 1930. Nibley began his studies at the University of California in Los Angeles, graduating summa cum laude, and earned a doctorate as a University Fellow at the University of California, Berkeley, in 1938.
During World War II he enlisted as a private and eventually became a master sergeant, working in military intelligence for the 101st Airborne Division of the United States Army, the famed "Screaming Eagles." He drove the first jeep ashore on Utah Beach during the D-day invasion, landed by glider at Eindhoven as part of Operation Market Garden, and witnessed the aftermath of Nazi concentration camps.
At the request of Apostle John A. Widtsoe, he became a professor at Brigham Young University in 1946, teaching history, languages, and religion. Nibley served as a faculty member at BYU until his official retirement in 1975, but he continued teaching until 1994. During his final years as a professor emeritus, and prior to his last illness, Nibley maintained a small office in the Harold B. Lee Library at BYU, where he worked on his magnum opus, titled One Eternal Round, which focuses on Facsimile 2 in the Book of Abraham. He turned over the materials for his last book to FARMS in the late months of 2002. Never one for the spotlight, Hugh gave authorization to have his biography written only late in his life, and it was published just two years before his death.