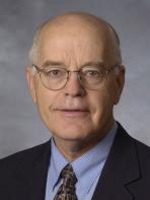 Thomas Edgar Lyon Jr. was born and raised in Salt Lake City, Utah. He graduated magna cum laude and with distinction from Phi Beta Kappa from the University of Utah, and he received his PhD from the University of California at Los Angeles. He is a professor in the College of Humanities at Brigham Young University and serves as chairman of the Spanish and Portuguese Department.
Dr. Lyon is the author of two previously published books and numerous articles. John Lyon: The Life of a Pioneer Poet, the biography of his great-grandfather, is the culmination of many years of work in research and writing. He is also the founder and editor of CHASQUI: Review of Latin American Literature.
Lyon is the recipient of many teaching awards, including Honors Professor of the Year Award, the Alcuin General Education Teaching Award, and the P. A. Christensen Lectureship in Literature and Philosophy. He served as director of the BYU Study Abroad Program to Spain in 1979 and associate dean of the BYU Honors Program in 1981–82.
Lyon is married to Cheryl Larsen Lyon. They have five children.