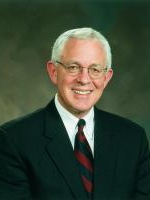 Marlin K. Jensen is an emeritus general authority of the LDS Church. He graduated from BYU with a BS in German. He obtained a Juris Doctor degree from the University of Utah College of Law in 1970, graduating first in his class. 
In 1989, Elder Jensen became a member of the First Quorum of the Seventy at the age of 46. In 1993, he was made assistant executive director of the church's Priesthood Department, later becoming executive director until 2001. From 1993 to 1995, while a general authority, Elder Jensen served as president of the church's New York Rochester Mission. In 1995, Elder Jensen became a member of the church's Public Affairs Committee. From 1996 to 1998 he was executive director of the Church Historical Department. He served in the First Quorum of the Seventy until 1998, when he became a member of the Presidency of the Seventy, and in 2000 he also became the general president of the Church's Sunday School. Elder Jensen served in these positions until 2001. In 2004, he replaced D. Todd Christofferson as executive director of the Family and Church History Department, a position he held previously when it was just the Historical Department. In 2005, he became the first Church Historian and Recorder to serve since 1997. He served in this capacity until 2012, when he was designated an emeritus general authority in October 2012.
Professionally, Elder Jensen was an attorney in private practice in Ogden, Utah, specializing in business and estate planning. This supported his real passion of living a farming lifestyle. His family operates a ranching enterprise called Jensens' Middle Fork Ranch, in which he is a partner.
Elder Jensen married Kathleen Bushnell on June 9, 1967, in the Salt Lake Temple. They are the parents of eight children.