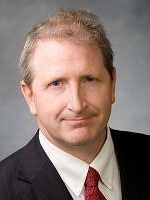 John Laurence Gee graduated from BYU in 1988. Later, he became a graduate student in Near Eastern studies at the University of California, Berkeley, and received his MA in Near Eastern studies in 1991. He earned his PhD in Egyptology at Yale University in 1998, completing his dissertation on ancient Egyptian ritual purity.
Gee was the William "Bill" Gay Research Professor of Egyptology at the Neal A. Maxwell Institute for Religious Scholarship at BYU when this was written. In this role, he is an editor for the Studies in the Book of Abraham series and a member of the editorial board of the Eastern Christian Texts series.
Gee has been involved with various professional societies. He is editor of the Journal of the Society for the Study of Egyptian Antiquities and has served on the Society's committees and board of trustees. He was also on the board of directors for the Aziz S. Atiya Fund for Coptic Studies at the University of Utah. He has participated in the International Association for Coptic Studies, the Society of Biblical Literature, the American Research Center in Egypt, and the David M. Kennedy Center for International Studies.