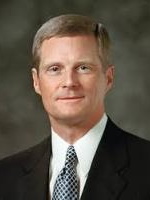 David A. Bednar was ordained and set apart as a member of the Quorum of the Twelve Apostles of The Church of Jesus Christ of Latter-day Saints on 7 October 2004. Prior to his call to the Quorum of the Twelve, Elder Bednar served as an Area Seventy, Area Authority Seventy, regional representative, twice as a stake president, and as a bishop.
Elder Bednar was born on 15 June 1952, in Oakland, California. He served as a full-time missionary in Southern Germany and then attended Brigham Young University, where he received a bachelor's degree and a master's degree. He also received a doctoral degree in organizational behavior from Purdue University.
After completing his education, Elder Bednar was a professor of business management at Texas Tech University and at the University of Arkansas. He then served as the president of Brigham Young University–Idaho (formerly Ricks College) from 1997 to 2004.
Elder Bednar married Susan Kae Robinson in the Salt Lake Temple on 20 March 1975, and they are the parents of three sons.