By Study and by Faith
Selections from the "Religious Educator"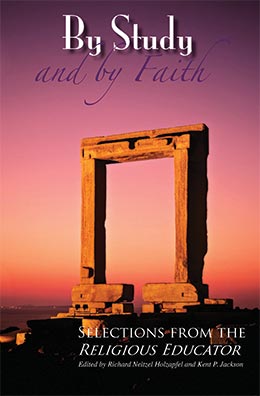 About the Book
By Study and by Faith is a collection of articles and essays from past issues of the Religious Educator, which provides informative and inspirational peer-reviewed articles, focused on the restored gospel of Jesus Christ. Since the first issue, hundreds of thoughtful, well-researched articles and essays have been published by dedicated scholars, teachers, and Church leaders, creating a remarkable library of historical, doctrinal, pedagogical, and devotional resources to inspire readers as they strive to understand and teach the things that matter most. Some of the articles included in By Study and By Faith have all been well received and might be considered some of the very best we have published—the ones that we go back to again and again because of their timeless message or the significant insights they provided when they were first published. Some of the notable authors include Elder D. Todd Christofferson, Elder Jay E. Jensen, Elder Neal A. Maxwell, Richard E. Bennett, Thomas A. Wayment, and several others.
(Reprinted in 2012)
ISBN 978-0-8425-2718-7
Published in 2012