Religious Studies Center Turns Forty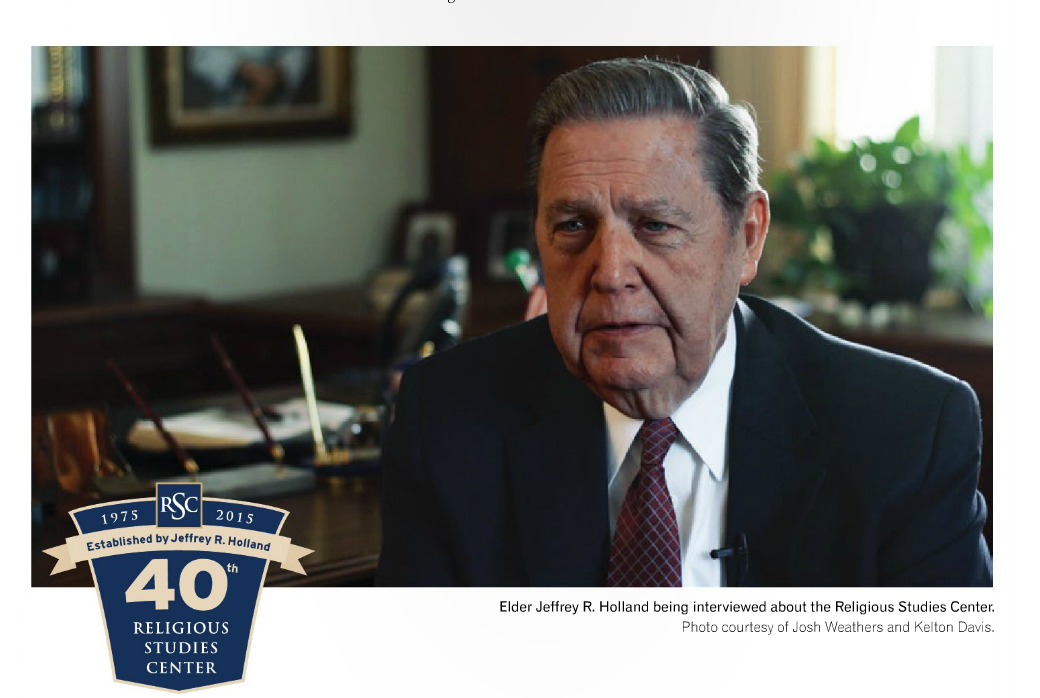 When thirty-four-year-old Jeffrey R. Holland was appointed dean of Religious Education at BYU in 1974, he quickly observed the need for some adjustments. He noticed much that was good and impressive in the "college" over which he now presided, but he also observed a kind of general disorganization of publishing efforts, which hindered the productivity and cohesion. Religious Education was a hodgepodge of study groups and other elements, including the Richard L. Evans Chair (then occupied by Truman Madsen), which had no real home. Holland recognized a need to create a place for these elements to exist and to unite.
But even more important than the need for greater organization was the want of a space where BYU religion faculty members could publish. Research and publication are vital to any academic career, and professors of religion at BYU at the time faced a unique challenge in that the outlets available to them were highly limited. BYU faculty weren't going to "go off and publish in the Harvard Divinity School journals or the Berkeley School of Theology piece,"[1] Elder Holland says, but there was no other place for them. But as such research was essential to the careers of individual faculty members—as well as to the instruction of church membership in general—Holland conceived of a solution to his organizational woes and to the dilemma facing religion faculty. By 1975 the plans were drawn up, submitted to then-president Dallin H. Oaks, and approved almost instantly by the board of trustees. Thus the Religious Studies Center was born.
Forty years later, the RSC still exists to help fill the needs Holland saw, but has added a variety of additional roles and functions. Today the RSC continues to serve as the research and publishing division of Religious Education at BYU, providing both funding and a venue for scholarship on Latter-day Saint culture, history, and doctrine. Its threefold purpose is to "first, facilitate excellence in teaching the gospel of Jesus Christ; second, encourage research and publication that contribute to the mission of the university and its sponsoring institution, The Church of Jesus Christ of Latter-day Saints; and third, promote study and understanding of other cultures and religions."[2] With this intent, the RSC has become an essential component of many Religious Education projects and publications each year.
Conferences and Books
Today, one of the RSC's major enterprises is the symposia and conferences it sponsors each year. The oldest of these, the Sidney B. Sperry Symposium, originated in 1973, before the foundation of the RSC, in order to encourage faith-based scholarship on LDS topics, and is still held each fall on campus. The Religious Education Student Symposium, now in its seventeenth year, gives BYU graduate and undergraduate students an opportunity to present research about various religious subjects. In the spring of each year, the Easter Conference is held, featuring addresses focused on the last hours of the Savior's life and his resurrection. In 2006, Professor Alexander Baugh proposed a conference to celebrate the two hundredth anniversary of Oliver Cowdery's birth—a successful event that soon became the Church History Symposium, held each year in the early spring and focused on a specific topic relating to Church history. Proceedings from each symposium are collected in books published annually by the RSC.
But these proceedings constitute only a sliver of RSC publications. Each year the RSC also publishes or copublishes numerous books on a variety of gospel topics. A list of book titles published by the center illustrates the broad spectrum of subjects treated: Kenneth Alford's Civil War Saints, Hugh Nibley's Nibley on the Timeless and Timely, and A. LeGrand Richards's recent Called to Teach: The Legacy of Karl G. Maeser. Many RSC books have won awards from the Mormon History Association and other groups.
In 1986 the RSC began publication of the Religious Studies Center Newsletter with the purpose of keeping readers up-to-date on RSC publications and events, distributed mainly to CES faculty. It was replaced in 2008 by the semiannual BYU Religious Education Review. In 2000, the Religious Educator, an academic journal focused on the restored gospel of Jesus Christ and Latter-day Saint scriptures and history, was created under the direction of Dean Robert L. Millet and then shaped by Richard Neitzel Holzapfel and other publications directors. Articles published in the Religious Educator range from devotionals to presentations of the results of contemporary research in religious topics.
Website and Technology
Today, the RSC has expanded to include elements far beyond Elder Holland's original vision for the center. For one thing, the use of technology has affected RSC operations and accessibility in ways that Holland could not have foreseen at the center's inception in 1975. Today the RSC has, of course, an online presence—its website, which includes digitized versions of RSC publications and other study resources, receives 30,000 unique hits each month (75 percent of those on Sunday morning, incidentally). In addition, the RSC recently launched its own app, so that all patrons have RSC journals, articles, books, and conference proceedings at their fingertips. This suggests increasing access to RSC publications for Sunday lesson preparation—something Elder Holland says he did not anticipate, but is "happy that it's being used that way."
Student Mentoring
Another change in RSC operations that's occurred in the last forty years is the transition to heavy student involvement. At the time of the center's birth, when Elder Holland was dean, students were not employed at the Religious Studies Center. Today, however, the use and mentoring of students are central components of how the RSC is run. Students who have worked in the RSC in recent years eagerly cite the experience as one of the most valuable they could have had in their preparation to enter their professions. Nyssa Silvester (former RSC editor and now assistant proposal writer at SyrsiDynix) explains, "At the RSC, I actually got to apply what I learned in my editing classes . . . I was always learning something new. With two years of real editing experience by graduation, I had no problem starting my career after college." Daniel O. McClellan, currently a scripture translation supervisor for the Church, agrees: "I wouldn't have my job without my time at the Religious Studies Center." And as former RSC employee Jared Halverson, now an institute instructor and PhD candidate in American religious history at Vanderbilt University, explains, "I came to understand then, and have had it repeatedly confirmed since, that the gospel deserves—and can hold up under—careful examination and critical thought, that it is as captivating to the head as it is to the heart, and that scholarship and discipleship were never meant to be mutually exclusive."
"We're Just Beginning"
And while Elder Holland now says he never would have been "bold enough or conscientious enough" to prioritize employing students at the center when it was first starting, Halverson's observations echo precisely the vision that Holland did articulate for the effect of the RSC on the membership of the Church. Elder Holland now says he envisions the scholarly products coming out of the RSC symbolizing and exhibiting a combination of "the head and the heart, the spirit and the faith, the reason and the revelation" and becoming the definitive scholarly resource for the LDS church. He is pleased with and excited by what has been accomplished so far, but to hear him talk about it, you might think the center was founded four years ago, not forty. "We're just beginning," Elder Holland says. "We're just barely sprouting out of the ground on this thing."
So while the development of an app would suggest to some that the RSC has truly arrived, it is clear that there are still miles to cover before its potential is realized. Holland's conversation on the topic today is peppered with contemporary buzzwords like "Mormon moment" and "hastening the work"—and he sees the RSC taking a bigger role in both of those. As both LDS and non-LDS communities face historical and doctrinal questions concerning the Church—and, thanks to the Internet, resources that address these questions proliferate to an unprecedented degree—the RSC's output is a place where the best of LDS scholarship can be gathered and presented so that people don't have to seek out less credible sources for answers. The RSC, Elder Holland says, must become "the academic voice" of the Church, and the point of contact for anyone from outside the Church looking for a definitive and authoritative resource to find information. When the RSC was younger and less established, it was forced of necessity to accept and work with whatever material it could get. Forty years later, greater interest in the production of the RSC, along with greater demand for its production, has refined—and will continue to refine—the quality of the scholarship produced.
"Out of Obscurity"
In 1978, after arranging and participating in an interfaith conference hosted by the Religious Studies Center—the first of its kind—Truman G. Madsen said, "What this conference has done visibly signals a change that has gradually been taking place over the past decade or so—the emergence of Mormonism as a subject for serious study."[3] That emergence has only become more pronounced in the intervening years. Today, Mormon studies programs exist not only in Utah colleges and universities, but also schools nationwide including Claremont in California and the University of Virginia. In 2008, Harvard University started offering a class called "Mormonism and the American Experience,"[4] and other courses on Mormonism are offered by the University of North Carolina at Chapel Hill, University of Richmond, Vanderbilt University and Arizona State University.[5] The output of the RSC is perfectly suited to provide resources for this kind of use. The RSC is not an isolated, insulated arm of the University; rather, part of the aim of the RSC as described in its mission statement is to produce materials that explore the relationship of the Church "to other cultures [and] religions." A hope to initiate dialogue with those of other faiths and cultures was likewise a part of Elder Holland's original aim for the center.
"As [the Church comes] out of obscurity and out of darkness, I think we will always want to continue to write to Latter-day Saints,' Elder Holland says, and 'there is a real hunger among members of the Church to hear from the religion faculty at BYU." But as scholars who can write equally effectively to both LDS and non-LDS audiences continue to produce—"ambidextrous" scholars, as Holland terms them—we will see more meaningful engagement of non-LDS audiences with LDS scholarship. The RSC has been an important part of that in the last forty years, and will continue to function in that role as it deepens its involvement with a worldwide community in the next forty.
RSC Timeline
1975 Jeffrey R. Holland combines several initiatives into a new organization, the Religious Studies Center.
Jan. 1976 Dallin H. Oaks and the BYU Board of Trustees approve the new organization and funding.
1978 Under S. Kent Brown, the RSC produces the landmark volume Nibley on the Timely and the Timeless.
1985 Charlotte A. Pollard is hired as administrative assistant and newsletter editorial assistant.
1986 Religious Studies Center Newsletter is published for the first time.
1988 Under Charles D. Tate, the RSC produces the first Book of Mormon Symposium book. The team works on the Encyclopedia of Mormonism.
1996 Under Kent P. Jackson, the RSC begins a multiyear project of transcribing the Joseph Smith Translation.
1999 First Religious Education Student Symposium held.
2001 Richard D. Draper reorganizes the RSC. Richard Holzapfel becomes managing editor of the Religious Educator and implements blind peer review. Devan Jensen is hired as a full-time editor. The RSC moves from publishing two books a year to six books a year, increasing to twelve books in 2005.
2003 First Easter Conference is held.
2006 First Church History Symposium is held. Joany O. Pinegar is hired as administrative assistant and eventually becomes a publications coordinator.
2008 The BYU Religious Education Review magazine is launched in February. Production supervisor Brent R. Nordgren is hired as production supervisor and becomes managing editor of the BYU Religious Education Review. More than 2,000 articles are posted on the RSC website.
2010–12 Publications director Robert L. Millet begins several publishing and outreach initiatives.
2012–13 Dana M. Pike redefines the mission of the review boards and pursues copublications with other university presses.
2013– Thomas A. Wayment bolsters the RSC's rigorous review process and reasserts its identity as an independent university press.
Notes
[1] All Jeffrey R. Holland quotes come from an interview by Thomas A. Wayment, Salt Lake City, November 7, 2014.
[2] RSC Mission Statement.
[3] Lavina Fielding Anderson, "A Respectful Meeting of the Minds," Ensign, June 1978, 70–75
[4] Michael Paulson, "Colleges Scramble to Offer Curriculum on Mormon Religion," Boston Globe, February 19, 2008.
[5] Noura Choudhury, "Religion depts. Open Doors to Mormon Studies," Brown Daily Herald, March 19, 2008.