Michael D. Taylor, "Calls to the Apostolic Ministry," Religious Educator 4, no. 1 (2003): 75–77.
Michael D. Taylor, M.D., was an anesthesiologist at Provo (Utah) Surgical Center when this was published.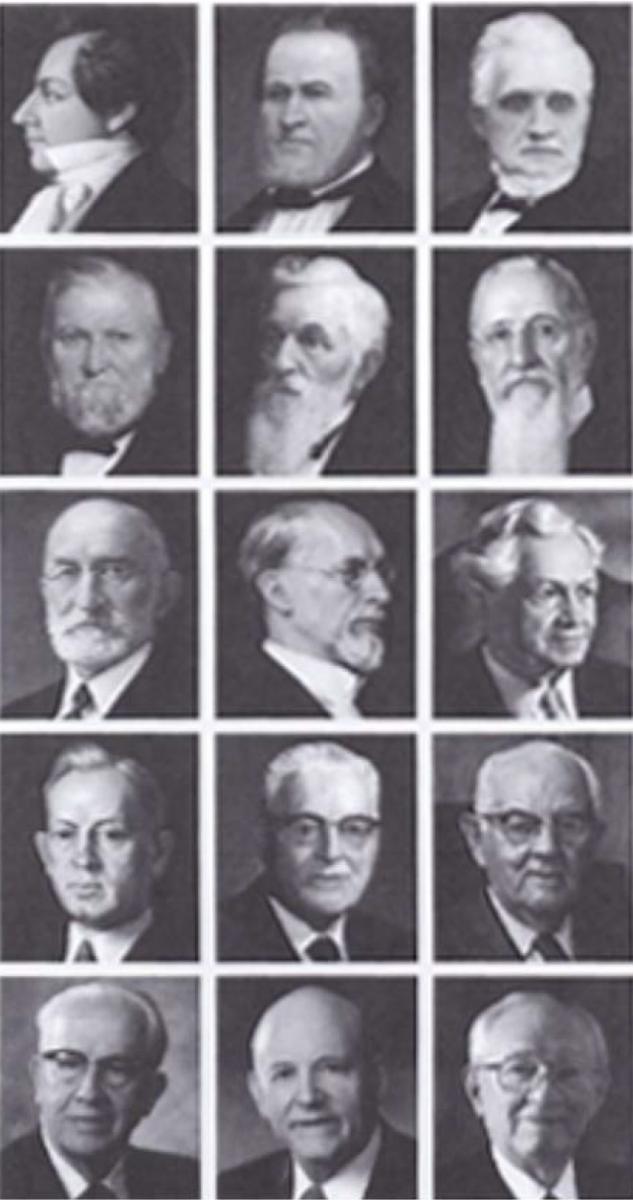 Portraits of the Prophets. © by Intellectual Reserve, Inc. Used by permission.
What a profound blessing it is to live at a time when we have a prophet of the Lord on the earth! Our lives are blessed every day by the influence of our prophet as we are taught and instructed, nourished and fed, encouraged and uplifted.
We are also richly blessed by the direction of other prophets, seers, and revelators who serve with the President of the Church. All these faithful brethren have been called of God by revelation and inspiration through the instrumentality of the Lord's ordained prophet.
In a very real and direct way, we are benefiting today from the inspiration of previous prophets. For example, Presidents Gordon B. Hinckley and Thomas S. Monson were called to the apostleship by President David O. McKay. As the Lord's seer, President McKay sought the Lord's will in calling these worthy men to fill these high and holy positions. How significant are the results of President McKay's inspiration those many years ago. Similarly, it is wonderful to contemplate that of our fifteen currently serving Apostles, almost half (seven) were called to the apostleship by President Spencer W. Kimball.
Following are three helpful tables dealing with the numbers of Apostles called during the years of service of each of our fifteen Church Presidents. The largest number of Apostles were called during the presidency of Joseph Smith, primarily because of the organization of the original Quorum of the Twelve and the frequency of apostasy among the early Church leaders. It is interesting to note that during the six years and nine months that John Taylor served as Church President, he called six new Apostles, while President Hinckley, who has now served almost eight years as Church President, has called just one new Apostle, Elder Henry B. Eyring.
The last chart points out that of our fifteen Church Presidents, only six have called Apostles who subsequently served as Presidents of the Church. The call of Joseph Smith is unique in that he was called directly by the Lord Himself.
Number of Apostles Called during the Tenure of Each Prophet Listed Chronologically
| | | | | |
| --- | --- | --- | --- | --- |
| Prophet​ | Years as P​resident | Apostles ​Called | Apostles Livi​ng | Names of Apostles Called​ |
| Joseph Smith | 1830–1844 | 22 | 0 | Joseph Smith to Amasa M. Lyman |
| Brigham Young | 1847–1877 | 13 | 0 | Ezra T. Benson to Albert Carrington |
| John Taylor | 1880–1887 | 6 | 0 | Moses Thatcher to John W. Taylor |
| Wilford Woodruff | 1889–1898 | 5 | 0 | Marriner W. Merrill to Abraham O. Woodruff |
| Lorenzo Snow | 1898–1901 | 2 | 0 | Rudger Clawson to Reed Smoot |
| Joseph F. Smith | 1901–1918 | 11 | 0 | Hyrum M. Smith to Richard R. Lyman |
| Heber J. Grant | 1819–1945 | 12 | 0 | Melvin J. Ballard to Mark E. Petersen |
| George Albert Smith | 1945–1951 | 3 | 0 | Matthew Cowley to Delbert L. Stapley |
| David O. McKay | 1951–1970 | 11 | 2 | Marion G. Romney to Alvin R. Dyer |
| Joseph Fielding Smith | 1970–1972 | 2 | 1 | Boyd K. Packer to Marvin J. Ashton |
| Harold B. Lee | 1972–1973 | 1 | 0 | Bruce R. McConkie |
| Spencer W. Kimball | 1973–1985 | 7 | 7 | L. Tom Perry to M. Russell Ballard |
| Ezra Taft Benson | 1985–1994 | 3 | 3 | Joseph B. Wirthlin to Robert D. Hales |
| Howard H. Hunter | 1994–1995 | 1 | 1 | Jeffrey R. Holland |
| Gordon B. Hinckley | 1995-present | 1 | 1 | Henry B. Eyring |
Number of Apostles Called during the Tenure of Each Prophet Listed by Decreasing Number of Apostles Called
| | | | | |
| --- | --- | --- | --- | --- |
| Prophet | Years as President | Apostles Called | Apostles Living | Names of Apostles Called |
| Joseph Smith | 1830–1844 | 22 | 0 | Joseph Smith to Amasa M. Lyman |
| Brigham Young | 1847–1877 | 13 | 0 | Ezra T. Benson to Albert Carrington |
| Heber J. Grant | 1918–1945 | 12 | 0 | Melvin J. Ballard to Mark E. Petersen |
| Joseph F. Smith | 1901–1918 | 11 | 0 | Hyrum M. Smith to Richard R. Lyman |
| David O. McKay | 1951–1970 | 11 | 2 | Marion G. Romney to Alvin R. Dyer |
| Spencer W. Kimball | 1973–1985 | 7 | 7 | L. Tom Perry to M. Russell Ballard |
| John Taylor | 1880–1887 | 6 | 0 | Moses Thatcher to John W. Taylor |
| Wilford Woodruff | 1889–1898 | 5 | 0 | Marriner W. Merrill to Abraham O. Woodruff |
| George Albert Smith | 1945–1951 | 3 | 0 | Matthew Cowley to Delbert L. Stapley |
| Ezra Taft Benson | 1985–1994 | 3 | 3 | Joseph B. Wirthlin to Robert D. Hales |
| Lorenzo Snow | 1898–1901 | 2 | 0 | Rudger Clawson to Reed Smoot |
| Joseph Fielding Smith | 1970–1972 | 2 | 1 | Boyd K. Packer to Marvin J. Ashton |
| Harold B. Lee | 1972–1973 | 1 | 0 | Bruce R. McConkie |
| Howard H. Hunter | 1994–1995 | 1 | 1 | Jeffrey R. Holland |
| Gordon B. Hinckley | 1995–present | 1 | 1 | Henry B. Eyring |
Future Church Presidents Called during the Tenure of Each Prophet
| | | |
| --- | --- | --- |
| Prophet | Called during the Tenure of | Year Called to the Apostleship |
| Brigham Young | Joseph Smith | 1835 |
| John Taylor | Joseph Smith | 1838 |
| Wilford Woodruff | Joseph Smith | 1839 |
| Lorenzo Snow | Brigham Young | 1849 |
| Joseph F. Smith | Brigham Young | 1866 |
| Heber J. Grant | John Taylor | 1882 |
| George Albert Smith | Joseph F. Smith | 1903 |
| David O. McKay | Joseph F. Smith | 1906 |
| Joseph Fielding Smith | Joseph F. Smith | 1910 |
| Harold B. Lee | Heber J. Grant | 1941 |
| Spencer W. Kimball | Heber J. Grant | 1943 |
| Ezra Taft Benson | Heber J. Grant | 1943 |
| Howard W. Hunter | David O. McKay | 1959 |
| Gordon B. Hinckley | David O. McKay | 1961 |