Developing Discerning Disciple-Learners and Teachers
BYU–Hawaii's Christ-Centered Framework for Learning and Teaching
Jared Marcum, "Developing Discerning Disciple-Learners and Teachers: BYU–Hawaii's Christ-Centered Framework for Learning and Teaching," Religious Educator 23, no. 1 (2022): 27–49.
Jared Marcum (jared.marcum@byuh.edu) is an associate professor of Religious Education and a former director of the Edward D. Smith Center for Learning and Teaching at Brigham Young University–Hawaii.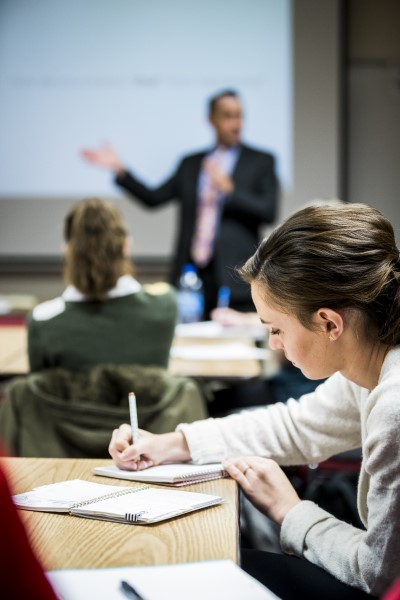 As faculty apply Christlike attributes to their teaching and help their students apply the same attributes to their learning, faculty make great strides toward creating an enlightened epistemology that will bathe their curriculum in gospel light. Photo by Nate Edwards. © BYU Photo.
Even though the sole duty of religious educators is to teach the gospel of Jesus Christ,[1] they cannot shoulder the whole responsibility of spiritual education at the Church Educational System's (CES) institutions of higher learning. President Kevin J Worthen stated, "If the only insights that students receive on gospel truths are in their religion classes, we will not be that different from other good universities to which an institute of religion is attached. What will truly make us unique—and what we must uniquely do well—is to meet the challenge set forth by President Spencer W. Kimball: 'That every professor and teacher in this institution would keep his [or her] subject matter bathed in the light and color of the restored gospel.'"[2]
Most CES faculty likely agree with President Worthen's statement and recognize that their students' spiritual education is an important part of their teaching responsibilities. As disciples of Jesus Christ, they know that teaching by the Spirit can help their students comprehend truth and develop the gift of discernment, a must-have spiritual gift if their students are going to successfully navigate the secularism of our day and the technology-facilitated information explosion that feeds it. CES faculty likely realize that it is only through the gift of discernment that our students will successfully identify the evil and pernicious as well as the "virtuous, lovely, or of good report or praiseworthy."[3]
While most faculty may recognize the importance of implementing spirituality into the classroom, many CES faculty are unaccustomed to doing so. They typically come from institutions where the prevailing belief is that "universities are about reason, pure and simple. Faith—believing something without good reasons to do so—has no place in anything but a religious institution."[4] Thus, usually, CES faculty must fundamentally depart from the learning and teaching practices they were immersed in at other institutions. They likely relish the prospect of such a departure but often wonder about how to do so effectively.
Bathing one's subject "in the light and color of the restored gospel"[5] requires more than saying a prayer to begin class or sprinkling a spiritual insight here and there throughout a semester. The term bathing denotes an immersion that requires faculty to make changes at a deep level, even at an epistemic level. To make such a change, faculty members must consider how principles of spiritual learning can enlighten the prescribed ways of knowing (epistemology) within their field. They must then effectively implement principles of spiritual learning into their teaching and effectively inspire their students to apply those enhancements as they learn. How can faculty members enhance the standard ways of knowing within their field and create an enlightened epistemology? A complete answer will likely vary from one field of study to another. However, each BYU campus has developed some foundational guidance. BYU created its "Aims of a BYU Education," Ensign College its "Learning Pattern," BYU–Idaho its "Learning Model," and BYU–Hawaii its "Framework for Learning and Teaching" (hereafter Framework). All four of these documents teach profound principles that, if applied, will go far in helping faculty develop an enlightened epistemology and bathe their subject in the gospel.
How many CES faculty use such guidance to make significant changes to the ways they teach? Such an inquiry is worth attention at each campus. In the case of BYU–Hawaii, after years of encouraging and promoting the Framework, it was discovered that many faculty and students were not familiar with Framework principles, resulting in poor implementation rates. Early in 2016, the Edward D. Smith Center for Learning and Teaching (CLT) at BYU–Hawaii was tasked with redesigning the Framework so that the principles taught therein could be easily remembered. The hope was that by so doing more faculty and students would apply those principles.
In the original Framework, six sound educational principles surrounded a learning and teaching process. While the process (prepare, engage, and improve) was simple enough, the surrounding principles were too lengthy to be easily remembered. Members of the CLT responsible for the redesign noticed that these surrounding principles could be encapsulated—and even enhanced—by communicating them in the form of seven Christlike attributes. The Christlike attributes were placed at the center of the learning process—instead of on the periphery—to create new avenues for more powerful and life-changing application to each part of the learning process. Instead of only two principles specifically applying to prepare, engage, or improve—as was illustrated in the prior framework—the new version provides faculty and students a multiplicity of options. For example, faculty may choose to focus on faithfully prepare, faithfully engage, or faithfully improve—whereas faith was only explicitly connected to prepare in the prior version. Expressing the attributes as adverbs helped communicate the relationship between the attributes and the process (e.g., reflectively engage). These modifications resulted in a framework that is easily remembered and Christ-centered, encouraging a wide range of simple and individualized application (see fig. 1).
Fig. 1: Original Framework for Learning and Teaching (left) compared with the revised version (right).
What follows are descriptions of each part of the Framework as they apply to teaching at BYU–Hawaii. Following the descriptions are application examples for each process and Christlike attribute relationship. Faculty (teaching) examples were selected for this article—instead of student (learning) examples—because the teaching examples better apply to the readership of this publication. All faculty members that participate in teacher-development programs at the CLT are exposed to these descriptions and application examples. Some explanatory additions and editorial changes have been made for this publication.
Framework for Learning and Teaching Descriptions
The Framework Process
Prepare. This term implies the active use of agency in getting ready to do something meaningful. In the learning and teaching context, prepare describes the spiritual, mental, emotional, and physical ways in which faculty use their agency to prepare themselves, design courses, organize lessons, and plan interactions with their students and colleagues.[6]
Engage. Like prepare, engage is an active term. Faculty engage when they choose to interact with students and colleagues in an edifying and productive manner. In social learning contexts, such as the classroom, faculty listen to their students, discern their needs, and use effective teaching strategies to help their students achieve disciplinary mastery and develop into faithful contributors in their families, professions, communities, and the kingdom of God.
Improve. In the Framework, this term specifies what faculty do to improve in Christlike preparation and engagement and should not be confused with improving one's content mastery—even though content mastery is important. Faculty improve as they (a) reflect on how they prepare and engage, (b) seek ways to exemplify Christ in their preparation and engagement, and (c) make necessary changes.
The Framework Attributes
Faithfully. To be faithful means that we believe God, trust him, and act in loyalty to his cause. At the groundbreaking of the Church College of Hawaii (later BYU–Hawaii), President David O. McKay taught, "No man or woman should teach in this college who doesn't have in his or her heart an assurance, not a mere belief, an assurance, that God has had his hand over this entire valley . . . that the gospel plan [w]as revealed by our Father in Heaven through his son to the Prophet Joseph."[7] Why is it so important that the fire of faith burn within each CES faculty member? Joseph Smith described faith as "the first great governing principle which has power, dominion, and authority over all things. . . . Without it, there is no power, and without power there could be no creation, nor existence!"[8] Faculty have access to divine power if they follow the governing principles to that power, the first of which is faith.
One reason that faith and divine teaching power are so interrelated is that faith is the intrinsic motivator through which God blesses teachers with the Spirit, which "carrieth [truth] unto the hearts of [their students]" (2 Nephi 33:1). If faculty are motivated by other extrinsic reasons, they receive "no reward of [our] Father which is in heaven" (Matthew 6:1). Among those withheld rewards is divinely empowered teaching. Keeping pure motives can be difficult because both types of motivation are part of professorial life. Examples of extrinsic motivation may include monetary compensation, scholarly awards, and recognition, or even fear of poor student reviews. Educational psychology research shows that even though extrinsic incentives—particularly when immediate and salient—can boost performance, they typically fail to inspire persistence (high performance over time), direction (dedication), and intense effort.[9] In addition, extrinsic motivations "are selfish and self-centered and unworthy of Saints."[10] They are also "within the Book of Mormon definition of priestcraft."[11]
There is an added consequence for being extrinsically motivated, even sporadically. Research on motivation shows that extrinsic incentives can "crowd out" intrinsic motivation as a predictor of performance, particularly when the incentives are immediate and salient.[12] So it is with our faith. If faculty focus too much on the extrinsic motivators of their professional position, they can lose the more powerful faith-based intrinsic motivators. Over time, the flames of faith dwindle and with them divine teaching power.
How can faculty retain the fire of faith? Educational research shows that metacognition is an important evaluation strategy that regulates the cognitive processes related to intrinsic motivators.[13] Thus, it is important for faculty to consistently evaluate their motivations. What is really driving them to teach? Where do faith-based motivations rank in that list? Once a faculty member has ranked their motivations, they can make plans to strengthen those that are intrinsic and faith based. Even though plans to strengthen individual faith will vary widely, there will likely be many small and simple commonalities (see Alma 37:7). For example, feasting upon God's word, praying always, worshipping in the temple, and caring for the poor are all small and simple essential acts through which CES faculty must fan the flame of faith.
Just as it is important for CES faculty to teach by faith, it is also vital that they invite their students to learn by faith. The Hawaiian proverb "Ma Ka Hana Ka 'Ike" teaches that "knowledge is gained by doing." Additionally, educational research demonstrates that active engagement is vital to the learning process.[14] As noted by Eric Mazur of Harvard University, "You can't become a marathon runner by watching marathons."[15] Thus, if students are to learn what faculty want them to, and hold on to that learning throughout their lives, students must act in faith (see Doctrine and Covenants 88:118). In addition to course learning outcomes, there are eternal reasons to inspire our students to learn by faith.[16] If our students develop a habit of learning passively, they are open to Satan's lies and may end up "like a wave of the sea driven with the wind and tossed" (James 1:6). Faithful engagement, on the other hand, helps our students become self-reliant in their secular and spiritual learning. Once they are outside the realm of our influence, they will be much more likely to thrive in their families, professions, communities, and in the church.[17]
Hopefully. Hope is a Spirit-born eternal perspective that comes because of our faith in Jesus Christ. Educational research shows that positive and negative student attitudes significantly predict academic success and retention.[18] So it is with faculty attitudes toward their students and profession. How faculty feel about their own ability to teach and their students' ability to learn significantly affects "the types of learning environments they create and the level of academic progress their students achieve."[19] Faculty are also more committed to their profession when they have hope in their potential success.[20]
The gospel of Jesus Christ teaches us to develop a hopeful perspective, which allows us to perceive the world's skepticism and see things "as they really are, and . . . [as] they really will be" (Jacob 4:13). President Boyd K. Packer noted that many in the world condemn people as "basically evil; that they are earthly and carnal and devilish, conceived in sin and possessed of a tendency to be wicked. . . . This is false doctrine. . . . It is also very destructive. . . . Should we accept it, the assignment of a teacher . . . would be hopeless indeed."[21] As children of God, we inherit the natural tendency to do good. Each person on earth is given the Light of Christ to guide them. In addition, as members of the Church, students have the gift of the Holy Ghost.[22]
These truths should inspire faculty to avoid disparaging the rising generation as lazy, thoughtless, or self-absorbed. These criticisms are not new. Even Aristotle was critical of his younger generation: "They think they know everything and are always quite sure about it."[23] However, the Lord has a very different view of young people. He called a young Samuel, David, and Joseph Smith to accomplish his work. While addressing young adults, President Russell M. Nelson affirmed, "When I pray about you and ask the Lord how He feels about you, I feel something far different from what the researchers say. . . . You are an elect son or daughter of God. You are created in His image. You were taught in the spirit world to prepare you for anything and everything you would encounter during this latter part of these latter days. That teaching endures within you!"[24] A hopeful teacher does not "treat [their students] as children spiritually, as the world might treat the same age group. . . . There is no need for gradual approaches, for bedtime stories, for coddling, for patronizing, or for any of the other childish devices used in efforts to reach [them]."[25]
As CES faculty see their students with a positive and hopeful attitude, they must also guard against naive and false hope. Faculty cannot assume that because their students are among the elect, all is well (see 2 Nephi 28:21). Students likely have more difficulties than faculty are cognizant of.[26] However, true hope helps us recognize that reality and know that we can do something to make things better. As Elder Neal A. Maxwell taught, true hope "is much more than wishful musing. It stiffens, not slackens, the spiritual spine. It is composed, not giddy, eager without being naive, and pleasantly steady without being smug. Hope is realistic anticipation taking the form of determination—a determination not merely to survive but to 'endure well' to the end."[27] So it is in teaching. As CES faculty develop true hope in Jesus Christ, a pleasant, steady, and determined demeanor naturally persists. Such an outlook leads faculty to raise the bar, push their students to succeed, and make a true difference in their lives.
Charitably. Nel Noddings highlighted the tendency for educational fields to emphasize instructional objectives, curriculum, and teaching methodologies but overlook student affective needs. When faculty omit those needs, they relegate the future generation to a resource that is valued only through accomplishment.[28] However, the scriptures teach that "the worth of souls is great in the sight of God" (Doctrine and Covenants 18:10). In educational literature, caring has been shown to be essential to student development and success. If no one is "crazy about that kid," student development is stifled.[29] As the Apostle Paul taught, "Though [we may] speak with the tongues of men and of angels, and have not charity, [we] become as sounding brass, or a tinkling cymbal" (1 Corinthians 13:1). This is particularly true among students who have high amounts of stress outside of the school environment.[30] With charity comes power to influence for good. Of the three great empowering motivators—faith, hope, and charity—Paul described charity as the greatest among them (see 1 Corinthians 13:13). President Dallin H. Oaks agreed when ranking motives for teaching at BYU.[31]
All faculty must seek to develop the charity with which Christ taught. He showed great compassion, patience, and selflessness as he interacted with his disciples and even those who sought to destroy him. Even though such love may feel out of reach, the Savior taught that we are capable of loving as he did. "A new commandment I give unto you, that ye love one another; as I have loved you, that ye also love one another" (John 13:34). If faculty find it difficult to care for their students, Mormon provided guidance for obtaining charity: "Wherefore, my beloved brethren, pray unto the Father with all the energy of heart, that ye may be filled with this love, which he hath bestowed upon all who are true followers of his Son, Jesus Christ" (Moroni 7:48). Charity is a gift of the Spirit, given to those who seek it with real intent. In educational research charity has been described as an ethic of care and is developed as teachers give their full cognitive attention, displace their own self-centered agenda, seek to be genuine, recognize student potential, and empathize with their students.[32]
While it is important for teachers to care about their students and demonstrate that caring, it is also important that teachers don't confuse charity with its long-standing counterfeit, permissiveness (see 2 Timothy 3:1–5; 2 Nephi 28:8). True charity does not inspire a laissez-faire outlook nor condone a disregard for God's commandments. The rule of law and charity complement each other, and it is clear that the scriptures do not portray God as permissive.[33] As CES educators we must love God, then love our students. It is only by putting God first that faculty are worthy of "the students' admiration and affection" and become the patterns of faith, family, and the abundant gospel life.[34]
With that natural and necessary admiration comes a caution. Teachers must be careful not to set themselves up as a light or to revel in student praise.[35] True charity is not puffed up, nor self-serving (see Moroni 7:45). Elder Robert D. Hales taught,
[You have] the desire of the heart to be an angel. This is good, but it is a great temptation to play the part of the Pied Piper and to figure that you're going to gather them all around you and love them into a testimony; or to feel that if you can become very popular, you can lead and be the role model and make a difference in the lives of your students. There is nothing more dangerous than when a student turns his or her love and attention to the teacher the same way a convert sometimes does to a missionary rather than to the Lord. And then if the teacher or missionary leaves or conducts his life contrary to the teachings of the gospel, the student is devastated. His testimony falters. His faith is destroyed. The really great teacher is careful to have the students turn themselves to the Lord.[36]
While each of us is commanded to "let [our] light shine before men, that they may see [our] good works," we must always make sure our love turns them to God so that they will "glorify their Father which is in heaven" (Matthew 5:13–16).[37]
Reflectively. In teacher education research, reflection has been shown to help teachers effectively connect their experiences with learning theory. Out of these connections arise new questions and higher theories that are again connected to experience.[38] This upward ascending connectivity is mediated by the Holy Ghost, which teaches humankind the "truth of all things" (Moroni 4:5; see also Doctrine and Covenants 93:20). It is moments of reflection that provide the space and time for such communication. President David O. McKay taught, "Meditation is the language of the soul. . . . [It] is one of the most secret, most sacred doors through which we pass into the presence of the Lord."[39] The Savior took time and space to reflect, even during his short ministry (see JST of Matthew 4:1; Mark 1:35; Matthew 14:13–23; 3 Nephi 17:3). He expects us to do the same. For example, Oliver Cowdery, when he wished to translate, "supposed that [the Lord] would give it unto [him], when [he] took no thought save it was to ask"; the Lord then told Oliver, "You must study it out in your mind; then you must ask me if it be right" (Doctrine and Covenants 9:7–9). Additionally, most revelations contained in the Doctrine and Covenants are a product of Joseph Smith's (or others') reflections.[40]
In Oliver and Joseph's cases, the Lord instructed them to reflect on the knowledge they had received so he could lead them to a higher and better cognitive understanding. However, the Lord does not constrain reflection to cognitive knowledge alone. He wants us to reflect on our thoughts, words, and actions (Mosiah 4:30). In terms of teaching, such a comprehensive reflection requires robust metacognitive strategies. Metacognition is the reflective process that allows faculty to plan, monitor, and evaluate every part of the learning and teaching process. Effective metacognition leads to thoughtful teaching decisions and is a hallmark of any successful teacher.[41]
Revelation often comes in quiet moments where our minds are not otherwise occupied by distractions. In a world that is becoming more noisy, busy, and demanding, taking time to reflect is challenging and increasingly important as such noise and bustle jams sacred channels of communication.[42] Even though we have great technological advantage when compared to our pioneer forerunners, those same innovations can handicap our spiritual attentiveness. President M. Russell Ballard taught, "The people of earlier times experienced solitude in ways we cannot imagine in our crowded and busy world. Even when we are alone today, we can be tuned in with our handheld devices, laptops, and TVs to keep us entertained and occupied. Do you have any personal quiet time? I have wondered if those who lived in the past had more opportunity than we do now to see, feel, and experience the presence of the Spirit in their lives."[43]
Research in reflection and metacognition agree that focused attention is necessary for "deliberate thinking about action with a view to its improvement."[44] Typically, when we think of reflection, we envision an individual introspective activity. However, it is worth highlighting that reflection can be a socially mediated collaborative exercise.[45] In the Church we might describe such socially mediated moments of reflection as sitting in council, which can compound the flow of revelation.[46]
Diligently. Diligence is "steady, consistent, earnest, and energetic effort."[47] In order to be diligent, faculty must first have a strong and abiding desire to become better teachers. President David O. McKay taught, "The greatest battle of life is fought within the silent chambers of your own soul."[48] Improving our desires is a difficult and lifelong process as each of us feels the frequent and consistent pull of the "worldly quartet of property, prominence, pride, and power."[49] If faculty have yet to cultivate a strong desire to become a master teacher, or the desire has waned over time, they can follow Alma's invitation to "awake and arouse your faculties, even to an experiment upon my words, and exercise a particle of faith, yea, even if ye can no more than desire to believe, let this desire work in you" (Alma 32:27). President Oaks counseled, "In order to have righteous desires, we have to control our thoughts and achieve appropriate feelings. My widowed mother understood that principle. 'Pray about your feelings,' she used to say. She taught her three children that we should pray to have the right kind of feelings about our experiences—positive or negative—and about the people we knew. If our feelings were right, we would be more likely to take righteous actions and to act for the right reasons."[50]
In addition to cultivating desire, faculty must develop the necessary discipline. Without the necessary discipline, faculty aspirations may be noble but their achievement will never reach their desires.[51] Instead, idleness and natural passions will rob them of their potential, particularly when it comes to loving their students (see Alma 38:12). Conversely, increased discipline expands our ability to emulate Christ and love others. President John S. Tanner taught, "Disciplined disciples enjoy true liberty. . . . They know that true discipleship, like true freedom, is grounded in virtue and truth. As Jesus said, 'If ye continue in my word, then are ye my disciples indeed; and ye shall know the truth, and the truth shall make you free' (John 8:31–32)."[52]
Paul encouraged the Galatians, "Let us not be weary in well doing: for in due season we shall reap, if we faint not" (Galatians 6:9). Interestingly, Paul adds "well" to "doing" in his directive. This coupling of quality to action shows up in educational research. As educational researchers have recognized the importance of student engagement in the learning process, more attention has been given to student effort and its effect on learning outcomes. The amount of time and effort students put into their education has been found to correlate with academic performance. However, the strength of the correlation varies widely. It is believed that the variability may be due to the unequal benefit of learning tasks. Thus, quality and quantity of effort are both important.[53] We must not only be about "doing." It is important that the effort can be defined as "well doing."
What can come from consistent quantity and quality of effort? The Savior promised, "Teach ye diligently and my grace shall attend you" (Doctrine and Covenants 88:77). One grace that Christ affords the diligent teacher is the gift of teaching. President Packer taught that the gift of teaching is available to all—even those that may feel they can't teach—if the teacher is willing to opportune the Lord and put in the necessary work.[54] In addition to divine help in teaching, with diligent effort comes greater success, joy, and satisfaction.[55]
Honestly. Jesus Christ is "the way, the truth, and the life" (John 14:6). Satan, on the other hand, is the father of lies (see John 8:44). As faculty strive for complete honesty, the Lord promises great blessings. One of these blessings is the companionship of the Holy Ghost.[56] Faculty also gain the trust of those around them. Alma taught Corianton that when "[ye] deal justly, judge righteously, and do good continually; . . . ye shall have good rewarded unto you again. For that which ye do send out shall return unto you again" (Alma 41:14–15).
Being completely honest means sincerely living what faculty know to be true, even when they are under extreme pressure not to do so. Such pressures will often ask faculty to make small compromises in exchange for acceptance. President J. Reuben Clark Jr. taught,
An object of pity (not of scorn, as some would have it) is that man or woman who, having the truth and knowing it, finds it necessary either to repudiate the truth or to compromise with error in order that he may live with or among unbelievers without subjecting himself to their disfavor or derision as he supposes. . . . For any Latter-day Saint psychologist, chemist, physicist, geologist, archeologist, or any other scientist, to explain away, or misinterpret, or evade or elude, or most of all, to repudiate or to deny the great fundamental doctrines of the Church in which he professes to believe, is to give the lie to his intellect.[57]
Sometimes pressures to deceive are less self-serving, especially if a faculty member's desire to be honest comes in conflict with their desire to be loyal to colleagues, those who lead them, or an organization. Conflicts that pit loyalty against honesty can be complex, difficult to discern, and fraught with potential conflict. Research in educational leadership recommends that educators don't immediately assume an either-or situation. Instead, rational analysis and wise judgment can go far in seeking solutions that allow educators to do what they know to be right but remain loyal in principle to others. This both-and mindset can lead to inspired decisions that demonstrate both caring and integrity.[58]
Living honestly also means fulfilling our covenant to consecrate ourselves to the Lord's work. In the academic world, the temptation to break covenants often comes not as sins of commission but rather as sins of omission. Elder Maxwell taught, "Scholars might hold back differently than would a businessman or a politician. A few hold back a portion of themselves merely to please a particular gallery of peers. Another might hold back a spiritual insight from which many could profit, simply wishing to have his or her 'ownership' established. Some hold back by not appearing overly committed to the kingdom, lest they incur the disapproval of particular peers who might disdain such consecration. In various ways, some give of themselves, even extensively, but not fully and unreservedly."[59]
Such omission, or holding back, can be easily justified as a professional necessity. One might say that their church service is consecration enough. Jesus taught against such compartmentalization when he told the Pharisees that they paid tithes but "omitted the weightier matters of the law, judgment, mercy, and faith" (Matthew 23:23). Elder Maxwell warned, "Developing congruency and avoiding the compartmentalization of one's life is, of course, necessary for the wholeness and integrity we all crave, but which is so elusive at times. So many of us have a 'public self' and a 'private self.' Jesus made it crystal clear that outer appearances and inner feelings must, ultimately, coincide. If the teachings of the gospel about honesty make for an honest tithe but wash against an attitudinal wall in terms of business practices, honesty is being applied differentially. We are saying that 'honesty is the best policy—part of the time!'"[60] As Brigham Young stated, "We must learn to be righteous in the dark."[61]
Humbly. Humility is a grateful recognition of our constant dependence upon God's grace. God requires it of all those that wish to assist in his work (Doctrine and Covenants 12:8). Too often humility is confused with a lack of confidence or faith. In educational research, teachers tend to rank effective leaders as both humble and confident.[62] Thus, self-degradation is not humility. President Dieter F. Uchtdorf taught, "Some suppose that humility is about beating ourselves up. Humility does not mean convincing ourselves that we are worthless, meaningless, or of little value. Nor does it mean denying or withholding the talents God has given us."[63] That does not mean that leaders are always sure in their own capacity. God chooses the weak and the simple to do his work and shows them their weakness so that they will be humble. Then, as they lean on him, he turns their weakness into strength (see Doctrine and Covenants 1:23; Ether 12:27). As a result, the humble gain an assurance that God will help them, which in the end is a more empowering confidence than the prideful can have in themselves.
Research in education has asserted humility as a cardinal virtue in teaching. "[The humble teacher doesn't] need to impress with their knowledge. They are comfortable with what they know and eager to learn what they do not."[64] Humility is so essential to effective teaching and leadership that God is willing to compel faculty to be so. President Benson said that "God will have a humble people. Either we can choose to be humble or we can be compelled to be humble.[65] Thus, it is wise for faculty to avoid pride, which is "enmity toward God and enmity toward our fellowmen. Enmity means 'hatred toward, hostility to, or a state of opposition.'"[66] Such enmity can easily manifest itself as a comparison, "for though it usually begins with 'Look how wonderful I am and what great things I have done,' it always seems to end with 'Therefore, I am better than you.'"[67] Such comparisons make educators especially susceptible to the sin of pride. Nephi taught, "When they are learned they think they are wise, and they hearken not unto the counsel of God, for they set it aside, supposing they know of themselves, wherefore, their wisdom is foolishness" (2 Nephi 9:28).
To fend off pride, faculty must consciously choose humility. Cultivating humility, like faith, is an active and not a passive process. In educational literature, humility is cultivated as teachers listen to the perspectives of others, are grateful for those perspectives, and are open to alter their own perspective for the greater good. They avoid dualistic categorizations of people (us vs. them) and do not place themselves in contentious opposition to others. They are "unimportant in their own eyes, not because they judge themselves negatively, but because, with their attention focused on others, they see themselves as relatively minor characters even in their own lives."[68] President Benson listed actions through which Latter-day Saints can choose humility. They include receiving counsel, forgiving others, serving, preaching the gospel, worshipping in the temple, repenting, putting God first in their lives, and lifting others higher than themselves. [69]
Framework for Learning and Teaching Application Examples
As noted earlier, the Framework was designed to help students and faculty identify areas in which they might improve in Christlike ways. For example, faculty may prayerfully study the Framework and notice that they often do not express confidence in their students' preparation. Consequently, they may decide to prepare their lectures with a greater measure of hope, spend less time reteaching material from the preparation reading, plan valuable class time to formatively assess and discern student abilities, then take time to respond to those assessments. Faculty may notice that they are not being as diligent as they could be, thus losing some of their love for their students. They may decide to rekindle that desire by bridling other "passions" that are getting in the way or distracting them from preparing or engaging diligently (see Alma 38:12).
To assist faculty with this reflective process, the CLT created teaching examples that are based upon the Christlike attributes contained in the Framework. In faculty development courses, these examples have been made into surveys like the "Christlike Attribute Activity" in Preach My Gospel, chapter 6. These examples are reproduced here to suggest ideas of what it might mean to apply the principles within the teaching context.[70]
Faithful Teacher
As a faithful teacher, you are motivated by your love for God. You wish to serve the Lord and build his kingdom. You actively seek for greater light and knowledge through the Holy Ghost with a commitment to be obedient to that inspiration. You place the word of God above the wisdom of the world (see 2 Nephi 9:28–29).
Faithfully prepare. In your daily life, you strive to live the gospel. You pray for your students, seeking the Lord's help as you guide them. You are an active learner and "seek learning, even by study and also by faith" (Doctrine and Covenants 88:118). Your faith and obedience will invite the Holy Ghost to expand your learning and teaching capacity.
Faithfully engage. You begin class with prayer, inviting the Holy Ghost to guide your time together. You interact with your students in an attitude of faith, believing that as you engage together all will be "edified and rejoice together" (Doctrine and Covenants 50:22).
Faithfully improve. You ask God, in faith, to help you improve. As a result, the Holy Ghost will "teach [you] all things that are expedient for [you]" (Doctrine and Covenants 75:10).
Hopeful Teacher
As a hopeful teacher, you are confident in God's ability and willingness to help you reach your students. You know that you are not limited in your capacity to touch others and expect that through him all things are possible. You also know that your students are not limited in their capacity to learn. You approach teaching with confidence, optimism, and enthusiasm, knowing that all will work together for your good and the good of your students (see Romans 8:28; Hebrews 11:1).
Hopefully prepare. You prepare with a vision of what your students can become.
Hopefully engage. You invite student participation, believing that student contributions are valuable to the learning process.
Hopefully improve. You have an assurance that you and your students can improve and achieve their eternal potential.
Charitable Teacher
As a charitable teacher, you seek to bless the lives of others. You see your students as God's children and feel concern for their happiness and success. You are patient with your students' imperfections and rejoice in their success (see Moroni 7:45).
Charitably prepare. You prepare for class with your students in mind, truly concerned for their welfare. You are willing to help colleagues in their preparation.
Charitably engage. You are patient and kind in your interactions with your students and colleagues. You look for ways to serve outside of your normal responsibilities.
Charitably improve. You sincerely rejoice when you or others improve.
Diligent Teacher
As a diligent teacher, you are active in the teaching and learning process, take responsibility for your own teaching and learning, and do many good things of your own free will (see Doctrine and Covenants 58:27). You seek to engage all students in the learning process and give special attention to students who are not succeeding. As a result, you find great joy and satisfaction in your students' learning and growth.
Diligently prepare. You are consistent, earnest, and energetic in your preparation.
Diligently engage. You take every opportunity to engage with students inside and outside of class.
Diligently improve. You work hard to improve your teaching to meet the needs of your students. You take advantage of opportunities to help students improve how they learn.
Reflective Teacher
As a reflective teacher, you regularly make time to ponder and assess your teaching (see Doctrine and Covenants 9:8–9). As you reflect, you consider feedback from your students, colleagues, and your own impressions.
Reflectively prepare. You ponder on the principles that will bless the lives of your students. You actively seek truth through study and faith.
Reflectively engage. You sincerely reflect on the perspectives of colleagues and students, knowing that the Lord can help you discern what feedback you need to implement and when to do so.
Reflectively improve. You consistently reflect on your teaching and seek inspiration on ways to improve.
Honest Teacher
As an honest teacher, you are always truthful about your work and the work of others. You understand that you have a contractual relationship with the university that is coupled with a covenant relationship with the Lord.
Honestly prepare. You put in the time necessary to prepare effectively.
Honestly engage. You seek to be an example of devotion, dependability, and integrity to others at the university and in the community. You seek to be caring and loyal to others while demonstrating integrity and honesty.
Honestly improve. You accurately evaluate your teaching abilities by truthfully recognizing your strengths and weaknesses.
Humble Teacher
As a humble teacher, you recognize your need to learn and are open to change how you think, feel, and act. You do not place yourself in opposition to God or other people but seek to learn from them. You accept feedback with meekness. You are grateful for your opportunity to teach at BYU–Hawaii (see 1 Peter 5:6–7).
Humbly prepare. You approach the course materials with an open mind, willing to explore new perspectives.
Humbly engage. You interact with others and avoid a spirit of competition. You sincerely listen to others' perspectives.
Humbly improve. You do not selfishly claim credit for your accomplishments. Instead, you seek to give credit to God and others for their role in your work. You do not avoid areas of weakness and seek to make them your strengths.
Conclusion
The intent of this article is to discuss the merits of a Christ-centered framework for learning and teaching at CES schools. As faculty apply Christlike attributes to their teaching and help their students apply the same attributes to their learning, faculty make great strides toward creating an enlightened epistemology that will bathe their curriculum in gospel light. A detailed discussion about the Framework's implementation and influence on faculty and students at BYU–Hawaii is outside the scope of this article. However, it is worth noting that results have been positive. As the CLT has trained faculty, observed their classes, and presented the Framework in faculty meetings, faculty have implemented the Framework at much higher rates than in the past. These higher implementation rates have resulted in Christlike improvements in how faculty teach. They in turn have invited their students to make similar Christlike improvements.
There is also a higher and holier outcome that is hoped for. The Savior taught, "Be ye therefore perfect, even as your Father which is in heaven is perfect" (Matthew 5:48). It is worth emphasizing that the alternate Greek translation in the footnote for Matthew 5:48 teaches that perfection is not only to be sinless but also to be complete, finished, or fully developed. As faculty seek to teach like Christ, they will move toward that promised perfection and "by and by [they] shall pluck the fruit thereof, which is most precious, which is sweet above all that is sweet, and which is white above all that is white, yea, and pure above all that is pure" (Alma 32:42). Faculty will not be alone. Doctrine and Covenants 18:15–16 teaches of the heavenly reunion between the gospel laborer and those they teach. Such reunions will not only be between missionaries and their converts. If faculty seek to create and implement an enlightened epistemology, they also facilitate their own and their students' conversions. Thus, teacher and student will rejoice together in God's kingdom, where they will "feast upon this fruit even until [they] are filled, that [they] hunger not, neither shall [they] thirst" (Alma 32:42).
Notes
[1] President Clark taught that religious educators "have no other function and no other reason for your presence in a Church school system. . . . Your chief interest, your essential and all but sole duty, is to teach the gospel of the Lord Jesus Christ as that has been revealed in these latter days." Clark, "The Charted Course of the Church in Education" (address to CES Educators at Aspen Grove, UT, August 8, 1938), https://www.churchofjesuschrist.org/bc/content/shared/content/english/pdf/language-materials/32709_eng.pdf?lang=eng.
[2] Kevin J Worthen, "The Why of the Y" (BYU Annual University Conference, August 26, 2014), https://speeches.byu.edu/talks/kevin-j-worthen/y-2/.
[3] Articles of Faith 1:13. Elder Bednar stated, "For you and for me, discernment is a light of protection and direction in a world that grows increasingly dark." David A. Bednar, "Quick to Observe: The Gift of Discernment" (address at Brigham Young University, May 10, 2005), https://speeches.byu.edu/talks/david-a-bednar/quick-observe/. President Stephen L Richards noted, "The highest type of discernment is that which perceives in others and uncovers for them their better natures, the good inherent within them." Stephen L Richards, in Conference Report, April 1950, 162–63, as quoted in Bednar, "Quick to Observe" (BYU devotional, May 10, 2005), https://speeches.byu.edu/talks/david-a-bednar/quick-observe/.
[4] Steven Pinker, "Less Faith, More Reason," Harvard Crimson 27 (2006): https://www.thecrimson.com/article/2006/10/27/less-faith-more-reason-there-is/.
[5] Kimball, as quoted in Worthen, "The Why of the Y."
[6] Luke 2:52 teaches that the Savior prepared for his ministry by "[increasing] in wisdom and stature, and in favour with God and man."
[7] David O. McKay, "Groundbreaking & Dedication of CCH/BYU–Hawaii," February 12, 1955, https://speeches.byuh.edu/foundational-speech/groundbreaking-dedication-of-cch-byuh-hawaii.
[8] "Lecture First," Doctrine and Covenants, 1835, 9, The Joseph Smith Papers, https://www.josephsmithpapers.org/paper-summary/doctrine-and-covenants-1835/17.
[9] Christopher P. Cerasoli, Jessica M. Nicklin, and Michael T. Ford, "Intrinsic Motivation and Extrinsic Incentives Jointly Predict Performance: A 40-Year Meta-analysis," Psychological Bulletin 140, no. 4 (2014): 980.
[10] Dallin H. Oaks, "Why Do We Serve?," Ensign, November 1984, 14.
[11] Dallin H. Oaks, "Why Do We Serve at BYU?" (BYU Annual University Conference, August 1998), https://speeches.byu.edu/talks/dallin-h-oaks/serve-byu/.
[12] Cerasoli, Nicklin, and Ford, "Intrinsic Motivation and Extrinsic Incentives," 4. See also Marylène Gagné and Jacques Forest, The Study of Compensation Systems through the Lens of Self-Determination Theory: Reconciling 35 Years of Debate 49, no. 3 (2008): 227.
[13] Genevieve Williamson, "Self-Regulated Learning: An Overview of Metacognition, Motivation and Behaviour," Journal of Initial Teacher Inquiry (2015): 26.
[14] Charles C. Bonwell and James A. Eison, Active Learning: Creating Excitement in the Classroom. 1991 ASHE-ERIC Higher Education Reports (Washington, DC: ERIC Clearinghouse on Higher Education, George Washington University, 1991), 17–22.
[15] "At M.I.T., Large Lectures Are Going the Way of the Blackboard," New York Times, January 12, 2009. In Kayo Matsushita, Deep Active Learning (Singapore: Springer, 2018).
[16] Elder Bednar stated, "The Savior preserved moral agency through the Atonement and made it possible for us to act and to learn by faith. Lucifer's rebellion against the plan sought to destroy the agency of man, and his intent was that we as learners would only be acted upon." David A. Bednar, "Seek Learning by Faith" (address to religious educators, February 3, 2006), https://www.churchofjesuschrist.org/study/ensign/2007/09/seek-learning-by-faith?lang=eng.
[17] Elder Bednar illustrated this principle as follows: "We are all familiar with the adage that giving a man a fish feeds him for one meal. Teaching the man to fish, on the other hand, feeds him for a lifetime. . . . You and I are not in the business of distributing fish; rather, our work is to help individuals learn to 'fish' and to become spiritually self-reliant." Bednar, "Seek Learning by Faith."
[18] Robert W. Lent, Steven D. Brown, and Kevin C. Larkin, "Comparison of Three Theoretically Derived Variables in Predicting Career and Academic Behavior: Self-Efficacy, Interest Congruence, and Consequence Thinking," Journal of Counseling Psychology 34, no. 3 (1987): 293.
[19] Lisa Tsui, "Faculty Attitudes and the Development of Students' Critical Thinking," Journal of General Education (2001): 1. See also Robert M. Klassen and Virginia M. C. Tze, "Teachers' Self-Efficacy, Personality, and Teaching Effectiveness: A Meta-analysis," Educational Research Review 12 (2014): 59–76.
[20] Steven Randall Chesnut and Hansel Burley, "Self-Efficacy as a Predictor of Commitment to the Teaching Profession: A Meta-analysis," Educational Research Review 15 (2015): 1–16.
[21] Boyd K. Packer, Teach Ye Diligently (Salt Lake City: Deseret Book, 1991), 89.
[22] President Packer said, "I am fully aware that in the world there are individuals whose basic motivation seems to be contrary and disruptive and evil, . . . but it is against their nature. If we are to teach, we must constantly remind ourselves that we are dealing with the sons and daughters of God." Packer, Teach Ye Diligently, 89–90.
[23] Aristotle, Rhetoric (4th century BC).
[24] President Russell M. Nelson, "Stand as True Millennials" (worldwide devotional for young adults, January 1, 2016), https://www.churchofjesuschrist.org/study/ensign/2016/10/young-adults/stand-as-true-millennials?lang=eng. The Prophet Joseph Smith taught, "All the minds and spirits that God ever sent into the world are susceptible of enlargement." "History, 1838–1856, volume E-1 [1 July 1843–30 April 1844]," The Joseph Smith Papers. He also taught, "We consider that God has created man with a mind capable of instruction, and a faculty which may be enlarged in proportion to the heed and diligence given to the light communicated from heaven to the intellect." "Letter to the Church, circa February 1834," The Joseph Smith Papers.
[25] Clark, "Charted Course."
[26] President Henry B. Eyring quoted his father as saying, "Hal, when you meet someone, treat them as if they were in serious trouble, and you will be right more than half the time." Henry B. Eyring, "Try, Try, Try," Ensign, November 2018, 90.
[27] Neal A. Maxwell, "Brightness of Hope," Ensign, November 1994, 35.
[28] Nel Noddings, The Challenge to Care in Schools, 2nd ed. (Teachers College Press, 1992), 2–13.
[29] Urie Bronfenbrenner, "Who Needs Parent Education?," Teachers College Record 79, no. 4 (1978): 767–87, in Lynn M. Owens and Catherine D. Ennis, "The Ethic of Care in Teaching: An Overview of Supportive Literature," Quest 57, no. 4 (2005): 392–425.
[30] Noddings, Challenge to Care in Schools, 2–13.
[31] President Dallin H. Oaks stated, "Service with all of our heart and mind, which goes far beyond service with all of our might and strength, is a high challenge for all of us. It goes far beyond the quid pro quo of contract service. It is unique to our service by covenant. It is free of selfish ambition. It is motivated only by the pure love of God and our fellowmen." Oaks, "Why Do We Serve at BYU?"
[32] Noddings, Challenge to Care in Schools, 16. Howard Kirschenbaum and Valerie Land Henderson, eds., The Carl Rogers Reader (Boston: Houghton Mifflin, 1989), 305–9. See also Kate Eliza O'Connor, "'You Choose to Care': Teachers, Emotions and Professional Identity," Teaching and Teacher Education 24, no. 1 (2008): 117–26.
[33] President Dallin H. Oaks taught, "The love of God does not supersede His laws and His commandments, and the effect of God's laws and commandments does not diminish the purpose and effect of His love." Oaks, "Love and Law," Ensign, November 2009, 26. Elder Russell M. Nelson argued against permissiveness when he wrote, "While divine love can be called perfect, infinite, enduring, and universal, it cannot correctly be characterized as unconditional. The word does not appear in the scriptures. On the other hand, many verses affirm that the higher levels of love the Father and the Son feel for each of us—and certain divine blessings stemming from that love—are conditional." Russell M. Nelson, "Divine Love," Ensign, February 2003, 20–22.
[34] Spencer W. Kimball, "Education for Eternity," Educating Zion (Provo, UT: BYU Studies, 1996), 50.
[35] 2 Nephi 26:29. President Uchtdorf told the following story: "When I was called as a General Authority, I was blessed to be tutored by many of the senior Brethren in the Church. One day I had the opportunity to drive President James E. Faust to a stake conference. During the hours we spent in the car, President Faust took the time to teach me some important principles about my assignment. He explained also how gracious the members of the Church are, especially to General Authorities. He said, 'They will treat you very kindly. They will say nice things about you.' He laughed a little and then said, 'Dieter, be thankful for this. But don't you ever inhale it.'" Uchtdorf, "Pride and the Priesthood," Ensign, November 2010, 56.
[36] Robert D. Hales, "Teaching by Faith" (address to CES educators, February 1, 2002), https://www.churchofjesuschrist.org/study/ensign/2003/09/teaching-by-faith?lang=eng.
[37] Christ highlighted who is the source of that light. "Therefore, hold up your light that it may shine unto the world. Behold I am the light which ye shall hold up—that which ye have seen me do" (3 Nephi 18:24).
[38] Eli Ottesen, "Reflection in Teacher Education," Reflective Practice 8, no. 1 (2007): 31–46.
[39] David O. McKay, "Elements of Worship," in Teachings of Presidents of the Church: David O. McKay (Salt Lake City: The Church of Jesus Christ of Latter-day Saints, 2003), 32.
[40] Doctrine and Covenants 76 is a particularly good example. Before receiving the vision of the three degrees of glory, Joseph and Sidney read John 5:29. They realized that there must be more eternal kingdoms than a single heaven. As they meditated upon this realization, "the Lord touched the eyes of [their] understandings and they were opened, and the glory of the Lord shone round about" (Doctrine and Covenants 76:19).
[41] John Flavell noted that metacognition plays an important role in multiple areas of learning, including "oral communication of information, oral persuasion, oral comprehension, reading comprehension, writing, language acquisition, attention, memory, problem solving, social cognition, and various types of self-control and self-instruction." See Mohsen Mahdavi, "An Overview: Metacognition in Education," International Journal of Multidisciplinary and Current Research 2, no. 6 (2014): 529–35.
[42] President Boyd K. Packer noted, "This trend to more noise, more excitement, more contention, less restraint, less dignity, less formality is not coincidental nor innocent nor harmless. The first order issued by a commander mounting a military invasion is the jamming of the channels of communication of those he intends to conquer." Packer, "Reverence Invites Revelation," Ensign, November 1991, 22.
[43] M. Russell Ballard, "Be Still, and Know That I Am God" (CES devotional for young adults, May 4, 2014), https://www.churchofjesuschrist.org/broadcasts/article/ces-devotionals/2014/01/be-still-and-know-that-i-am-god?lang=eng.
[44] Neville Hatton and David Smith, "Reflection in Teacher Education: Towards Definition and Implementation," Teaching and Teacher Education 11, no. 1 (1995): 33–49, 40.
[45] Ottesen, "Reflection in Teacher Education," 32.
[46] President Ballard stated, "As we learn to counsel together more effectively, God will bless us with an increased flow of revelation and understanding and greater power to accomplish His work." M. Russell Ballard, "To Sit in Council," Ensign, January 2018, 50.
[47] Preach My Gospel (Salt Lake City: The Church of Jesus Christ of Latter-day Saints, 2004), 121.
[48] David O. McKay, in Conference Report, April 1967, 84–85.
[49] Dallin H. Oaks, "Desire," Ensign, May 2011, 44.
[50] Dallin H. Oaks, "The Desires of Our Hearts," BYU Speeches, October 8, 1985, https://speeches.byu.edu/talks/dallin-h-oaks/desires-hearts/.
[51] President Gordon B. Hinckley taught, "One of the great tragedies we witness almost daily is the tragedy of men of high aim and low achievement. Their motives are noble. Their proclaimed ambition is praiseworthy. Their capacity is great. But their discipline is weak." Hinckley, "And Peter Went Out and Wept Bitterly," Ensign, May 1979, 65.
[52] John S. Tanner, "Disciplined Disciples" (BYU–Hawaii devotional address, September 18, 2018), https://speeches.byuh.edu/devotionals/disciplined-disciples.
[53] Karrie E. Godwin, Howard Seltman, Ma Almeda, Mandi Davis Skerbetz, Shimin Kai, Ryan S. Baker, and Anna V. Fisher, "The Elusive Relationship between Time On-Task and Learning: Not Simply an Issue of Measurement," Educational Psychology (2021): 1–18.
[54] "If you desire to be a successful teacher, and desire it enough to be willing to earn it, you can have your desire. It is a righteous desire. . . . There is something important about our deciding that we want to be a good teacher. . . . There is something equally important about making that desire known to the Lord. Many of us have the desire, but we keep it to ourselves. An important key is turned when we go through the formality of stating our desires to Him who can grant them." Packer, Teach Ye Diligently, 13–14. "I would tell them they can do it. Everybody can teach. I would counsel them to pray for the gift of teaching. . . . that the gift has to be earned, but it can come." Boyd K. Packer, "Principles of Teaching and Learning," Ensign, June 2007, 85.
[55] Ranjita Misra and Michelle McKean, "College Students' Academic Stress and Its Relation to Their Anxiety, Time Management, and Leisure Satisfaction," American Journal of Health Studies 16, no. 1 (2000): 41. Preach My Gospel, 121.
[56] Elder Neil L. Andersen stated, "To constantly receive the Spirit of Truth, our lives must be filled with truth and honesty. As we become completely honest, our spiritual eyes are opened to increased enlightenment." Andersen, "Honesty—the Heart of Spirituality," BYU Speeches, September 3, 2011, https://speeches.byu.edu/talks/neil-l-andersen/honesty-the-heart-of-spirituality/.
[57] Clark, "Charted Course."
[58] Patrick Duignan, Educational Leadership: Key Challenges and Ethical Tensions (Cambridge: Cambridge University Press, 2007), 60–66.
[59] Neal A. Maxwell, "Discipleship and Scholarship," BYU Studies 32, no. 3 (Summer 1992), 8.
[60] Neal A. Maxwell, A More Excellent Way (Salt Lake City: Deseret Book, 1973), 126–27.
[61] Brigham Young, Office Journal, January 28, 1857.
[62] Brenda J. Oyer, "Teacher Perceptions of Principals' Confidence, Humility, and Effectiveness: Implications for Educational Leadership," Journal of School Leadership 25, no. 4 (2015): 684–719.
[63] Dieter F. Uchtdorf, "Pride and the Priesthood," Ensign, November 2010, 58. Leonard J. Waks highlights the difference between negative and positive humility but recognizes that "in these negative definitions of humility, we can also find the roots of its more positive dimensions. Clearly, having a healthy modesty about one's importance or significance is a good thing." Waks, "Humility in Teaching," Educational Theory 68, no. 4–5 (2018): 430.
[64] Theresa A. Thomas, "Ten Traits of a Great Teacher," Catholic Education Resource Center (2011), as quoted in Waks, "Humility in Teaching," 428.
[65] Ezra Taft Benson, "Beware of Pride," Ensign, May 1989, 6.
[66] Benson, "Beware of Pride," 4. See Alma 32:16.
[67] Uchtdorf, "Pride and the Priesthood," 56.
[68] Waks, "Humility in Teaching," 435.
[69] Benson, "Beware of Pride," 6–7. On that last item in the list, President Uchtdorf noted, "We don't discover humility by thinking less of ourselves; we discover humility by thinking less about ourselves. It comes as we go about our work with an attitude of serving God and our fellowman." Uchtdorf, "Pride and the Priesthood," 58.
[70] For student examples, please visit https://clt.byuh.edu/framework-for-learning.