Fall 2018
Review Magazine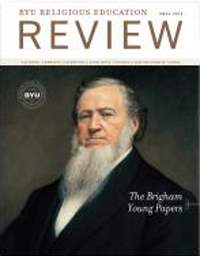 Vision and Passion of the Outgoing Deans
Message From the Deans' Office
I'm grateful to have this space in the Religious Education Review to express appreciation for Dean Brent L. Top and his associate deans, Robert C. Freeman, Dana M. Pike, and Daniel K Judd.
While my guess is that so much of what the dean does will always go unseen, two initiatives give a sense of the kind of energetic and innovative leadership that the outgoing deans provided. These are two initiatives I've been able to observe from a closer vantage point.
First, the Foundations of the Restoration class—launched in 2015—has been a remarkable addition to the course offerings in Religious Education. Dean Top's advocacy for this class was crucial in making it a reality, and the student response to the class has been overwhelmingly positive. The course taps into the best current research and thinking and writing related to the seminal revelations of Joseph Smith and his prophetic successors and to formative episodes in Church history. Because of that, the class offers opportunities for both discovery and synthesis. Simply put, the class is a joy to teach.
Second, the Office of Religious Outreach—organized in 2014—has become the sponsoring and hosting institution for a number of academic interfaith conversations at BYU and beyond, both in the form of formal and regular dialogues and informal lectures and campus visits. Dean Top worked closely with Professor Robert L. Millet to organize the office and give it its charge. The deans' office has been a strong advocate for interfaith activities, including—most recently—the launch of BYU's Student Interfaith Club in winter semester 2018.
Initiatives like these will reverberate for a long, long time to come. I speak for many when I express thanks to the outgoing deans for five years of vision about, and passion for, the mission of Religious Education.
J. B. Haws
Interim Associate Dean, Religious Education