Fall 2012
Review Magazine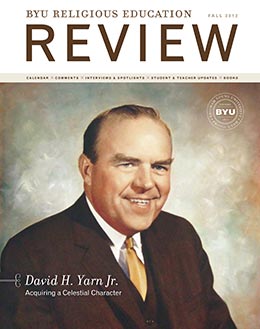 Summer Activities of Religious Education Professors
Dennis A. Wright, Associate Dean of Religious Education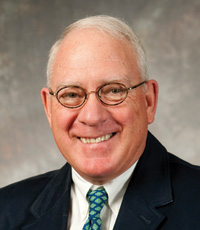 The past few months our faculty members have researched and explored, preparing to teach with renewed vigor. Here is a quick review of their activities.
Several professors were involved in archaeological digs. Jeffrey R. Chadwick has worked extensively in Israel, most recently at sites in the ancient city of Gath (of Goliath fame). In late June, Matthew J. Grey and recent BYU graduate Bryan Bozung were part of a team that unearthed a beautiful mosaic in the village of Huqoq in the Galilee region. The mosaic dates back to the late Roman period—around the fourth or fifth century.
In July, forty faculty members and guests toured Nauvoo, Illinois, and the pioneer sites leading to Utah, visiting well-known and little-known sites both on and off the main route. They also presented their research findings on the 1846–47 exodus. This type of on-site research trip provides a sense of place that cannot be duplicated with classroom lectures. The research helps faculty members to teach their subject matter more effectively, particularly the topics of Church history and the Doctrine and Covenants.
In addition, Ray L. Huntington, coordinator of the department's graduate degree program, teamed up with Blake Boatright and Vance Theodore, adjunct professors and advisers in the master of arts in religious studies program (emphasis in military chaplaincy), to host the Summer Interfaith Lecture Series. A few of the speakers were Imam Muhammed Mehtar, Khadeeja Islamic Center; Rev. Dr. France A. Davis, Calvary Missionary Baptist Church; Rabbi Benny Zippel, Chabad Lubavitch of Utah; Rev. John C. Wester, bishop of the Catholic Diocese of Salt Lake City; Rev. Michael Imperiale, First Presbyterian Church of Salt Lake City; and Rev. Scott B. Hayashi, bishop of the Episcopal Diocese of Utah. These lectures have better prepared BYU's chaplain candidates to meet the varied needs of their congregations. Another result has been a positive exchange of ideas between other faiths and Latter-day Saints.
It has been a productive summer of research, exploration, and field training that will benefit both our faculty and our students.

Dennis A. Wright
Associate Dean of Religious Education