Religious Educator
Vol. 23 No. 3 · 2022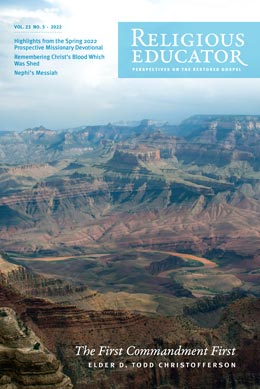 First Things First
Editor's Note
As religious educators, there is never enough time to teach all that we wish to teach our students. There is never enough time to provide the depth and breadth our sacred subject deserves. It falls to each of us to seek inspiration on how best to help our students come unto Christ. The lead article for this issue comes from D. Todd Christofferson's BYU devotional entitled "First Commandments First." In his devotional address, Elder Christofferson helps us realize that choosing between multiple "goods" really comes down to placing our highest priority on the first great commandment—loving God with all of our hearts. When we love God with all of our hearts, we realize that the most important work we have as religious educators is to help our students learn to do the same. The gospel is about relationships—first and foremost our relationship with God.
We have two additional articles highlighting the importance of relationships. One article examines the gift Christ gave to us through the "shedding of [His] blood" and how Christ binds us to him through his sacrifice in Golgotha. We also have an important article showing how our relationships with friends, family, and Heavenly Father are central to the plan of salvation—the plan is really a relational plan.
Also of note are two articles focused on missionary work, or as President Nelson often refers to it, the "gathering of Israel." Elder Marcus B. Nash provides important insights into how our students can prepare for missionary service, answering several questions and concerns raised by prospective missionaries. Our other missionary-focused article highlights the role of technology in missionary work and details how we can best prepare our students to use this important tool.
In this final issue of the Old Testament year, we have several wonderful articles on topics with ties to the Old Testament. New research highlights archeological evidence that sheds light on issues surrounding the land where Samson dwelt. Finally, two articles examine the importance of ministering to those who are afflicted or who are strangers—an issue with incredible importance for our time as well.
Michael A. Goodman
Editor in Chief