Religious Educator
Vol. 20 No. 3 · 2019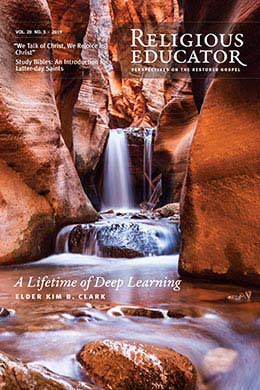 Published in 2019
Subscribe to the Religious Educator to read articles in this issue online.
Seminary-Supported Gospel Study
Editor's Note
"We think it is a tremendous development at this time when our young people need ever more strength," Elder Jeffrey R. Holland recently declared when explaining the alignment of seminary curriculum with the churchwide program Come, Follow Me. "We believe that it's going to be wonderfully symbiotic with the home-centered concept—Church-supported, home-centered—and now to that we add seminary-supported, home-centered gospel study."
This issue of the Religious Educator aims to help teachers and families prepare for and benefit from these changes. It features an interview with Elder Kim B. Clark, recently released commissioner of education, who shares how the realignment came about while offering practical advice for improving gospel study because of it. He also reflects on his own lifetime of deep learning, including lessons he learned as commissioner.
We are also pleased to feature articles by several seminary and institute faculty, including Chad H Webb, administrator of Seminaries and Institutes, together with those of other religious educators. Authors share scholarship centered on coming to know Christ and learning from him, especially through the Bible, the book currently being studied simultaneously in Sunday School and seminary. Articles explore the Crucifixion of Christ, help students appreciate how the Jehovah in the Old Testament and the Savior in the New Testament are one, and examine the value of study Bibles. Others focus on better understanding the prophet Isaiah and the historical context behind the ministry of Jeremiah.
These articles will help teachers and families adopt these changes while giving them insight into their own discipleship. I share in the belief of the First Presidency that "making this change will enhance the home-centered, Church-supported approach to gospel study through a unified study at home, Sunday School, and seminary."
Scott C. Esplin
Editor in Chief