Nauvoo Restoration Drawings and Photographs
Don F. Colvin, "Nauvoo Restoration Drawings & Photographs," in Nauvoo Temple: A Story of Faith (Provo, UT: Religious Studies Center, 2002), 235–43.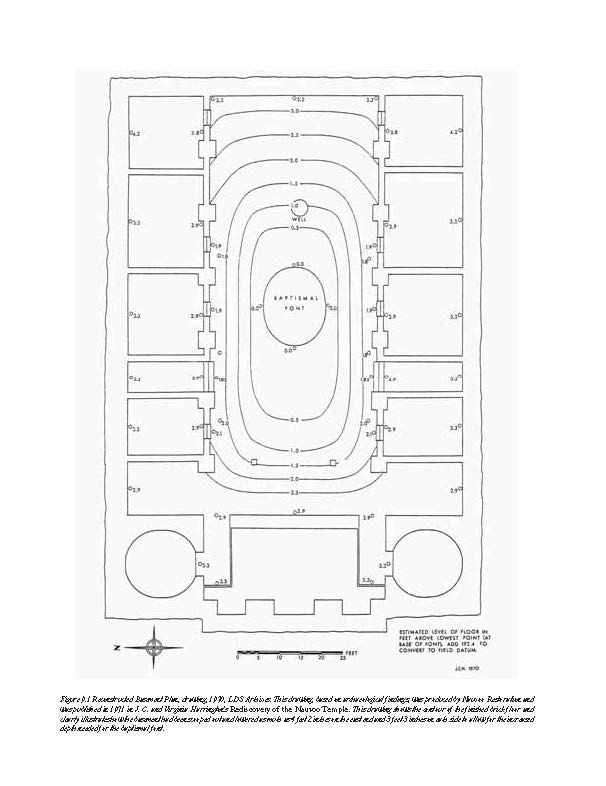 In June 1962 the First Presidency announced the formation of Nauvoo Restoration Incorporated. A board of directors was established, and Dr. J. LeRoy Kimball was appointed to serve as president. Church president David O. McKay explained that the corporation was formed for the purpose of restoring much of historic Nauvoo to the way it appeared before the Saints left it in 1846.
One of the major contributions of Nauvoo Restoration resulted from archaeological excavation of the Nauvoo Temple site. This work was conducted with great care under the direction of professional, well-respected archaeologists. Preliminary trenching undertaken in an attempt to locate the remains of the temple was conducted under the direction of Dr. Melvin L. Fowler, curator of North American Archaeology from Southern Illinois University. He was assisted by Dee Green, a Salt Lake archaeologist who served as crew chief of the excavation work. The direction of all archaeological research for Nauvoo Restoration was later turned over to Dr. J. C. Harrington, formerly chief archaeologist for the U.S. National Parks Service. Over a three-year period J. C. Harrington and his wife, Dr. Virginia S. Harrington, directed the examination of the entire basement area.
Upon completion of the project, an excellent book was published illustrating and describing the excavation work as well as outlining the understandings they gained from the work. This book, Rediscovery of the Nauvoo Temple, was written by Virginia and J. C. Harrington. Many of the photographs and drawings they produced provide valuable insights concerning the Nauvoo Temple. By permission of the Nauvoo Restoration and The Church of Jesus Christ of Latter-day Saints, many of these illustrations have been reproduced in this book. A number of the photographs and drawings are included in the text of chapters 5, 6, and 8.
Chapter 5. Spiritual Blessings
Figure 5.2 Conjectural Sketch of Baptismal Font [Nauvoo Restoration].
Chapter 6. Exterior Features
Figure 6.9 Star Stone
Chapter 7. Interior Features
Figure 8.2 Conjectural Plan of Basement Floor Plan [in 1846, showing brick paving].
Figure 8.3 Brick Floor Plan.
Figure 8.4 Remains of Brick Floor.
Figure 8.5 Diagonally Cut Bricks.
Several additional illustrations are included on the pages that follow