Gathering the Flock (1849–1853)
T. Edgar Lyon Jr., John Lyon: The Life of a Pioneer Poet (Provo, UT: Religious Studies Center, Brigham Young University, 1989), 111–54.
In January 1849, John Lyon received an official-looking envelope from Liverpool. He nervously broke the wax seal and noticed that the letter was signed by Orson Pratt, Apostle and president of the British Mission. Lyon quickly read the details. He was called to serve the Church as a full-time missionary in the Worcester Conference (area) of England. He was to report as soon as possible to Worcester, via Liverpool. Besides his proselyting duties, he was also to "preside over the conference" as its president.
Lyon had not sought this appointment. Janet had recently given birth to their twelfth child; two of his little bairnees had died during the previous year; the two oldest had married and were expecting children; two sons, Robert (sixteen) and David (ten), were seriously ill; weaving again was "dull"; and finally, since joining the Mormon church he had found much less piecework and accrued little income from newspaper contributions. There were myriads of reasons for staying home, but a single more impelling one to accept the awesome assignment—it came from an Apostle of the Church. Elder Pratt mentioned no length of time for the mission; Lyon was simply called to full-time church service until his labors were no longer required. He would receive no salary from the Church; his family would simply have to fare the best they could without his income or his presence. Like all LDS missionaries, he was to travel "without purse or scrip," depending on the goodness of local Saints and interested citizens.
Lyon's name and activities had come to the attention of the Church leaders in Liverpool, mainly as a result of his frequent poetry in the Millennial Star, as well as the visits that many had made to his home. He had likely not yet come face to face with Orson Pratt, mission president and editor of the Millennial Star since August 1848, but had personally known the previous presidents Orson Spencer and Franklin D. Richards.
The recent success of the Kilmarnock Branch in attracting new converts to the congregation (forty-six baptized in 1848, twenty-two by Lyon alone) also brought the name of John Lyon to notice. Further, he was known because he had aided in establishing congregations in nearby Irvine, Stewarton, Ayr, and other towns. He was already a local proselyting missionary and was now an obvious choice to provide leadership and energy to a new area—Worcester.
In two weeks Lyon settled his affairs in Kilmarnock. Janet, Thomas, George Spiers, and the children would carry on the weaving business to support themselves. James Paton took over as presiding elder of the Church in town. Lyon packed his belongings in a trunk, said farewells to his many friends in Kilmarnock, and sadly bid his trusting wife and ten children goodbye. Janet would have a small, irregular income from weaving to meet the family needs; her husband would eat and sleep when Saints and Gentiles offered him food and bed. No record of his or Janet's feelings on departure remain; husband and wife must have grieved deeply and worried for each other's safety and well-being. A poem written to Janet a few months later reveals some of Lyon's feelings for his willing, sacrificing wife and affirms his eternal love for her, his melancholy, and his assurance that he will eagerly return to her.
TO MY WIFE
If I but dare to think
Of all that's past of thee,
A strange mysterious link
Enshrouds my destiny!
And if one lonely gleam
Of dark forgetful sleep
Steals o'er me, then I dream
Of thee in visions deep.
When travelling far alone,
Among my friends or foes,
Thy former smile and tone,
Remembered, soothe my woes.
If I but hear a song
Of Zion's Heaven-born love,
Thy voice amid the throng,
Seems seraph-like above.
If I attempt to muse,
Or study holy books,
The words I read infuse
Each page with thy fond looks.
Yes! roam where'er I may,
In solitude, or throng,
Thy spirit's presence says
When shall we meet? how long?
Shall Gentile bonds divide
Our kindred spirits' joy?
Shall distance, time, or tide,
Our Heaven-born love annoy?
No, never shall they part
What God has purely joined!
The fond celestial heart
No power on earth can bind!
Then still hold fast the Truth,
Keep pure to Heaven's decree,
And thou shalt find, forsooth,
A husband still in me.
(Harp of Zion 189–90)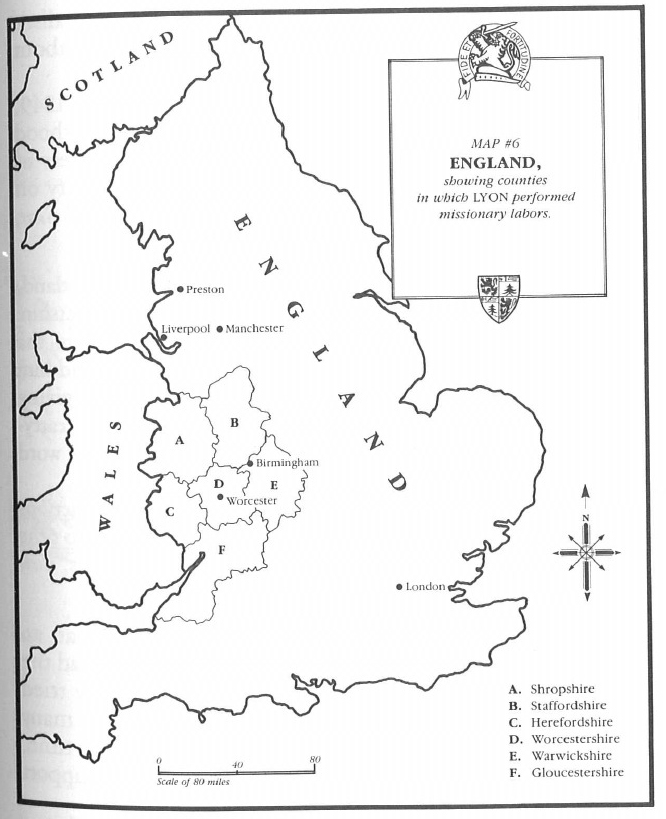 Lyon left Kilmarnock on January 28, 1849 (Kilmarnock Branch records). In Greenock he boarded an overnight steamer to Liverpool, which was to him a "foreign" country because this was the first time he had ever left Scotland. He met with Orson Pratt, who explained Lyon's duties, praised his poetry, and "set him apart" to preside over the large Worcester Conference, replacing Robert Martin. Elder Pratt was particularly concerned about getting the Millennial Star to more Church members and also discussed a project to write and distribute more doctrinal and philosophical tracts in Great Britain. Liverpool, and not America, was the de facto publishing headquarters for the Church, and Elder Pratt asked for Lyon's assistance in preparing and publishing doctrinal exegeses. Elder Pratt may have also urged him to keep a diary of his missionary labors because on February 11, 1849, Lyon began a daily record which he titled "Notes of Travel among the Saints in Worcester Conference," chronicling his efforts, activities, and feelings.
Lyon then boarded a train and journeyed the 105 miles to Worcester, a slightly larger town than Kilmarnock, boasting approximately 26,000 inhabitants. At the time he arrived, the town was enjoying an industrial boom in glove-making, porcelain, the celebrated Lea and Perrins Worcestershire sauce, and many other businesses. Berrow's Worcester journal, founded in 1690, was thriving and is now the world's oldest surviving newspaper. The massive fourteenth-century cathedral beside the lovely River Severn dominated the landscape (Lewis 4:673). A branch of the LDS church had been established in Worcester in 1844, and in 1849 counted approximately forty members (Worcester Conference Reports). The larger area of the Worcester Conference comprised some twelve loosely structured branches located in a few urban and a number of rural areas of Worcestershire, Staffordshire, and Shropshire (see map 6). There were about 276 members in the entire conference at the time Lyon became president (Millennial Star 1849, 105). The active conversion work of previous LDS missionaries had raised the ire of many local ministers; the press had also sought cause to examine and disprove Mormonism. The Worcester Herald, Berrow's Worcester Journal, and the larger Worcestershire Chronicle all featured stories critical of particular doctrines in Mormonism. Despite his past journalistic experience, Lyon did not join the fray; he merely went about his duties as a traveling, preaching elder.
Lyon's diary [1] commences on Sunday, February 11, 1849, in Worcester, where he held a council meeting with priesthood holders and was approved by them after reading letters of appointment from Orson Pratt (see photo of diary entry on page 117). In the February 15 issue of the Millennial Star, Elder Pratt publicly confirmed Lyon's position:
Our beloved brother, Elder John Lyon, of Scotland, has been appointed to the presidency of the Worcestershire Conference; we cheerfully recommend brother Lyon to the Saints in that conference; and trust that they will uphold him by their faith and prayers, inasmuch as they will do so, giving heed to his counsels, and assisting with their might in carrying out the measures he may adopt for the spread of the word in that region, they will be blessed.
Brother Lyon has our thanks for the valuable productions in poetry from his pen, that have appeared from time to time in the STAR, and we hope he will continue to favor us, now and then, with a gem. (63)
The Saints obviously needed to be assured that an unknown missionary from another part of the country had the sanction of the Church; some apostates had previously tried to gain followers and collect Church monies. Among the many new appointments listed in the Millennial Star at this time, Lyon's is the only one that admonishes the members to support him; it appears that there may have been a problem previously with accepting authority in Worcestershire. The day after his acceptance, Lyon "set off to visit the Branches." Although only twelve organized branches may have made up the conference, the members were scattered throughout more than thirty villages, towns, and farming areas (see map 7). A conference meeting was scheduled for March 11, so Lyon began the task of visiting all the branches before that date. During the first month of his mission alone, he covered at least 245 miles, most of them afoot, visiting Saints and branches in the following areas:
| | | |
| --- | --- | --- |
| Alveley | Earl's Common | Pinvin |
| Berrow | Farmcote | Stourport |
| Beverie | Flyford | Throckmorton |
| Borley | Hartlebury | Uckinghall |
| Bridgenorth | Kidderminster | Upton |
| Chadwick | Ombersley | Worcester |
| Crossway Green | Pershore | |
This kind of traveling—most of it by foot—became the norm for Lyon. Indeed, he walked an average of at least five-and-a-half miles a day during his thirty-three-month mission—a total of approximately 5,445 miles! Not surprisingly, in less than three months his only pair of boots was worn out—'Bro. Willams took off my boots for repair" (May 8, 1848). Members contributed money, and Lyon bought a second pair, but repair and resoling were a continual process. And quite naturally, his feet got sore more than once:
I felt this day to have gone to visit Brother Williams at Uckinghall, but having a pain in my foot I feared to travel. (March 14, 1849)
This day I travelled to Uckinghall. Felt my foot very sore, after being two miles on the road thought to return, but after resting on the wayside . . . I pulled off my stocking and found my foot easier. (March 15, 1849)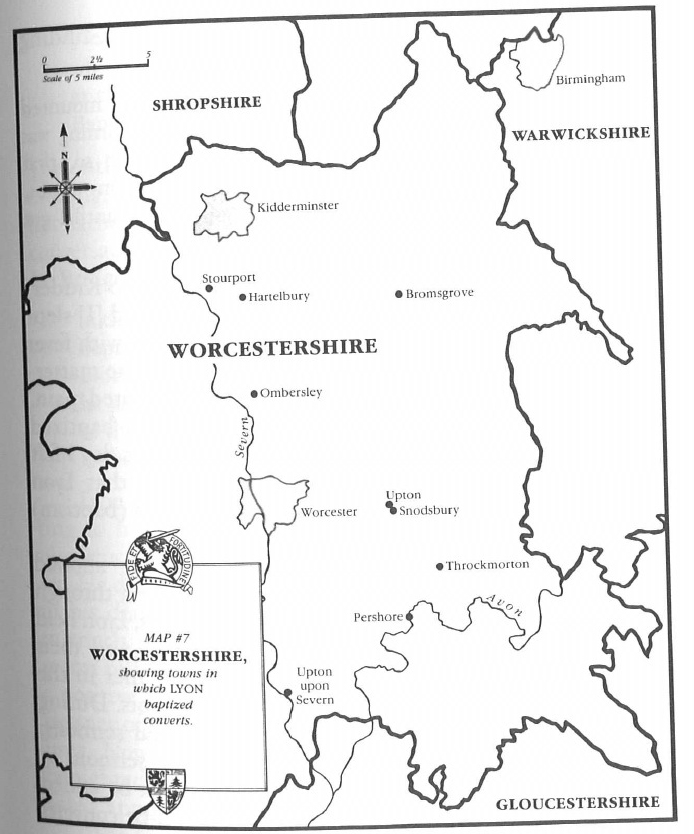 Two days later, he was able to walk a little better, finding it warmer to walk than ride in a cart:
This morning I got up after five o'clock and got mounted on Brother Lane's light cart for Worcester. The morning was exceedingly misty, and excessively cold, so much so, that after a ride of six miles I hardly felt power in my limbs, when I got out of the cart, and traveled on foot until I got warm. (March 17, 1849)
A few days later, Lyon walked fourteen miles to Kidderminster, "where I arrived at gloam. Much tired and [I] slept there" (March 26). On a few occasions, he got sick with fever and chills. His May 16, 1849, entry gives a feel for the matter-of-fact way in which he (and many others) accepted pain. "Wrote a letter . . . to my wife. In the evening I baptized Mrs. Boden, an intelligent and sincere woman. This day I felt unwell and took some medicine." It is curious that Lyon should follow a sentence about a very spiritual event (baptism) with one about such a mundane topic as health!
Lyon's walking obviously had a purpose—it allowed him to preach the gospel of Jesus Christ as restored through Joseph Smith. Every Sunday for thirty-three months, Lyon held two or three preaching meetings with Mormons and their invited friends. During the week, he frequently met in the homes of members to preach to interested neighbors. During a typical month, Lyon preached thirty-one formal sermons; he would have delivered approximately 420 such sermons in slightly less than three years! To this number must be added his hundreds of doctrinal discussions with would-be converts or curious onlookers.
Neither Lyon nor the Church used a standardized lesson plan or series of missionary discussions. Instead, the missionary, usually an adult with many years of church service, first prepared himself and then preached as he felt "moved by the Spirit." Eor Lyon to spend four or five hours meeting with an individual or a single family to aid their religious understanding was not uncommon. Once he preached and discussed for the entire day in one home. On another occasion:
I left for Borley in company [of] Bro. Sparks' daughter with whom I had some conversation on the principles of the gospel; at twelve o'clock that night I led her down to the waters of Baptism. (May 17, 1849)
The entire conversion process took place in an afternoon and evening; she had known about the Church previously from her father, but not until the public preaching and private conversation with Lyon was she ready to join the new faith. In Bridgenorth, Lyon casually notes:
In the evening I preached to a good full house. And afterwards Baptized 2 persons, Viz. the old lady before mentioned and Brother Skelley's old son, a good looking man, who told me he had a vision and saw me as visible as he then did. . . . All of the saints felt to rejoice and three [investigators] professed to believe the principles. (April 2, 1849)
Lyon continually uses the term the principles when referring to his teaching, likely meaning the principles of faith, obedience, baptism by immersion with authority, love, sacrifice, etc. He does not use the terms repentance or call to repentance in his diary but hopes the "Lord [will] stir up the people to much reflection and obedience" (emphasis added). He seems to have had great confidence that if he preached with a positive approach the people would see the beautiful consistency of the gospel and make the necessary changes in their lives. Nowhere does he refer to the non-LDS as sinners or benighted. His personal preaching was an optimistic, hope-filled approach to conversion.
The most frequently mentioned topic of Lyon's discourses is that of "the Gathering." Good Latter-day Saints in Great Britain were not only expected to be baptized but also to prepare themselves to "flee Babylon and join with the Kingdom of God in California" (the Great Salt Lake Valley):
Spent most of this day at Mr. Bromley's house where I had a lengthy conversation with him on the principles of the gospel, and on immigration, all of which he seemed well pleased with, so far as the Kingdom of God was concerned. (March 5, 1849)
On May 2 and 5, 1849, Lyon baptized John Bromley, his wife, and two daughters. They fervently believed in the Gathering and left for America on January 20, 1851, while Lyon was still carrying out his missionary work. [2] Lyon certainly would have felt some concern, even envy, as he saw newly converted members leaving for Zion while he was called to "remain among the Gentiles." Lyon worried about the faith of one backsliding member, noting that "Brother Clark also spoke in very doubtful language of the Gathering, and brought up passages from the 24th Chapter of Matthew to prove his assertions" (March 8, 1849). The man was later cut off from the Church for this and other more serious doctrinal doubts. On Sunday, March 25, 1849, Lyon "met with the Saints [in Bridgenorth] and preached to them on the Gathering. . . . They are far behind in respects to the principles of truth and the Gathering."
On September 15, 1849, Orson Pratt issued a call for all Saints in Great Britain to prepare for emigration (Millennial Star 1849, 277–81); Lyon regularly carried this general call to the local level. The idea of gathering may have been responsible for some conversions among people who saw it as a means to escape generations of poverty and begin a new life in America. The practice of "leaving Babylon" (that is, fleeing from the supposedly sinful world that was soon to be destroyed) also had the effect of weakening the small Worcester branches. Approximately 28 percent of the number converted emigrated to America during the three years Lyon was president of the conference. [3] They formed part of the 3,938 who left Great Britain for America during 1849–51 (Evans 245). Clearly, Pratt's admonitions and Lyon's preachings on the doctrine of the Gathering were not in vain.
Still, the primary goal of Lyon's preaching was baptism into the Mormon church. Historical information for the Worcester Conference is not complete, but a comparison of Lyon's diary with extant membership records indicates that during the thirty-four months he served as a full-time missionary he baptized at least 360 people. From March of 1849 to December of 1851, Church membership in the Worcester Conference increased by 409 souls, from 276 to 685; Lyon baptized most of these new adherents. These statistics do not take into account the number of those emigrating during this period (41) nor the number of those excommunicated (73); hence the total number of conference baptisms exceeded by at least 100 the 685 members listed in 1851. Lyon was aware of the amazing results Heber C. Kimball and other American missionaries had achieved in 1837 through 1840, baptizing entire congregations of eager new converts in one day. Lyon's baptisms came more slowly, with steady missionary work. Although he had some assistance from temporary missionary companions such as J. D. Ross, J. Hall, and Levi Richards, Lyon was the principal missionary in the conference area and performed the majority of the baptisms. A few of the baptisms were of children, usually age thirteen or older, of already-converted members; most were adults whom Lyon met through introduction and referral; some came from the ranks of the curious who had heard of the "peculiar" Mormons and attended one of Lyon's preaching meetings. In all, Lyon baptized an average of more than ten people per month during his mission. He records each baptism quite matter-of-factly:
This day I went to Camp and spent a pleasant evening, and on the way home Baptised J. Bromley when I returned with him and stopped overnight. When the family understood he had obeyed, they were rejoiced and the wife gave me her name for Baptism on Saturday. May the Lord Bless them as a family in the New Covenant of Peace. Amen. (May 2, 1849)
Three days later he notes:
This day after having got myself refreshed from travel I went out to Camp, in company with Bro. Williams and Baptized Mrs. Bromley, Miss Jane and her sister Pheba, daughters of the above lady. (May 5, 1849)
The Bromleys were the first complete family Lyon baptized, nearly three months after the start of his mission. From this point the tempo increased; toward the end of his mission, he baptized as many as twenty-five people a month.
Not all of the newly baptized remained active in the Church. As conference president, Lyon also had the unpleasant task of excommunicating those who strayed from the faith. Seventy-three members were cut off during his mission, mostly for unwillingness to support church doctrines, for direct attacks on the Church, or for personal squabbles:
We proceeded to the house of Sister Williams. This woman's husband professes Astrology and has published an Almanack for 1849. He formerly was a member of the Church, but was cut off in consequence of adhering to the above science. (February 21, 1849)
This casual entry indicates the relative ease with which many were cut from the LDS church in the nineteenth century. It is most curious that adherence to astrology would be grounds for excommunication, when Brigham Young himself had professed belief in the "science" and Lyon had delved into the rather occult activities of phrenology and hypnosis. Nevertheless, a conference president knew that he would always have to trim a few backsliders from his records. Members of one branch rebuked their LDS neighbors "who had been sick and had called for a Doctor" first, instead of asking for a blessing from the elders of the Church. Lyon tried to smooth the conflict; fortunately no one was unchurched because of this minor clash. Some disaffected Mormons contributed to a negative image of the Church in the local press. One of Lyon's manuscript stories relates the incident of a domineering woman who had examined the doctrines of the Mormon church and then formed her own independent religion. She subsequently left evidence that she had drowned herself in the River Severn, but reappeared two years later (in 1851) after her husband had taken another wife. The scandal she raised was carried in the newspapers, which viewed her as
a Mormon of the deepest dye. . . . The [Worcester] Herald then launched forth in a most venemous style against the Mormon Church and its priests in particular, who had run off a great many to America and there robbed them of all they possessed. [4]
After this incident both the Worcester Herald and Journal counseled their readers not to hire or associate with Mormons. Lyon recalls that he was going to write a letter to the editor assuring him that this woman was not LDS but felt that his words would in some way be turned against him. He concluded the narration of this incident with a very positive note: "I never heard more of this woman, although I made inquiry at the prison [where I thought she was] where I sometime after baptised the keeper of the jail."
Besides walking and preaching and baptizing, Lyon wrote many letters—letters to friends in Scotland, to the newly converted, to President Orson Pratt, to Levi Richards, to Samuel W. Richards, and (most of all) to Janet in Kilmarnock. Robert and David had been sick when their father left, and Lyon anguished for the first month of his mission without a single letter. Finally, on February 28 he recorded:
Received a letter from Kilmarnock giving me to know that David was still alive. Sent a consolatory letter to my wife to comfort her in her present affliction.
Three days later he went to the post office, "exceedingly anxious about my family, but received no letters as was fondly anticipated" (March 3). On March 6 he wrote:
Spent most of this day writing letters to Kimk., Liverpool, Glasgow. . . . Received word from Kilmk. of the recovery of my son David which drew forth the responses and gratitude of my heart to my heavenly father. . . . I also felt to pray for my son Robert that he might be restored. May the Lord in his infinite mercy grant this request.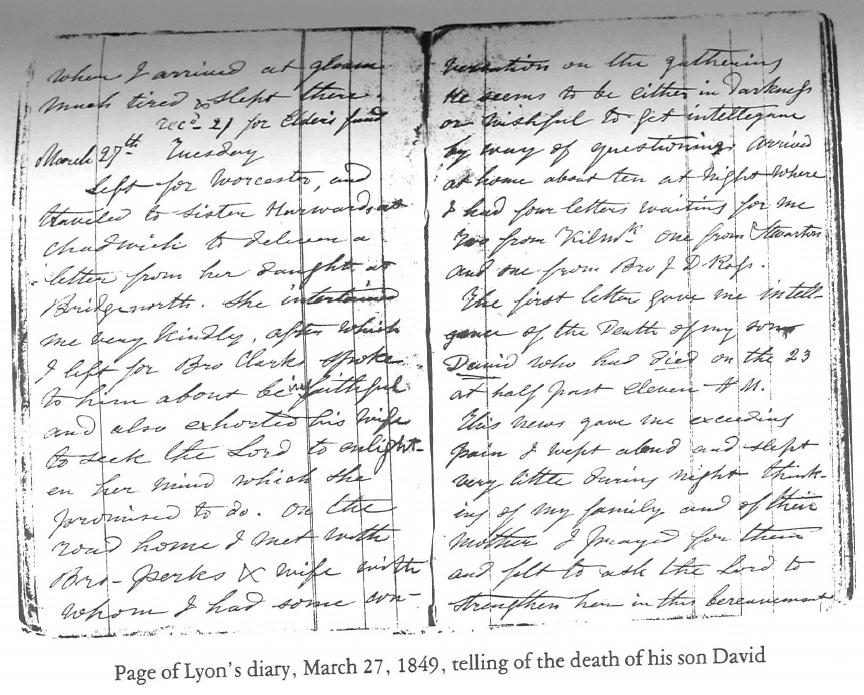 No other letters were immediately forthcoming, and Lyon concluded that all was well. On March 27 he recorded:
Arrived at home [Worcester] about ten at night where I had four letters. . . . The first letter gave me intelligence of the Death of my son David who had died on the 23 at half past eleven A.M. This news gave me exceeding pain. I wept aloud and slept very little during night thinking of my family and of their mother. I prayed for them and felt to ask the Lord to strengthen her in this bereavement. March 28th Wednesday. This day I wrote a consolatory letter to my family condolling them on the Death of my son over which I shed many bitter tears of regret in not having it in my power to carry his remains to the silent grave.
Lyon does not mention the cause of David's death. There was a cholera epidemic in 1848 and 1849, but David's was a lingering illness not characteristic of cholera. A month later, on April 28, Lyon again learned that "Robert was on his dying bed. This intelligence, although not unexpected, gave me much thought and grief on account of his mother who was doubtless in much sorrow." Robert clung to life for another month. Then,
I got two letters, one of which gave me intelligence of my son Robert's departure, which took place on Saturday evening the 26th at half past six for which I felt to be thankful to my heavenly father for removing him from his long and severe affliction. (May 28, 1849)
Kilmarnock Branch records indicate that Robert died of "consumption," a general catchword for any death in which coughing was a factor.
During just four short months of Lyon's arduous missionary labor, two of his sons had died. Two tiny daughters had passed away during the previous year. Surely he must have asked himself why—why so much suffering when he was doing the Lord's work. Nearly every issue of the Millennial Star carried a small section on 4 'Miraculous Healings," usually from cholera. David and Robert had received blessings from the priesthood in Kilmarnock, yet they had not been miraculously healed. Was Lyon's faith insufficient to heal? Why must the entire family suffer such tragic loss when they were all "about their Father's business"? Lyon's diary never answers these questions.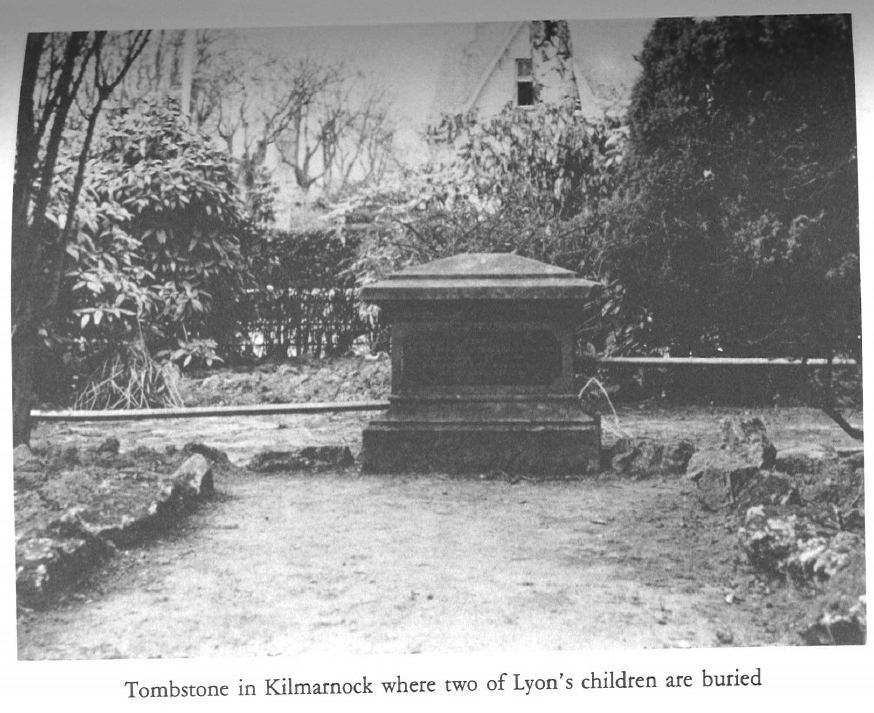 As was often the case, Janet bore much of the emotional and economic brunt of the tragedy: "In his [Lyon's] absence the devoted and believing wife found her strange new faith pretty sorely tried; sickness and death entered the family circle, under conditions almost amounting to widowhood" (Obituary, Deseret News, 18 January 1895). Lyon sent frequent money orders during this calamitous period to assist with his family's burial expenses and household necessities. He wrote Thomas, now twenty-two years old, urging him to support Church authorities, be diligent, and render assistance to his mother. Lyon then went quietly back to his missionary labors, preaching and teaching, walking and talking of his faith in Christ.
On March 11, 1849, Lyon held his first Worcester Conference meetings. Representatives from eleven of the twelve organized branches came to Worcester for a full day of planning and spiritual uplift. Lyon was pleased with the attendance but concerned with the lack of uniformity in the organization of the branches. In a letter written the next day to Levi Richards in Cheltenham, he states:
I am happy to inform you that our conference came off beyond my expectation. . . . Still, considering our disjointed condition, the Presidents [of the branches] willing to rally once more around the standard of Gathering and give their strength and intellectual ability to forward the chariot of Mormonism through the sloughs of Earls common and Purcel-green. [5]
Levi Richards and his wife, Sarah, had taken up residence in Cheltenham (south of Worcester) to direct the missionary work in that area. Levi, a doctor as well as brother of Willard and uncle of Franklin D. and Samuel W. Richards, had resided in Birmingham but had come to Cheltenham to check out the medicinal value of its famed mineral springs for Sarah. Levi was one of the fortunate few American missionaries who brought their wives with them. Lyon knew Sarah and in his letters always asked to be remembered to her: "Please give Sis. Richards a poet's regard." Sarah was often sick, and Lyon tried to raise her spirits by sending her poems and advice:
EPISTLE—INSCRIBED TO S.R.
Dear sister, though few days have past
Since you and I have met,
I feel our friendship still will last
When Time's last sun is set.
. . . .
Yes, sister, if you steadfast prove,
And be as you have been,
You'll wear a crown in Heaven above,
And reign on earth a queen!
(Harp of Zion 145–47)
Levi Richards was a counselor to Orson Pratt and served as a district supervisor over West Central England. Lyon and other presiding elders reported their activities to him. Dr. Richards, just four years older than Lyon, felt a close bond with the Scotsman; they wrote and visited each other many times in Great Britain and later in Utah. Dr. Richards organized a special conference in Stoke (Staffordshire) on April 1, 1849. Lyon met with Dr. Richards and reported his labors in Worcestershire, speaking three times during the conference. On his return to Worcester, he stopped in Birmingham and "spent most of this day in company with Bros. Levi Richards and Clinton discoursing on various subjects in connection with the work" (April 7, 1849). Elder Richards's diary often mentions his visits with Lyon and records that Lyon, while in Worcester, usually stayed at the home of William Beard, which was located on Shrubhill Row on Regent Street (Diary, April 8, 1849).
As 1849 drew to a close, Lyon reflected on the long eleven months that he had been away from home. Two children had died in Scotland, but Lyon took solace in the scores of people to whom he had given the new life of the gospel. The year 1849 saw more people baptized in Great Britain (8,620) than did any previous or future year in the mission's history; Lyon was a small part of this success (Evans 224). He bid adieu to the year in a lengthy poem:
Farewell to thee, old 'Forty-nine,
Thy annals brief will tell
The good and evil thou hast brought
Where feuds and discord dwell;
For kings and thrones have passed away
No more their glory shine,
Save thy dark date, to mark the day
They died in 'Forty-nine.
And many a fond endearing tie—
'Mong friends has parted been,
By pestilence and poverty,
Since thy bleak face was seen!
And darker still, Time's record will
Unveil the world's decline,
Till coming fate, past woes relate,
E'en worse than 'Forty-nine.
The first stanza of this poem recalls the usual political strife that marked the year: Garibaldi had entered Rome, which had subsequently fallen to France (July 28); the French National Assembly had been dissolved, and easily quelled Communist riots in Paris (June 13) had led to repressive legislation; England was relatively free from open political strife.
The second stanza likely reviews Lyon's own loss of family, blaming "pestilence and poverty" for the unnecessary deaths. The pestilence he mentions is likely the cholera epidemic that took so many lives throughout the country. In the year 1849, another champion of the poor, Charles Dickens, published David Copperfield, but Lyon makes no mention of this literary hero. The death in December of England's dowager Adelaide was the only death among notables during the year. The stanza ends with a prediction, almost hoped for, that circumstances would get worse in this decadent world.
Stanzas three and four chronicle particular events in Great Britain in general and the Worcester area in specific:
In thee, the speculator's mart
In railway scrip has drained
The purse and peace of many a heart,
By Av'rice unrestrained\
And now, their wealth and labour lost,
On each unfinished line—
Reveals the goose-chase and the ghost
Of Eighteen Forty-nine!
In thee Old Piety, impure,
In sacerdotal stole!
Comes in the vestments of a w—re,
To cheat th' unwary soul.
Six hundred names her w—reship claims,
A motley coloured shrine,
To please the Votaries of the beast,
In Pope-less (!) 'Forty-nine.
Scrip (stock) to build railroads was offered throughout Worcester with get-rich-quick promises that were never fulfilled; many rail lines were never even begun let alone completed. The year 1849 was right in the middle of what historians have called the great Railway Mania years (1844–54). Most any project, however absurd, might be funded, "for thousands of gullible investors were swarming forward, to put money into unsound, even grotesque schemes" (Simmons 41). Lyon criticizes the avarice of deceitful speculators, whose works were "goose-chase and ghost" in the year just past. The fourth stanza takes Christian religions to task, harshly equating Catholic and Anglican pomp with the robes of a prostitute. Lyon views the political turmoil in Italy and France's restoration of Pope Pius IX to power and brands 1849 a pope-less year. The allusion to 600 names is not clear but may refer to Catholic bishops named during the year.
Yet despite the sins and stains of the year, Lyon ends the poem with the positive hope of spiritual relief and future emigration to a pure place in western America:
And still thy song is loud and long,
Of coming good to seel
While the distress'd, with want oppressed,
Find no relief in thee.
Ah! world of woe! thine overthrow,
The Prophets all divine—
And yet the signs thou dost not know,
So mark'd in 'Forty-nine.
Far in the mountains of the west,
A gathering kingdom grows,
While hireling Priests and venal press
That kingdom all oppose.
Yet still its gath'ring thousands come;
With joy their hearts incline
To join their friends in Zion's home,
In Eighteen Forty-nine.
(Millennial Star 1850, 63–64)
A few months later, after a full year in the Worcester area, Lyon wrote to Levi Richards:
My Beloved Levi, As our conference will come off on the 24th [March 1850], I should feel obliged if you could favor us with your company on the occasion.
We are doing the best we can to further this great work, but agricultural distress, although a laughable cognoman when applied to the Aristocracy is nevertheless too true, on the part of the poor labourer who has to toil for 6 shillings per week. Indeed, labour is not in demand, and consequently being cheap, the producers are as little thought of as their beasts of burden. Hence many have been kept from obeying this gospel, thro' the influence of tyrannical masters as well losing their work afterwards.
This conference . . . is doomed to suffer, with all other agricultural districts. [6]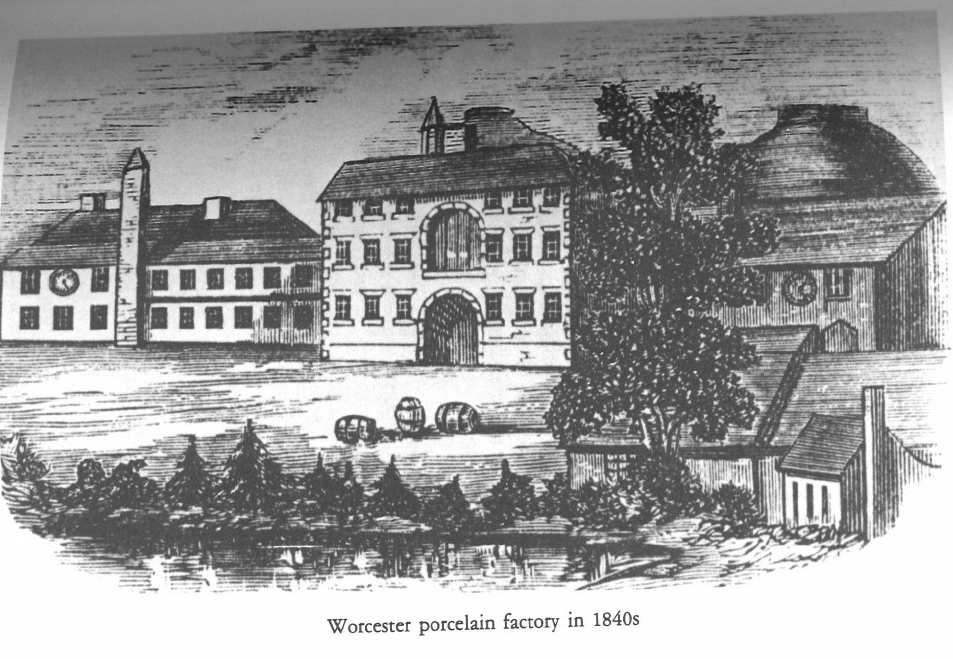 Similar to his concern for the poor in Glasgow and Kilmarnock, Lyon again empathized with the hopeless suffering of the poor in England. By the end of 1850, Levi Richards was residing in Swansea, South Wales, and Lyon again mentioned the poverty of the British in general and the Saints in particular:
I have a very poor conference now. I found this place two years ago in one vortex of chaos, since that time I have added 180 to our number now; between emigration, death and removals [excommunication] I am just about where I began, the best having left. (Lyon to Levi Richards, February 4, 1851)
Quite as expected, the few Church members with sufficient means were able to soon leave for America. The poor stayed, hoping for a miracle that would allow them to emigrate. Money was a constant problem for Lyon, the Church, and most of its members. He collected and disbursed several funds—tithing, the Elders' Fund, and payments for books and for the Millennial Star. From the Elders' Fund, Lyon occasionally wrung a pound or two to send to Janet and the children, for unlike some early LDS missionaries, he did not work a trade to help support himself (Jensen 4). Relatively poor members contributed to the Church what little they could squeeze from their meager salaries. Lyon sent most of the money to Levi Richards or Orson Pratt; the Millennial Star regularly recorded all of these donations. Lyon's letters to Levi Richards are filled with financial accounting as well as censure for the members who misused personal or church funds; after lamenting about one such brother, Lyon moralizes that "the man who does not know how to use the unrighteous mammon [money] with discretion and honesty, cannot, will not, be trusted with true riches. This [entire narration] is in confidence" (December 18, 1850). While Janet struggled financially back in Scotland, her husband also wrestled with personal money problems as well as with deceiving sharkers who tried to pass as authorized fund-gatherers.
The work for these adult missionaries, however, was not all preaching, baptizing, and collecting funds. Many times Lyon spent the entire day reading and writing letters; he probably wrote 1,000 letters during his mission. (To spend a whole day writing was not thought of as a waste of time.) Other days he spent reading the scriptures and preparing sermons. One day he toured the historic sites of Worcester, "such as the Town Hall, College and Court House in which place the judges were sitting" (Diary, March 10, 1849). Levi Richards's diary records that on one occasion while he was visiting Worcester he and Lyon took "breakfast at Bro. Beard's and went to a China manufactory" (typescript diary, November 5, 1850). The two friends spent several hours touring the famous Worcester China works, established in 1751. In 1850, it was known as Chamberlain and Company (it would later be called the Royal Worcester Porcelain Company) and was celebrated for the deep blues and fine gilding of its china (Spero 10). As with his church assignment in Scotland, Lyon often hosted passing dignitaries. Cyrus Wheelock came from Birmingham and "spent the forepart of the day with Bro. Lyon in visiting the City of Worster [sic] among other things saw in the Town Hall nine suits of steal [sic] armour Complete with Oliver Cromwell's brass shirt" (Wheelock, May 22, 1849). Worcester claimed the honor of being the place in which the final battle of the English Civil War was fought (1651); Cromwell's armor in the town museum commemorated this victory over Charles II. Wheelock observes that Lyon "is a good man and good poet" (May 21, 1849). Erastus and Lorenzo Snow, Apostles of the Church, also visited Worcester, and Lyon accompanied them to Manchester; Erastus called Lyon "the Scottish Bard" (British Mission History, June 11, 1850).
On January 1, 1851, Lyon's advocate and respected associate Franklin D. Richards replaced Orson Pratt as president of the European Mission. Lyon was overjoyed at the prospect of renewing his long-standing friendship with Franklin D. Richards. President Richards soon called a special rededication meeting for the twenty-five conference presidents in May of 1851. The meeting was not held in the usual place—Liverpool—but was scheduled to coincide with the "Great Exhibition" in London, a type of first world's fair. The shiny new Crystal Palace, with its pre-shaped steel girders, its 800,000 square feet of floor space, and its 300,000 panes of glass, had been erected in Hyde Park to house 6,500 exhibits from throughout the world. The grandiose fair was the brainchild of Prince Albert, with full support from Queen Victoria. Albert desired to show the idea of dynamic progress, to show that Britain had somehow "arrived," not only in material improvement but in "ethical progress" as well (Burchell 7). Railroads offered special group excursion rates; Lyon and other conference presidents joined local clubs to obtain the reduced fares. Once in London, the presidents witnessed a thirty-one ton Great Western locomotive that could travel at the astonishing speed of sixty miles per hour and an Applegath and Cowper press that could print 5,000 copies of the Illustrated London News in an hour. The British Conference presidents felt justified pride in the accomplishments of their powerful country. Presidents from the United States marveled at the show of progress.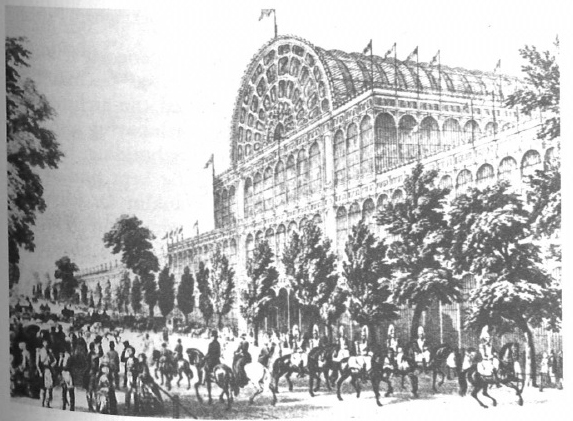 President Richards wanted the conference presidents to observe the marvels of the expositions as well as to report their spiritual labors; eight days were set aside to meet and sightsee.
I accompanied . . . John Lyon, J. D. Ross, etc. to the Crystal Palace entrance. At evening saw her Majesty [Queen Victoria] and His Highness [Prince Albert] at B.P. [Buckingham Palace].[7]
The famed Crystal Palace had just opened a few days earlier (May 1), and President Richards was fascinated to discover that nearly 40,000 people visited the architectural wonder the same day he and Lyon did, each paying a shilling for the experience. As exciting as seeing the building, however, was seeing the queen. Lyon's diary, if he kept one at this time, is not available, but he, like Franklin D. Richards, must have thrilled at seeing his dynamic young queen for the first time. The next day, the party of conference presidents 'visited the C . . .G . . .O . . . and saw Queen and Prince and was in their royal presence about 3 hours" (F. D. Franklin Diary, May 29, 1851). The occasion was an orchestral performance in Covent Gardens, and again the presidents basked in the "royal presence." The next night, they "heard an orchestra of 700 in Exeter Hall [and a chorus of 1,000 voices] perform the celebrated Handel's sacred oratorio [Messiah] under the first conductor in the world—Mr. Costa." For the first time in his life, Lyon was in the entertainment capital of the world, and he took advantage not only of spiritual strengthening but of aesthetic appreciation as well.
While in London, Lyon likely reminded President Richards that he had been away from his family for more than two years and was anxious to return to Scotland. But no release came for several months, and back in Worcester Lyon continued baptizing with amazing success; nearly ninety people joined the Church in the last six months of his mission. On July 24, 1851, he wrote to Levi Richards, now a counselor to Levi's nephew Franklin, lamenting that they had not been able to share more "personal convivality" at the London conference and humbly reporting that "as to Worcester I am glad to inform you that we are moving steadily along, still adding now and then to our number." In an undated letter to Levi Richards, Lyon proudly exults:
So you see altho' but a small Conference I have done more than some of their Great Guns. "Bear with me in my boasting." Excuse this hasty scrawl and believe me to be in the bonds of love, yours.
In another letter to Levi, he observes
Sis Hodgetts is bearing up, . . . more confirmed than ever she was before. . . . I Baptized her son on Saturday last, and her husband was at our place of meeting on Sunday evening. (December 18, 1850)
During the entire thirty-four months of his mission, Lyon had to rely on the benevolence of Church members and fellow Britons for food, clothing, and shelter. As he had in his days as a roving reporter in Ayrshire, he slept where he could find a bed. In Worcester he generally lodged with the Beards. He once scribbled a ditty, thanking Sister Beard for all the washing and ironing and meals she had provided for him:
AULD MRS. BEARD
There's auld Mrs. Beard who lives at Shrubhill,
I've lived wi' her lang, and had her good will,
Yet she never grew tired, nor lost her regard;
A kind-hearted Saint was auld Mrs. Beard!
CHORUS
Auld Mrs. Beard, auld Mrs. Beard,
May thy fortune be great, and thy life be long spared,
Till thy children's children, thou seest them all paired
To raise up a kingdom for Mrs. Beard.
Sometimes she was cruse, and sometimes she was shy,
Sometimes she was douce, sometimes she was dry;
But her faults wer a' virtues, with others compared,
For a thrifty guid wife was auld Mrs. Beard.
Auld Mrs. Beard &c.
When the Elders came roun', none more friendly could be;
She lodged them, and fed them, and welcomed them free;
In health or in sickness, her fortune she shared!
Nor told it to others, did auld Mrs. Beard.
Auld Mrs. Beard, &c.
O had I the power to reward her past toil,
I'd make her my lady, tho' lord o' an isle;
But my proffers are vain, wi' a guid wife I'm saired,
To speak sic-like nonsense to auld Mrs. Beard.
Auld Mrs. Beard, &c.
(Harp of Zion 182–83)
When Lyon was away from Worcester he was even more at the mercy of good will and good luck. Two or three miles north of Worcester, near Beverie, Lyon set up a small camp on the River Severn. He slept at "Camp" when in the area and baptized many people in the river. He must have had a tent and cooking materials. When he was more distant from this temporary "home," he usually slept and ate with kindhearted members. At times he found no bed: "Sat up over night, no bed. Dreadful thunderstorm" (Diary, June 4, 1849). Another evening we "left about 11 o'clock not knowing where we might lodge. On the way . . . we called at a public house and after a half hour we were admitted for the night" (Diary, June 8, 1849). People gave Lyon a little food for the road, repaired his cracked boots, replaced his tattered coat, and took care of their conference president as best they could.
Lyon's mission work did not slow down his poetic output; he wrote at least seventy poems from 1849 to 1852. Eighteen of them were published in the Millennial Star, some were sent to the individual memorialized in the poem, and others were kept in Lyon's diary or merely scribbled on odd sheets of paper. The novelty of the mission experience brought acquaintance with new people and called forth fresh feelings. Lyon wrote of these concrete things and people. In September of 1849, Orson and Sarah Pratt's ten-month-old son, Marlon, died in Liverpool; Lyon had seen the baby in February, and so he penned a twelve-line lament and sent it to President Pratt, never expecting it to appear in print. However, as editor of the Millennial Star, Orson Pratt published it on September 15. The poem, like most of Lyon's works of this period, projects joy in a future time or space where all will again be well, where no pain or evil will exist. The present time may be dreadfully barren and grievous, but a future will dawn, either in Utah's "Zion" or with Christ in the resurrection, when, as Lyon reminds Orson and Sarah about Marlon, "we shall take thee in our arms as at first, / And with thee ever shall reign" (Millennial Star 1849, 288).
While President Pratt was preparing to leave Liverpool in early 1851, Lyon wrote a poem praising his weighty contributions to Mormon doctrine through the tracts he had published in England. Entitled "Eulogy to President O. Pratt," the poem honors Pratt's mind and works:
If truth in man be virtue's highest aim, And gifted wisdom all that's worth a name; If reasoning power, with intellect refined, Be heav'ns best boon to aid the human mind! Say, who so highly honor'd by our God To point the way to bliss, and lead the road, By preaching, precept, practice, and the pen, Than Elder Pratt. . . .
Such works demand our lasting gratitude, And will be read by all the great and good, Who long to see a kingdom raised on earth, Where Truth and Virtue only will be worth. Where man will learn to bless his fellow man, And do each other all the good they can. Where mere nonentity and senseless clatter, On dreamy themes and non-existent matter, Will have no place, nor fictious story-telling, In all the colleges of Zion's dwelling!
(Millennial Star 1851, 48)
The eighteen poems of this period that were published in the Millennial Starlit definitely "Mormon" poems, exulting in the doctrines and joy of the LDS church. Some poems were written for specific occasions such as the departure of a missionary companion (J. D. Ross) or the baptism of a new convert. Some are sonnets, on "Regret" (MillennialStar 1849, 192) or "Suspicion" (MillennialStar 1851, 352). A new type of poem for Lyon is a song or hymn, creating original words to old tunes. "Song of Zion" (Millennial Star 1851, 336), "Hymn" (MillennialStar1852, 416), "Chant" (MillennialStar 1852, 111), and "The Mountain Dell" all indicate the poet's entrance into a genre of writing more for public use than individual contemplation or silent reading of a poem. As Mormonism developed, the need for new hymns that reflected its unique doctrines and beliefs also grew; and so, while in England, Lyon gained experience writing the words for hymns—experience that would later carry his poems into LDS hymnbooks. One of these, "The Mountain Dell," extols the virtue of liberty in a hoped-for, planned-for Utopia in the valleys of Utah:
THE MOUNTAIN DELL
Chorus [after each verse]
Away, away to the mountain dell,
The valley of the free:
Where faith has broke the tyrant's yoke,
That bound fair liberty.
We'll plow, and sow, and joyful reap,
The land our God has given;
To bless our friends, to bless our foes,
And make our home—a heaven.
Away away, &c.
No famished children there shall pine,
Nor frantic mother wild,
Ere seek to take that life away
She gave her infant child!
Where red men trail the bufflo's track,
O'er mountain's desert sand—
We'll tell them of their father's acts,
Who once possessed the land.
Then while this hour of vengeance low'r,
And sinners find no rest;
Then hie ye home, ye Saints who roam,
Your hope is in the west!
(Millennial Star 1850, 80)
The doctrine of the Gathering is a dominant motif in many of Lyon's poems and songs of this period such as "I'm a Saint, I'm a Saint" and "Strike the Lyre." "The Perpetual Emigrating Fund" lauds the virtue of financial cooperation in the new venture of the Church to aid the Lord's poor to reach Zion:
PERPETUAL FUND
Come on, ye rich, with all your gifted store,
Give to the poor, and God will give you more!
Your feeling hearts, responsive to His call,
Will find His love and blessing best of all:
Yea, tenfold int'rest on the things you have,
And more than all your charities e'er gave!
Why should the rich not help the lab'ring poor?
Both are compell'd to knock at Mercy's door!
As well the river scorn the stream and brook
From which it all its swelling greatness took;
Or the great sea retain her liquid store,
Nor give one drop to quench the parched shore;
As Wealth withhold accumulated toil,
And say to Poverty, Starve on the while!
Let richer Saints pour in their glit'ring gold,
'Twill pave your way to Zion's mountain fold!
Ten thousand hearts, with prayerful ardour, seek
The means to live, yet mourn from week to week,
Who could be blest through your beneficence,
To go where labour gains a recompense!
Oh, then! let love your names in sums record
What you will do for Zion and the Lord!
Ye poor who labour, learn with pure delight,
How much in value was the widow's mite!
How farthings multiplied to pence make pounds,
And pounds to hundreds, thousands, have no bounds!
'Till every Saint's relieved, and sinner stunned,
Will shout, LOOK HERE! at this Perpetual Fund!
(Millennial Star 1850, 320)
In this poem the imagery is excellent—just as the river must respect the streams and brooks from which it is formed, so the well-to-do cannot scorn the poor, for their lives are often entwined. Yet these poems, written for a specific need or event, do not represent Lyon's best poetic efforts. He frequently achieved true lyric poetry, deep thought, and precise imagery, as in the sonnet "Suspicion":
Suspicion! "Green-eyed Monster," how I dread
The glare, of thy low, sneaking, hell-hatched glance;
Thy slimy movements, track the path you tread:
Thou car'st not much for character; thy chance
Is how to kill! and that by treach'rous stealth!
Devoid of praise, or e'en for proffered wealth—
Half words and winks insinuate thy guile,
'Gainst others' virtue, and their dear'earned fame,
That self may ride triumphantly the while,
Rough-shod o'er greatness, for a selfish aim!
Hell-born incubus! Damn'd assassin sprite,
Hence! seek thy dwelling in chaotic night.
Give me the faith, increasing still in love,
To think no evil, but all good approve.
(Millennial Star 1851, 352)
Lyon felt it his church duty to use his poetic ability—his God-given talent—to further the Lord's causes. And his overseers in the mission encouraged him to make this unique contribution.
In late 1850, a Scottish gentleman, Thomas B. H. Stenhouse, age twenty-six, accepted an appointment as president of the new Swiss Mission. Lyon knew the forceful young man and his dynamic wife, Fanny, and recognized—even felt—her grief in the forced separation. He wrote a poem, beginning each line with the acrostic sister stenhouse farewell to her husband:
To receive that intelligence, power, and renown,
"Oh! help me, Great Spirit," t'endure for a crown.
Heaven bless you, dear partner, and when far away,
Ever know this fond heart for your success will pray;
Rejoicing in hope I shall meet you some day.
(Harp of Zion 117)
A few months later, Lyon created the words to a song, "Oh Give Me That Land," and dedicated it to T. B. H. Stenhouse (Harp of Zion 194); it was to be sung to the tune of "The Ivy Green." In the lyrics Lyon projects a pleasant reunion in the "beautiful vale" of the Great Salt Lake. Indeed, the paths of Lyon and Stenhouse frequently crossed; Stenhouse trekked over the plains in 1859 with Lyon's oldest son and later associated with Lyon in newspaper work in Salt Lake City.
John Lyon was also well thought of by LDS members in Utah. On January 7, 1849, Eliza R. Snow wrote "To Franklin D. Richards"; Richards was again leaving Utah for Liverpool, and along with other rhymed advice, Snow urged that
Whene'er you write him [J. Lyon], will you please to send
My cordial salutations to your friend,
The gifted "Lyon" whose sweet sounding lyre
Breathes more than Ida's—breathes celestial fire;
To whom the high prerogative is given,
To circulate the glorious truths of heav'n
And through the medium of the "STAR," diffuse
The emanations of his heav'nly muse.
And Brigham Young, the "Lion of the Lord,"
Sends love and blessing to the Scottish bard."
(Millennial Star 1850, 144)
In 1850, LDS leadership was still made up of a relatively small group who knew most prominent Church members, even those in distant Great Britain. Because of his recognition as "the Scottish bard," Lyon accepted a suggestion by Orson Pratt that Lyon collect his scattered verse and publish it in a single volume. He began gathering his poetry from Scotland, from the Millennial Star, and from his miscellaneous notebooks. But while he was thrilled at the prospect of publishing his verses, Lyon told Levi Richards in a letter dated July 24, 1851:
I have entirely given up the idea of publishing my poems at this time, as my means are not adequate to the outlay necessarily devolving on such an undertaking. My family's removal to Zion was all I contemplated in such a proposal [by Pratt], and that I will now leave to president [Franklin D.] Richards and the Lord.
Publishing a whole book of poetry would have to be postponed, but the idea was now set firmly in his mind.
In the final year (1851) of his "foreign" mission, Lyon confronted two serious problems. The Bromley family, baptized in May of 1849, emigrated to America in January 1851. Lyon had initially taken great pride in the family and nurtured them in their just-discovered faith; in gratitude they had given him an heirloom breastpin before they sailed for America on the Ellen Maria. However, John Bromley wrote back to his non-LDS brother in Worcester and said that his Mormon shipmates were
a wretched, miserable lot calling themselves Saints, but should be more properly termed Hell cats! And advises his friends to take care, and not leave their native land before well considering . . . , as there be many black Crows in America as well as in England. (Lyon to Levi Richards, July 24, 1851)
Bromley did not continue on to the Salt Lake Valley but settled near St. Louis, Missouri, refusing to let his family associate with the Church. The letter to his brother was read throughout town; Lyon worried that it might be published in the Herald and was grateful when it did not appear. Because of this letter, Lyon faced "scorn and contempt heaped upon us plentiously." This problem was a common one in mission areas where the disaffected created a negative image, hindering the interests of potential believers. Lyon must have anguished over the apostasy of his first convert family but continued preaching, as convinced as ever of the correctness of his own labors.
A second problem, also common in England, was the presence of unauthorized preachers or supposed missionaries, who saw the chance for free room and board among the Mormons and even the chance to collect church funds for personal use. Lyon opened up his pained soul in a letter to Levi Richards, relating that a "Brother Patrick, an M.D., paid me a visit some four months ago." Patrick had been a congenial member of the Church but now traveled with a young woman and lived off the guileless goodness of the Saints.
Day after day and week after week, found them gossiping among the saints. . . . He also boasted of having a paper from President Brigham Young, by which he had liberty to preach wherever he had a mind independent of anyone. (July 24, 1851)
Lyon reasoned with the exploiter, affirming that he, Lyon, was the only authorized LDS preacher in the district. Patrick took offense and eventually absented himself from the conference; Lyon, however, was sure that he would turn up again in a new area and thus warned President Richards. Quite understandably, many Church members developed a suspicious nature due to the interlopers who frequently preyed on them.
On November 1, 1851, a notice appeared in the Millennial indicating "Elder John Lyon will succeed Elder Campbell to the presidency of the Glasgow conference" (334). The appointment was to take effect January 1, 1852. Lyon had hoped and prayed for permission to emigrate to Utah but was merely transferred home to Scotland. He would still have to wait two long, homesick months to return home to Janet and the family. He would also have to move his family from his beloved Kilmarnock to the Glasgow he had left in 1824. On November 30, 1851, Lyon spoke in a conference meeting in Birmingham and the next day was interviewed by Levi Richards (Holograph diary, December 1, 1851). President Richards extended an official release to the missionary; Lyon returned to Worcester and began making final visits to members in the conference, which had grown to 685 members, an increase of 400 since Lyon's initial preaching in 1849. He said farewell to the Hodgetts, the Stevensons, the Jolleys, the Hodges, the Bodens, the Sparks, and many other families he had baptized. Tears were plentifully present as people who had come to depend on each other parted. Many promised Lyon that they would soon "meet in the mountains [of Utah]."
Lyon sadly and joyously loaded his trunk on a train for Glasgow, where he transferred to another coach for Kilmarnock. No written account remains of the reunion between Janet and John. They had not seen each other for nearly three years. Two of their sons had died during the absence. Janet had not always had sufficient means to provide the family with comfort and proper food. Four grandchildren had been born since John's departure. The LDS church in town had fewer members than when he had left in 1849. Weaving was still in a serious slump; mechanization was squeezing handloom weavers out of business. Money was frightfully scarce. Lyon's leadership was urgently needed at home and in the Church.
As newly called president of the thirty-four branches and 2,200 members in the large Glasgow Conference, Lyon would have to live in a more central location than Kilmarnock. During the final days of December of 1851, he moved Janet and the six children to Glasgow and rented a flat at number 4 Gibson Street. [8] Gibson was a one block alley between Gallowgate Street and Calton entry (1853 Postal Directory of Glasgow). Lyon's children could now play on the same streets he had known as a boy, romp on the nearby green, and scare each other in the same ancient cemeteries in this older part of town. Lyon was aware that this was only to be a temporary home while he awaited approval and funds to go to America. His married children remained in Kilmarnock, hoping for the same future blessing. Lyon now returned to Glasgow with a degree of status he had previously admired in some of his "self-made" childhood friends; he too had achieved position, if not wealth.
On January 1, 1852, Franklin D. Richards came to Glasgow to release Robert Campbell and present John Lyon to the members as the new president of the Glasgow Conference. President Richards notes in his diary that "Bro. John Lyon was inducted into the Presidency of the Glasgow Conference." Since it was New Year's Day, the evening was "a most precious time soiree from 7 till past two. Songs, hymns, anthems, recitations and speech with good folks. Cakes, cookies, oranges and raisins in plentitude." [9] The meetings were held in what Franklin D. Richards called Trade Hall, more appropriately known as Mechanics' Institution Hall, on Cannery Street. Lyon and President Richards talked of the new assignment for Lyon, but another subject dominated the evening—the publication of Lyon's book of poetry! On October 15, 1851, President Richards had recorded in his diary that he "spent this day writing . . . to John Lyon permitting him to dedicate his book of poems to me." Lyon had had to postpone, but not completely abandon, the project earlier in 1851; President Richards now gave encouragement, and Lyon began the preparation of the volume.
Franklin D. Richards had been a major force in organizing the Perpetual Emigrating Fund while on his brief return to the Great Salt Lake Valley. When he replaced Orson Pratt in January 1851, he implemented the cost-sharing program which would now allow many of the poorer European Saints to emigrate. Lyon saw an opportunity to help and suggested that the proceeds from the forthcoming book be donated to the PEF rather than given to himself, the author. Franklin D. Richards heartily approved of the idea of the book's publication, which could assist his own worthy goal of sending more members to America. The initial costs of publication would be funded by the Liverpool office of the Church; the office would handle the sales and would return any profit to the altruistic fund. Lyon again began the eight-month task of collecting his scattered manuscripts, rewriting many poems, recopying thirty-two compositions that had already been published in the Millennial Star, and writing scores of new lyric pieces. In September of 1852, he delivered 105 handwritten poems to Samuel W. Richards in Liverpool. Lyon continued on train to London, where young convert Frederick Piercy sketched his portrait for the soon-to-be published book. Lyon suggested the name "Harp of Zion" for the collection, an indication of the Mormon content of most of the poetry. A month after he submitted the manuscript, the Millennial Star announced:
The Harp of Zion is the title of a volume of Poetry by Elder John Lyon, which is now in Press and will shortly be ready for sale. It will be beautifully printed, with fine clear type, on superfine paper, and bound in a superior manner. We have no hesitation in saying that it will surpass, in appearance, any work which has hitherto been issued from this office. (Millennial Star 1852, 504)
The volume appeared in January of 1853.
Besides writing and collecting poems in 1852, Lyon immersed himself in his ecclesiastical duties. His church work required him to gather pounds, shillings, and pence from the branches for the Conference Fund (used to rent buildings and pay printing and postage fees), for tithing, for the Perpetual Emigrating Fund, for the Traveling Elders' Fund, for subscriptions to the Millennial Star, for the Danish Mission, and for "President Lyon's Family" Lyon carefully entered each shilling from each branch in a notebook, assuring that due credit would be given each sacrificing, struggling Saint.
Greenock Branch
Kilmarnock Branch
Sarah McIntyre
1.0
George Spiers
12.0
Mrs. Margt McKean
1.0
Sister Gilchrist
2.6
George Boyle
5.0
Alex Rupell
10.0
Bro McDonald
2.6
John Murray
5.0
George Muir
10.0
Bro Millor
2.0
Ben Wilson
5.0
Mrs Eccles
1.6
Margt McIntyre
1.0
John Wallace
7.0
Henry McKean
4.0
Sister Gillies
2.6
Hugh Reid
10.0
John Samson
10.0
Andrew Rennie
4.0
James McGhie
15.0
George Martin
5.0
Bro Pringle
5.0
James Boyd
5.0
William Logan
3.0
Sister McGregor
1.0
Barbara Green
1.0
Mrs Muir
1.0
Richard Martin
1.0
Mrs. Bryson
1.0
John Aird
5.0
Mrs Davies
2.6
Hugh Martin
5.0
Widow McIntyre
1.0
John Love
5.0
Lyon carried out the same tasks of preaching, baptizing, and organizing that he had learned in Worcester; now, however, he could come home nearly every night. A less enjoyable part of the work was that of excommunicating the disloyal and disaffected. During the first six months of his conference presidency, 149 people were cut off from the Church (Millennial Star 1852, 318). The Millennial Star offers no reasons for the massive disaffection at this time; Lyon was likely "weeding out" members who had distanced themselves from Church teachings. Bitter anti-Mormon reports in the local press, heavy financial obligations for active members, and personality conflicts all likely contributed to the kinds of apostasy that necessitated such large-scale excommunications. Only 146 people were baptized during the same period. During the next six months, ending December 31, 1852, there were 132 more backsliders removed from Church records and 166 added through baptism. Lyon did not experience the large numerical increases he had known in the Worcester Conference, but his daily preaching meetings brought many to baptism.
Personal tragedy again befell the Lyon family while in Glasgow. John and Janet's youngest son, Franklin D. Richards Lyon, age three, died on March 21, 1852. Family records show no cause for death nor place of interment. The family likely carried the child's body to Kilmarnock, where they had already buried four other young offspring. Since Lyon had joined the LDS church in 1844, five of his twelve children had died. The father of the family was giving full-time service to his Lord, yet his children still passed away. The unanswerable question of why, again returned. Lyon had had only a few months' acquaintance with little Franklin and felt the tragedy as deeply as when his two older sons died during his mission in England.
On April 6, 1852, thirty-one-year-old Franklin D. Richards again held "Special General Council" meetings in London for all the pastors of districts, all presidents of conferences, and a few traveling elders. He announced that he would (again) be returning to Utah and that his twenty-eight-year-old brother Samuel W. Richards would now preside over the mission. The local presidents readily approved the change; Samuel had served in Great Britain before (1846–48) and had already been assisting Franklin in Liverpool during the previous year. The conference presidents also heard that their three primary duties were "to preach the Gospel, to emigrate to the land of Zion, and build up a Temple to the Lord [in Salt Lake City]" (MillennialStar 1852, 184). The Council expressed its "unqualified approval" of all that Franklin D. Richards had done during his year-and-a-half as president; Lyon and two others were appointed to draft a memorial resolution, and Lyon was asked to "compose a Piece of Poetry." He wrote a poem, the fourth one he composed about or for Franklin. All four poems indicate an amazing admiration of a middle-aged man for the dynamic young Apostle; this particular one recounts Richards's work with the Millennial Star, his guidance of the PEF, and his love for Britain (Franklin was to return a third time to Great Britain to again direct missionary work in 1854). The poem and memorial were published in the Millennial Star (1852, 246–47). Among the many instructions given at the meetings, President Richards urged the presidents to keep better records of membership and finances. He praised Lyon, saying that "there is a system of keeping Records (and it is the best I have ever seen) in the Glasgow Conference" and that all may want to follow it. The presidents also approved increasing the frequency of publication of the Millennial Star to once a week.
After the conference, Lyon returned to Glasgow and continued editing his poems, weaving a bit, baptizing a few people, and "confirming" many more with the gift of the Holy Ghost. Two of his own children, Matthew (age ten) and Mary (age eight) were baptized on June 28, 1852, by a friend, Thomas Kirkwood, and were confirmed by their father. [10] Lyon's oldest son, Thomas, now twenty-six, who had demonstrated some rebellion to the Church authorities in his late teens, was called to be president of the Belfast Conference in December of 1852. In similar fashion to his father, Thomas left his wife and two children in Kilmarnock and moved to Ireland. John Lyon now felt overwhelming pride but soberly realized that Thomas would not likely be able to emigrate for several years until he had "put in his time" for the Lord, as his father had done.
After months of restless waiting and years of actively preaching "the Gathering," John Lyon and his family experienced indescribable joy from the November 27, 1852, issue of the Millennial Star.
Among those . . . anxious to gather . . . and who have our approbation in so doing are several Pastors and Presidents of Conferences . . . : Levi Richards . . . Jacob Gates . . . John Lyon . . . John Kelly. . . . We trust they will be honourably remembered, and assisted by the Saints over whom they have had the watch-care for a time past.
Church members were gently pushed to be generous with finances, assisting these men to emigrate since most had families. Five children would accompany John and Janet. The dreams and hopes of years could now unfold. Money from the Perpetual Emigrating Fund would assist. The Lyons could now throw off "wicked Babylon" and "gather home to Zion."
Notes
[1] This diary passed from John Lyon to his son David Ross, to T. Edgar Lyon, to me. A regular daily entry is made from February 11 through June 26, 1849, when the pages are all filled. I can only assume that Lyon continued writing a diary, since he wrote so regularly during the first four-and-a-half months of his mission, but I can find no copy of any diary for the remaining thirty months of the mission. If these later diaries did once exist, they may have been left in Scotland, lost crossing the ocean and plains to Utah, or squirreled away in some now forgotten old family trunk in Utah. Much of the information for the present chapter comes from information in the single extant diary.
[2] Information on the Bromleys' emigration is found in Worcester Conference Records, in LDS Church Archives, and in Lyon's diary.
[3] This statistic is derived from Lyon's diary, from quarterly and semiannual reports in the Millennial Star, and from records of the Worcester Conference. The figure does not mean that 28 percent of the total membership emigrated; rather, 28 percent of the number converted in a year emigrated.
[4] Unpublished ten page manuscript in my possession entitled "A Curious Story."
[5] John Lyon to Levi Richards at 15 Townsend Street, Cheltenham, the home of a "Bro. Clark," in my possession. The two places Lyon mentions—Earls common and Purcell-green—are right in the city of Worcester.
[6] John Lyon to Levi Richards, March 14, 1850, in my possession. I have seven original letters written by Lyon to Richards. Levi obviously kept his correspondence, and he or his son, Levi W., returned these letters to his friend in Salt Lake City, years later. Subsequent quotes from Lyon come from these letters to Levi Richards.
[7] Franklin D. Richards Diary, May 28, 1851, LDS Church Archives. Lyon likely contrasted the opulence of the Exhibition with the restrictive poverty he observed in Scotland and Worcestershire. Exhibits showed him innovative power looms, water frames, and other advances in weaving and spinning which would herald the demise of the handloom weavers. The excitement of the fair also raised his personal anxieties.
[8] This address comes from the Millennial Star. It confirms the assumption of an earlier chapter that as a child Lyon lived in this general section of Glasgow. Tiny Gibson Street is in this same area; Lyon most likely returned to a part of town he already knew.
[9] Franklin D. Richards Diary, January 1, 1852, LDS Church Archives. Richards mentions oranges because they would have been a rare treat in Scotland during the winter.
[10] Glasgow Conference Records. It is curious to note how few baptisms Lyon performed during 1852 in Glasgow. His mind and efforts were apparently directed to poetry and emigration, and he spent less time preaching than while in Worcester.