David O. McKay: Creative Father and Grandfather
Historian's Corner
Mark D. Ogletree (mark_ogletree@byu.edu) was an associate professor of Church history at BYU when this was published.
Certainly, there is a dearth of fatherhood role models in our country. Not long ago, men did not have to look very far for paternal examples. Role models could be found in the home, community, and in the media. It has been decades since a solid model of fatherhood has been presented to us on prime-time television.
Instead, over the past twenty-something years, fathers have been depicted in media circles, among special interest groups, and on prime-time television as unfit and inadequate, and that's being optimistic. The most predominant way of thinking about fathering is that it is a social role which men usually perform awkwardly—at best. For example, contemporary prime-time television portrays these "doofus dads" as troubled, deranged, pudgy, generally incompetent, and not terribly bright.[1]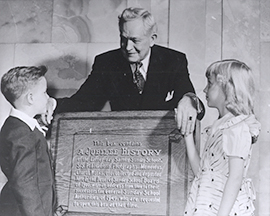 Where can contemporary men look for fatherhood role models? With such a shortage of fatherhood examples in our culture, it appears that men have fewer and fewer places to turn. In the "Father Attitudes Survey," 74 percent of the respondents looked at other fathers or men as examples and resources to improve their fathering. Ironically, only 62 percent looked at their own fathers as examples.[2] President Spencer W. Kimball helped Latter-day Saint fathers know where to look for paternal examples. Besides their own fathers and other close relationships, President Kimball explained, "We all need heroes to honor and admire; we need people after whom we can pattern our lives. For us Christ is the chiefest of these. . . . Christ is our pattern, our guide, our prototype, and our friend. We seek to be like him so that we can always be with him. In a lesser degree the apostles and prophets who have lived as Christ lived also become examples for us."[3] One such hero or role model was the man, the father, and the prophet—David Oman McKay. This article will attempt to demonstrate how David O. McKay connected with his children, nurtured them, loved them, and disciplined them.
President McKay may have spoken more on marriage and family life than any other Church leader of his era. He believed actively and deeply in the family and he lived his life in accordance with his teachings on family life. David O. McKay was married to Emma Ray Riggs, and together they had seven children. During the 1950s and '60s, most members of the Church looked to President and Sister McKay as role models for happiness in family living. Even today, President McKay still stands as a healthy example of fatherhood. If men want to be successful fathers, they should study the life of President McKay.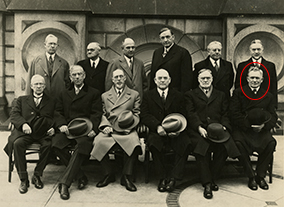 Like contemporary fathers today who work long hours and travel extensively with their jobs, David O. McKay was busy, even busier than most men of his generation. For example, unlike most men who are called into the Quorum of the Twelve, David O. McKay was not in the twilight of his life, but had young children in the home during his service in the Quorum of the Twelve and the First Presidency.
As an author and researcher, I have had the privilege of reading David O. McKay's diaries and his personal letters. I have discovered that he was an amazing father, despite the fact that he traveled extensively when his children were young and that he had so much Church responsibility placed on his shoulders at a relatively young age.
Modern fathers can draw strength and obtain insight about how to connect with their children, despite busy schedules, through President McKay's example. President McKay understood that time is a valuable commodity, and since he had so little of it, he needed to manufacture opportunities and make time count when he was home. Therefore, he created experiences for his family where they could have fun, relax, and enjoy each other's company.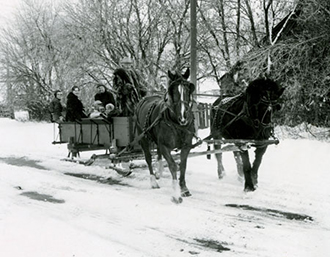 For example, one of President McKay's favorite activities was sleigh riding. Even into his eighties, he took his children and grandchildren on sleigh rides every Christmas vacation. His son Lawrence related how fun it was to see his father driving the children and grandchildren, wearing "his long thick raccoon coat and big gloves, beaming from ear to ear."[4] In 1939, when David's brother Thomas was serving as a mission president in Europe, David wrote, "Did anyone tell you about the sleigh ride we had with our grandchildren, including their parents, Lawrence, Mildred, and Llewellyn? We had a glorious time—the joys of our youth were with us again!"[5] It must have meant something to President McKay to mention this experience in a letter. Furthermore, President McKay would also organize other activities with his children and grandchildren, such as games of baseball and croquet, in order to create more opportunities to spend time together.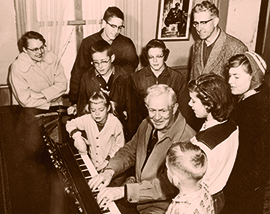 Strong fathers and grandfathers are usually willing to create an environment that fosters family memories and family fun. Many contemporary grandparents today move into apartments, assisted living centers, and even condominiums. One of the significant perks to such "downsizing" is zero yard work and considerably less upkeep on the homestead. However, such dwellings are not exactly "kid friendly" because children rarely have things to do at their grandparents "condo." David O. McKay and Emma Ray came up with a solution to that problem.
After living in a Salt Lake City apartment for many years, they decided to purchase a home in the same area. Therefore, they bought a two-story red brick home at 1037 East South Temple Street. The home had a yard "where exuberant grandchildren could exhaust their pent-up energies and yet be near enough for grand-parental supervision—and enjoyment."[6]
Here we see a patriarch creating an environment in his home so that all could laugh and have an enjoyable time.[7] He was willing to create spiritual, intellectual, entertaining, and athletic opportunities for his family. As a result, these legacies were passed through the generations. The memories facilitated by President McKay continue to keep the McKay family bonded together today. President McKay understood that family was his most important priority. Although he was busy, when he was with his family, he created memories, he created opportunities, and he strengthened relationships.
(Watch for new book about the parenting practices of David O. McKay, to be released in March 2017)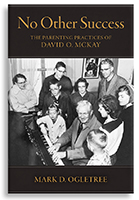 Notes
[1] J. Warren, "Media and the State of Fatherhood,." in Father Facts., 5th edition (National Fatherhood Initiative 2007), 11.
[2] Fathering Attitudes Survey (National Fatherhood Initiative, 2006) 24.
[3] Spencer W. Kimball, "Preparing for Service in the Church," Ensign, May 1979, 47.
[4] Spencer W. Kimball, "Preparing for Service in the Church, 70.
[5] Thomas E. McKay Papers, Letters Sent and Received by Thomas E. McKay and His Brother, David O. McKay, MSS 1442, box 1, folder 3, Harold B. Lee Library, Brigham Young University.
[6] Francis Gibbons, Apostle to the World, Prophet of God (Salt Lake City: Deseret Book, 1986), 188.
[7] David and Emma Ray were also excellent grandparents. In their Salt Lake City home, they had the grandchildren over quite often. For Christmas dinner, the adults usually sat around the large kitchen table while the children ate their meals on several card tables. At one Christmas dinner, the adults were laughing and carrying on while the grandchildren, sitting at their card tables, wondered what all the fuss was about. One granddaughter asked, what they were laughing about because she couldn't hear it. Immediately, President David O. McKay changed the family tradition on the spot. He said, "Christmas is for the children." From that point on, the grandchildren sat at the large table, and the adults sat at the card tables, which were now closer to the main table. Now everyone could laugh together! David Lawrence McKay, interview by Gordon Irving, James Moyle Oral History Program, Salt Lake City, January–May 1984. MS 200 734, 132. Church History Library. Salt Lake City.